Cancun, Mexico in September: the weather and best activities for your holiday
Perched on the edge of the Yucatan Peninsula, Cancun, Mexico, serves as a paradise for sun-seekers and culture enthusiasts alike. Combining pristine beaches, crystal-clear turquoise waters, and ancient Mayan ruins, this captivating city caters to a multitude of tastes.
While September might not be the perfect time for every visitor, with its higher chances of rainfall and tropical storms, it is a time when the city is less crowded and the environment exudes a more serene, languid vibe, making it ideal for those seeking tranquillity.
Overview of Cancun's Climate
Cancun experiences a tropical climate, with a consistent division into dry and wet seasons. The dry season, from November to April, presents sun-soaked days and a relatively cooler climate, whereas the wet season, from May to October, is characterized by higher temperatures and substantial rainfall, particularly from August to October.
Cancun weather in September
In September, Cancun experiences average daytime highs of about 32C (90F), whilst night-time lows average around 23C (73F). As a result, the days can be hot, but the evenings tend to cool down, providing some respite from the heat. Air conditioning or a sea breeze can often make this heat quite bearable.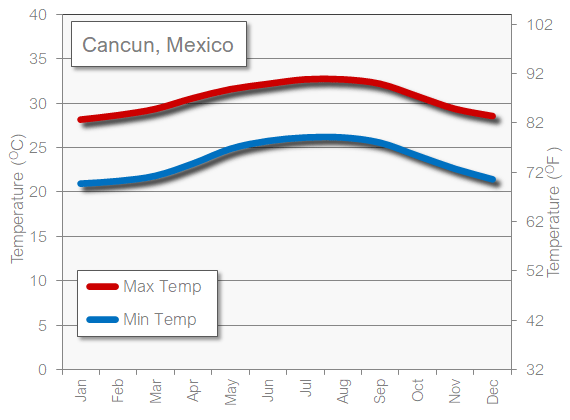 September in Cancun affords roughly 12 hours of daylight, from around 6 am to 6 pm, giving ample time for beach relaxation and exploration. However, expect a mix of sunny and cloudy periods, given the region's tropical nature. Sunshine averages 7 hours per day, and despite some cloudy days, there's usually enough sunlight to ensure a good tan.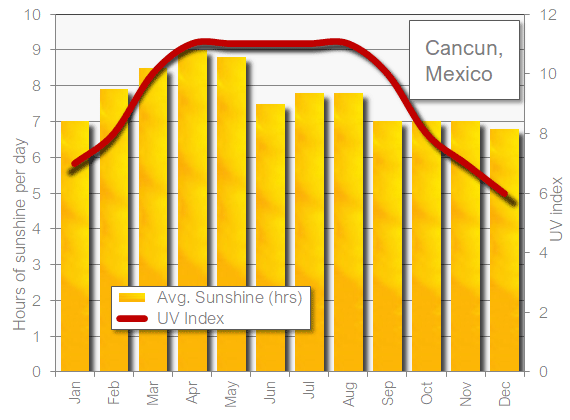 September stands as one of the wettest months in Cancun, with average precipitation levels reaching up to 270mm over 14 to 17 days. The likelihood of encountering a rainy day is relatively high, and there may be heavy showers or thunderstorms, particularly in the afternoon or evening. Humidity levels also tend to be high during this period, often exceeding 80%.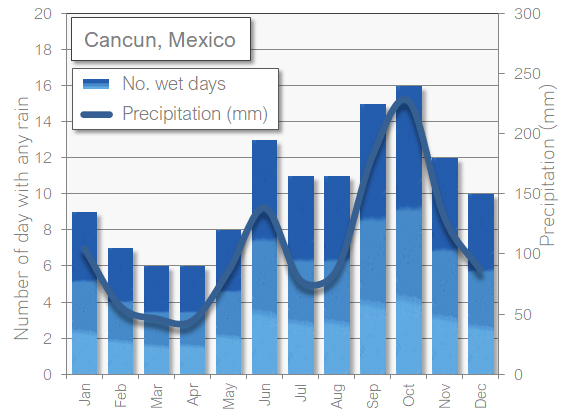 Despite the rain, September in Cancun can be an excellent time for water activities, with sea temperatures averaging a warm 29C (84F). The Caribbean Sea is notably balmy, making it perfect for swimming, snorkelling, or diving, and allowing you to fully enjoy Cancun's abundant marine life and beautiful coral reefs.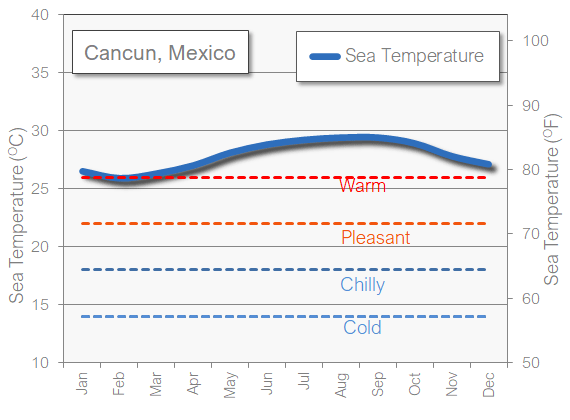 September in Cancun marks the tail end of the rainy season, a time when the region typically sees fewer tourists. Despite the possibility of rain, there are some distinct advantages to visiting during this off-peak period. Firstly, prices tend to be lower, making it a more economical time to visit. Flights, accommodation, and even some activities can be secured at a fraction of the high-season costs. This period also provides an opportunity to score some exceptional deals on hotels and rental rooms, with many properties far from being sold out.
For families with young children, September can be quite suitable, given the less crowded beaches and attractions, but do keep an eye on the weather forecast for potential storms. While September might not be the busiest period for Cancun, it still attracts visitors from various parts of the globe, predominantly the US and Canada, followed by Europe.
In essence, September in Cancun is a time for the flexible traveler, one who can embrace the unpredictability and find joy in the unexpected. It's a time for those seeking a more authentic Cancun experience, one that captures the full spectrum of its tropical allure.
Clothes to pack for September in Cancun
When packing for Cancun in September, prepare for a tropical climate. Pack lightweight, breathable clothing to stay comfortable in the heat. Don't forget swimsuits for those beach days and a good waterproof jacket or poncho in case of sudden showers.
In terms of clothing for September in Cancun, during the day, you'll likely be comfortable in T-shirts, shorts, and sundresses. Evenings can be warmer, so lightweight trousers and a breathable shirt should suffice, with no real need for a heavy jacket. Don't forget a good pair of walking shoes if you plan to explore ruins or local towns.
The best months to visit Cancun
The best months to visit Cancun typically range from December to April. During this period, Cancun experiences its dry season, offering clear skies, abundant sunshine, and mild temperatures, ideal for exploring the city, relaxing on the beach, or venturing into the nearby Mayan ruins. Additionally, this period avoids the Atlantic hurricane season, providing a safer and more predictable holiday experience.
The worst months to visit Cancun
The least advisable time to visit Cancun tends to be during the peak of the Atlantic hurricane season, specifically from August to October. These months witness increased rainfall and a higher likelihood of tropical storms or even hurricanes. While modern forecasting techniques provide ample warning for major storms, these weather conditions can still disrupt travel plans and outdoor activities.
Fantastic activities for Cancun during September
1) Visit the Tulum Ruins
Just a short drive from Cancun, the Tulum Ruins offer a breathtaking glimpse into Mayan history. Perched atop a cliff overlooking the Caribbean Sea, this ancient city was one of the last built by the Mayans. Despite the chance of September showers, the site tends to be less crowded, providing a more intimate experience of this historical gem.
2) Dive in the Great Mesoamerican Reef
Second only to Australia's Great Barrier Reef, the Great Mesoamerican Reef is a diver's paradise. In September, the warm sea temperature makes for comfortable dives, allowing you to fully explore this underwater wonderland teeming with colourful coral and diverse marine life.
3) Explore the Isla Mujeres
A trip to the serene Isla Mujeres, or 'Island of Women', is a must for any Cancun visit. Rent a golf cart, the island's primary mode of transportation, and explore this charming location at your own pace. Don't miss the opportunity to visit the turtle sanctuary and the stunning Playa Norte beach.
4) Visit Cenotes
Cenotes, natural sinkholes filled with freshwater, are unique to the Yucatan Peninsula. These geological wonders are perfect for swimming, snorkelling, or simply relaxing in the midst of nature. Some popular ones close to Cancun include Cenote Ik Kil and Gran Cenote.
5) Attend the Fiestas Patrias
September 16th is Mexico's Independence Day, and the whole country lights up in celebration. In Cancun, you can attend the Fiestas Patrias, a vibrant celebration featuring traditional music, dance, food, and fireworks. It's a wonderful way to immerse yourself in Mexican culture.
6) Visit the Cancun Underwater Museum
The Cancun Underwater Museum (MUSA) is a unique attraction where you can snorkel or scuba dive amongst over 500 life-sized sculptures, all while helping support the recovery of the local coral reefs. Visiting in September means fewer crowds and more time to appreciate this underwater art gallery.
7) Experience Local Cuisine
Your Cancun trip wouldn't be complete without savouring the local cuisine. Head to Mercado 28, a local market in downtown Cancun, to try regional dishes like cochinita pibil (slow-roasted pork) or panuchos (tortillas filled with beans and topped with turkey or chicken). Despite being a bit off the beaten tourist path, it offers an authentic Mexican dining experience.
Other holiday destinations recommendations for September
Ever dreamt of autumn getaways that infuse your travelogue with captivating tales? Well, September unfurls the perfect canvas for that, with milder temperatures and fewer crowds. Here are five amazing destinations from our hand-picked list, offering unique experiences in the turn of summer to fall.
In the heart of the Indian Ocean, Mauritius enchants with a blend of vibrant cultures, turquoise waters, and lush landscapes. September in Mauritius is springtime, where the average temperature lingers around 24C (75F), ideal for exploring its sprawling tea plantations, botanical gardens, and lively markets. Try your hand at water sports or simply relax on the pristine beaches, the warmth of the Mauritian sun on your skin softened by the gentle sea breezes.
Next, let's fly to the Mediterranean and visit Sicily, Italy's island wonder. The sweltering summer heat starts to retreat in September, replaced by balmy days perfect for sightseeing. Sicily is a treasure trove of historical ruins, hilltop towns, and delicious cuisine. Walk through time as you explore ancient Greek and Roman sites or hike the trails of Mount Etna. Complete the day with a taste of Sicilian gelato or a sip of locally produced wine.
Journey further east and Santorini, Greece, emerges from the sea like a vision from a dream. The iconic blue-domed churches and whitewashed buildings create a striking contrast against the azure sea. September's mild weather makes wandering through its charming streets or sailing into the sunset an absolute pleasure. Don't forget to sample some local dishes as you sit in a cliff-side tavern, the sunset painting the sky with hues of orange and pink.
Switching gears, we land in the dynamic city of Dubai in the United Arab Emirates. September marks the beginning of cooler temperatures, making outdoor exploration more comfortable. Visit the awe-inspiring Burj Khalifa, explore the bustling souks, or have an adventurous day out on a desert safari. As night falls, treat yourself to an unforgettable dinner cruise along the Dubai Creek under a starlit sky.
Lastly, for those seeking a blend of rich history and stunning coastline, look no further than Croatia. Its mild Mediterranean climate in September is perfect for swimming in the crystal-clear Adriatic Sea or strolling through the ancient city walls of Dubrovnik. The Plitvice Lakes National Park, with its cascading waterfalls and serene lakes, is a must-see. As you wander through its medieval towns and savor delicious local cuisine, you'll understand why Croatia is often referred to as a gem of Europe.
Each of these destinations offers a unique slice of their region's heritage, natural beauty, and enticing culinary experiences. So, whether you're a history buff, a food enthusiast, or a nature lover, these locations promise to offer an unforgettable journey in September. So pack your bags, and get ready for an extraordinary autumn adventure!