Ayia Napa, Cyprus in April: the weather and best activities for your holiday
Nestled on the sun-kissed southeastern coast of Cyprus, Ayia Napa is an alluring city that beckons visitors with its pristine beaches, vibrant nightlife, and rich cultural history. Known for its exquisite blend of traditional charm and modern flair, the city provides a mesmerising escape to those seeking relaxation and adventure alike.
Is it a good time of the year to visit Ayia Napa in April? Yes, indeed! The transition from the cooler winter months to the heat of summer provides a splendid climate, making April an ideal time for both sightseeing and beach relaxation.
Overview of Ayia Napa's Climate
The climate in Ayia Napa is characterised by a Mediterranean subtropical climate, marked by hot, dry summers and mild, wet winters. The city benefits from the cooling sea breezes that help temper the heat, ensuring comfortable conditions for tourists throughout the year. Summer can often be blistering hot, while winter is relatively gentle, allowing for an extended tourist season compared to other Mediterranean destinations.
Ayia Napa weather in April
April's weather in Ayia Napa is pleasant, a welcome herald of the coming summer. Daytime maximum temperatures average around 23C (73F), providing a warm and inviting atmosphere for outdoor activities and leisurely strolls by the shore. Nighttime minimums dip to a comfortable 11C (52F), just right for a refreshing evening breeze. This mild climate strikes a perfect balance - neither too hot nor too cold - for your holiday enjoyment.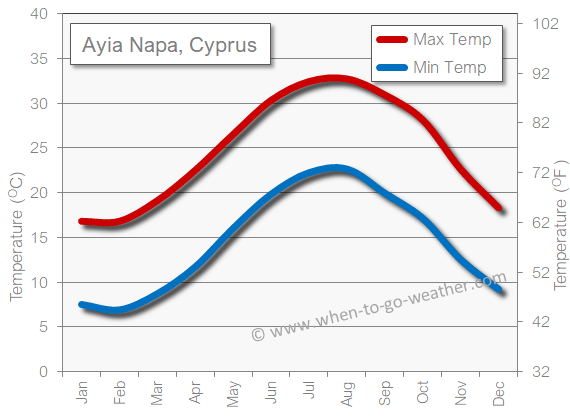 During April, Ayia Napa experiences an increase in daylight hours, with the sun gracing the city for approximately 13 hours a day. Visitors can expect ample time to explore and soak in the vibrant local culture. Most days are predominantly sunny, with clouds seldom obscuring the bright blue skies. This generous sunshine lends itself to uninterrupted beach days and clear evenings, perfect for al fresco dining or a romantic sunset walk.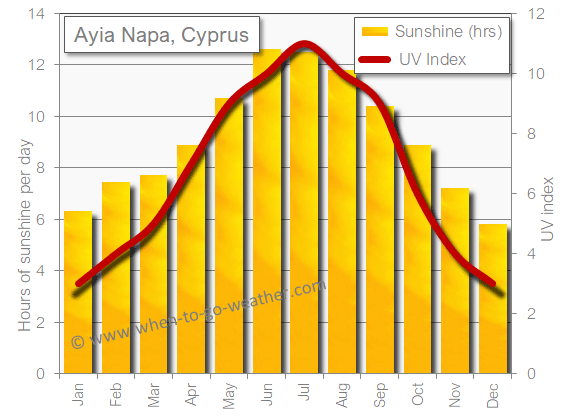 April witnesses a significant decrease in rainfall in Ayia Napa, marking the transition from the wetter winter months. The average precipitation level falls to a modest 20mm, with rainy days being rare and sporadic. The likelihood of encountering a heavy shower is minimal, and humidity levels are generally low, ensuring comfortable weather for all outdoor pursuits.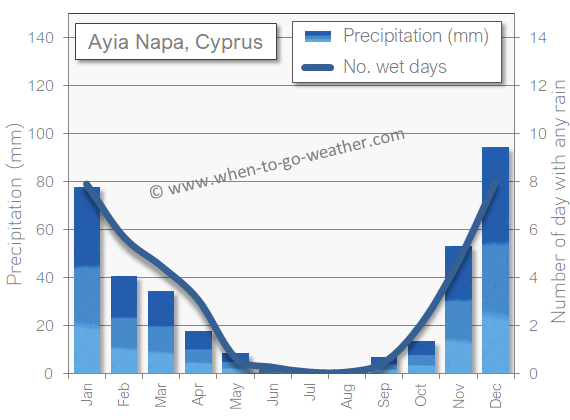 The sea in April begins to warm up, reaching an average temperature of 18C (64F), a tad cooler but still enticing for the more adventurous swimmers. While not quite as warm as the summer months, the sea can still provide a refreshing dip for those who don't mind a slight chill. For those content to stay on the shore, the serene waves and golden sands offer endless opportunities for relaxation and beachside fun.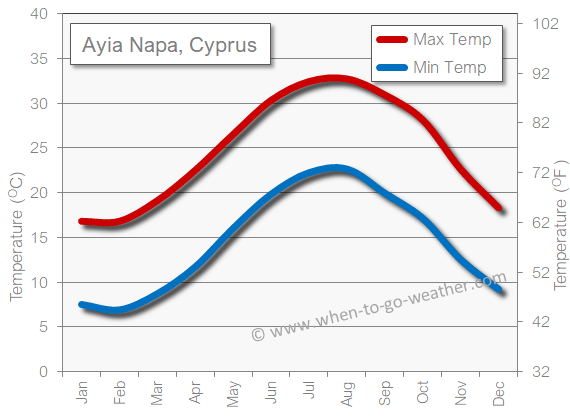 As spring blossoms in Ayia Napa, the tourism industry begins to stir from its winter slumber. April is considered the shoulder season in this popular Cypriot resort town, a time of transition between the quieter winter months and the bustling summer season. It's a period that has its own unique charm, offering an appealing balance for different types of tourists.
For those seeking a more serene holiday, Ayia Napa in April may just be the ticket. The town is noticeably less crowded than in the peak summer months, but more lively than the quieter winter period. This provides visitors with the opportunity to explore the area's beautiful beaches, stunning coastal paths, and charming streets without having to navigate through throngs of fellow tourists.
In terms of expenses, April can be considered a more economical time to visit. Flights, accommodation, and even some tourist attractions may offer off-peak pricing. Hotels and rental rooms are unlikely to be sold out during this period, allowing for greater flexibility in choosing where to stay. Deals can often be found, particularly for those booking in advance or looking for last-minute offers. This makes it a particularly attractive time for couples or families looking to enjoy the Mediterranean sun without breaking the bank.
Families with young children will find April a suitable time to visit. The mild weather provides an ideal climate for outdoor activities, and the less crowded attractions mean shorter waiting times and more space for children to roam. Many family-friendly resorts and hotels begin to open their doors, offering various amenities and entertainment suitable for younger guests.
Nightlife in Ayia Napa is renowned, particularly during the summer months when clubs and bars are teeming with party-goers. In April, the nightlife scene is more subdued but by no means dormant. Many establishments will be open, but the atmosphere is likely to be more relaxed, catering to a broader audience. Those looking for lively evenings can still find them, while others may prefer the more laid-back ambiance of beachside bars and local tavernas.
The average age of tourists during this time may skew slightly older than the summer months, with fewer younger party-seekers and more couples and families. However, Ayia Napa in April attracts a diverse crowd, from those seeking rest and relaxation to others looking for adventure and exploration.
As for where most tourists come from during this period, expect a mix of nationalities. Northern Europeans, particularly from the UK, Germany, and the Nordic countries, often take advantage of the favourable weather and relative proximity to escape the tail-end of winter. Visitors from Russia are also common, as well as a growing number of tourists from other parts of Europe and beyond.
Clothes to pack for April in Ayia Napa, Cyprus
When packing for a trip to Ayia Napa in April, it is essential to align your suitcase with the transitional weather. Lightweight clothing for daytime explorations should be paired with a jacket or sweater for the cooler evenings. Sunscreen, sunglasses, and comfortable footwear should be considered essential. In April, T-shirts during the day are perfect as the weather starts to warm up. A light jacket or sweater will likely be needed in the evenings when the temperature dips. A versatile scarf or shawl can also provide the right touch of warmth, should a chill descend upon the coastal city.
The best months to visit Ayia Napa
When planning a trip to Ayia Napa, the best months to consider are from late April to June and September to October. These periods offer weather that is inviting without the scorching heat of the peak summer months. Tourist crowds are more manageable, and there's still plenty of opportunities for beach activities, outdoor exploration, and cultural enjoyment. The balance between climate and crowd makes these months particularly appealing for a varied holiday experience.
The worst months to visit Ayia Napa
The sweltering months of July and August can be considered the least favourable time to visit Ayia Napa. The heat becomes intense, often soaring above 35C (95F), and the city is flooded with tourists, leading to crowded beaches and attractions. The combination of high temperatures and heavy tourism might detract from the charm and ease of exploration that Ayia Napa typically offers.
Fantastic activities for Ayia Napa during April
1. Explore the Cape Greco National Forest Park
April's pleasant weather is perfect for venturing into the natural beauty of Cape Greco National Forest Park. Here, you can hike, cycle, or simply wander through the scenic trails, encountering hidden caves and breathtaking sea views. It's a haven for nature enthusiasts and offers a refreshing escape from the city's hustle and bustle.
2. Visit the Ayia Napa Monastery
Delve into the rich history by visiting the iconic Ayia Napa Monastery. Situated in the heart of the city, this 16th-century Venetian building is surrounded by vibrant gardens. The tranquil environment, coupled with captivating architecture, makes it an enlightening experience for both history buffs and casual tourists alike.
3. Indulge in Water Sports at Nissi Beach
Nissi Beach, renowned for its crystalline waters and golden sands, beckons those eager to embrace water sports. Whether it's jet skiing, windsurfing, or snorkelling, April's pleasant temperatures provide the ideal setting. The waters are calm and inviting, and the facilities are tailored to both novices and experts.
4. Discover Local Cuisine on a Culinary Tour
For the gastronomically curious, a culinary tour of Ayia Napa offers a delightful immersion into Cypriot cuisine. Sample traditional dishes, visit local markets, and perhaps even participate in a cooking class. The mild April weather makes alfresco dining particularly enjoyable, letting you savour the tastes and aromas of the region.
5. Enjoy a Boat Trip to the Blue Lagoon
Embarking on a boat trip to the mesmerising Blue Lagoon is a must. The dazzling turquoise waters are a sight to behold, and the boat ride itself is an adventure, with opportunities to swim and snorkel. Although the water might be a tad cool in April, the enchanting scenery more than compensates.
6. Participate in the Ayia Napa International Festival
April often coincides with the Ayia Napa International Festival, a celebration of art, culture, and music. Engage with local traditions, witness spectacular performances, and relish the vibrant atmosphere. This festival unites the community and visitors in a joyful expression of Cypriot heritage and is a unique highlight of a spring holiday.
7. Take a Day Trip to Famagusta
A short drive from Ayia Napa lies the historic city of Famagusta, brimming with fascinating sights. Explore the ancient city walls, visit the haunting Varosha district, and immerse yourself in the compelling history. The mild April climate makes a day trip comfortable and rewarding, adding an extra dimension to your Ayia Napa holiday.
Other holiday destinations recommendations for April
In Crete, Greece, April ushers in the wonder of spring. The island is awash with wildflowers, while the temperatures, around 20°C (68°F), create a perfect backdrop for exploring Crete's rich history or enjoying fresh seafood by the sea. The harmony of nature, culture, and gastronomy makes Crete a truly delightful spring destination.
The Canary Islands are a marvel in April, with a blend of striking landscapes and mild temperatures around 22°C (72°F). This is an ideal time for strolling on the distinctive black sand beaches, hiking the volcanic mountains, or simply relishing the charming local cuisine under a sky full of stars.
For those seeking more tropical climes, Cancun, Mexico in April is truly a paradise. Averaging high temperatures of 30°C (86°F), and low rainfall, Cancun invites you to bask in the warmth of the Caribbean sun, swim in the turquoise sea, and explore the fascinating remnants of Mayan civilization.
Cape Verde, an undiscovered treasure off the African coast, comes alive in April. This is a time for relishing the island's beautiful beaches and its fusion of African, Portuguese, and Brazilian cultures. With average temperatures of 25°C (77°F) and low humidity, Cape Verde in April is a unique, enjoyable retreat.
Lastly, Dubai, UAE, presents an unparalleled blend of luxury and heritage. April is a great time to discover its marvels without the intense summer heat, with temperatures around 29°C (84°F). Whether you're marveling at the city's skyscrapers, shopping in high-end malls, or exploring traditional markets, Dubai is a destination that never ceases to amaze.