Santorini, Greece in April: the weather and best activities for your holiday
Imagine a place where the sun kisses the sea, where the houses are as white as snow, and the sky a canvas of the purest blue. This is Santorini, a Greek island that seems to have leapt straight out of a dream. Now, let's turn our attention to what April, a time of delightful transition, has in store for those planning to soak in Santorini's wonders.
April signals the onset of spring in Santorini, a time when the island is like a young artist, eagerly brushing vivid hues of life across its picturesque landscape. Yet, how does this translate into numbers that tell the story of Santorini's weather in April?
Santorini weather in April
As spring spreads its wings, the temperatures in April are pleasantly mild. Daytime averages dance around 17C (63F), while the nights gently dip to about 12C (54F). These temperatures are ideal for outdoor exploration and enjoying the stunning island vistas.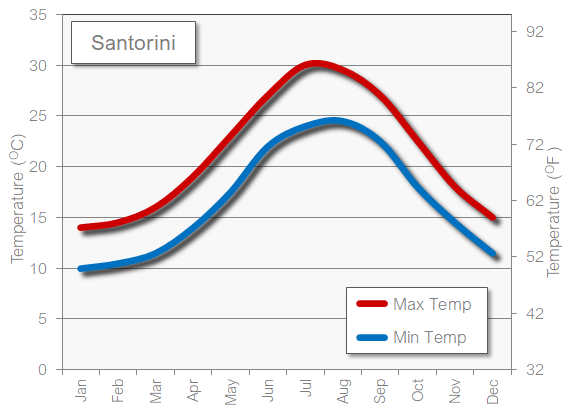 The sun in Santorini rises around 6:30 am and sets close to 8 pm. This gives you long, lovely days to fill with adventure and discovery.
The sun, like a reliable old friend, sticks around for approximately 9 hours each day, bathing the island in warm, cheerful light. It's less intense than the summer sun, meaning you can spend more time out and about without feeling too hot.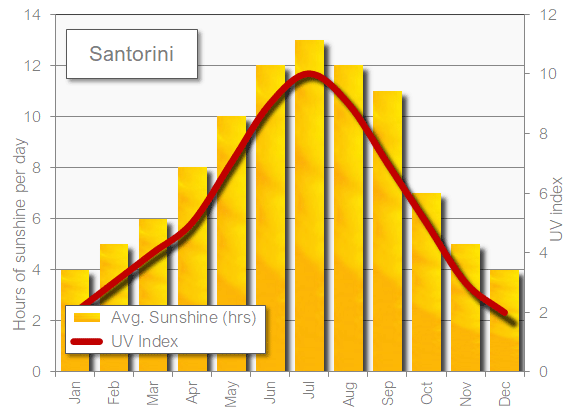 When it comes to humidity, April averages around 70%. What this means is a certain level of dryness in the air. You won't feel too sticky or uncomfortable as you explore the island's beaches or charming towns.
April does come with its share of rain, but it's nothing too dramatic. You can expect about 8 days of rain and an average rainfall of 20mm. It's a good idea to keep a light rain jacket close at hand just in case the sky decides to shower a little love.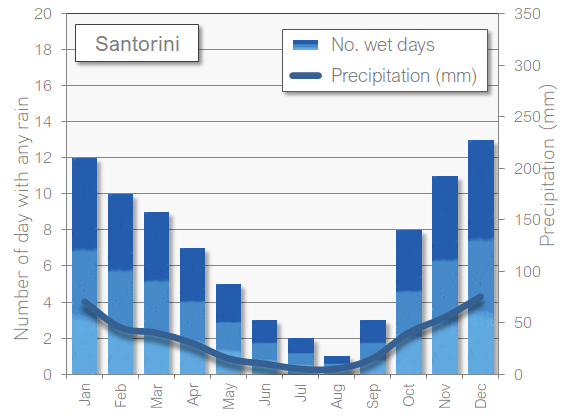 The sea in April is still shaking off the winter chill, with average temperatures around 16C (61F). While not ideal for a long swim, it's a wonderful opportunity for those looking for a brisk, invigorating dip.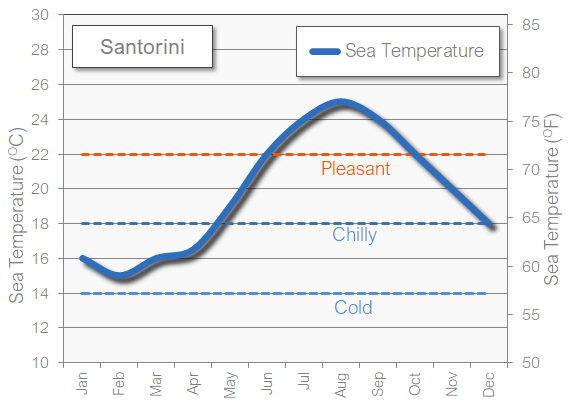 April is a wonderful time to visit Santorini if you wish to avoid the summer crowd. It's quieter than the peak months, but there's still a vibrant mix of travelers from different parts of the world, particularly Europe.
As for costs, April is a shoulder season. This translates into less expensive airfare and accommodations than you'd find in the busy summer months. But remember, it's always wise to book early.
If you're planning a family trip with young kids, April is a fantastic choice. The weather is friendly for little ones, and there are fewer tourists around, so children can enjoy more space and freedom. Plus, the Easter celebrations add a unique cultural dimension to the island experience.
In a nutshell, Santorini in April is like a well-kept secret. It's a time when the island's beauty is in full bloom, yet it isn't swamped with tourists. The weather is comfortable, the days are long, and the island beats with an infectious rhythm that promises an unforgettable Greek island experience.
Clothes to pack for April in Santorini
For a visit to Santorini in April, pack clothing that can handle a bit of everything. Light t-shirts and shorts for the warmer daytime are great, but don't forget a warmer layer, like a light jacket or sweater, for the cooler nights. Also, a light raincoat or umbrella could come in handy for the occasional April shower.
The best months to visit Greece and Santorini
The prime time to visit Santorini is from June to September. During these summer months, the weather is splendidly sunny, the sea is warm enough for swimming, and the island's life is bustling with festivals and events. However, keep in mind that these months also attract a high number of tourists, which can make some popular spots crowded. For those seeking a quieter experience, May and October, the shoulder months, offer milder weather and fewer crowds, while still providing all the island charm.
The worst months to visit Santorini.
The least favorable time to visit Santorini is during the winter months, specifically December through February. During this time, the weather can be unpredictable with more frequent rain, and the temperature drops significantly, making it too chilly for beach activities. Furthermore, many businesses, including restaurants and tourist attractions, close down for the off-season.
Fantastic activities for Santorini during April
Santorini in April is ripe for adventure and exploration:
Hiking from Fira to Oia: This 10km walk rewards you with awe-inspiring views of the caldera, quaint villages, and picturesque churches. April's mild temperatures make the journey more enjoyable.
Exploring Akrotiri: Unearth the fascinating history of this Minoan Bronze Age settlement, perfectly preserved under volcanic ash. In April, the site is less crowded, offering a more personal experience.
Easter Celebrations: Easter is a major event in Greece. Witness the unique local customs, traditional processions, and savor the delicious festive cuisine.
Wine Tasting: Visit one of Santorini's renowned wineries to sample the island's distinctive wines. The volcanic soil gives the grapes a unique flavor you must try.
Sunset in Oia: This iconic sight is a must-see. In April, you can find a perfect spot without too much hassle to watch the sky paint itself in glorious hues.
Beach Visits: While swimming might be brisk, the island's unique beaches, like Red Beach and Black Beach, are worth exploring. Their unusual colours are a result of Santorini's volcanic history.
Other holiday destinations recommendations for April
If you're planning a April getaway, a world of enchanting landscapes, sunny beaches, and cultural gems awaits. Here are six unforgettable destinations that truly come to life in April.
Cyprus: Known as the Island of Love, Cyprus in April is a splendid choice. Enjoy the sea, sun, and sand without the summer crowds. Bask in pleasant temperatures of around 20C (68F), perfect for exploring archaeological sites like the Tombs of the Kings or strolling through the Troodos Mountains. Visit during Orthodox Easter, and you'll witness the island's vibrant cultural traditions.
Tenerife, Canary Islands: This island, a veritable paradise, basks in moderate spring temperatures in April. Whether you're exploring Teide National Park, lounging on the striking black-sand beaches, or visiting the botanical gardens in Puerto de la Cruz, Tenerife is a captivating concoction of experiences. The month is also host to the Fiesta de San Marcos, a lively celebration filled with processions and fireworks.
Madeira, Portugal: With its nickname 'Island of Eternal Spring', April is a prime time to visit Madeira. Marvel at a wealth of blooms during the Madeira Flower Festival, an extravaganza of parades, music, and dancing. The climate is superb for walks along the levadas (irrigation channels) and for tasting the renowned Madeira wine.
Seville, Spain: April brings Seville's most anticipated event - the Feria de Abril. This week-long fair lights up the city with flamenco dancing, Spanish guitar music, and brightly coloured casetas (tents). With temperatures hitting a comfortable 22C (72F), you can spend your days wandering through the charming Santa Cruz district or visiting the majestic Alcazar without the summer heat.
Seychelles: April sees the transition from the northwest trade winds to the southeast monsoons in Seychelles, making the seas calm and clear. This is ideal for snorkeling and diving among the coral reefs. Enjoy the beaches, wildlife, and nature trails in Seychelles at a leisurely pace, basking in the warm yet bearable temperatures.
Marrakech, Morocco: Marrakech in April is a delight for the senses. Before the summer heat sets in, enjoy exploring the bustling souks, savoring mouth-watering Moroccan cuisine, or unwinding in the tranquility of Majorelle Garden. As an added bonus, you might catch the vibrant National Folklore Festival of Marrakech, celebrating the rich tapestry of Moroccan culture.