Limassol, Cyprus in September: the weather and best activities for your holiday
Limassol, the vibrant city on the southern coast of Cyprus, effortlessly marries a compelling historical allure with the leisurely pulse of beachside living. Boasting an abundant mix of outdoor activities, cultural landmarks, and radiant beaches, Limassol entices a wide array of travellers. As the heat of summer gives way to the invitingly mild embrace of September, Limassol's appeal shines even brighter.
September in Limassol is akin to a gentle Mediterranean symphony, combining the warmth of summer with the soothing whispers of autumn. It's a time when Limassol seems to exhale, casting off the bustling energy of the peak season and offering its charm to those who appreciate a less hectic, yet still vibrant, holiday destination.
Limassol weather in September
Daytime temperatures in Limassol during September hold comfortably around 29C (84F), a warmth that encourages exploration without being overbearing. When night falls, the mercury drops to a cooler, but still pleasant, 20C (68F), making evening activities a delightful prospect.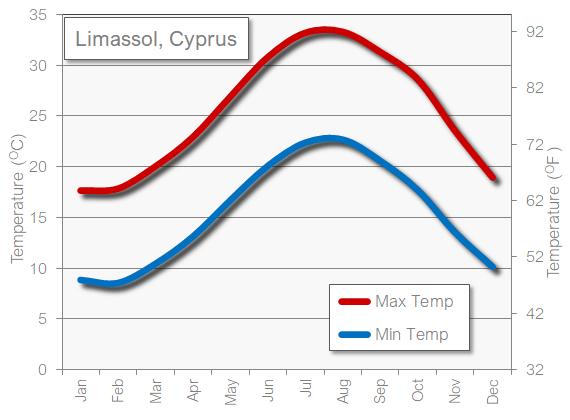 Sunlight remains generous in September, with an average of 10 hours per day. The sunlight, while still warm, loses some of its intense summer sting, making it a more comfortable companion for daytime pursuits.
The sun in Limassol wakes up around 6:30 am in September and takes its leave around 7:30 pm. This schedule offers a generous spread of daylight hours for you to savour the delights of Limassol.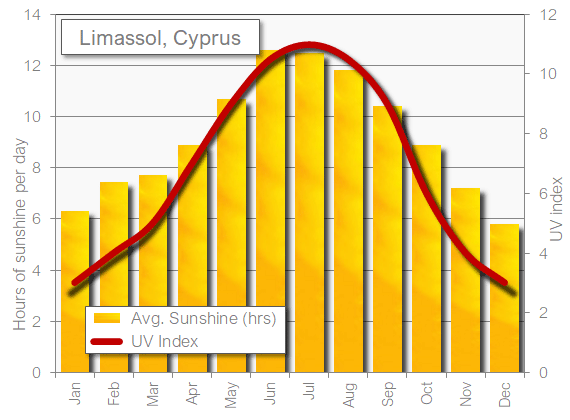 Humidity levels in Limassol during September hover around the 60-70% mark. While noticeable, this level of humidity feels more like a gentle touch of the Mediterranean's caress, rather than an oppressive presence, adding a pleasant balminess to the air.
Rain is a rare guest in Limassol during September, gracing the city with its presence on an average of two days during the entire month, resulting in a total rainfall of just about 6mm. The likelihood of encountering a rainstorm during your visit is extremely low.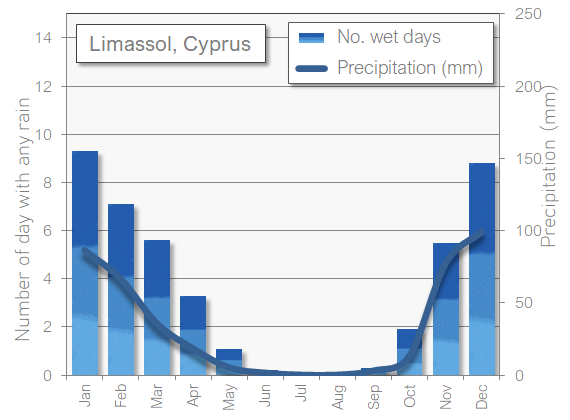 Those keen to enjoy the Mediterranean Sea will find it pleasantly warm in September, with sea temperatures averaging around 27C (81F). This warmth invites daily swims and water activities without an uncomfortable chill.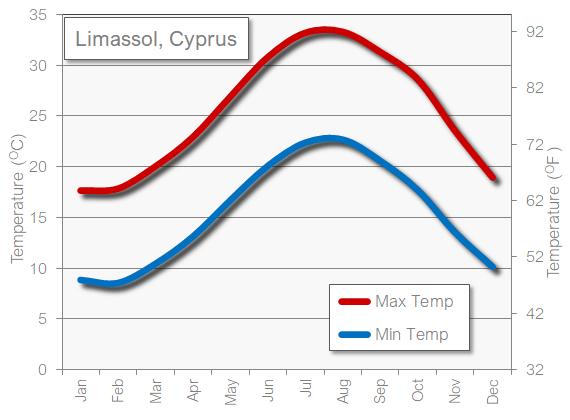 Limassol in September experiences a gradual decrease in tourist traffic as summer holidays in many countries come to an end. However, the city continues to welcome a steady flow of travellers, primarily from the UK and Russia, who are drawn to the gentle transition of seasons in this Mediterranean gem.
Though quieter, Limassol still hums with life in September. It's not crowded but retains its lively character, providing a balanced atmosphere for those who appreciate the energy of a city but prefer to avoid large crowds.
The tapering of the tourist season often makes September a more budget-friendly month to visit Limassol. Accommodation rates are typically lower than in the high summer season, providing a more economical choice for travellers.
For families with young children, September is a wonderful time to visit Limassol. The calmer atmosphere, combined with the mild weather and less crowded attractions, makes for a comfortable and engaging family holiday. With its wide array of family-friendly activities and sites, Limassol in September has much to offer to visitors of all ages.
Clothes to pack for September in Limassol, Cyprus
When packing for a September trip to Limassol, aim for a mix of comfort and versatility. Daytime calls for light, breathable clothing, think shorts, t-shirts or sundresses to keep cool under the Mediterranean sun. As evening arrives, you might find a light jacket or a cosy sweater useful for a comfortable stroll along the seafront or a night out in town.
The best months to visit Limassol
The best months to visit Limassol are April, May and September. In April, spring is in full bloom, and the weather is ideal for exploring Limassol's historical sites and vibrant parks. May brings slightly warmer temperatures perfect for beach lovers while still retaining spring's freshness. Then comes September, offering the warmth of summer but with milder evenings and fewer crowds, making sightseeing a joy.
The worst months to visit Limassol
While Limassol is an enchanting city year-round, January may be considered the least favourable month to visit. In this winter month, temperatures can drop to around 8C (46F), and outdoor activities might be limited due to the cool weather. Plus, the charm of Limassol's beaches might be somewhat muted during this colder period.
Fantastic activities for Limassol during September
September in Limassol presents a potpourri of engaging activities:
Limassol Castle: Explore this historic site, which houses the Cyprus Medieval Museum. Immerse yourself in the rich history of Limassol, discovering intriguing artefacts and enjoying the castle's panoramic view.
Kourion Archaeological Site: Spend a day marvelling at the ancient city-kingdom's remains. The impressive Greco-Roman theatre, the stunning mosaics, and the spectacular view of the Mediterranean will leave you spellbound.
Limassol Marina: Enjoy a leisurely walk around this stylish waterfront development. You'll find a variety of cafes and restaurants offering tantalising Cypriot cuisine, high-end boutiques for shopping, and a chance to admire luxury yachts docked in the marina.
Wine Tasting Tour: Discover Limassol's rich wine tradition by visiting local wineries. Sample exquisite Cypriot wines, explore the vineyards, and learn about the winemaking process.
Beach time at Lady's Mile Beach: This long stretch of sandy beach provides the perfect spot to relax, swim, and soak up the sun. You'll also find tavernas nearby for a tasty lunch.
Limassol Zoo: A great option for families, this compact but delightful zoo is home to various animals and birds. It's a fantastic place for children to learn about wildlife while having fun.
Other holiday destinations recommendations for September
September is a splendid time to travel, offering respite from summer crowds and balmy weather. Let's take a look at five destinations that are particularly appealing this time of year.
1. Zanzibar, Tanzania: In September, Zanzibar's tropical climate hits a sweet spot - not too hot, not too wet. Snorkel in crystal clear waters, explore Stone Town's winding streets, or lounge on powdery beaches. The warm hospitality, combined with aromatic cuisine and rich history, creates an unforgettable holiday experience.
2. Algarve, Portugal: The Algarve in September is a symphony of golden beaches, cliff-top vistas, and delicious seafood. The weather is perfect for outdoor adventures such as golfing, boating, or hiking. With fewer tourists around, it's easier to enjoy the region's natural beauty and cultural attractions at a relaxed pace.
3. Sicily, Italy: Sicily in September is full of sunny days and cultural wonders. The heat of summer subsides, making it a great time to explore ancient ruins, hike up Mount Etna, or enjoy Sicilian gastronomy at a local trattoria. The vineyards are also in full swing, perfect for wine enthusiasts.
4. Santorini, Greece: Santorini in September is postcard-perfect. The weather is still warm, the sunsets as magnificent as ever, and the crowds smaller. Explore archaeological sites, relish a glass of Vinsanto wine, or simply lose yourself in the serenity of the caldera views.
5. Croatia: September brings mild weather and fewer tourists to Croatia, a country known for its stunning coastline and beautiful islands. Explore Dubrovnik's ancient city walls, discover the waterfalls of Plitvice Lakes National Park, or bask in the sun on a beach in Hvar.