Larnaca, Cyprus in September: the weather and best activities for your holiday
Stepping off the plane into the warmth of Larnaca, Cyprus in September is like being welcomed by an old friend. The weather is inviting, and the city vibrates with an energy that merges the lingering excitement of summer with a tinge of the coming fall. Larnaca, draped with historical charm and coastal allure, is a gem of the Mediterranean. And yes, September is a splendid time to visit, balancing the perfect cocktail of weather conditions, crowd sizes, and leisurely experiences.
September, when the summer's heat begins to wane, brings a weather landscape that feels almost tailor-made for visitors. The once blazing hot days are now pleasantly warm, making daytime explorations an enjoyable experience rather than a sweltering ordeal. Likewise, the nights grow slightly cooler, offering the ideal atmosphere for evening strolls and alfresco dining under the twinkling stars.
Larnaca weather in September
Temperature-wise, daytime highs hover around 30C (86F), creating excellent conditions for sunbathing or exploring Larnaca's cultural treasures. Once the sun dips below the horizon, temperatures take a gentle dip to about 19C (66F), letting you enjoy a comfortable night-time breeze.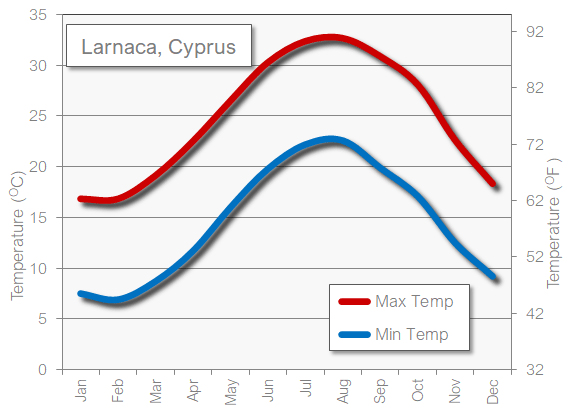 September graces Larnaca with about 11 hours of daily sunshine. This extended window of daylight not only means more time to explore but also assures you a generous dose of Vitamin D. However, while the sun is less intense than the peak summer months, sunscreen is still essential to protect your skin during outdoor activities.
As for the sun's daily journey, sunrise greets Larnaca around 6:30 am, while sunset bids adieu close to 7:00 pm. These early mornings and late evenings are fantastic for photography, with softer light and evocative colours.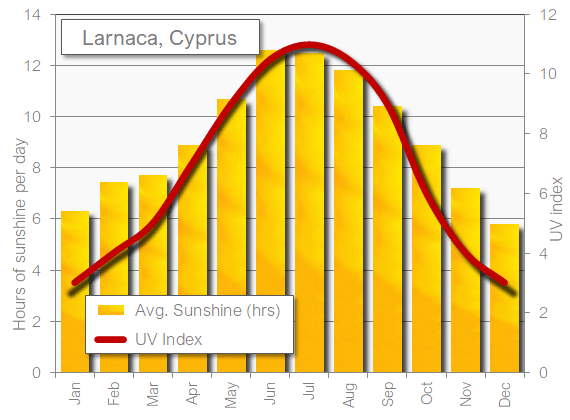 While humidity levels are relatively high, around 68%, the heat is not oppressive. The breeze from the sea often softens the impact of humidity, creating a pleasant, slightly salty atmosphere rather than a stifling one.
Rain is a rare guest in Larnaca during September. On average, the city sees a paltry 6mm of rainfall spread over two days. It is an arid month, reinforcing the point that September is a great time for outdoor pursuits.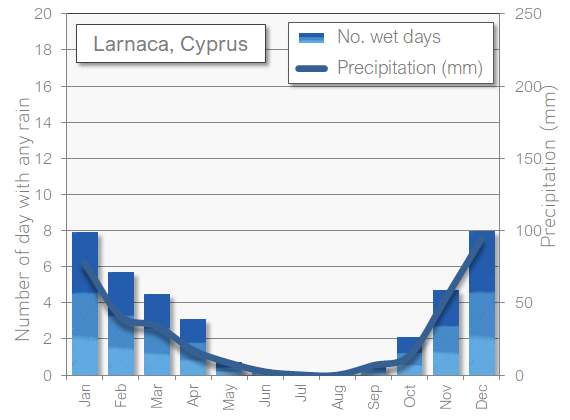 In September, the sea still retains much of the summer's warmth, with water temperatures averaging a delightful 27C (81F). This is perfect for water sports or a refreshing dip after basking in the Cypriot sun.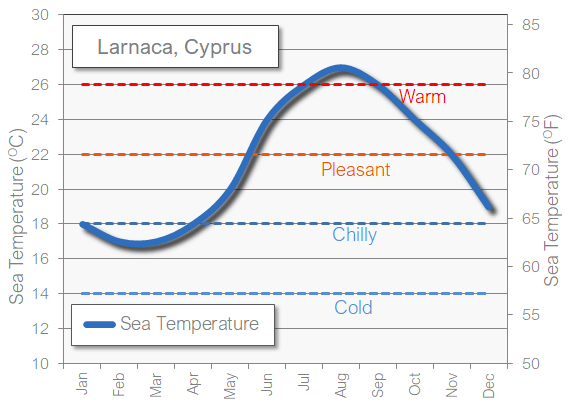 Tourist activity in Larnaca in September is moderate. Many European tourists have returned home as the school year begins, leaving the city less crowded than the peak summer months. A majority of tourists during this time come from Russia and the UK, attracted by the appealing weather and reduced crowds.
Even though the city is less bustling in September, Larnaca doesn't lose any of its charm or vibrancy. The restaurants and markets are still buzzing with activity, and the locals are more than welcoming to visitors. However, the more relaxed atmosphere makes it an ideal time for families with young children, who can enjoy the attractions without jostling through large crowds.
When it comes to costs, September stands at a sweet spot. It's considered shoulder season, when prices are generally lower than the peak summer months. Accommodation and flight rates are likely to be more affordable, offering excellent value for the money.
All things considered, September in Larnaca presents an inviting blend of comfortable weather, manageable crowds, and attractive prices. The city, bathed in warm sunlight and cooled by gentle sea breezes, offers a perfect backdrop for a memorable holiday.
Clothes to pack for September in Larnaca, Cyprus
If you're packing for a trip to Larnaca in September, think summer wardrobe with a touch of autumn. During the day, light clothing like t-shirts, shorts, and summer dresses will be perfect, while a light jacket or shawl may come in handy for the slightly cooler evenings. Don't forget your swimwear, as the sea is still wonderfully warm for a dip.
The best months to visit Larnaca
The best time to visit Larnaca is in the spring or autumn months - May, June, and September, particularly stand out. May starts the summer with a gentle touch, offering pleasant temperatures and an array of vibrant wildflowers. June takes this warmth up a notch, perfect for those who enjoy the heat but not the crowd. By September, the temperatures mellow, and the summer rush dissipates, giving you ample space and comfort to explore the city's charm.
The worst months to visit Larnaca
While Larnaca is attractive year-round, July and August can be quite challenging for visitors who are not accustomed to intense heat, with temperatures often soaring over 35C (95F). These are also the busiest months in terms of tourism, which means larger crowds and higher prices. Therefore, for a more comfortable and relaxed holiday experience, you may wish to avoid these peak summer months.
Fantastic activities for Larnaca during September
Here are some of the best activities to do in Larnaca during September:
Explore Larnaca Castle: This historic castle provides a glimpse into Cyprus's fascinating past. In the cooler September weather, strolling around the ancient fortifications and exploring the onsite museum becomes a much more comfortable and enjoyable experience.
Visit the Salt Lake: In September, as the water evaporates, the Salt Lake transforms into a shimmering white spectacle. It's also a perfect time for birdwatching, with flamingos often stopping here during their migration.
Watersports on Finikoudes Beach: September's warm sea temperatures and quieter beaches make it an ideal time for water sports. Whether you fancy jet-skiing, paddleboarding, or just a refreshing swim, Finikoudes Beach has you covered.
Stroll around Larnaca Marina: With less crowd and more room to breathe, September is a great time to take a leisurely walk around Larnaca Marina. Enjoy the sight of the boats, grab a coffee or an ice cream, and bask in the relaxed atmosphere.
Try traditional Cypriot cuisine: With cooler evenings, alfresco dining is an absolute pleasure. Be sure to try meze, a selection of small traditional dishes, perfect for sharing.
Day trip to Ayia Napa: Just an hour away, Ayia Napa boasts some of the finest beaches in Cyprus and the stunning Cape Greco National Park. With less traffic in September, getting there is a breeze, making it an excellent day trip destination.
Other holiday destinations recommendations for September
When we talk of September holidays, the destinations that shine out are diverse, each offering unique charm and attractions. Here are five to consider for an unforgettable getaway:
1. Zanzibar, Tanzania: Just off the coast of East Africa, Zanzibar is a dream for lovers of sun, sea, and sand. In September, the weather is perfect, warm but not excessively hot, and the ocean offers excellent visibility for snorkeling and diving. Explore Stone Town's historic alleyways, savour the flavours of local Swahili dishes, or simply unwind on one of the island's pristine beaches.
2. Algarve, Portugal: September in the Algarve offers an idyllic blend of sunny days and pleasant temperatures, without the peak summer crowds. The region is blessed with stunning coastlines, where limestone cliffs meet the azure sea. Enjoy a round of golf, sample fresh seafood, or take a boat tour to the spectacular Benagil Sea Cave.
3. Mauritius: This Indian Ocean island is an exquisite destination for a September holiday. The climate is balmy, the beaches are postcard-worthy, and the landscapes are stunning. The mix of cultures provides a fascinating backdrop for your stay, whether you're hiking in the Black River Gorges National Park, exploring the capital, Port Louis, or sampling the island's diverse cuisine.
4. Santorini, Greece: As summer fades, Santorini retains its warm weather, but the crowds diminish. The famous sunsets over the caldera are just as breathtaking, and the island's vineyards are ready for harvest. Tour the archaeological sites of Akrotiri, relax in Oia's stylish cafes, or take a catamaran cruise around the island, experiencing the beauty of Santorini's volcanic landscape.
5. Dubai, United Arab Emirates: September marks the end of Dubai's summer, bringing more manageable temperatures. It's a great time to explore the city's myriad attractions. Marvel at the view from the Burj Khalifa, shop in the vast Dubai Mall, or embark on a thrilling desert safari. As evening falls, dine under the stars at a Bedouin camp for a taste of Emirati hospitality.