Kos in April: the weather and best activities for your holiday
As the grip of winter loosens, the Greek island of Kos awakens to the gentle warmth of spring. In April, this Dodecanese gem, cocooned in the azure embrace of the Aegean Sea, reveals its quieter side, providing a soothing backdrop for travellers seeking a blend of history, nature, and tranquillity.
Kos in April offers a serene retreat away from the bustling summer crowds. With the tourist rush yet to commence, the island maintains an authentic, relaxed vibe, inviting you to leisurely explore its historical treasures, cycle through its verdant landscapes, and relish its local gastronomy.
Kos weather in April
Kos in April basks in a comfortable average temperature of around 18 degrees Celsius, providing a pleasant setting for outdoor adventures. The sun generously bathes the island for about 10 hours each day, perfect for soaking up the awe-inspiring views from the Asklepion or the Castle of the Knights in Kos Town.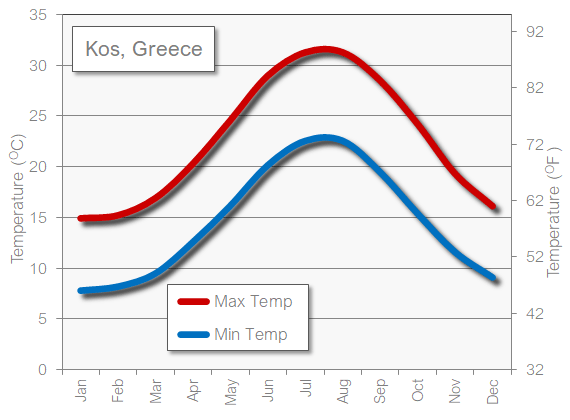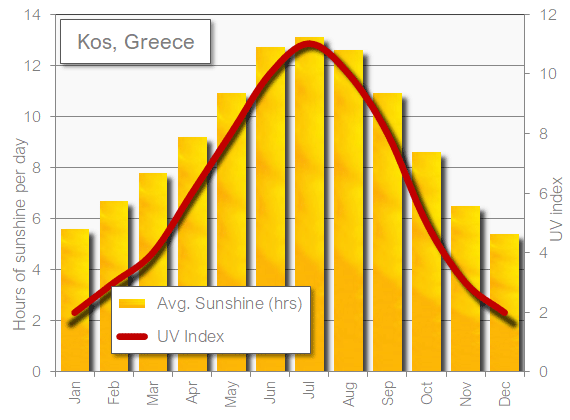 Rainfall in April is relatively low, with approximately six wet days contributing to an average of 20mm of rain. This weather pattern ensures that the island's scenic hiking trails, such as the Dikaios Mountain path, remain accessible and enticing.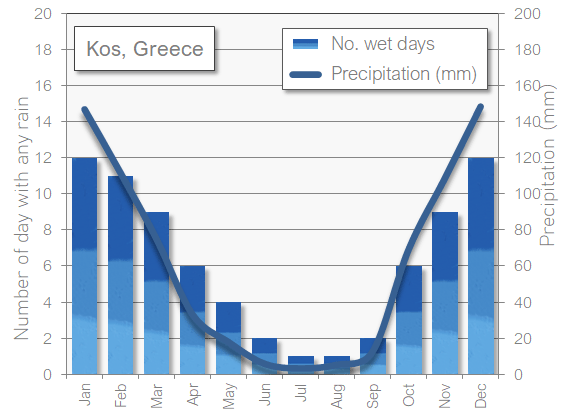 Sunrise in Kos during April graces the sky at around 6:20 am, and sunset falls at about 8:00 pm, leaving ample daylight for exploration and relaxation.
The Aegean Sea begins to shake off its winter chill, warming to an average temperature of around 16 degrees Celsius and setting the stage for the upcoming beach season.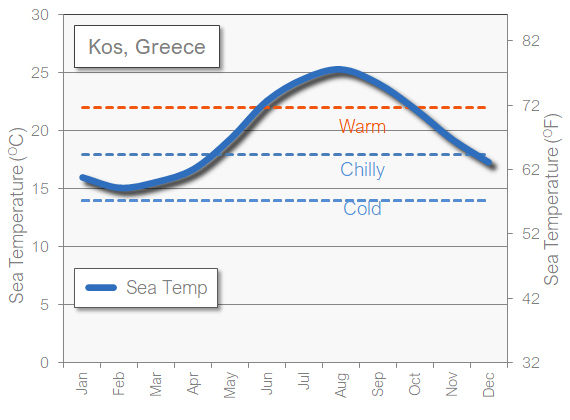 Though not yet in its peak season, Kos in April attracts a select group of travellers, primarily from the UK, Germany, and the Netherlands. The majority of these visitors are couples and older families, typically in their late 30s to early 40s, who appreciate the tranquillity and culture-rich experience that Kos offers at this time of year.
Value-seeking travellers will find April in Kos particularly appealing. Accommodation, dining, and activities tend to be more affordable than during the bustling summer months, making this an attractive period for those looking for a cost-effective yet fulfilling Greek island experience.
Kos also shines as a family-friendly destination in April. The island's sandy beaches, such as Tigaki and Kardamena, offer gentle waves suitable for children, while the Kos Natural Park provides a fun day out for the family. The fascinating history of the island, displayed in its numerous archaeological sites, serves as a living classroom for young minds.
In conclusion, Kos in April is an enticing blend of warm weather, historical richness, natural beauty, and affordability. It's a time when the island showcases its authentic charm, inviting you to immerse in its serene ambience before the onset of the summer rush. If you're yearning for a tranquil escape that balances relaxation with exploration, then Kos in April is your destination to discover.
Clothes to pack for April in Kos
Kos in April ushers in the warmth of spring, but it still holds onto the chill of winter during the night. Be sure to pack a combination of short and long-sleeved tops, and a light jacket for the evenings. And don't forget your sunnies and hat, because when the sun's out, it likes to show off!
The best months to visit Kos
The most inviting months to visit Kos are June, July, and August. These months are a fantastic blend of clear skies, warm temperatures, and vibrant energy. You can bask in the glory of the golden sun on the pristine beaches and enjoy the vibrant nightlife, with musical events and outdoor dining making the evenings sparkle. The sea is also at its most inviting, offering perfect conditions for a plethora of water sports.
The worst months to visit Kos
While Kos has its charms all year round, the months of December, January, and February can be a bit challenging for holidaymakers. The winter months are the coldest and rainiest, and many of the tourist facilities, including some hotels, restaurants, and attractions, go into hibernation. If you're seeking the warm, sun-soaked experience that Greek islands are famous for, it's best to avoid these months.
Fantastic activities for Kos during April
1. As for things to do, April in Kos is a playground of possibilities:
Asclepeion: A visit to the ancient ruins of Asclepeion, a healing temple dedicated to the god of medicine, Asclepius, is a journey back in time. Take in the history, enjoy the views, and let your imagination run wild in this archaeological gem.
Biking: With its flat terrains and scenic routes, Kos is often dubbed the "bicycle island". Rent a bike and explore the island's lush landscapes, charming villages, and beautiful beaches at your own pace.
Kos Town: Spend a day exploring Kos Town. Wander through its narrow streets, visit the imposing Castle of the Knights, enjoy a coffee in Eleftherias Square, and don't miss the ancient Roman Odeon.
Natural Park of Zia: Visit the charming mountain village of Zia, located within the Natural Park. It offers hiking trails, beautiful waterfalls, and incredible panoramic views of the island, especially at sunset.
Thermal Springs: Take a dip in the Therma hot springs, where the warm sea water is naturally heated by the island's volcanic activity. It's a unique and rejuvenating experience.
Greek Cooking Class: Embrace the flavours of Greece by joining a cooking class. Learn how to make traditional Greek dishes, and then enjoy your culinary creations - a deliciously fun experience.
Boat Trip: Take a boat trip to the neighboring islands of Nisyros or Kalymnos. Explore their unique landscapes, traditional architecture, and warm hospitality for an unforgettable day trip.
Other holiday destinations recommendations for April
1. Barcelona, Spain: Barcelona is wonderful in April. As spring starts to bloom, you'll find this lively city becoming more colourful and vibrant. The temperatures are mild, perfect for strolling along the beach or exploring the city's landmarks like the stunning Sagrada Familia. Plus, it's less crowded than the summer months, so you'll enjoy a more relaxed atmosphere.
2. Miami, Florida, USA: If you're a fan of sun, sand, and sea, Miami in April is a must-visit. The city enjoys warm, sunny weather ideal for lounging on its world-famous beaches, and it's the perfect time to indulge in outdoor activities before the hot and humid summer kicks in.
3. Bali, Indonesia: Bali in April is truly something special. This is the start of the dry season, which means lots of sunshine and less rain, perfect for enjoying the beautiful beaches, surfing, and exploring the rice terraces and temples.
4. Cancun, Mexico: Cancun is a tropical paradise in April. With excellent weather, clear skies, and warm sea temperatures, it's a fantastic time for swimming, snorkelling, or just soaking up the sun on its stunning beaches.
5. Seychelles: This group of islands is spectacular in April, offering warm and sunny weather, calm seas, and excellent underwater visibility, making it a perfect time for snorkelling and diving. Plus, it's also the season for turtle hatching, a magical experience to witness!