Tallinn, Estonia in September - The weather and is it a good time of year to visit?
Steeped in an alluring blend of history and culture, Tallinn, the capital of Estonia, offers a tapestry of enchanting experiences to its visitors. This magnificent city, a UNESCO World Heritage Site, is home to well-preserved medieval architecture, complemented by a modern Nordic atmosphere. The aim of this article is to assess if September serves as a good time to delve into the myriad charms of Tallinn.
The simple answer is yes, September does serve as a fitting time to visit Tallinn. As the frenzy of the summer tourism gives way to a more serene ambiance, visitors in September can expect a less crowded, but equally vibrant city, with weather conditions that are comfortable and conducive to exploration.
Tallinn weather in September
Tallinn, situated on the northern coast of Estonia, experiences a humid continental climate, characterized by significant temperature fluctuations across the year. The city dances between frost-kissed winters with temperatures dipping below freezing, to pleasantly warm summers when mercury levels often linger around 20°C (68°F). Transitions between these extremes occur during spring and autumn, offering a gradual shift in temperatures and weather conditions.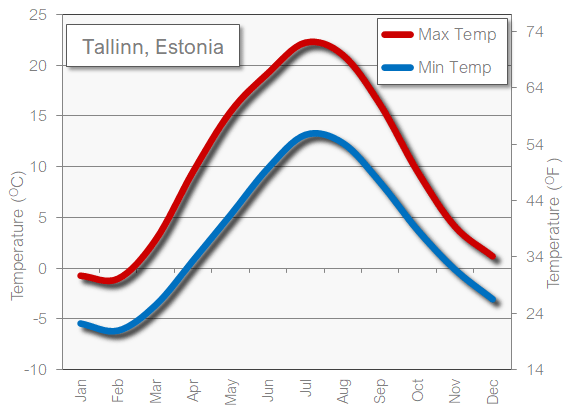 September in Tallinn serves up the charm of early autumn, offering a comfortable balance between the warmth of summer and the chill of the forthcoming winter. Average temperatures during this month range from lows of 9°C (48°F) during night time to highs of 15°C (59°F) during the day. While the city starts to cool down from the summer highs, the temperatures are comfortably cool and not harsh, making it ideal for sightseeing.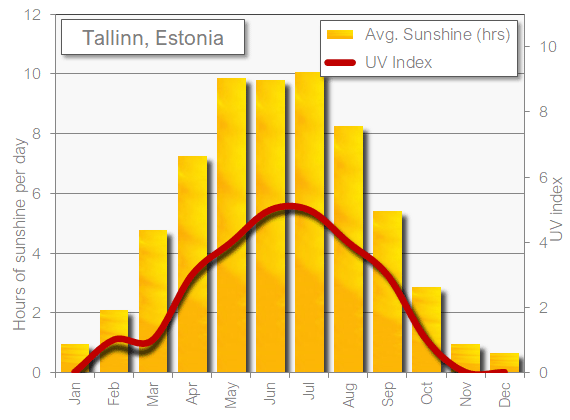 September ushers in a gentle shift in daylight hours in Tallinn, as the long summer days begin to shorten. However, visitors during this time can still expect to enjoy approximately 13 to 15 hours of daylight, with sunrise happening around 6:30 AM and sunset drawing in near 8:00 PM. The average sunshine hours hover around 4 hours per day, presenting ample opportunity to bask in the mellow autumn sunlight while exploring the city's many gems.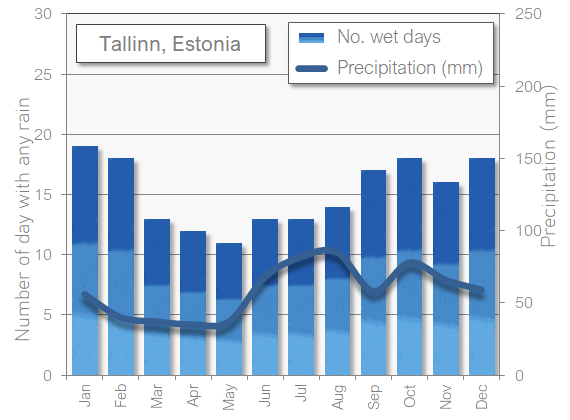 September's precipitation in Tallinn strikes a moderate note, with an average rainfall of approximately 60mm spread across the month. Rainfall events are distributed fairly evenly throughout September, which sees an average of 15 rainy days. While the possibility of rain is present, it's worth noting that showers are typically brief and light, rarely hindering plans for city exploration.
Sea temperature, though not always a primary concern for Tallinn visitors, sits around a brisk 14°C (57°F) in September. While it may be a tad cool for those planning a Baltic Sea dip, it contributes to the overall refreshing atmosphere of the coastal city.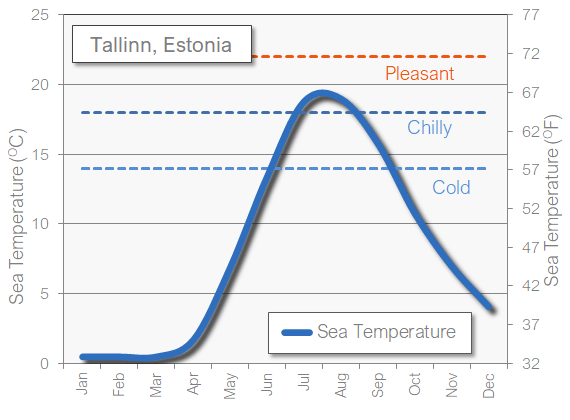 September is a less busy period in Tallinn's tourism calendar, coming after the peak summer months. This means the city is not as packed with tourists, which can make sightseeing more enjoyable. In terms of cost, September can be seen as a good value time to visit. Prices for accommodations, and sometimes airfare, tend to drop compared to the peak season, making it a more budget-friendly time to explore this fascinating city.
Packing Tips and Recommendations for September in Tallinn
When packing for Tallinn in September, your suitcase should balance between light summer wear and autumn comfort. Layering is a great approach. Think t-shirts and light tops that can be paired with a warmer cardigan or a light jacket, especially for cooler evenings. A good pair of walking shoes is essential as Tallinn's Old Town is best explored on foot.
For the day time, t-shirts or light long-sleeve shirts would be suitable, as the weather is comfortably cool. As evening arrives, the temperature can dip, so carrying a light jacket or sweater would be wise. Lastly, an umbrella or a rain jacket might come in handy considering the chance of rain showers.
The best months to visit Tallinn
Among the best months to visit Tallinn, June, July, and August stand out. These summer months offer long, sunny days, with the warmest temperatures, making it perfect for outdoor activities and sightseeing. The city buzzes with energy as festivals and events fill the calendar, presenting a rich cultural experience.
The worst months to visit Tallinn
On the other end of the spectrum, January could be considered the most challenging month to visit Tallinn. With temperatures often plunging below freezing and daylight hours significantly reduced, outdoor activities can be limited. It's also the month with the highest snowfall, which, while adding a magical touch to the city's aesthetics, can also make navigating the city a bit more difficult.
Fantastic activities for Tallinn during September
• Walking tour in Tallinn Old Town: Tallinn's Old Town is a historic jewel, characterized by cobblestone streets, medieval buildings, and charming cafes. Enjoy a leisurely walk, soaking up the atmosphere, and do not miss the Alexander Nevsky Cathedral, an impressive Russian Orthodox church.
• Visit Kadriorg Palace: Built by Peter the Great for his wife, this stunning Baroque palace now hosts the Art Museum of Estonia. Explore its grand interiors and don't miss the beautiful gardens, which are particularly attractive in September when the leaves start to turn.
• Explore Kalamaja: Known as Tallinn's hippest district, Kalamaja is renowned for its colourful wooden houses and Bohemian charm. Visit the Telliskivi Creative City, a creative hub filled with indie boutiques, ateliers, and delicious food stalls.
• Day trip to Lahemaa National Park: Just an hour's drive from Tallinn, Lahemaa offers a refreshing break from the city. It's perfect for hiking and wildlife watching, with its bogs, forests, and coastline serving as home to a rich variety of species.
• Visit the Estonian Open Air Museum: A unique peek into Estonia's rural past, this museum features historic windmills, farmhouses, and a village church. September's pleasant weather provides an ideal setting for exploring this extensive outdoor venue.
• Relax at Pirita Beach: While swimming may not be on the cards, Pirita Beach is worth visiting for its calming sea views, especially as the sun begins to set. It's also perfect for a leisurely stroll or a picnic.
• Seaplane Harbour Museum: This maritime museum houses a collection of historic vessels, including a British-built submarine from 1936.