Bodrum, Turkey in April: the weather and best activities for your holiday
Bodrum, a sparkling jewel on Turkey's southwestern Aegean Coast, is often described as the Turkish Riviera. Known for its beautiful beaches, vibrant nightlife, and rich history, this lively city offers a blend of modern luxury and ancient charm. A stroll through its narrow streets reveals stylish boutiques, delightful cafes, and stunning historic sites, including the ancient Mausoleum of Halicarnassus and the majestic Bodrum Castle.
Is it a good time of the year to visit Bodrum in April? The answer is a resounding yes. Though it's not the peak of summer, April is a delightful month to explore Bodrum, escaping the scorching heat of mid-summer and enjoying a pleasant climate perfect for sightseeing.
Overview of Bodrum's Climate
Bodrum enjoys a typical Mediterranean climate, with hot and dry summers and mild, wet winters. Summer, extending from June to September, sees temperatures soaring above 30C (86F), while winters are milder, averaging around 15C (59F). The transitional seasons, spring and autumn, offer a more temperate climate, with mild temperatures and less crowd, making them an ideal time for a leisurely holiday.
Bodrum weather in April
April in Bodrum sees the average daytime maximum temperature ranging between 18C to 23C (64F to 73F), making the weather quite pleasant. Nighttime minimum temperatures drop to a cooler 10C to 15C (50F to 59F), so it's wise to pack a light jacket or sweater for the evenings. These temperatures make April a lovely time for outdoor activities and sightseeing, neither too hot nor too cold.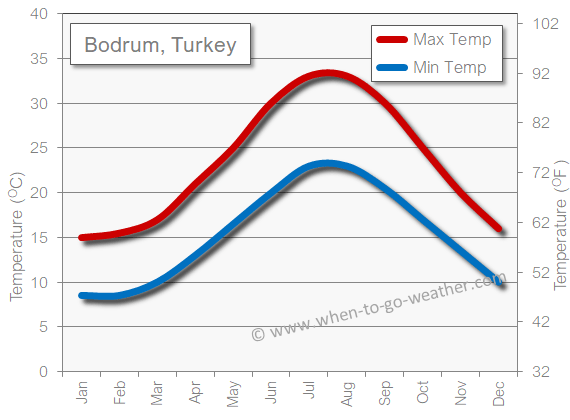 During April, Bodrum enjoys an average of 12 to 13 hours of daylight, providing ample time to explore the city's many attractions. The sun usually shines for about 8 to 9 hours a day, giving a cheerful, sunny ambiance to your April holiday. Although some cloudy days might occur, they are typically rare, and April in Bodrum is known for its predominantly sunny and bright weather.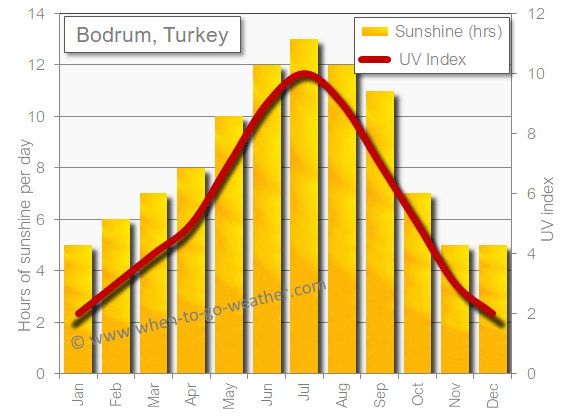 April's weather in Bodrum also means a lower likelihood of rain compared to the wetter winter months. The average precipitation levels in April are around 40mm, mostly occurring in the form of light showers. The chance of heavy rainfall is relatively low, and humid conditions are not usually a concern during this time of the year. You might want to carry an umbrella, just in case, but don't expect to use it frequently.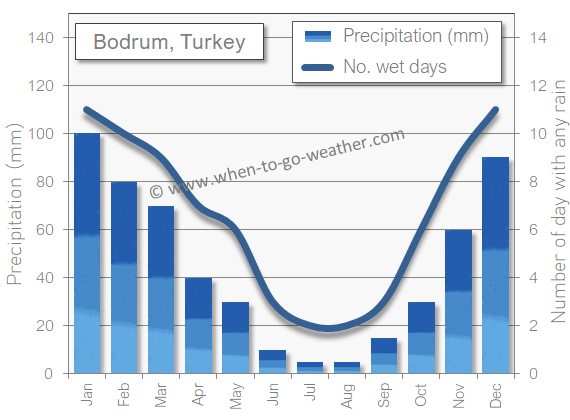 The Aegean Sea starts warming up in April, reaching average sea temperatures of around 17C (63F). While this might be considered slightly chilly for some swimmers, hardy souls and those accustomed to cooler waters may find it refreshing. Those looking for warmer sea temperatures might want to wait until later in the season, but for many, the April waters of Bodrum can still provide a pleasant dip, especially after sunbathing on the city's picturesque beaches.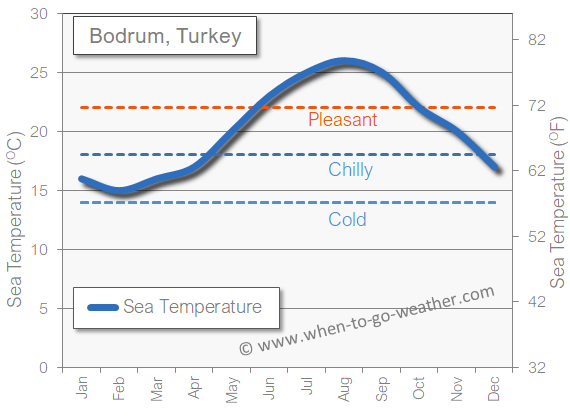 April ushers in a fresh and tranquil atmosphere in the Bodrum region, as the high season is yet to commence. While the bustling summer months draw large crowds, the relative calm of April attracts those in search of a more laid-back holiday experience. With the temperatures comfortably mild, visitors can explore the ancient ruins, scenic landscapes, and unique local culture without the hassle of large tourist crowds.
In terms of cost, April can be considered an inexpensive time to visit Bodrum. As it falls outside the peak season, travellers will likely find lower prices on accommodation and flights, making it an appealing option for budget-conscious holidaymakers. Hotels and rental rooms are generally more readily available during this time, often offering special deals and promotions to entice visitors. Those willing to do a bit of research may find some truly fantastic bargains.
Families with young children may find April to be an excellent time to visit Bodrum. The weather is agreeable without being overwhelmingly hot, and the lesser crowds mean more space to relax and play, both on the beaches and in the town. Child-friendly attractions and activities are accessible, and families can enjoy them at a leisurely pace.
During April, Bodrum's tourists are often a mix of domestic travellers and Europeans looking for early sun. Visitors from countries such as the United Kingdom, Germany, and the Netherlands may be found enjoying the spring break, while the Turkish locals also take advantage of the milder weather to explore this coastal gem.
Clothes to pack for April in Bodrum
When packing for Bodrum in April, it's wise to consider the pleasant daytime temperatures and slightly cooler evenings. Lightweight clothing, such as T-shirts, shorts, and dresses, will serve you well during the day, while a jacket or sweater will be handy for the cooler nights. Comfortable walking shoes are a must for exploring Bodrum's historic sites and cobblestone streets.
For your April visit to Bodrum, you'll want to bring a variety of clothing to accommodate both day and night. During the day, T-shirts, light trousers, and sunglasses are ideal for the sun-soaked streets. At night, a jacket or light sweater will help keep you comfortable as temperatures drop. And don't forget your swimwear, even if the sea might be a touch on the cooler side; lounging by the pool is always an option.
The best months to visit Bodrum
The best months to visit Bodrum are often considered to be late spring and early autumn, namely May, June, September, and October. During these months, the weather is warm but not overly hot, and the tourist crowds are not as dense as in the peak summer season. These months offer a harmonious balance of delightful weather, relative tranquillity, and ample opportunity to engage in both outdoor and cultural activities. It's a time when you can truly soak up all that Bodrum has to offer.
The worst months to visit Bodrum
The worst months to visit Bodrum are typically July and August. During these peak summer months, the city becomes extremely crowded with tourists, leading to long queues at attractions, packed beaches, and increased prices for accommodation and amenities. The weather can also be oppressively hot, reaching above 30C (86F), which might deter those not accustomed to such heat. For those looking for a more relaxed and enjoyable experience, it's advisable to avoid these months.
Fantastic activities for Bodrum during April
Exploring Bodrum Castle: A visit to the iconic Bodrum Castle, also known as the Castle of St. Peter, is a must during your April stay in Bodrum. This impressive medieval fortress houses the Museum of Underwater Archaeology, offering fascinating insights into ancient shipwrecks and maritime artefacts. April's comfortable temperatures make it an ideal time for a leisurely exploration of the castle's towers, ramparts, and exhibits.
Strolling Through Bodrum's Marina: Bodrum's vibrant marina area is a delightful place to stroll, dine, and shop. With luxurious yachts moored at the docks and a beautiful sea view, this area is filled with chic cafes and gourmet restaurants. April's pleasant weather offers the perfect opportunity to enjoy an alfresco meal or simply wander through this fashionable area.
Discovering the Ancient Theatre of Halicarnassus: The Ancient Theatre of Halicarnassus is one of Bodrum's most remarkable historical sites. Built in the 4th century BC, this well-preserved amphitheatre offers an extraordinary window into antiquity. An April visit provides a chance to experience this majestic site without the summer crowds, allowing you to immerse yourself in its rich history.
Sailing on a Traditional Gulet: Experience the true essence of Bodrum with a sailing trip on a traditional wooden gulet. These charming vessels offer day trips and longer cruises along the Aegean coast, exploring hidden bays, secluded beaches, and picturesque islands. April's milder weather provides a refreshing sailing experience, making this a unique and unforgettable part of your Bodrum holiday.
Visiting the Windmills of Bodrum Peninsula: The seven historic windmills located on the Bodrum Peninsula offer a stunning view of the city and the sea. These well-preserved structures date back to the 18th century and are an iconic symbol of the area. In April, the weather is conducive for hiking up to the windmills, and the panoramic vistas are well worth the effort.
Taking a Day Trip to Ephesus: If you're interested in exploring further afield, a day trip to the ancient city of Ephesus is highly recommended. As one of Turkey's most significant archaeological sites, Ephesus is home to the Temple of Artemis, one of the Seven Wonders of the Ancient World. April's pleasant climate and lesser crowds make it an optimal time for exploring this incredible historical treasure.
Relaxing on Bardakci Cove Beach: Bardakci Cove is a beautiful beach in Bodrum known for its clear waters and peaceful ambiance. During April, the beach is often less crowded, making it a perfect spot for relaxation and sunbathing. Even if the sea's temperatures are a bit on the cooler side, you can still enjoy the calming sounds of the waves and the breathtaking views.
Other holiday destinations recommendations for April
As the northern hemisphere shakes off the last remnants of winter, April emerges with a promise of mild weather and blooming landscapes. For those seeking a spring escape, let's embark on a journey to explore the globe's diverse delights. From idyllic islands to bustling seaside towns, here are six perfect destinations for an April vacation.
Canary Islands, Spain: Sitting off the northwest coast of Africa, the Canary Islands offer an early taste of summer. With temperatures hovering around 22°C (72°F), it's an ideal time for beach-goers. The Islands are in full bloom with vibrant flora, and the fewer crowds make for a tranquil atmosphere. Don't miss the mesmerizing sunsets that paint the islands' dramatic landscapes in a stunning array of colours.
Sharm el Sheikh, Egypt: As the blistering heat of the Egyptian summer is still a few months away, April is a great time to visit Sharm el Sheikh. The city enjoys a balmy 30°C (86°F) during the day, perfect for exploring the colourful coral reefs of the Red Sea. The nights, cooled by the desert breeze, offer a welcome contrast for peaceful strolls along the sandy beaches.
Dominican Republic: April in the Dominican Republic offers lush landscapes, stunning beaches, and a vibrant culture. With temperatures around 29°C (84°F), it's a beach lover's paradise. The cooler evenings allow for comfortable exploration of the local markets and historical landmarks. Enjoy the sounds of merengue and bachata filling the air during the Santo Domingo Merengue Festival.
El Gouna, Egypt: Nestled on the Red Sea, El Gouna is a haven for water sports enthusiasts in April. The warm sea temperature of around 23°C (73°F) is ideal for kiteboarding, scuba diving, and snorkeling. Plus, the tranquil lagoons and luxurious resorts provide a relaxing retreat away from the hustle and bustle of everyday life.
Cape Verde: Located off the west coast of Africa, Cape Verde in April enjoys an enticing mix of warm weather (around 25°C or 77°F) and a relaxed vibe. It's a perfect time for hikers to explore the islands' striking volcanic landscapes, while beach enthusiasts can laze around the pristine beaches, soaking up the mild sun.
Sri Lanka: April is a delightful time to experience the tropical allure of Sri Lanka. The coastal areas, including the mesmerizing beaches of Galle and the wildlife-rich national parks, enjoy a warm 29°C (84°F) climate. The country celebrates the Sinhalese New Year in April, offering a fantastic opportunity to experience vibrant local traditions and feasts.