Limassol, Cyprus in April: the weather and best activities for your holiday
There's a certain magic about the city of Limassol in April. This bustling metropolis, tucked away on the southern coast of Cyprus, whispers of warm beginnings and hints of pleasant surprises. As the sun casts long shadows across the ancient ruins and the sea greets the shore in gentle murmurs, Limassol shakes off the last vestiges of winter and welcomes spring in all its splendor.
April in Limassol is like a finely-aged wine, mellow and exquisite, offering a nuanced and comfortable experience for discerning travelers. No time of the year lays bare the soul of this vibrant city quite like April - a month that carries the vibrant promise of summer, yet retains a soothing, cool serenity.
Limassol weather in April
The city in April enjoys a gentle climate, with daytime temperatures typically hovering around 22°C (72°F), while at night, the mercury dips to a comfortable 13°C (55°F). Such temperatures make for pleasantly warm days and cooler nights, ideal for exploring the city or basking in the tranquility of the seafront promenade.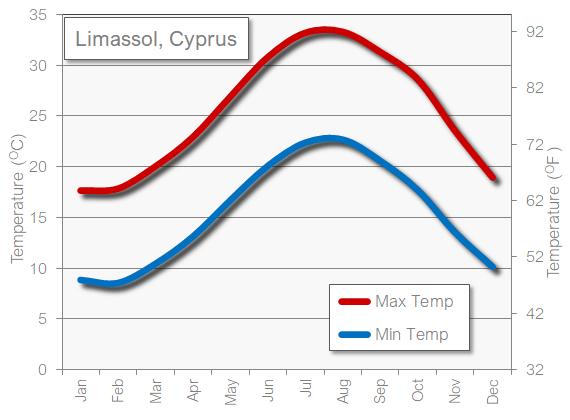 With an average of 9 hours of sunshine per day, the sun in Limassol is generous but not overwhelming. It's a golden invitation to the outdoors, whether you're inclined towards the excitement of water sports, the discovery of historical sites, or leisurely strolls along charming, ancient streets.
April's sunrise in Limassol greets the city around 6:15 am, while the sunset bids its colourful farewell approximately at 7:45 pm. The lengthening days are a sure sign of the approaching summer, providing ample daylight for all the adventures you have in mind.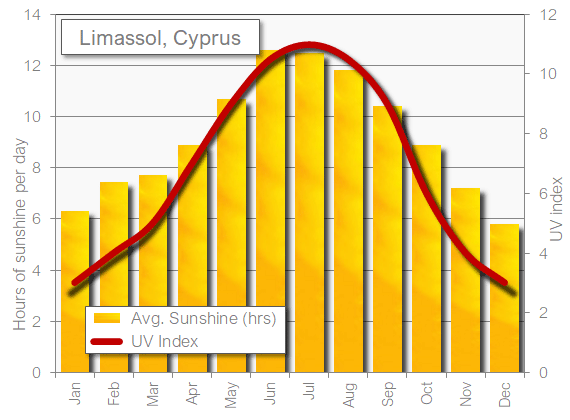 Humidity levels in April are moderate, usually around 70%. It's the kind of humidity that leaves a hint of the sea in the air without being overbearing, making it feel like you're wrapped in a soft, breathable blanket. It's a subtle reminder of the city's deep bond with the Mediterranean.
Rainfall during this month is minimal, averaging about 18mm spread across 5 days. The chances of encountering a shower are slim, and even if you do, they're usually brief, a light sprinkling rather than a downpour.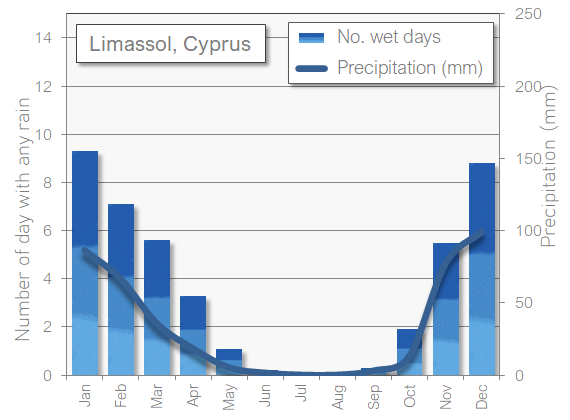 While the air is warming up, the sea at this time is a touch cooler, with sea temperatures averaging 18°C (64°F). Although it may be a bit brisk for some, it's quite an exhilarating experience for those willing to dip their toes in the Mediterranean's early spring waters.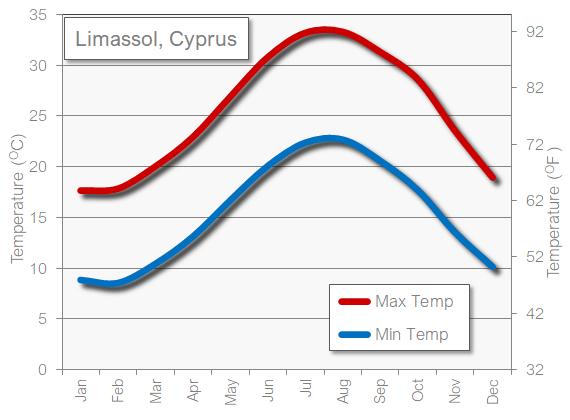 In terms of crowd size, April is somewhat quieter. Most tourists come from the UK and Russia, seeking an escape from their lingering winter. However, the island isn't overly crowded with tourists in April, making it an excellent time for those seeking a more laid-back experience.
Financially, April is not a peak time, making it more budget-friendly compared to the summer months. It's a great time for those seeking value without compromising on the experience. Furthermore, April is an excellent month for families with young children. The weather is comfortable, the city isn't too crowded, and there's enough sunshine for endless fun by the seaside or the city's many parks and attractions.
Clothes to pack for April in Limassol, Cyprus
With daytime temperatures providing a warm embrace, breathable light clothing like T-shirts and shorts are ideal for your daylight adventures in Limassol. However, when the sun makes its descent, the evenings can become a little brisk. It's advisable to pack a light jacket or a warm sweater to keep the evening chills at bay.
The best months to visit Limassol
For an exquisite blend of pleasurable weather and immersive experiences, the months of April, May, and October are the crowning jewels in Limassol's calendar. April carries the spirit of spring with temperatures that are comfortably warm and a city buzzing with life, yet not overrun by crowds. May sees a slight uptick in warmth, breathing life into the local beaches and heralding the onset of exciting outdoor activities. October, on the other hand, is an autumnal treat - the summer crowds have thinned, the sea remains warm, and the vineyards are ripe for harvest, making it an enchanting time to visit.
The worst months to visit Limassol
August, while it carries the allure of summer, can prove quite challenging for visitors to Limassol. The Mediterranean sun is at its zenith, pushing the temperatures to highs of 30°C (86°F) or more. This intense heat can be exhausting, particularly for those unaccustomed to such temperatures, and might limit the scope of outdoor activities.
Fantastic activities for Limassol during April
Here's a sampler of activities that make April in Limassol a time to remember:
City Tour: Experience the cultural tapestry of Limassol with its beautiful mix of historical landmarks and modern architecture. You could begin your journey at the Limassol Castle, where Richard the Lionheart was said to have married Berengaria of Navarre, then weave your way through the old town with its narrow, cobblestone streets.
Beach Time: A day on one of Limassol's sandy beaches is a must. Governor's Beach, with its white cliffs and dark sands, is a serene spot to soak up the warm April sun while enjoying a picnic with local delicacies.
Day Trip to Kourion: Just a short drive from Limassol, the ancient city-kingdom of Kourion offers a rich tapestry of history. Explore the magnificent Greco-Roman theatre, the House of Eustolios with its intricate mosaics, and the early Christian Basilica for a delightful journey into the past.
Wine Tasting Tour: Discover the essence of Cyprus in its wines. Visit local wineries like Kolios or Vlassides to savor the local varieties, learn about their wine-making traditions, and enjoy the stunning panoramic views these vineyards offer.
Sailing Experience: Hire a yacht or join a cruise for a day of sailing on the shimmering Mediterranean. It's a wonderful way to witness the beauty of the coastline, with the cool sea breeze adding to the experience.
Walking the Promenade: The seafront promenade, Molos, is a haven for walkers, cyclists, or those seeking a moment of peace. It's a delightful experience to stroll along the promenade at sunset, as the sky paints itself in hues of orange and pink.
Other holiday destinations recommendations for April
The Dominican Republic, averaging a balmy 28°C (82°F) in April, this Caribbean jewel offers a wonderful mix of white sandy beaches, cultural heritage, and captivating rhythms. The pleasant weather encourages exploration, from strolling on sun-kissed beaches to dancing in lively local festivities.
Florida, USA in April is a whirl of experiences. The comfortable 28°C (82°F) temperatures provide a great opportunity to discover the sunshine state's diverse attractions. From the cultural hubs of Miami to the dreamy world of Disney, Florida offers a memorable April holiday.
Sri Lanka is a captivating destination in April. The temperatures hover around 29°C (84°F), creating a wonderful atmosphere to explore the country's lush landscapes, golden beaches, and ancient heritage. Celebrations of the Sinhala and Tamil New Year add a layer of cultural richness, making April a great time to visit.
Agadir, Morocco, is a perfect blend of beach life and cultural exploration. In April, with pleasant temperatures around 22°C (72°F), you can enjoy the city's golden beaches, explore its vibrant markets, and soak in the rich history of the Kasbah. Agadir offers a Moroccan experience that is both unique and enriching.
Lastly, Sharm El Sheikh, Egypt is a paradise for sun-seekers in April. With temperatures averaging around 29°C (84°F), and nearly 10 hours of sunshine daily, it's a perfect destination for sunbathing, snorkeling, and diving in the crystal-clear waters of the Red Sea. The city's vibrant nightlife offers an added allure, promising an exciting conclusion to each sun-drenched day.