Zanzibar in September: the weather and best activities for your holiday
Step into the quiet, enchanting month of September in Zanzibar, a hidden gem nestled in the Indian Ocean. Far removed from the relentless clamour of high-season tourism, it brings forth a muted yet profoundly rich tapestry of experiences. The weather is seemingly in concert with the languid pace, presenting a spectacle that promises to be unforgettable.
September in Zanzibar hums with a delicate balance of warmth, light and quietude. It's as if Mother Nature herself has curated this month to offer a stunning kaleidoscope of weather experiences to those seeking a retreat from the whirlwind of everyday life.
Zanzibar weather in September
Now let's delve into the specifics of the September clime. During daytime, temperatures typically hover around a comfortable 27C (81F), dipping to about 20C (68F) after sunset.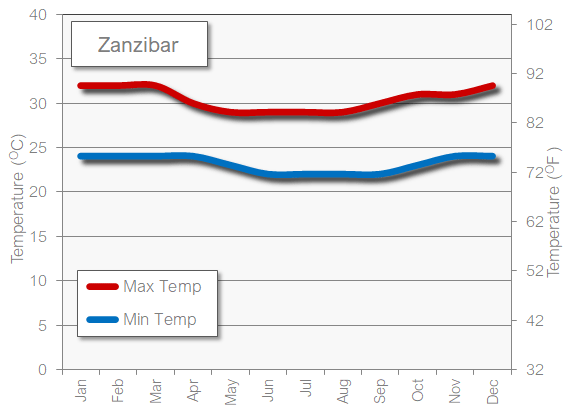 While the sun rules the day, graciously bathing the island with approximately 9 hours of sunlight, its intensity is pleasantly moderate, ensuring that your island explorations remain sunburn-free.
As dawn breaks around 6:30 am, and dusk descends at approximately 6:40 pm, each day is almost perfectly balanced. The consistency in sunrise and sunset times adds a rhythmic elegance to the September days.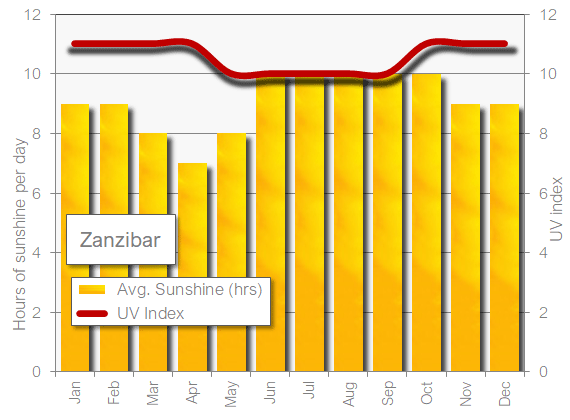 One characteristic of September weather is its relatively low humidity. On average, humidity levels stand at about 70%. The effect is a comfortable, refreshing environment, like being wrapped in a light, breezy fabric that doesn't cling.
If you're concerned about rainfall, worry not. The rainy season is well behind, and September boasts only about 5 rainy days on average, with a rainfall of about 50mm. This means more opportunities to savour the island's treasures without interruption from the elements.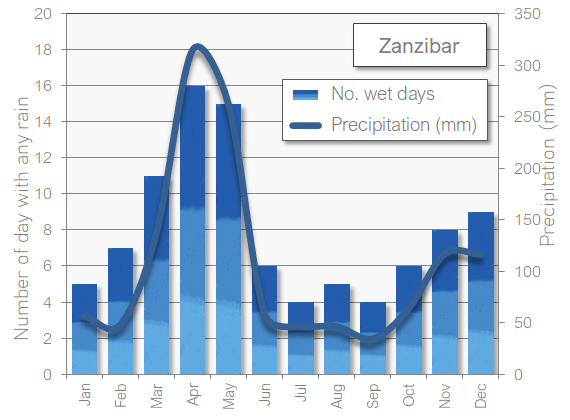 When it comes to sea temperatures, prepare for a delightful surprise. The Indian Ocean maintains an inviting warmth, with averages around 26C (79F). Whether you're a dedicated diver or a casual beachcomber, the ocean promises a pleasant embrace.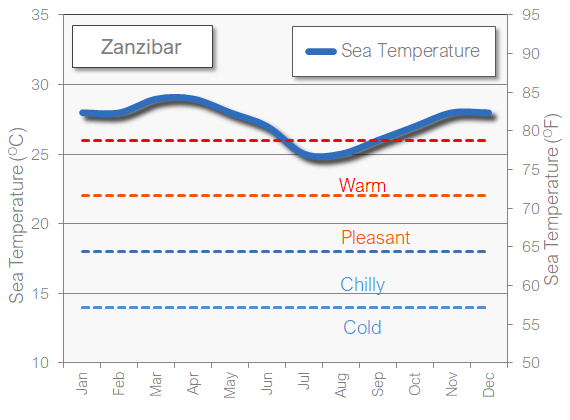 Regarding the influx of visitors, September is a relatively quiet period, but not an empty one. It's a time when you'll find an interesting mix of globe trotters from all around the world, predominantly Europe and North America, seeking an off-peak, tranquil holiday.
This reduced number of tourists translates into less crowded beaches and attractions, giving a sense of exclusive access to the island's wonders. While not deserted, Zanzibar in September presents a relaxed environment ideal for families with young children.
Financially, visiting Zanzibar in September can be a wise decision. With it being the shoulder season, it's possible to find competitive prices for accommodations and activities, making it a more budget-friendly option compared to the peak season months.
Financially, visiting Zanzibar in September can be a wise decision. With it being the shoulder season, it's possible to find competitive prices for accommodations and activities, making it a more budget-friendly option compared to the peak season months.
Weather variations of Zanzibar in September
The interior, home to the Jozani Forest, experiences frequent showers, nurturing its lush biodiversity. The west coast catches more winds, providing exciting conditions for watersports enthusiasts. The east coast, on the other hand, offers calm seas and clear skies, perfect for sunbathing and leisurely swims.
Clothes to pack for September in Zanzibar
As for the wardrobe, breezy cotton clothing, such as t-shirts and shorts, would be ideal for day-time, while a light jacket or shawl could prove handy for the cooler evenings, lending you the perfect balance of comfort and style in September's Zanzibar.
The best months to visit Zanzibar
If you're planning a trip to Zanzibar, consider booking your tickets for June, July, or August. The island is in its element during these months, with the sun lending just the right amount of warmth, averaging at a comfortable 26C (79F), and the skies being rather stingy with their rainfall. This blend of pleasant temperatures and minimal rain makes these months an ideal time to explore Zanzibar.
The worst months to visit Zanzibar
The month of March is notorious for heavy rainfall on the island. It's the period when Zanzibar receives its highest rainfall, which can lead to travel disruptions. Additionally, the combination of high humidity and temperatures close to 29C (84F) might not appeal to every traveler.
Fantastic activities for Zanzibar during September
Zanzibar in September is brimming with activities, so of the best are:
Beach Explorations: The sun-soaked, less-crowded beaches offer an exquisite experience. Whether you're building sandcastles with your children or simply soaking in the tranquillity, Zanzibar's beaches never disappoint.
Snorkelling & Diving: With the warm sea temperature, exploring the colourful underwater world becomes irresistible. The island's rich marine life is a spectacle to behold.
Spice Tours: Zanzibar, famously known as the "Spice Island", allows you to embark on aromatic journeys through lush spice farms, where you can learn about the cultivation of spices like cloves, vanilla, and cinnamon.
Stone Town Visit: A UNESCO World Heritage site, Stone Town is a historical treasure trove. Wandering through its labyrinthine streets offers a fascinating peek into Zanzibar's past.
Dining Out: Savour the unique blend of African, Arab and Indian flavours in local restaurants. With a bounty of seafood and tropical fruits, Zanzibar's cuisine is a gastronomic delight.
Jozani Forest Day Trip: A trip to the Jozani Forest offers an encounter with Zanzibar's unique wildlife, including the rare Red Colobus Monkeys. The forest's tranquillity is a perfect antidote to life's hustles.
Other holiday destinations recommendations for September
The Algarve, Portugal: Portugal's southernmost region, the Algarve, is an autumn gem. Its stunning beaches are less crowded, yet the weather remains wonderfully warm. The sea, at around 21C (70F), is inviting for a refreshing dip or watersports. Plus, September heralds the region's wine harvest season, offering a unique cultural experience.
Santorini, Greece: Santorini in September is a sublime blend of sun, sea, and serenity. The summer crowds thin out, the Mediterranean retains its warmth, and the famous sunsets over the whitewashed cliff-top towns are no less awe-inspiring. Vineyards also begin their grape harvest, adding an extra layer of intrigue.
Maui, Hawaii: In September, Hawaii's stunning island of Maui offers balmy weather, fewer tourists, and the chance to witness the fall migration of humpback whales. The island's famous beaches, from the black sands of Waianapanapa to the golden stretch of Kaanapali, provide a dreamy backdrop for a beach holiday.
Cancun, Mexico: Cancun's Caribbean charms are all the more alluring in September. The beach resorts are less crowded, the ocean temperature is just right, and the rich Mexican cuisine is always a tantalising treat. As it's the low season, you might find appealing deals on accommodations and tours.
Phuket, Thailand: While it's the rainy season, the showers are typically brief and provide a refreshing respite from the tropical heat. Phuket's gorgeous beaches, spectacular sea views, and vibrant nightlife continue to charm visitors. Moreover, fewer tourists mean popular sites like the Big Buddha and Patong Beach are more relaxed.