Tenerife in April: the weather and best activities for your holiday
April ushers in a special time in Tenerife, the largest of Spain's Canary Islands. As spring unfurls its charm, this 'Island of Eternal Spring' is a spectacle of nature's brilliance. Tenerife in April promises a captivating blend of warm weather, inviting beaches, verdant landscapes, and vibrant culture that goes beyond the usual tourist fare.
The island begins to hum with anticipation as April sets in, bridging the quiet post-winter months and the upcoming summer season. Tenerife's stunning landscapes, from the golden sands of Playa de las Americas to the majestic peaks of Teide National Park, are ready for exploration, while the local communities offer an immersive cultural experience.
Tenerife weather in April
In April, the average temperature in Tenerife comfortably sits around 23°C (73°F). This makes for perfect weather to take in the island's diverse offerings, from sunbathing on its beaches to trekking its mountain trails. The sun shines brightly for around 8 hours each day, promising ample time for outdoor adventures.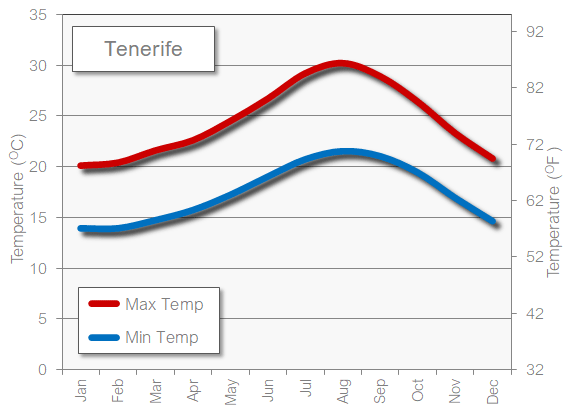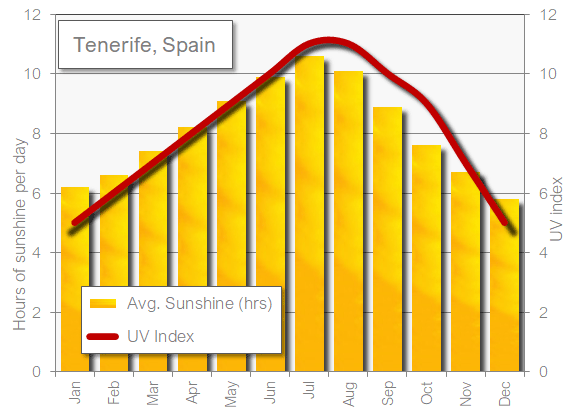 Rain is a rare sight in Tenerife in April, with about 4 rainy days contributing to an average rainfall of just 15mm. This ensures that the island's outdoor attractions, such as Loro Parque and Siam Park, remain accessible and enjoyable.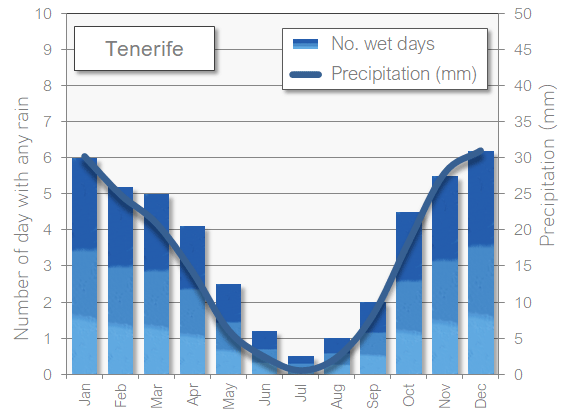 The sun greets the island at around 7 am and bids farewell close to 8:30 pm, allowing for long, sun-filled days ripe for exploration and relaxation.
The Atlantic Ocean begins to warm up with an average sea temperature of 19°C (66°F), which might entice the adventurous for an early dip.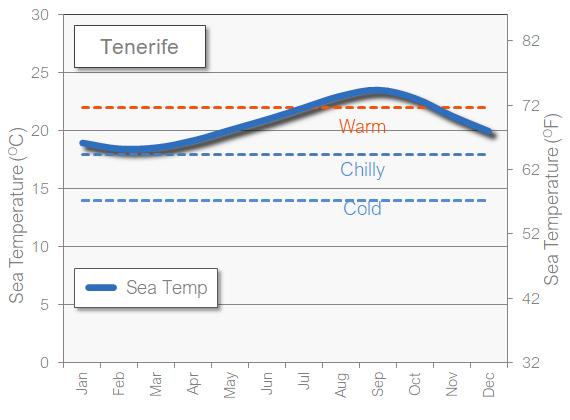 While not at its peak, Tenerife in April sees a steady influx of visitors, predominantly from the UK, Germany, and Scandinavia. The average age of visitors is diverse, ranging from young families to retirees, all drawn by the tranquil ambience and natural beauty of the island at this time of year.
April also presents excellent value for travellers to Tenerife. With the summer crowd still a few months away, prices for accommodation, dining, and activities are often more affordable, making it an attractive time for budget-conscious travellers.
Tenerife shines as a family-friendly destination in April. The island's beautiful beaches with calm waves, such as Playa del Duque, are perfect for children. Add to this the various theme parks, animal encounters at Loro Parque, and the chance to stargaze at Teide National Park, and you have a destination that's sure to keep the little ones entertained and engaged.
In conclusion, Tenerife in April is a delightful blend of pleasant weather, natural beauty, cultural richness, and affordability. It's a time when the island showcases its serene side, inviting you to immerse in its springtime splendour before the summer rush. If you're seeking a destination that offers relaxation, adventure, and value, then Tenerife in April is an excellent choice.
Clothes to pack for April in Tenerife
Daytime in Tenerife in April is comfortably warm, perfect for light clothing like shorts and t-shirts, while evenings can be a bit cooler, so packing a light jacket or sweater would be wise. Don't forget your swimwear for enjoying the beach and the pool.
The best months to visit Tenerife
For a vacation brimming with sunshine, sparkling beaches, and mild weather, the best time to visit Tenerife is between February and April. February starts the Carnival season, full of parades and lively festivities. In March and April, the island blooms, with temperatures averaging around 20 degrees Celsius, ideal for both beach fun and outdoor exploring. The tourist rush is also less during these months, so you can savour the island's delights more leisurely.
The worst months to visit Tenerife
August can be challenging for some visitors to Tenerife. While the island's beauty remains, the temperatures often soar above 30 degrees Celsius, making outdoor activities less comfortable. Plus, it's the peak tourist season, meaning popular spots can be crowded.
Fantastic activities for Tenerife during April
The five best activites for a holiday to Tenerife in April are:
1) Marvel at Teide National Park: In April's pleasant weather, explore the stunning landscapes of Teide National Park, home to Spain's highest peak, Mount Teide. Take the cable car to the summit for breathtaking panoramic views, or trek the park's diverse trails.
2) Relax on Playa del Duque: Unwind on the golden sands of Playa del Duque, a family-friendly beach with calm waves and inviting turquoise waters. Enjoy the beach's facilities and seaside promenade, perfect for a leisurely stroll.
3) Encounter Wildlife at Loro Parque: Get up close and personal with an array of wildlife, from playful dolphins to majestic orcas, at the world-famous Loro Parque. This animal park and conservation centre is a must-visit for families.
4) Stargaze at the Teide Observatory: Venture to the Teide Observatory for an unforgettable stargazing experience. Learn about the cosmos and view celestial wonders through powerful telescopes guided by expert astronomers.
5) Explore Masca Valley: Embark on an adventure through the picturesque Masca Valley, with its dramatic landscapes and charming village. Hike the valley's rugged trails, or take a guided tour for insights into the area's unique flora and fauna.
Other holiday destinations recommendations for April
Algarve, Portugal: Famous for its sandy beaches, dramatic cliffs, and charming fishing villages, the Algarve is a top European destination for a spring beach holiday.
Santorini, Greece: Famous for its white-washed buildings, stunning sunsets, and beautiful beaches, Santorini offers a unique European beach holiday experience in April.
Tulum, Mexico: Known for its stunning beaches, preserved Mayan ruins, and vibrant nightlife, Tulum offers an ideal mix of relaxation and exploration, making it a perfect April getaway.
Cabo San Lucas, Mexico: With its stunning beaches, lively nightlife, and excellent water sports opportunities, Cabo San Lucas is a great beach destination for an April vacation.
Fiji: Known for its soft coral diving, white sand beaches, and pristine natural environment, Fiji is an ideal spot for a tranquil beach getaway in April.
Byron Bay, Australia: Famous for its surfing beaches, lighthouse trail, and vibrant arts scene, Byron Bay offers a laid-back beach holiday in April, which is autumn in Australia.
Myrtle Beach, USA: Known for its extensive beaches, excellent golf courses, and family-friendly attractions, Myrtle Beach is a fun-filled destination for an April beach holiday.