Marmaris, Turkey in September: the weather and best activities for your holiday
Set on the turquoise coast of southwestern Turkey, Marmaris is a delightful fusion of stunning natural beauty and historical marvels. As a city, it offers a wealth of cultural experiences, from Ottoman-era architecture to an array of gastronomical delights, that captivate the senses of many visitors each year.
This article serves to examine if September marks an ideal time to soak up the allure of Marmaris. After careful consideration, the answer leans towards a resounding yes. September, with its warm weather and fewer crowds, provides a perfect window to explore this Turkish gem at a comfortable pace.
Overview of Marmaris's Climate
Marmaris experiences a typical Mediterranean climate with hot, dry summers and mild, wet winters. The summer heat, often extending to the months of June, July, and August, can reach up to 34C (93F). Winters, on the other hand, are relatively cooler and rainier, with temperatures hovering between 10C (50F) and 15C (59F). The transitional months - May, September, and October - strike a pleasant balance, offering moderate temperatures and lesser rain.
Marmaris weather in September
In September, Marmaris basks in a gentle warmth as the intense summer heat subsides. Daytime highs usually revolve around a pleasant 29C (84F), while the nighttime lows dip to a comfortable 16C (61F). This soothing blend of warmth in the day and coolness at night makes September a favourable time to explore Marmaris's attractions without facing the extreme temperatures of the peak summer months.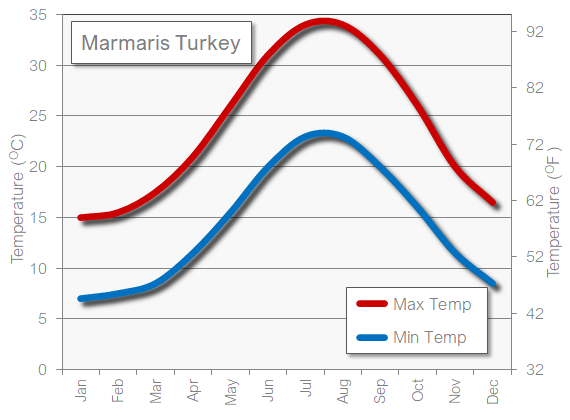 September brings a generous amount of daylight to Marmaris, providing ample time to enjoy the city's offerings. On average, one can expect around 12 hours of daylight, with the sun rising around 6:30 am and setting close to 7 pm. As for sunshine, Marmaris in September is largely sunny, with an average of 9 to 10 hours of bright sunshine each day. Some cloud cover can be expected, but it typically does not overshadow the city's sunny disposition.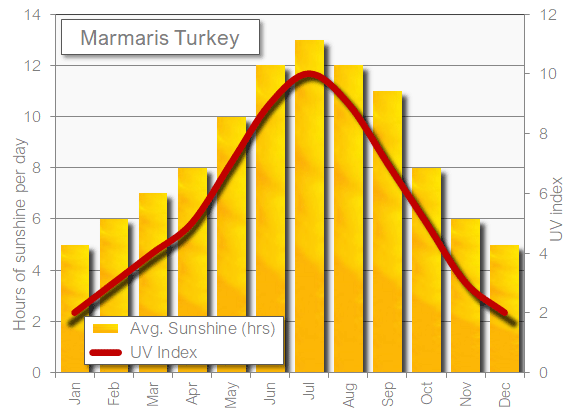 While the winter months from November to March are known for their rainfall, September remains relatively dry in Marmaris. The city sees an average rainfall of about 20mm spread across four days in September. Heavy showers are unusual, and the rain that does fall usually comes in the form of light, brief showers that do not disrupt outdoor activities. Snowfall, as you may guess, is entirely out of the question.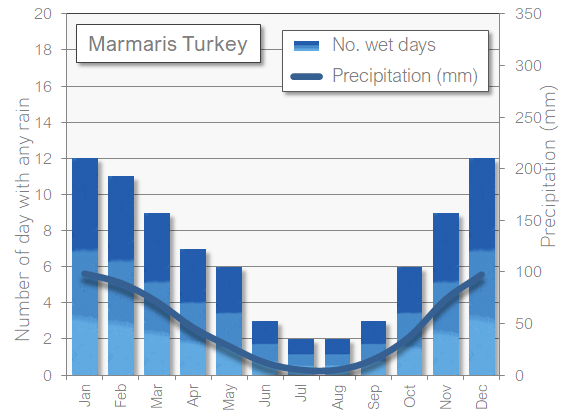 The Aegean Sea surrounding Marmaris maintains a welcoming warmth in September, offering an inviting setting for water-based activities. The average sea temperature lingers around 24C (75F), making it pleasant for swimming, snorkelling, or simply lounging by the beach. The warmth of the sea, combined with the mild daytime temperatures, creates a wonderful environment for enjoying Marmaris's stunning coastline.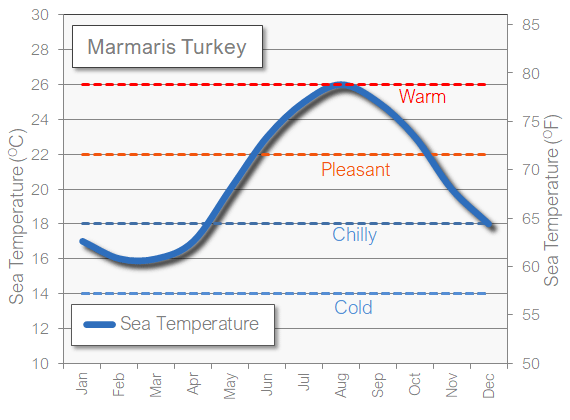 In September, Marmaris's tourism influx softens as the peak summer season fades. While still lively, the city is less crowded, offering a more relaxed, unhurried atmosphere compared to the hustle and bustle of July and August. As the rush diminishes, accommodation rates also tend to become more economical. Hotels and rental rooms are less likely to be sold out, with many offering end-of-season deals that provide good value for money.
For families with young children, September serves as an excellent time to visit. The milder weather, lesser crowds, and reduced accommodation rates together make Marmaris in September both enjoyable and cost-effective.
As for the visitors, September draws a diverse crowd. However, European tourists, primarily from the UK, Germany, and the Netherlands, often form a significant proportion of the visitors during this time, attracted by the pleasant climate and quieter ambiance.
In summary, Marmaris in September delivers a well-rounded, comfortable climate that caters well to a broad spectrum of interests. From exploring the city's historical treasures to soaking up the sun on its beautiful beaches, the moderate temperatures, adequate sunlight, and mild precipitation provide an ideal setting for memorable travel experiences.
Clothes to pack for September in Marmaris, Turkey
When packing for Marmaris in September, versatility should be your guiding principle. With daytime temperatures being warm, casual, lightweight clothing like t-shirts, shorts, and dresses made from breathable fabrics would serve you well. However, as temperatures drop in the evening, packing a light jacket or a sweater is advisable to stay comfortable during nighttime outings or breezy beach evenings.
A good pair of walking shoes is a must for city exploration and historical site visits. Also, don't forget your swimsuit to make the most of the pleasant sea temperatures. Hats, sunglasses, and a high-factor sunscreen will be your best friends during the day, protecting you from the sunny weather.
The best months to visit Marmaris
When pondering the best months to visit Marmaris, May, June, and September stand out. May introduces the summer with a pleasant warmth, without the intensity of the peak season. June, while warmer, maintains a balance before the extreme heat of July and August sets in. September, as discussed, provides a harmonious blend of summer's end and autumn's beginning, with favourable weather and less crowded streets. These months offer the opportunity to enjoy Marmaris's attractions at a comfortable pace.
The worst months to visit Marmaris
While Marmaris has its charms throughout the year, the months of December, January, and February may pose challenges for visitors. These are the coldest and wettest months, with temperatures averaging between 10C (50F) and 15C (59F), and a higher likelihood of rainfall. Although the city has its unique winter charm, the colder temperatures and increased precipitation can limit outdoor activities and beach enjoyment. Therefore, if you're looking to experience the best of Marmaris's climate and outdoor allure, these months might not be your first choice.
Fantastic activities for Marmaris during September
Visit Marmaris Castle: Steeped in history, Marmaris Castle is a captivating spectacle. A visit in September's pleasant weather is a treat for history buffs. The castle, which houses a museum, offers a fascinating journey through Marmaris's past, along with panoramic views of the city.
Boat Tours: Marmaris's coastline is even more beautiful from the water. Various companies offer boat tours that let you explore hidden coves, isolated beaches, and nearby islands. The warm September sea temperature adds to the enjoyment of these aquatic adventures.
Dalyan Day Trip: Just an hour's drive from Marmaris, Dalyan is famous for its ancient rock tombs, mud baths, and the Iztuzu Beach, a famous nesting ground for Caretta Caretta turtles. September's comfortable weather makes this day trip particularly enjoyable.
Visit the Grand Bazaar: For an authentic Turkish shopping experience, visit the Grand Bazaar. From traditional spices to hand-woven carpets, it's a treasure trove of unique finds. September's lesser crowds mean a more relaxed shopping experience.
Pamukkale Day Trip: A UNESCO World Heritage site, Pamukkale is a unique natural wonder featuring terraces of mineral-rich thermal waters. The trip might be a bit long, but the surreal landscapes are worth the journey, especially in the mild weather of September.
Explore Old Town: Marmaris's Old Town, with its narrow, winding streets and charming architecture, is an absolute delight. A leisurely stroll here offers a peek into local life. In September, the cooler evenings make this experience even more enjoyable.
Jeep Safari: For adrenaline junkies, a Jeep safari through Marmaris's countryside offers an unforgettable adventure. You can explore forests, visit traditional villages and enjoy the area's natural beauty, with September's pleasant temperatures enhancing the experience.
Visit Turunc Village: A boat trip to the tranquil village of Turunc offers a respite from city life. With its serene beach and unhurried pace, it's a perfect place to unwind. September's favourable sea and weather conditions make it an ideal time to visit.
Marmaris National Park: With its pine-clad hills and diverse flora and fauna, Marmaris National Park is a paradise for nature lovers. Hiking here in September is a joy, thanks to the temperate weather.
Scuba Diving: Marmaris's clear, warm waters are perfect for scuba diving. With several dive sites catering to all experience levels, September's warm sea temperatures make it an excellent time for underwater exploration.
Turkish Bath Experience: No visit to Marmaris would be complete without experiencing a traditional Turkish bath, or hammam. It's a wonderful way to relax and rejuvenate, especially after a day of exploring in the September sun.
Enjoy Local Cuisine: Marmaris's culinary scene is a delightful blend of traditional Turkish dishes and fresh seafood. Enjoying alfresco dining in the pleasant September weather is one of the city's simple pleasures.