Cancun, Mexico in February: the weather and best activities for your holiday
Located on the north-eastern edge of the Yucatan Peninsula in Mexico, Cancun forms an ideal retreat, blending the allure of rich cultural history with the quintessence of modern luxuries. The city, distinguished by its crystalline azure waters and powdery white sands, provides a stunning backdrop for countless explorations. Whether you're a history buff keen to immerse yourself in the rich tapestry of the ancient Mayan civilization, a sun worshipper eager to lounge on idyllic beaches, or a culinary enthusiast ready to devour local delicacies, Cancun promises an unforgettable experience.
Is February a good time to visit Cancun? The short answer is - yes. The coastal city enjoys a fairly mild climate in February, far removed from the stifling heat of the summer months, offering visitors a comfortable environment to savour its many delights. But to truly appreciate why February is a prime time to visit Cancun, one must delve a bit deeper into the nuances of its climate.
Overview of Cancun's Climate
Cancun, nestled in the tropics, experiences a tropical climate throughout the year, characterised by two main seasons: the wet season and the dry season. The wet season spans from May to October, seeing high temperatures and frequent rainfall. In contrast, the dry season begins in November and extends to April, marked by moderate temperatures and lower levels of precipitation. However, due to its tropical nature, even the dry season can see sporadic showers.
Cancun weather in February
February, falling squarely in the dry season, offers a delightfully temperate climate. Daytime temperatures average around 28C (82F), making it warm but not oppressively hot, and therefore perfect for exploring the city's sights or spending lazy afternoons on the beach. Night-time sees a gentle dip, with temperatures descending to a pleasant 18C (64F), creating ideal conditions for peaceful strolls along the beach or enjoying Cancun's vibrant nightlife.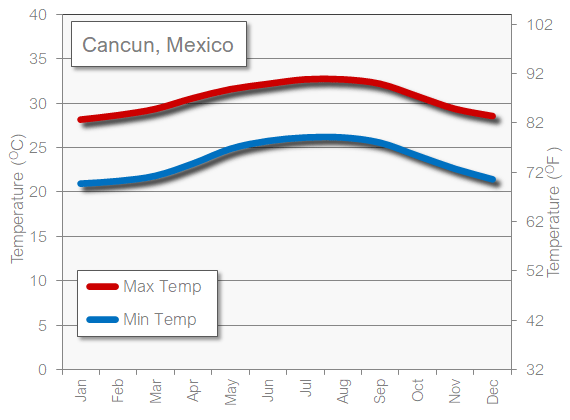 With an average of 11 hours of daylight in February, you'll have ample time to soak up the sun and make the most of your holiday. On average, Cancun sees about 8 hours of sunshine per day in February, striking the perfect balance between the sun's warm embrace and the shade's gentle relief. This doesn't mean an overcast sky, however, as February is one of the least cloudy months, with a cloud cover of around 32% on average. So you can expect plenty of blue skies punctuated by the occasional fluffy white cloud.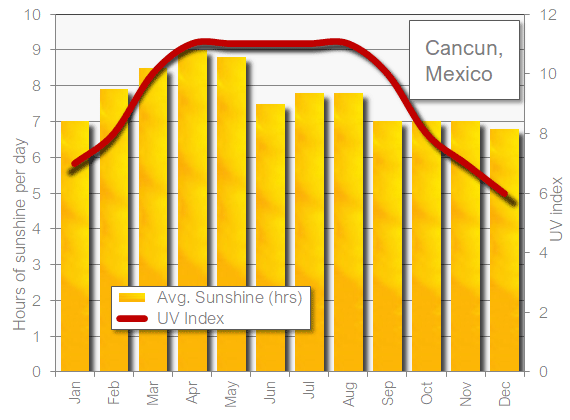 Cancun's dry season lives up to its name in February, with rainfall reaching a minimal average of about 49mm. This amount usually falls over 4 days in the month, meaning there is a high likelihood of dry, sunny days. Heavy showers are rare during this month, as the rain, when it does fall, tends to be light and brief.
The city does, however, retain a moderate level of humidity, averaging around 70% in February. But rest assured, this humidity is unlikely to translate into uncomfortable stickiness, thanks to the comforting sea breeze that regularly sweeps through Cancun.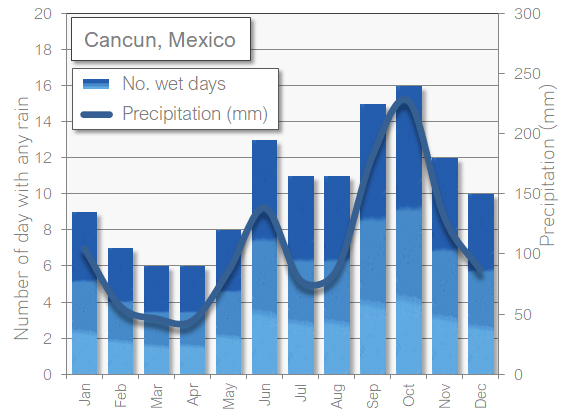 Perhaps the crowning glory of Cancun's February climate is its inviting sea temperature. At an average of 26C (79F), the sea remains perfectly warm for swimming, snorkelling, and a variety of other water-based activities. Whether you're a seasoned diver eager to explore Cancun's vibrant coral reefs or someone who simply enjoys a leisurely dip in the sea, Cancun's February waters will warmly welcome you.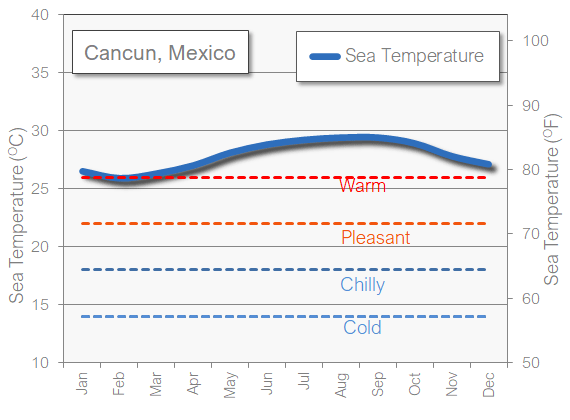 While Cancun is a popular tourist destination year-round, February falls in the shoulder season – a period that straddles the peak and off-peak travel seasons. This means Cancun is noticeably less crowded than in the high-season months of December, March and April, creating a more relaxed environment where you have the freedom to explore the city and its attractions at your own pace.
With regards to the cost of a Cancun holiday in February, it tends to be moderately priced. As it is neither in the peak nor the off-peak season, you can expect the prices to reflect this middle ground. Most hotels and rental accommodations won't be sold out during this time, with deals to be found for the savvy traveller. That being said, it's always recommended to book in advance to secure the best price and availability.
For families with young children, February offers an excellent time to visit Cancun. The pleasant weather conditions and less crowded venues create an environment that is both enjoyable and manageable for families. Children can engage in numerous outdoor activities without the discomfort of intense summer heat.
As for where most tourists come from during this time, February sees a significant influx of travellers from North America, primarily the United States and Canada, seeking to escape the harsh winter climates of their home regions. However, the city's charm and favourable weather conditions draw visitors from across the globe.
Clothes to pack for February in Cancun
When packing for a February trip to Cancun, consider the city's warm daytime temperatures and slightly cooler evenings. The key to packing appropriately is to focus on lightweight, breathable clothing. Items such as shorts, sundresses, swimwear, and T-shirts are recommended for the daytime. For the evenings, a light cardigan or jacket can prove useful as temperatures dip. It's also sensible to pack a light raincoat or umbrella given the chance of sporadic showers, despite being the dry season.
Sun protection is a must. Regardless of the month, Cancun's tropical location means the sun can be strong. Make sure to pack a wide-brimmed hat, sunglasses, and a good quality SPF sunscreen. Footwear should include comfortable walking shoes for city exploration and flip flops for beach days.
The best months to visit Cancun
While Cancun offers a pleasing experience year-round, the best months to visit are from December to April. These months are characterised by warm weather, minimal rainfall, and excellent sea conditions, making them ideal for beach lounging and water-based activities. Among these, February to April are especially delightful, as they are less crowded and more cost-effective than the Christmas and New Year rush of December and early January.
The worst months to visit Cancun
If one were to pinpoint a less favourable time to visit Cancun, it would be from late August to early October. These months fall in the heart of the hurricane season and are characterised by higher rainfall, humidity, and the possibility of storms. While significant hurricanes are not an annual occurrence, the weather during these months can still be unpredictable, potentially impacting travel plans and outdoor activities.
Fantastic activities for Cancun during February
Exploring the Mayan Ruins at Tulum
For history aficionados, a day trip to the Mayan Ruins at Tulum is a must. Located about 130km south of Cancun, these ruins bear witness to the architectural brilliance and cultural richness of the Mayan civilisation. The striking cliff-top Castillo offers breathtaking views of the Caribbean Sea, and the pleasant February weather provides a comfortable environment for exploration.
Visit to Isla Mujeres
Escape the city for a day and take a ferry ride to the enchanting Isla Mujeres. Known for its spectacular beaches, charming town, and vibrant marine life, the island offers a tranquil alternative to Cancun's bustling atmosphere. February's calm sea conditions make it an ideal time for snorkelling or simply soaking in the beauty of Playa Norte, one of the island's best beaches.
Xcaret Eco Park
A family-friendly day out, Xcaret Eco Park offers an amalgamation of natural wonders, wildlife, and cultural exhibits. From butterfly pavilions and aviaries to underground rivers and ancient Mayan village recreations, Xcaret presents a comprehensive exploration of Mexico's rich biodiversity and cultural heritage. Its warm, sunny February days lend themselves perfectly to outdoor activities and wildlife spotting.
Swimming in Cenotes
Take a dip in one of the Yucatan Peninsula's renowned cenotes, natural sinkholes that reveal stunning turquoise waters. The Sacred Cenote at Chichén Itzá and the Gran Cenote near Tulum are among the most popular. February's pleasant weather conditions make it an ideal time to swim in these freshwater marvels or simply admire their natural beauty from the sidelines.
Dolphin Discovery
For wildlife enthusiasts, participating in a Dolphin Discovery program can be an unforgettable experience. These programs allow you to swim with, interact with, and learn about these intelligent creatures in a safe and ethical environment. With Cancun's sea temperatures comfortably warm in February, it's a prime time to partake in this joyous encounter.
Visit the Mercado 28
Round off your Cancun experience with a visit to Mercado 28, a bustling local market in downtown Cancun. Here, you can buy a range of goods from traditional Mexican handicrafts to exquisite local food. The market's indoor and outdoor setting means it's perfect to explore in February's dry, sunny days, offering a slice of local life and a chance to pick up some unique souvenirs.
Other holiday destinations recommendations for February
Phuket, Thailand: February in Phuket is a delightful tropical escape. The monsoon season has passed, leaving behind sunny skies and calm waters. From lounging on Patong Beach to exploring the vibrant Old Town, there's a slice of paradise for everyone.
Barbados, Caribbean: This island gem offers more than its stunning beaches. In February, you'll find Barbados at its driest and sunniest. It's also the month of the exciting Holetown Festival, a vibrant celebration of local culture, music, and food.
Gold Coast, Australia: Experience the Australian summer in February. The Gold Coast, with its sun-kissed beaches, superb surf conditions, and lively festivals like the Sand Safari Arts Festival, is a phenomenal choice for beach lovers.
Canary Islands, Spain: This European haven boasts an eternal spring-like climate. Even in February, you can expect warm temperatures, perfect for enjoying the golden beaches. Tenerife, the largest island, also hosts its magnificent Carnival in February, adding a dash of cultural festivity to your beach vacation.
Maui, Hawaii, USA: The winter months are arguably the best time to visit Hawaii. The weather in February is warm but not scorching, and the humpback whale watching season is at its peak. Plus, the beaches of Maui are as inviting as ever, making it an ideal holiday spot.
Goa, India: With its unique blend of Indian and Portuguese culture, Goa offers more than just stunning beaches. February is the dry season, with plenty of sunshine, and it's also when the renowned Goa Carnival lights up the streets with parades and live music.