Cancun in July: the weather and best activities for your holiday
Steeped in a rich tapestry of culture and history, and boasting some of the most picturesque beaches in the world, Cancun is the crown jewel of Mexico's Yucatan Peninsula. It's a vibrant city that seamlessly blends the charm of the ancient Mayan civilization with the contemporary allure of high-end resorts and delectable Mexican cuisine.
As to whether July is a good time to visit, the answer largely depends on your tolerance for heat and a certain degree of unpredictability with the weather. While it's indeed hot and falls within the hurricane season, the crowds are less, and the deals are more attractive.
Overview of Cancun's Climate
Cancun enjoys a tropical climate, characterized by warm temperatures throughout the year. The annual average temperature hovers around 27C (80.6F), offering year-round summer conditions. The year can generally be divided into two primary seasons: the dry season from November to April and the wet season from May to October, which also coincides with the hurricane season.
Temperature in July
July in Cancun is certainly on the hotter side. The average maximum daytime temperature typically sits around 34C (93.2F), while the average minimum nighttime temperature drops to a still balmy 26C (78.8F). It is worth noting that the humidity can make it feel hotter than it is, and air conditioning becomes a treasured commodity.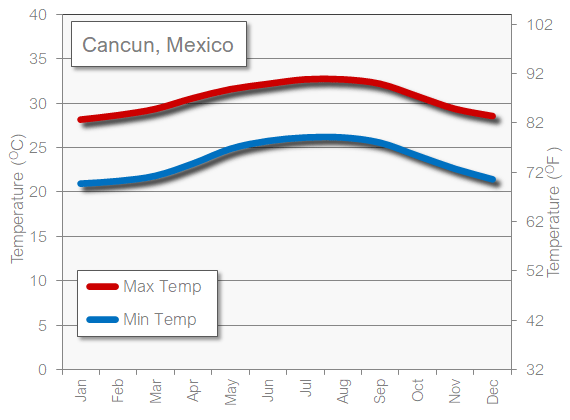 July is a sun-soaked month with long daylight hours that allow you to make the most of your holiday. The city gets an average of 13 hours of daylight per day, with the sun rising around 6 am and setting close to 7:30 pm. Despite the occasional shower, days are predominantly sunny with an average of 7 to 8 hours of sunshine per day.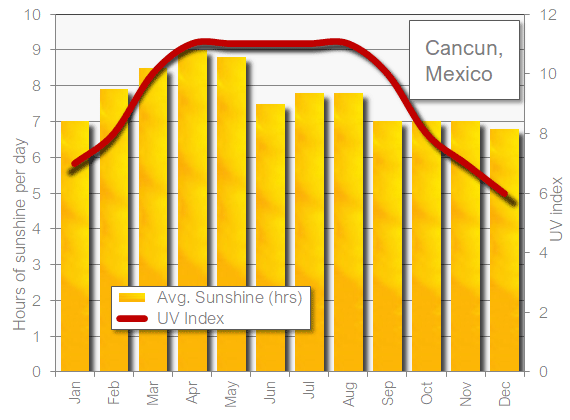 Rain is a frequent visitor in Cancun during July, but it tends to be in the form of short, heavy showers rather than all-day drizzles. The average rainfall for the month is about 112mm, with approximately 11 rainy days in total. As you'd expect from the tropical climate, the humidity levels are high, averaging around 77%.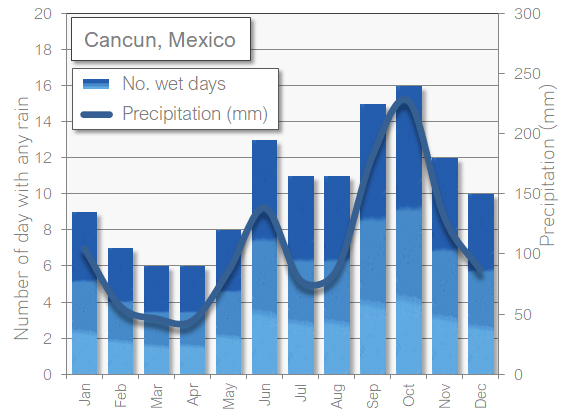 As for the turquoise-blue waters that lap Cancun's pristine shores, they remain delightfully warm even in July. Sea temperatures typically hover around 28C (82.4F), offering perfect conditions for swimming, snorkelling, and diving. These inviting waters make even the hottest days more bearable and offer a delightful respite from the heat.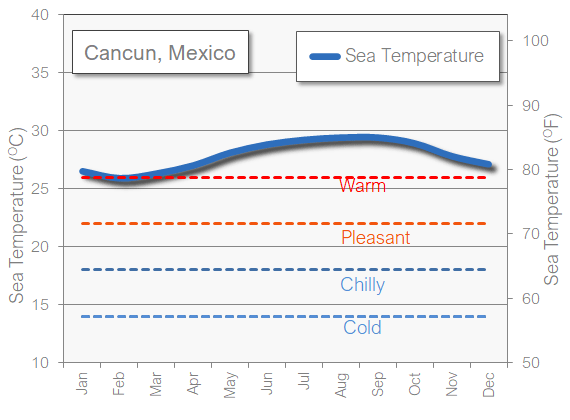 Despite being in the midst of the hurricane season, July in Cancun remains a favoured destination for tourists from around the world. As you traverse the city, you'll notice a lively atmosphere pervading the streets, the resorts, and the sandy beaches. It's a prime time for travellers, especially those seeking to savour the vibrant Mexican summer. However, it's not as crowded as the December to April peak season when the weather is a tad more predictable.
In terms of costs, visiting Cancun in July can offer a more affordable experience compared to the peak season. While it's not the cheapest time to visit—that honour goes to the months of September and October—it's definitely less pricey than the winter months when the prices tend to skyrocket. You're likely to find hotels and rental rooms at moderate rates during this time. Many establishments offer deals and discounted packages to attract tourists during this off-peak period, so savvy travellers can certainly find bargains to be had.
While families with young children may have reservations due to the uncertain weather, July can still be a delightful time to visit with a bit of careful planning. There's a wealth of indoor attractions for those sudden rainstorms, including interactive aquariums, numerous museums, and expansive shopping malls. Additionally, the warm sea waters offer excellent conditions for swimming and other water activities for children of all ages.
Interestingly, a majority of the tourists visiting Cancun in July hail from North America, with a significant proportion from the United States and Canada. This is largely due to the summer holidays in these countries, which offer families an opportunity to travel abroad. European travellers also contribute to the tourist numbers, albeit in slightly lesser numbers.
Clothes to pack for July in Cancun
Packing for Cancun in July is quite straightforward. The key is to pack light, breathable clothing to comfortably handle the high temperatures and occasional rain showers. Swimwear is essential, of course, for enjoying Cancun's beautiful beaches and water activities. Don't forget to pack a good sun hat and a pair of sunglasses to protect you from the strong Mexican sun. Comfortable footwear is also a must, particularly if you're planning to explore Mayan ruins or indulge in hiking activities.
In the daytime, stick to T-shirts, shorts, and summer dresses. They will keep you cool in the hot and humid weather. At night, you may want to carry a light jacket or shawl, especially if you're planning on waterfront dining as it can get a bit breezy. However, the nights in Cancun during July remain quite warm, so heavier clothing is generally not needed.
The best months to visit Cancun
If you're looking for the ideal time to visit Cancun, the months from December to April are arguably the best. The weather during these months is near-perfect, with very little rainfall and plenty of sunshine. The average temperature ranges from a pleasant 20 to 30 degrees Celsius, providing an excellent climate for beach activities and sightseeing. Additionally, this period avoids the hurricane season, offering more predictability for your travel plans.
The worst months to visit Cancun
If possible, try to avoid visiting Cancun during September and October. These months are the peak of the hurricane season, and the region experiences the highest rainfall during this period. While you may find the cheapest rates for accommodation, the unpredictable weather may limit outdoor activities and sightseeing. Therefore, unless you're a fan of heavy tropical rains or intend to enjoy the indoor amenities of your hotel mostly, it's better to choose other months for your visit.
Fantastic activities for Cancun during July
1. Visit the Mayan Ruins: Cancun is the gateway to the ancient Mayan world, and a trip to the region would be incomplete without a visit to these historical sites. The Tulum and Coba ruins, located just a couple of hours away from Cancun, are spectacular sites that transport you back in time. While Tulum impresses with its cliffside location overlooking the Caribbean Sea, Coba entices with its lofty pyramid that you can climb for a stunning view of the surrounding jungle.
2. Experience the Xcaret Park: The eco-archaeological park of Xcaret offers a unique combination of natural and cultural attractions. With its underground rivers, stunning lagoons, and animal habitats, it's an incredible place to experience Cancun's rich biodiversity. Meanwhile, the park's replicas of Mayan villages and traditional Mexican haciendas provide a peek into the area's cultural heritage.
3. Dive in the Great Mesoamerican Reef: The warm sea temperatures in July are perfect for exploring Cancun's underwater wonders. As the second-largest barrier reef in the world, the Great Mesoamerican Reef offers incredible opportunities for diving and snorkelling. With its vibrant coral formations and diverse marine life, including turtles, stingrays, and hundreds of species of fish, it's a paradise for underwater enthusiasts.
4. Explore Isla Mujeres: A day trip to Isla Mujeres is a must when you're in Cancun. This idyllic island, located just a short ferry ride away, is perfect for relaxing on stunning beaches and snorkelling in crystal-clear waters. Additionally, the island's turtle sanctuary, where you can learn about the conservation of these majestic creatures, is a must-visit.
5. Wander in Mercado 28: If you're in the mood for some shopping, head to Mercado 28 in downtown Cancun. This bustling market is the perfect place to find unique souvenirs, traditional Mexican handicrafts, and local food. Remember to haggle, as it's part of the shopping experience in this vibrant market.
6. Enjoy the Cancun Underwater Museum (MUSA): If you're a scuba diver or snorkeller, visiting the Cancun Underwater Museum is a unique experience not to be missed. This fascinating museum is home to over 500 life-size sculptures submerged at various depths. Besides offering an intriguing spectacle, the museum also serves an environmental purpose by promoting coral life.
Other holiday destinations recommendations for July
Kailua, Hawaii: When you think of a beach holiday, Hawaii surely comes to mind. Kailua, on the island of Oahu, is particularly delightful in July. The weather is fantastic with average highs of 29C (84F), and the ocean temperature is perfect for a swim. Whether you fancy surfing, hiking, or just chilling on the pristine white sand beach, Kailua has it all.
The Algarve, Portugal: Portugal's sun-drenched southern coast is a real gem in July. The Algarve's beautiful sandy beaches and azure waters beckon, with temperatures around 26C (79F). The region is less crowded this time of the year, so you can enjoy its stunning coastal beauty in relative tranquility.
Nice, France: July is a splendid time to visit this gorgeous jewel on the French Riviera. Nice bathes in glorious sunshine, with temperatures around 27C (80F), perfect for lounging on pebbled beaches or exploring the vibrant Old Town. The azure waters of the Mediterranean are welcomingly warm, and the city is alive with the buzz of summer festivities, including the famous Nice Jazz Festival.
Dubrovnik, Croatia: Blessed with clear skies and warm weather, Dubrovnik is a dream destination in July. This historic coastal city, with its stunning beaches and crystal-clear Adriatic Sea, offers an ideal blend of relaxation, culture, and adventure. Wander through the ancient city walls, enjoy a leisurely dip in the sea, or simply savour a delicious alfresco dinner as the sun sets.
Bali, Indonesia: July is one of the best months to visit Bali thanks to the dry season. With temperatures around 28C (82F), the weather is just right for sunbathing on the island's stunning beaches or exploring its lush landscapes. The sea is pleasantly warm, perfect for diving and exploring Bali's vibrant coral reefs.
Nantucket, Massachusetts: In July, Nantucket shines with sunny days and delightful temperatures in the mid-20s Celsius (mid-70s Fahrenheit). This charming island offers stunning beaches, quaint lighthouses, and a picturesque harbour. Enjoy a laid-back beach holiday or take a bike ride to explore the island's scenic beauty.