Paphos, Cyprus in September: the weather and best activities for your holiday
In the dreamy embrace of the Mediterranean, kissed by history and cradled in mythology, lies the city of Paphos in Cyprus. As September arrives, this coastal city transitions from the scorching summer heat into the gentler rhythms of autumn. Paphos, rich with ancient lore and wrapped in natural beauty, wears September like a seasoned artist ready to paint another masterpiece.
The month of September is an opportune time to visit Paphos. After the busy summer months, it offers a respite, as the city begins to breathe easy and the weather becomes more accommodating. It's a time of year when you can enjoy the locale's treasures in relative peace, without the intense summer crowds, or the blistering sun.
Paphos weather in September
As September saunters in, the daytime temperatures in Paphos usually hover around 29C (84F). Come nighttime, the mercury dips to a comfortable 18C (64F). With such gentle weather, exploring Paphos's archaeological treasures or strolling through the winding streets of the old town becomes a truly pleasant experience.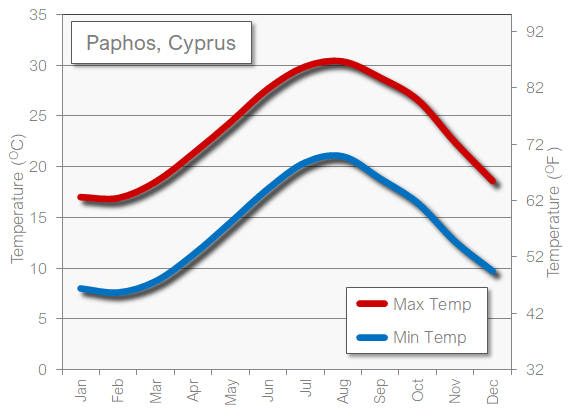 The sun shines upon Paphos for approximately eleven hours a day in September. Its warmth is strong but not intense, providing a soothing backdrop for your adventures. But don't forget your sunscreen, as UV levels remain high despite the declining summer heat.
Sunrise begins to grow later as September progresses, usually around 6:30 AM at the start of the month and nearing 7:00 AM by the end. Sunsets, on the other hand, begin to come earlier, often providing spectacular views around 7:00 PM.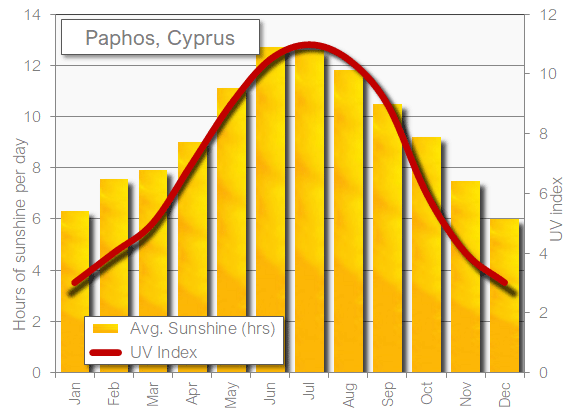 Humidity levels average around 60 percent, making the air feel slightly moist but not uncomfortable. It's akin to a gentle sea mist, a caress rather than a grip, and certainly not something that would dampen your explorations.
September is a relatively dry month in Paphos, with rain making a fleeting appearance on only one or two days. Even then, the rainfall averages a mere 6mm for the entire month. In other words, unless you're extraordinarily unlucky, you're more likely to find sun than showers.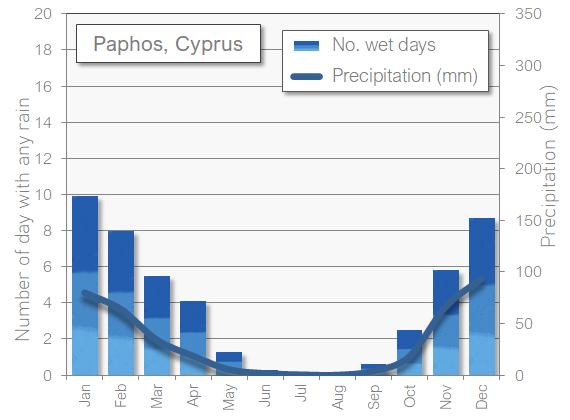 The sea in September is still invitingly warm, with temperatures averaging 27C (80F), making it a perfect time for swimming, snorkelling or simply lounging by the beach.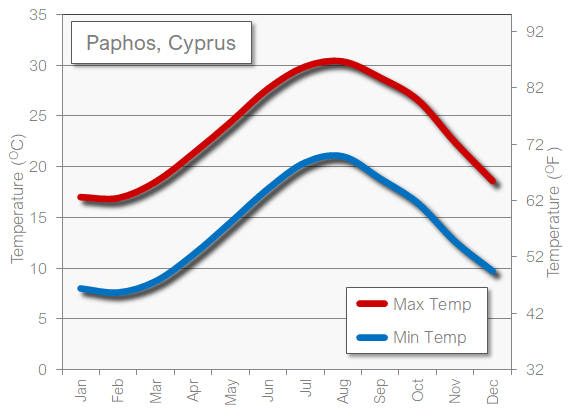 Though the city becomes less crowded in September, Paphos still retains a lively hum. The majority of tourists visiting Paphos during this time come from the UK, followed by Greece and Germany. However, the decline in crowds allows for a more relaxed pace, providing an intimate experience with the city's historical sites and beaches.
Compared to the peak summer months, Paphos in September is more cost-effective, making it an appealing time for budget-conscious travellers. Accommodation rates and airfares tend to drop, providing more value for your money.
September, with its mild temperatures and fewer tourists, is a suitable time for families with young children. The city's attractions, including its beaches and parks, are less crowded, making it easier for families to explore and enjoy their vacation at their own pace.
The allure of Paphos in September is hard to resist. With inviting temperatures, manageable crowd levels, and a cost-effective edge, this time of year offers a compelling invitation to soak in the history, culture, and natural beauty of this Mediterranean gem.
Clothes to pack for September in Paphos, Cyprus
In September, Paphos enjoys a mellow sunshine during the day and a breezy comfort at night. Your suitcase should carry light, breathable clothing for the daytime – think shorts, t-shirts, and sundresses. As evening falls and the temperature dips, you might appreciate the comfort of a light jacket or a cozy shawl.
The best months to visit Paphos
If the magic of Paphos calls to you, consider visiting in April, May or October. April welcomes spring with a flourish, offering cool breezes, blooming flowers, and temperatures around 21C (70F), perfect for exploring ancient ruins or walking along scenic trails. May ushers in the warmth of summer but retains the spring's mild charm. October, like September, is a month of balance, blending the leftover warmth of summer with the impending coolness of autumn, making it a comfortable time to bask on the beaches or enjoy the lively local festivals.
The worst months to visit Paphos
If there's a time to think twice before visiting Paphos, it's probably August. The city is at its hottest, with temperatures often rising to a sweltering 30C (86F) or more, making outdoor activities uncomfortable. Coupled with this, August also attracts a large influx of tourists, leading to crowded attractions and higher prices.
Fantastic activities for Paphos during September
September in Paphos is filled with activities that highlight its historical heritage and natural beauty.
Day Trips: Take a day trip to the Akamas Peninsula, where untouched wilderness and serene beaches offer a delightful retreat. Marvel at the breathtaking Avakas Gorge or enjoy a boat trip around the Blue Lagoon, famed for its crystal-clear waters.
Beach Visits: Lounge at the Coral Bay, a popular beach with warm, shallow waters and soft golden sand. Equipped with sun loungers and parasols, it offers a perfect spot to soak up the September sun.
Sea Activities: Embark on a sea voyage with one of the many sailing tours offered, exploring hidden coves and remote beaches. Or dive into the Mediterranean's depths on a scuba diving adventure, exploring vibrant marine life and intriguing underwater landscapes.
Historical Exploration: Paphos is rich in history. Visit the Kato Paphos Archaeological Park, where you can travel back in time, exploring Roman villas with beautifully preserved mosaics, and the ancient Odeon amphitheatre.
Wine Tours: Savour the flavours of Cyprus with a tour of local wineries. As grape harvesting begins in September, it's a prime time to explore the vineyards and sample a range of exquisite Cypriot wines.
Nature Walks: The cooling September weather is ideal for exploring Paphos on foot. Meander through the Paphos Forest, a haven of rich biodiversity and stunning landscapes, or stroll along the coastal promenade, relishing the calming sea views.
Other holiday destinations recommendations for September
Venturing abroad in September allows you to experience some of the world's most coveted holiday destinations at their best. Here's a snapshot of five locations that are at their peak during this time.
1. Sicily, Italy: As September arrives, Sicily's summer heat mellows, creating a pleasant environment for exploration. Take a leisurely stroll around historic Palermo, venture up the mighty Mount Etna, or unwind on a sandy beach. And don't forget to treat yourself to the island's renowned cuisine, a feast for all senses.
2. Algarve, Portugal: With warm sun-filled days, the Algarve in September is a haven for beachgoers and outdoor enthusiasts alike. Visit the region's quaint towns, marvel at the majestic cliffs and turquoise sea, or immerse yourself in the rich cultural heritage and flavoursome local cuisine.
3. Mauritius: Mauritius in September is an island paradise. From sun-kissed beaches to lush mountains, you'll be captivated by its natural beauty. Embark on an underwater safari, hike in the Black River Gorges National Park, or simply laze around on the world-class beaches.
4. Ibiza, Spain: Ibiza in September isn't just about energetic nightlife. It's also a time to appreciate the island's calmer side: strolling around the historic Dalt Vila, discovering hidden coves, or dining al fresco in charming restaurants. Enjoy a sunset boat ride, and let the island's natural beauty captivate you.
5. Zanzibar, Tanzania: Zanzibar's allure is undeniable in September. The weather is perfect for basking on the white-sand beaches, exploring the historic Stone Town, or diving into the vibrant underwater world. Savor the unique blend of African, Arab, and European influences in the local cuisine, history, and architecture, creating a tapestry of experiences that is uniquely Zanzibar.