Zanzibar in August: the weather and best activities for your holiday
Step off the plane in Zanzibar in August, and you'll be welcomed by a warm and inviting tropical breeze. This enchanting Tanzanian archipelago, perched off the East African coast, flutters to life in August. Famous for its pristine beaches, Zanzibar is a gem that revels in its stunning landscape and exuberant culture, but it's the island's weather that leaves everyone charmed.
As the northern hemisphere retreats from summer's peak, Zanzibar's days are imbued with an almost magical balance of warmth and light. August offers the blend of sizzling sun and clear skies that so many sun-seekers are after. If you're on the hunt for a holiday destination where the days are generously sunlit without the overpowering heat, you're in for a treat!
Zanzibar weather in August
With the daytime temperature often reaching a perfect 28C (82F) and plunging to a comfortable 20C (68F) after sundown, the weather is just right.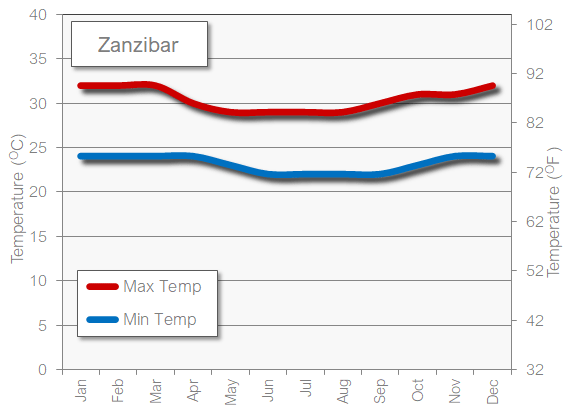 As the sun rises around 6:30 AM and sets around 6:30 PM, each day is ripe with opportunities for exploration or relaxation. The even daylight hours make planning your activities an easy task, whether you're an early bird or a night owl.
The sun bathes the island with around 10 hours of daylight, painting a perfect picture for vacationers. Despite the intensity of the sun, the island maintains a soothing environment thanks to the gentle Indian Ocean breeze.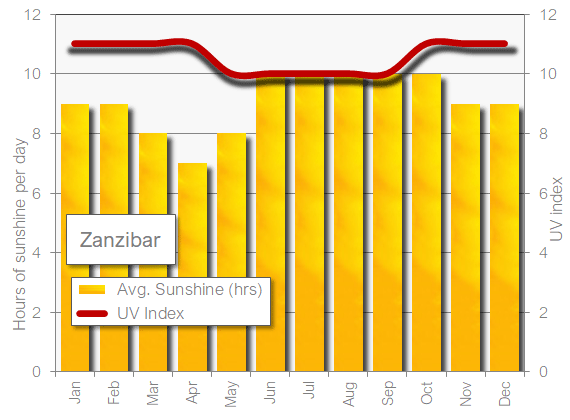 Humidity levels generally average around 75% in August. While this might seem high, rest assured that the balmy evenings are far from oppressive. Zanzibar's August weather is somewhat similar to a warm bath: relaxing, comforting, and refreshing to your senses.
When it comes to rain, August is one of Zanzibar's drier months, with an average of seven rainy days and rainfall around 60mm. The occasional shower can be a welcome respite from the heat, transforming the island into an even more lush, vibrant paradise.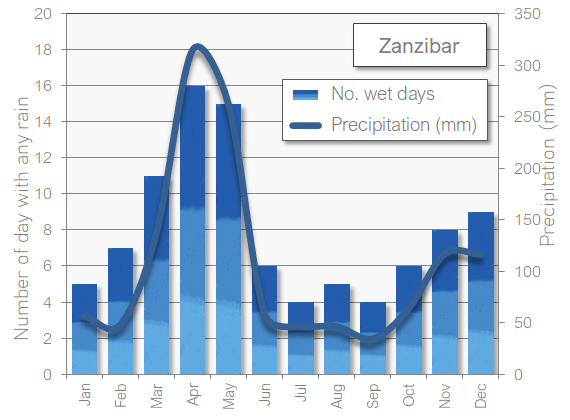 August's sea temperature is nothing short of inviting, hovering around a lovely 26C (79F). The warm waters make it a great time for swimming, snorkeling, and exploring the colourful, bustling marine life that calls the surrounding coral reefs home.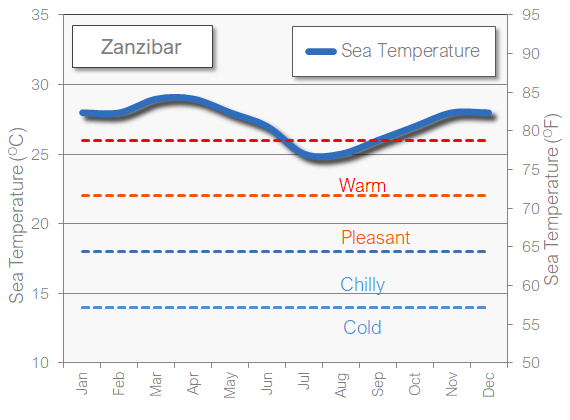 August, being the tail end of the high season, sees a steady flow of tourists but not an overwhelming crowd. Many visitors hail from European countries, escaping their rainy summers for a slice of this sunny haven. Despite this, Zanzibar retains a sense of tranquility even during this busier time.
As with most popular tourist destinations, prices do tend to be higher in August, as it's part of the high season. However, the beauty of Zanzibar and its pleasing weather in August justify every penny spent.
Families with young children will find Zanzibar in August to be a splendid choice. With the perfect balance of weather conditions, fewer rain disruptions, and the warm Indian Ocean waters, the island is a natural playground for kids. However, it's always important to protect them from the sun's rays during peak hours.
To sum up, visiting Zanzibar in August is like opening a treasure chest of tropical delights. With its perfect balance of sun, warmth, and gentle rains, it offers an enchanting getaway from the hustle and bustle of daily life. Whether you're seeking relaxation, adventure, or a blend of both, Zanzibar's weather in August ensures your holiday memories are cast in warm sunlight and cooled by a gentle ocean breeze.
Weather variations of Zanzibar in August
The heart of the island remains humid and wet, which breathes life into its vibrant flora. The western coast, with its frequent winds, becomes a playground for adventurous kite surfers. The eastern coast, however, remains a serene paradise, offering a peaceful escape for those who prefer a more laid-back vacation.
Clothes to pack for August in Zanzibar
When packing for your Zanzibar adventure in August, keep it light and breezy with summer clothing such as t-shirts, shorts, and sundresses for the daytime heat. While evenings can be cooler, you'll seldom need more than a light sweater or wrap, especially when enjoying the beautiful beachside views.
The best months to visit Zanzibar
When the magic of Zanzibar beckons, the months of June, July, and August respond with a resounding yes! These are the coolest months, when daytime temperatures average around 26C (79F), ideal for exploring the island's treasures without feeling too hot. Plus, these months are the driest, with the least amount of rain, making them perfect for beach fun and outdoor adventures.
The worst months to visit Zanzibar
March is the time when the heavens weep over Zanzibar, marking it as the wettest month. Torrents of rain can sometimes turn roads into rivers and disrupt travel plans. The high humidity combined with temperatures around 29C (84F) can also feel a bit too intense for some travelers.
Fantastic activities for Zanzibar during August
Zanzibar is not short on fantastic activities in August, here's a list to get you started:
a) Beach Hopping: Make the most of the radiant sunshine and warm sea temperatures by exploring Zanzibar's pristine beaches. Nungwi and Kendwa beaches, in particular, boast of clear, turquoise waters and soft white sands - a perfect setting for relaxation or a family picnic.
b) Snorkeling and Diving: The warm Indian Ocean waters are rich with colourful marine life. Visit Mnemba Atoll, a top snorkeling and diving spot, where you'll encounter vivid coral reefs and a variety of tropical fish.
c) Spice Tours: Known as the "Spice Island", a spice tour is a must in Zanzibar. Take a guided tour to explore the local plantations, where you'll learn about the cultivation of spices like cloves, nutmeg, and cinnamon, and even taste some of them.
d) Visit Stone Town: Step back in time by visiting Stone Town, a UNESCO World Heritage Site. Its winding alleys, bustling bazaars, and historic sites, like the Sultan's Palace and Old Fort, tell a fascinating story of Zanzibar's past.
e) Dolphin Tours: Head to Kizimkazi, on the southern coast of Zanzibar, for a chance to see and even swim with the dolphins that inhabit these waters.
f) Food and Nightlife: Zanzibar's culinary scene is a delightful blend of African, Arab, and European influences. Savor the local seafood, try the famous Zanzibar pizza, and unwind with some live music at beachfront venues that come alive as the sun sets.
Other holiday destinations recommendations for August
Amalfi Coast, Italy: Nestled in the south of Italy, the Amalfi Coast boasts dramatic cliffs dotted with pastel-coloured villages and shimmering turquoise seas. In August, it is a sun-drenched paradise, perfect for leisurely beach days, exploring charming coastal towns, and dining alfresco on exquisite Italian cuisine.
Bali, Indonesia: Known as the 'Island of the Gods', Bali is a tropical haven with lush landscapes, vibrant culture, and stunning beaches. August is the dry season here, making it ideal for sunbathing, surfing, and exploring the island's rich heritage.
Santorini, Greece: The iconic blue domes and white-washed buildings of Santorini contrast beautifully with the azure Aegean Sea. August provides long sun-filled days, perfect for relaxing on the unique volcanic beaches and watching the world-renowned sunset over the caldera. Maui,
Hawaii: Maui, with its diverse landscapes, is a veritable feast for the senses. August brings the opportunity for beachcombing, snorkeling, and witnessing the breathtaking sunrise or sunset from the Haleakala Summit.
Côte d'Azur, France: Also known as the French Riviera, Côte d'Azur is famed for its glamorous beaches, chic resorts, and charming countryside. In August, it provides a warm and sunny environment, excellent for lounging on the beach, yacht cruising, and sampling delectable French cuisine.
The Maldives: This island nation is the epitome of a tropical paradise, with its crystal-clear waters, abundant marine life, and luxurious overwater villas. August sits right in the middle of the dry season, providing perfect conditions for snorkeling, diving, and simply soaking up the sun on its powder-soft beaches.