Santorini, Greece in September: the weather and best activities for your holiday
Whisk yourself away on an imaginary journey to Santorini, a gem in the Aegean Sea, during a glorious September. As the fiery Greek summer fades, this island begins to showcase a milder yet still mesmerizing side, presenting a unique, tranquil charm that is truly its own.
September is one of Santorini's best-kept secrets. It's a time when the island dances in perfect harmony with the elements - nature has rehearsed its performance all year, and now it's showtime.
Santorini weather in September
In terms of temperature, Santorini maintains a delightful balance in September. Daytime sees a comfortable average high of 27C (81F), while nights are cooler, dropping to about 21C (70F). These temperatures allow for all sorts of adventures, from exploring the island's historic sites to lazing on its unique beaches.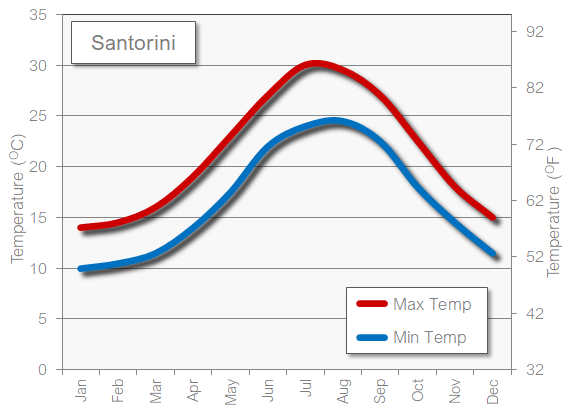 The sun in Santorini remains quite the showstopper in September. You can expect roughly 11 hours of daylight, with sunrise typically at 7:00 AM and sunset around 7:30 PM. The sun, though mellow compared to the summer, still graces the island with plenty of light and warmth.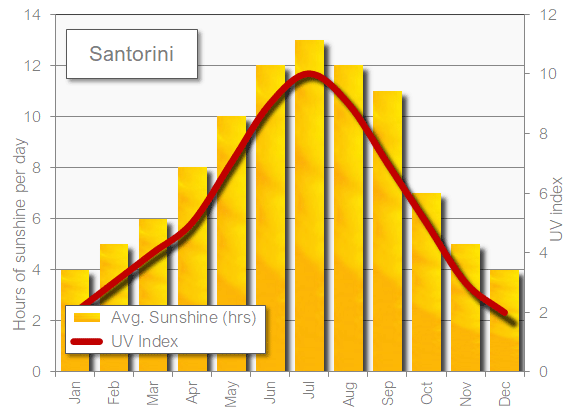 Humidity levels hover around 70%, which might sound high, but thanks to the gentle sea breezes, it actually feels quite comfortable. You're more likely to feel a soothing, light moisture in the air rather than oppressive, heavy humidity.
As for rainfall, September still leans towards the drier side of the year, with an average of 5 rainy days contributing to roughly 20mm of rainfall for the month. So, you'll likely experience a mostly dry holiday with just the occasional shower.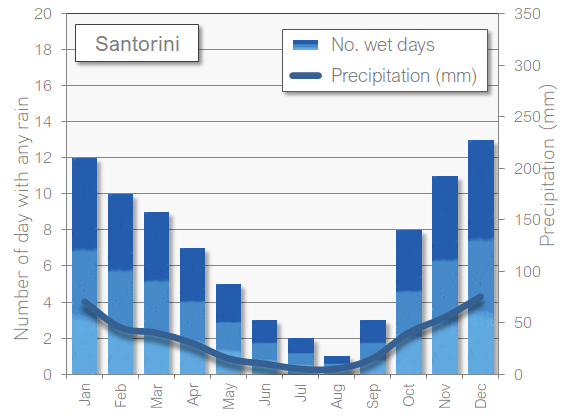 The Aegean Sea, heated up from the summer sun, is very inviting in September, boasting an average temperature of 24C (75F). Whether you want to take a brisk swim or indulge in water sports, the sea conditions are more than suitable.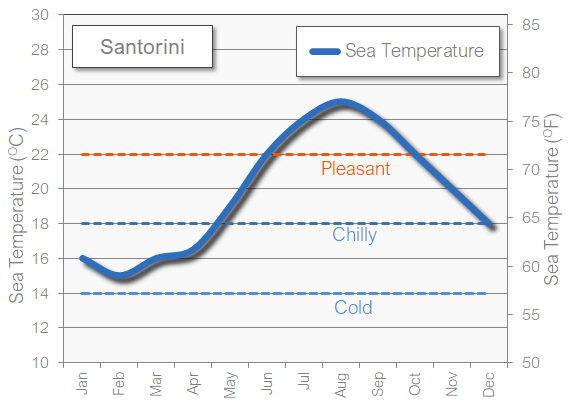 By September, the summer rush has ebbed significantly. Though the island doesn't turn into a ghost town, it's certainly less crowded than in peak season. This means shorter lines at popular attractions, a quieter vibe on the beaches, and a generally more relaxed atmosphere.
Visitors in September come from various corners of the world. There's a noticeable presence of Europeans – from countries like the UK, Germany, and Italy - who take advantage of the pleasant post-summer weather. You'll also find an array of travellers from the US and Asia.
From a cost perspective, September sits comfortably between the high-priced summer and the more budget-friendly winter. Many hotels and tour operators begin to offer reduced prices in an effort to extend the season. This makes September a smart choice for travellers keen on experiencing Santorini's splendour without breaking the bank.
Finally, September's milder temperatures, combined with fewer crowds and lower prices, make it an excellent choice for families with young children. There's still plenty to see and do, but with a more relaxed, family-friendly pace.
So, with all these delightful elements, September in Santorini truly shines as a uniquely charming time to visit.
Clothes to pack for September in Santorini
Packing for Santorini in September is all about embracing the summer spirit. Your suitcase should be filled with lightweight clothing like shorts, t-shirts, and sundresses for the sunny days. Don't forget a light sweater or jacket for cooler evenings, and a swimsuit for those irresistible dips in the Aegean Sea.
The best months to visit Greece and Santorini
The best months to visit Santorini are September, September, and October. September heralds the start of summer, bringing longer days and a vibrant energy to the island. September offers a lovely mix of warmth, fewer tourists, and a lively grape harvesting season. October brings milder weather and a peaceful ambiance, with the island's beauty retaining its charm as the high season winds down.
The worst months to visit Santorini.
January and February are typically considered the least attractive months to visit Santorini. This period marks the winter season on the island, with colder temperatures, more rain, and many local businesses closing for the season. It's less crowded, but you might miss out on the full charm and vibrancy Santorini is famous for.
Fantastic activities for Santorini during September
Here are some top activities to enjoy in Santorini in September:
a. Beach Explorations: Discover Santorini's unique volcanic beaches. Whether it's the black sands of Perissa and Kamari or the red beach near Akrotiri, each beach offers a distinct atmosphere and charm.
b. Boat Tours: Embark on a boat tour to explore the beautiful waters around Santorini. Visit the volcanic islands of Nea Kameni and Palea Kameni, enjoy a soothing dip in the hot springs, and end your trip with a stunning sunset view.
c. Wine Tasting: Santorini's wineries are a haven for wine lovers. Explore the island's unique vineyards, learn about its winemaking history, and sample exquisite local wines.
d. Historical Sightseeing: Visit the ancient ruins of Akrotiri, a Bronze Age settlement preserved under volcanic ash. It's a fascinating journey back in time, offering insights into the ancient Minoan civilization.
e. Sunset Viewing in Oia: Oia's sunsets are legendary. Grab a prime spot and watch as the sky becomes a canvas of brilliant colours, casting a golden glow over the iconic blue-domed churches.
f. Hiking from Fira to Oia: Embark on a scenic hike from Fira to Oia. The path offers stunning views of the caldera, the azure Aegean Sea, and the charming villages along the way.
g. Traditional Food Sampling: Discover Santorini's culinary delights. From fresh seafood to local dishes like fava and tomatokeftedes, indulge your taste buds with the flavors of the island.
Other holiday destinations recommendations for September
If you're planning a September getaway, a world of enchanting landscapes, sunny beaches, and cultural gems awaits. Here are six unforgettable destinations that truly come to life in September.
Zanzibar
First up is Zanzibar, a captivating blend of turquoise waters, dazzling beaches, and rich cultural history. September is dry and sunny here, with a gentle sea breeze making it ideal for exploring the winding alleys of Stone Town, a UNESCO World Heritage site, or unwinding on powdery beaches. Plus, it's outside peak tourist season, so you'll experience the island's serenity without the usual crowds.
The Algarve
The Algarve, Portugal's southernmost region, is blessed with plenty of sun and warm temperatures even in September. This makes it perfect for lounging on some of Europe's finest beaches or exploring scenic fishing villages. With fewer tourists, you can appreciate the region's rugged coastline, golf courses, and local cuisine at a leisurely pace.
Cape Town
September ushers in spring in Cape Town, a city tucked between mountains and sea. Wildflowers blanket the landscapes, and it's also whale-watching season. Visit the Kirstenbosch National Botanical Garden to enjoy the vibrant blooms, or take a ferry to Robben Island for a slice of history. The weather is mild and pleasant, great for scaling the iconic Table Mountain or savouring local wines in nearby vineyards.
Mauritius
An island paradise in the Indian Ocean, Mauritius boasts an inviting blend of clear waters, lush landscapes, and diverse wildlife. September brings drier weather and cooler temperatures, perfect for trekking in the Black River Gorges National Park or basking on pristine beaches. Don't miss the chance to explore vibrant coral reefs while snorkelling or scuba diving.
Dubrovnik
Dubrovnik, Croatia's 'Pearl of the Adriatic,' shines in September. The Adriatic Sea is still warm for swimming, and the summer crowds have dwindled, letting you wander the medieval city walls and UNESCO-listed Old Town with ease. Cooler evenings make alfresco dining along Stradun, the city's main street, an even more delightful experience.
Canary Islands
Located off the northwest coast of Africa, the Canary Islands offer year-round sunshine. In September, the scorching summer heat subsides, but the sea remains warm enough for water activities. Visit Tenerife's Mount Teide, the highest peak in Spain, or explore Lanzarote's otherworldly volcanic landscapes. With seven diverse islands to choose from, there's a unique experience for every traveller.
Remember, no matter where you go, September can offer an off-the-beaten-path experience. It's a time when temperatures are often milder, crowds smaller, and local life more visible. So, pick a destination, pack your suitcase, and prepare to make memories!