Sarajevo in April - The weather and is it a good time of year to visit?
Nestled within the heart of the Balkans, Sarajevo is an intricate tapestry of diverse cultures and histories. Often referred to as the 'Jerusalem of Europe', the city represents a vibrant mix of East and West, where minarets, steeples, and clock towers grace the skyline in unique harmony.
This article aims to appraise the appeal of Sarajevo in the bloom of spring - specifically, in the month of April. Is April a good time to visit this beguiling city? The answer is a resounding yes, owing to a combination of comfortable temperatures, ample daylight, and a moderate chance of precipitation that lends an invigorating freshness to the landscape.
Overview of Sarajevo's Climate
The climate of Sarajevo, characterized by its continental nuances and high-altitude influence, paints a picture of remarkable variance throughout the year. Winters are snowy and cold, with temperatures dipping well below freezing, while summers are generally warm, reaching upwards of 26C (78.8F). Spring and autumn offer temperate middle grounds, when the city dresses itself in a stunning array of colors - a testament to its climatic dynamism.
Sarajevo's weather in April
As Sarajevo steps out of its winter slumber, April showers the city with pleasing temperatures that are ideal for sightseeing and outdoor activities. The average temperature ranges from a comfortable 7C (44.6F) to a pleasant 16C (60.8F), offering enough warmth for light clothing during the day, while retaining a slight chill in the evening - a perfect setting for a warm Bosnian coffee by the Miljacka River.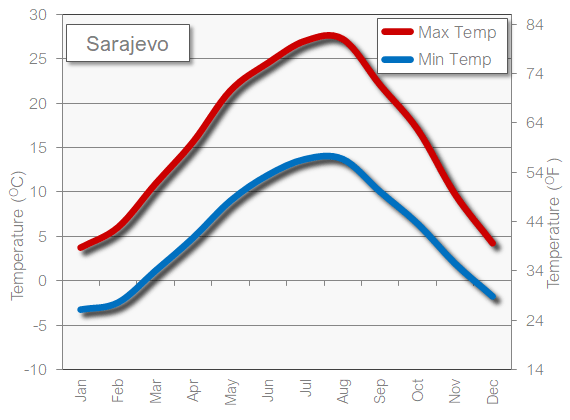 As April ushers in longer daylight hours, it's a boon for those who like to make the most of their travel days. The city basks in the sun for an average of 14 hours per day, with sunrise occurring around 6 AM and sunset close to 8 PM. This ample daylight offers visitors plenty of time to explore Sarajevo's treasures, from the cobbled streets of Baščaršija to the poignant history at the Tunnel of Hope. The amount of sunshine during this period averages at five hours per day, making for a well-lit city offering brilliant views.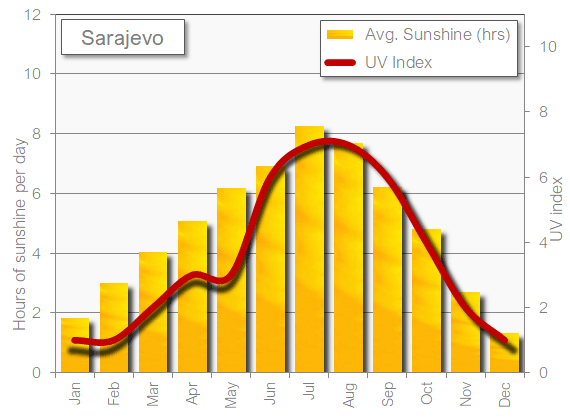 In terms of precipitation, April is a moderate month in Sarajevo, with rainfall patterns being generally unpredictable. The city sees an average rainfall of about 68mm during the month, with around 13 rainy days. These showers are often interspersed with warm sunlight, rather than a continuous downpour, which can make for picturesque moments of rain-soaked cobblestones and rainbows arching over the cityscape.
As for snowfall, it is unlikely in April, as the city moves towards its warmer months. However, higher-altitude areas around Sarajevo may still have lingering snow from the winter, adding a dash of white to the burgeoning spring palette.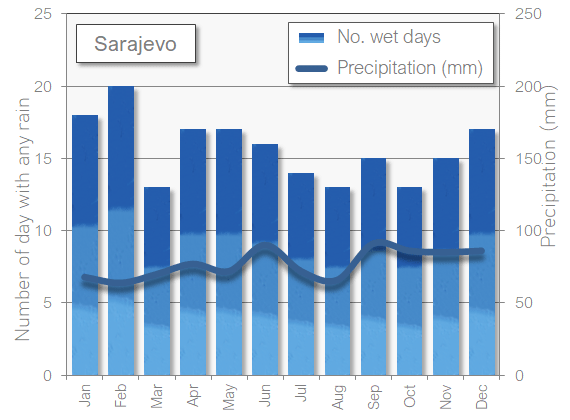 All in all, April in Sarajevo delivers a climate that is comfortable, unpredictable in a charming way, and filled with daylight - a mixture that makes sightseeing a pleasurable experience. It is a time when the city, awash with spring's vibrancy, invites visitors to partake in its rich heritage, promising a travel experience that lingers in memory long after the journey ends.
April marks the beginning of the shoulder season for tourism in Sarajevo. The city isn't thronged by tourists, but the visitor count is noticeably higher than the quieter winter months. With the benefits of manageable crowds and reasonable accommodation rates, April represents good value for the discerning traveler, striking a fine balance between cost, comfort, and the pleasure of exploring the city's offerings without excessive hustle and bustle.
Clothes to pack for April in Sarajevo
In April, Sarajevo offers a cornucopia of weather experiences - warm days, cool evenings, and occasional showers. Dressing in layers is the key. During the day, light clothing like T-shirts, coupled with comfortable walking shoes, are ideal for city exploration. As temperatures dip in the evenings, a medium-weight jacket or a warm sweater is recommended. Given the unpredictable showers, it's prudent to pack a compact umbrella or a waterproof jacket for good measure.
Realted articles: Where to stay in Sarajevo
The best months to visit Sarajevo
For an optimal blend of pleasant weather and lesser crowds, the best months to visit Sarajevo are April, May, and September. These months steer clear of the summer tourist surge and the winter chill. April and May unfurl the city's springtime allure, while September allows you to witness Sarajevo's golden autumn hues. Each of these months offers a unique charm, adding a vibrant backdrop to the city's intriguing history and culture.
The worst months to visit Sarajevo
December and January are typically the most challenging months to visit Sarajevo due to severe winter conditions. Freezing temperatures, heavy snowfall, and shorter daylight hours can hinder travel plans and restrict outdoor activities. Though the city presents a picturesque winter wonderland, accessibility and mobility might pose a challenge for some travelers during these months.
Fantastic activities for Sarajevo during April
Walking Tour of Baščaršija: Explore Baščaršija, Sarajevo's old bazaar and historical center. Meander through the labyrinthine lanes, soaking up the atmosphere of a bygone era. This is a wonderful opportunity to delve into the city's Ottoman past, with highlights including the Gazi Husrev-beg Mosque and the old Synagogue.
Visit to the Sarajevo Tunnel Museum: This museum provides a moving account of Sarajevo's resilience during the siege in the 1990s. The museum is located at the original site of the tunnel, which served as a lifeline to the city during its darkest hours. Guided tours offer poignant insights into this period of the city's history.
Stroll along the Miljacka River: The Miljacka River, often referred to as 'Sarajevo's Seine', is best enjoyed during a warm April day. Walking along the river banks, you'll encounter several historical and cultural landmarks, including the iconic Latin Bridge, near which Archduke Franz Ferdinand was assassinated, sparking World War I.
Day trip to Bjelašnica Mountain: A mere hour's drive from Sarajevo, Bjelašnica Mountain offers breathtaking landscapes and walking trails. Even in April, you may find some snow-clad slopes, making it a visual treat. The quaint villages scattered around the mountain add to the region's charm.
Sample Traditional Bosnian Cuisine: Sarajevo's gastronomy is a delightful mix of east and west. From burek to cevapi, and baklava to tufahija, sampling the local cuisine is a must-do. The welcoming restaurants and cafés around Baščaršija offer a delectable range of traditional Bosnian fare.