Cancun, Mexico in November: the weather and best activities for your holiday
Cancun, Mexico's premier coastal destination, has long been a paradise for those seeking an intoxicating blend of turquoise-blue waters, pristine white sandy beaches, abundant flora and fauna, and the pulsating energy of Mexican culture.
This Yucatan Peninsula city, once a modest fishing village, has grown into a bustling hub of tourism, playing host to a vibrant mix of local tradition, historical intrigue, and international sophistication.
Is November a good time to visit Cancun? An unequivocal 'Yes'. As you'll find out, it offers a comfortable climate, a host of enticing outdoor activities, and the advantage of fewer crowds post the October high season.
Overview of Cancun's Climate
Cancun's climate is characteristically tropical, with high temperatures and high humidity throughout the year. It's divided broadly into two seasons: a wet season (May to October) and a dry season (November to April). The heat is mollified by the gentle sea breezes from the Caribbean, and the city's position on the coast ensures a temperate environment compared to Mexico's more interior regions.
Cancun weather in November
November in Cancun ushers in the dry season, offering mild and pleasant temperatures that will invite you to explore outdoors. The average daytime maximum temperature ranges around a balmy 29C (84F), with the warmth of the day rarely tipping into discomfort. Nighttimes see a slight dip, with temperatures often falling to a cool but comfortable 20C (68F). November's transitional climate provides an excellent equilibrium - neither scorching hot as in the peak summer months, nor as chilly as the North American or European winters that many travellers may be seeking to escape.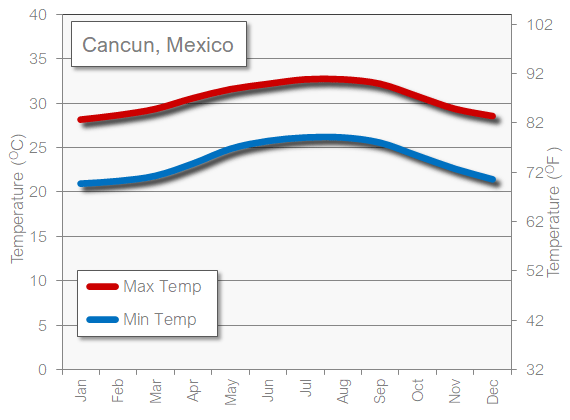 The day's length in Cancun in November averages about 11 hours, with the sun typically rising around 6 AM and setting just before 6 PM. This provides ample time for exploring the city, its beaches, and the surrounding natural beauty. In terms of sunshine, Cancun in November typically enjoys around 6 hours of clear, unadulterated sunlight per day. The month does see some cloud cover, but it is often interspersed with beautiful sunny spells that paint the sky in resplendent shades of orange and purple, particularly at dawn and dusk.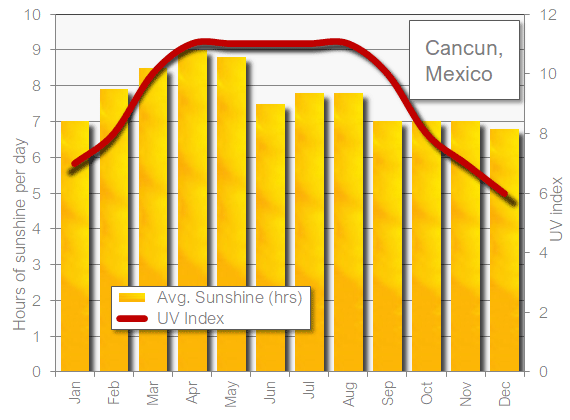 In November, Cancun transitions into its dry season, which is a welcome reprieve from the heavy rains that the area experiences between May and October. On average, November sees around 130mm of rain across the month, with approximately nine days experiencing rainfall. However, showers are often brief and intense rather than lingering, allowing the sunshine to quickly reclaim the skies. The air can be somewhat humid but in a comfortably tropical way that the breeze from the Caribbean Sea usually keeps in check.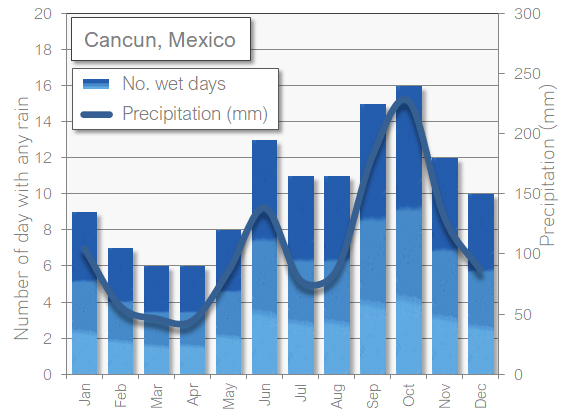 Perhaps one of the most alluring aspects of Cancun in November is the warm and inviting Caribbean Sea. The sea temperature in November is remarkably pleasant, averaging around 28C (82F), ideal for swimming, snorkelling, or simply floating under the sun. So whether you're a fan of aquatic adventures, or prefer lounging by the sea with a cocktail in hand, the welcoming waters of Cancun in November certainly will not disappoint.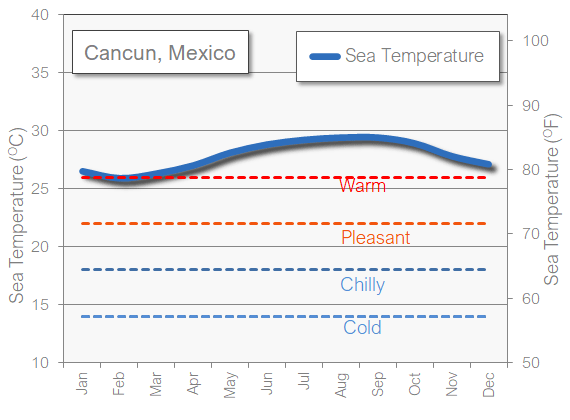 November sees a lull in the tourist influx to Cancun after the peak season of summer and early autumn, making it an ideal time for those who prefer a more tranquil getaway. It certainly doesn't denote a lack of vibrancy or attractions, just a slightly more manageable crowd. As for costs, November often witnesses a slight decrease in accommodation and airfare prices compared to the high season, allowing savvy travellers to secure some impressive deals.
Hotels and rental rooms, whilst not as scarce as in the peak months, can still be busy, especially around American Thanksgiving. Early booking is recommended to secure your choice of stay at an appealing price. For families with young children, November is a particularly fitting time to visit, with comfortable weather and enough calmer spaces for the little ones to enjoy. Tourists during this time tend to hail predominantly from North America, escaping the onset of winter, but the international appeal of Cancun brings in globetrotters from all corners of the world.
Clothes to pack for November in Cancun
Packing for Cancun in November should ideally encompass a balance of light, breathable clothing for the warm days and slightly warmer attire for the cooler evenings. Include swimsuits for the irresistible beaches and water-based activities, and comfortable footwear for excursions. A lightweight jacket or a sweater would serve you well for those slightly chillier nights, whilst during the day, T-shirts, shorts, and sundresses are perfect for both exploring the city and lounging on the beach. Don't forget to pack sun protection essentials, including a wide-brimmed hat, sunglasses, and high-factor sunscreen.
The best months to visit Cancun
For many, the best time to visit Cancun is during the dry season, between November and April. The weather during these months is pleasantly warm and mostly dry, perfect for beach activities and exploring the historical sites. Additionally, this period bypasses the Atlantic hurricane season that runs from June to November. The city also hosts vibrant events such as the Cancun-Riviera Maya Wine & Food Festival in March, offering the opportunity to savour Mexican cuisine at its finest.
The worst months to visit Cancun
On the flip side, September and October are typically the least favourable months to visit Cancun. This period represents the peak of the Atlantic hurricane season, meaning a heightened risk of storms and heavy rainfall. Additionally, the humidity tends to be high during these months, which some visitors may find uncomfortable. It's worth noting, however, that nature is unpredictable, and many tourists have enjoyed their September and October stays in Cancun without encountering any significant weather disruptions.
Fantastic activities for Cancun during November
1) Visit the Mayan Ruins of Tulum: Just a short trip from Cancun lies Tulum, a site of pre-Columbian Mayan ruins set against the stunning backdrop of the Caribbean Sea. Spend the day marvelling at the ancient architecture, including the clifftop Castillo, while soaking up the area's historical significance. A blend of culture, history, and natural beauty, Tulum is a must-visit location for any November traveller.
2) Explore the Underwater Museum (MUSA): For a truly unique experience, dive into the crystal clear waters of the Caribbean to visit the Museo Subacuático de Arte (MUSA). This underwater museum houses over 500 life-sized sculptures and is accessible via snorkelling, diving, or a glass-bottom boat. The spectacle of art merging with marine life is a sight that won't be forgotten quickly.
3) Stroll Around Isla Mujeres: A leisurely ferry ride from Cancun, Isla Mujeres offers a relaxed pace of life that contrasts with the city's energetic vibe. Hire a golf cart for the day to explore the island's beaches, eat fresh seafood at local restaurants, and visit the tortoise sanctuary. The island's charm lies in its simplicity and natural beauty, providing a lovely break from the mainland.
4) Experience the Xcaret Eco-Park: For a fun-filled day of activities, Xcaret Park offers something for everyone. You can snorkel in underground rivers, visit a butterfly pavilion, witness a replicated Mayan village, and enjoy various shows showcasing Mexican music and dance. It's an exciting blend of entertainment, culture, and nature that makes for an excellent day out.
5) Savour the Cancun Interactive Aquarium: Conveniently located in the Hotel Zone, this aquarium lets you get up close and personal with various marine creatures. Pet a starfish, feed a shark, or even swim with dolphins. It's a fantastic family-friendly attraction, offering hands-on experiences that are both fun and educational.
6) Immerse in the Cancun Nightlife: When the sun goes down, Cancun comes alive with a pulsating nightlife. Dance the night away in world-renowned clubs like Coco Bongo and Senor Frogs, or enjoy a more laid-back evening of live music and cocktails on the beach. November's pleasant evening temperatures make for an ideal setting to experience this vibrant aspect of Cancun.
7) Embark on a Jungle Tour: Adrenaline seekers will relish the chance to take a speedboat through the Nichupte Lagoon's mangrove jungle. Guided tours provide an exhilarating way to appreciate the area's rich biodiversity, and often include a snorkelling stop at a coral reef. It's an adventure that combines excitement, nature, and the inviting Caribbean waters in a truly unique way.
Other holiday destinations recommendations for November
Phuket, Thailand: Phuket beckons with its stunning beaches and warm azure seas. The rain eases off in November, marking the start of the dry season. Adventure seekers can enjoy water sports, boat tours, and exploring the beautiful Phi Phi Islands.
Barbados, Caribbean: With its pristine white-sand beaches and turquoise waters, Barbados is a dream. November is the tail end of the rainy season, and you'll find warm temperatures, fewer tourists, and more affordable accommodation.
Kyoto, Japan: November is the peak of autumn in Kyoto. The city turns into a spectacular palette of fall colours, with red, orange, and yellow leaves adorning the historical temples and shrines. The autumn foliage, especially in Kiyomizu-dera temple and Arashiyama bamboo grove, is a sight to behold.
Gold Coast, Australia: November sees the Gold Coast springing into summer. Sunny days, warm waters, and superb surf conditions make it ideal for beach lovers and surfers. Don't miss a visit to the wildlife-rich Springbrook National Park.
Tallinn, Estonia: November in Tallinn might sound unconventional, but it's a magical time. The city's medieval old town, a UNESCO World Heritage site, takes on a fairy-tale quality under a dusting of early snow. And with Estonia's national holiday, St. Martin's Day, falling in November, Tallinn comes alive with festivities, food markets, and concerts. Just be sure to pack warm clothes!
Marrakech, Morocco: With mild temperatures and little rain, November is a fabulous time to explore Marrakech's colourful markets, beautiful gardens, and historic palaces. A highlight is the International Film Festival, which brings a touch of Hollywood glamour to this ancient city.
Tenerife, Canary Islands: Tucked off Africa's northwest coast, yet part of Spain, Tenerife boasts beautiful beaches and year-round sunshine. In November, temperatures hover around a comfortable 24C (75F), and it's a splendid time for hiking in the magnificent Teide National Park.