Cape Town in April: the weather and best activities for your holiday
There's a special kind of magic that envelops Cape Town during April. It's a charm that transcends the shifting hues of the landscape as the city welcomes autumn with open arms. In the middle of it all is an impeccable balance of weather conditions – not too hot, not too cold, just perfect for exploration. April in Cape Town is like a waltz – a delightful dance where the city's moods and its captivating attractions find perfect rhythm.
If you've ever pondered what makes a place worth visiting, you'll find your answers in Cape Town during April. The Mother City's heart beats with a contagious energy that promises memorable adventures, regardless of where you're from or what age you might be. It's the moment when Cape Town beckons with its open spaces, stunning coastlines, and an ever-present backdrop of Table Mountain – a true testament to nature's grandeur.
Cape Town weather in April
April sees Cape Town basking in daytime highs of 23C (73F), making it just the right time for sun-soaked adventures without the scorching heat. As the evening draws near, the city eases into cooler temperatures, with the mercury dipping to around 14C (57F) – a gentle reminder that autumn is in full swing.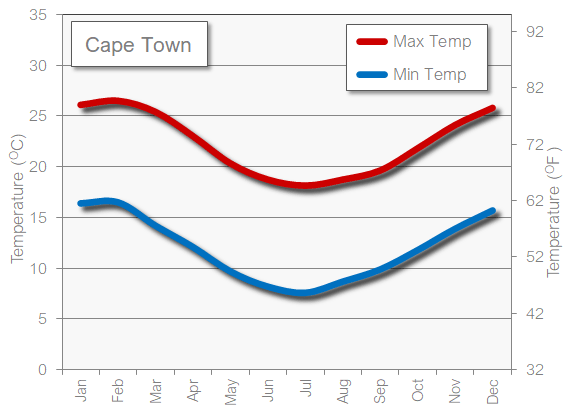 The sun doesn't rush its journey across the sky in April, providing an average of 8 hours of daylight. The sun's intensity is milder compared to the summer months, creating a softer palette of light and warmth that's gentle on the skin.
The sun in Cape Town graces the sky from around 6:50 AM and sets at approximately 6:30 PM in April, giving you ample time to fill your day with the city's wonders.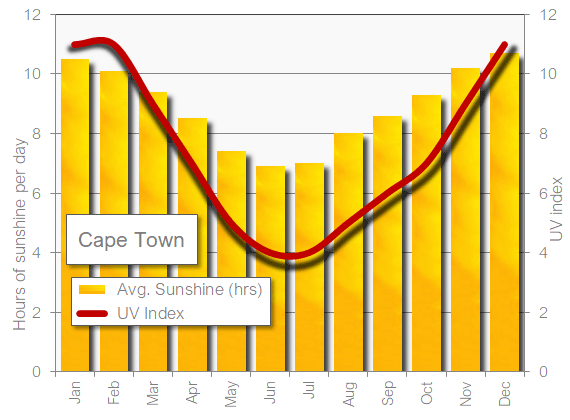 Humidity in Cape Town during April floats around the 80% mark in the mornings, dropping to about 65% in the afternoon. You won't feel the sticky discomfort of tropical climes, but instead, a soothing kind of moisture that leaves the air feeling crisp and fresh.
Rain in Cape Town is a bit of a rarity in April, with about 6 wet days throughout the month and average rainfall close to 41mm. Don't let the possibility of a little drizzle dampen your spirits – Cape Town in the rain is a sight to behold, a dramatic performance of clouds and light that's absolutely riveting.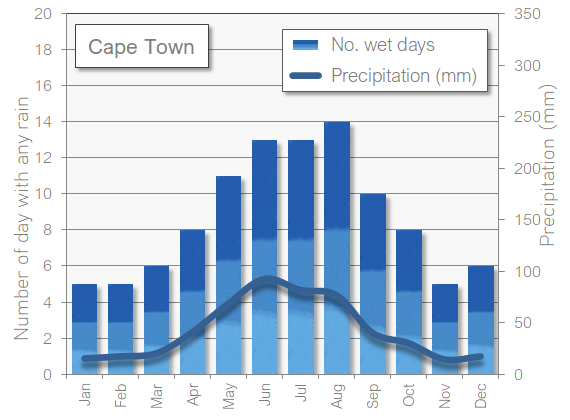 For those drawn to the sea's allure, April brings the Atlantic Ocean's temperature to a cool 16C (61F). While it might be too chilly for some to dip their toes, others will find it just right for a quick plunge or a surf session.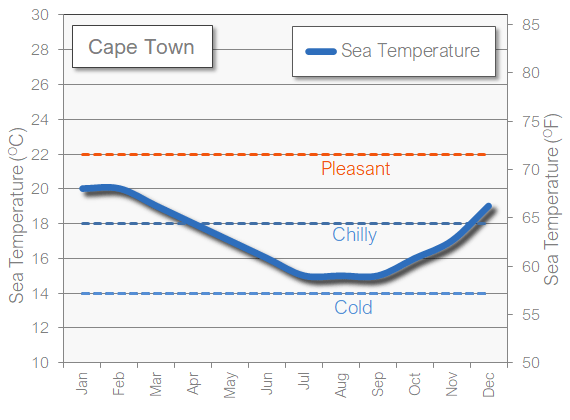 Cape Town never really quietens down completely, but you'll find the crowds a bit thinner in April compared to the bustling summer months. Tourists during this time mostly come from European countries, seeking an escape from the end of their winter.
April sits in the shoulder season for Cape Town, falling between the peak summer rush and the quieter winter period. It's typically less costly than the high season, with affordable rates for accommodation and attractions, which makes it an excellent time for budget-conscious travellers to explore the city's offering.
Families with young children will find April a welcoming time in Cape Town. The moderate weather, coupled with a wealth of family-friendly activities – from interactive museums to parks and beach outings, make the city an enchanting playground for little ones.
As we journey further into the details of Cape Town in April, the city continues to unfurl its charm, offering even more compelling reasons to choose this magical time for your visit. Stick around as we dive deeper into what this time of the year has in store.
Clothes to pack for April in Cape Town
When packing for Cape Town in April, keep it versatile. With daytime temperatures providing warmth, your suitcase should make room for comfortable t-shirts, shorts, and sun hats. As the evening paints a cooler picture, you'll appreciate a light jacket or a cosy sweater for those chillier moments.
The best months to visit Cape Town
If you're seeking the perfect time to explore Cape Town, March to May beckons with promise. March brings the gentle farewell of summer, allowing you to relish the city's attractions without the high season rush. April follows with milder temperatures and stunning autumnal landscapes, offering a soothing atmosphere for your adventures. By the time May rolls in, you'll find Cape Town quieter, but still generously dishing out clear skies and a distinct tranquillity, making it a blissful time for a relaxed visit.
The worst months to visit Cape Town
Cape Town, despite its year-round charm, might seem a little under the weather from June to August. These winter months bring more frequent rain showers, making some outdoor activities a bit of a challenge. While the city's indoor attractions remain delightful, the colder temperatures and grey skies might not serve up the classic sunny Cape Town experience many travellers crave.
Fantastic activities for Cape Town during April
Here are six standout activities that make Cape Town a dazzling destination in April:
The Beaches: Even in autumn, Cape Town's beaches are a hit. From the family-friendly Fish Hoek to the surfers' paradise at Muizenberg, there's a beach for every mood.
Table Mountain: A trip to the top is an absolute must. The cable car provides an easy ride up, and the panoramic views from the summit are breathtaking.
Kirstenbosch Botanical Gardens: In April, the gardens explode into a riot of autumn colours. It's the perfect spot for a picnic or leisurely stroll.
Robben Island: A ferry ride will take you to this UNESCO World Heritage site. It's a significant historical landmark where Nelson Mandela was imprisoned.
Boulders Beach: Here, you'll find a colony of African penguins. Watching these charming creatures up close is a joy for adults and kids alike.
Winelands Day Trip: April's cooler days are ideal for exploring the wine routes of Stellenbosch, Paarl and Franschhoek, tasting world-class wines along the way.
Bo-Kaap: Wander through the vibrant, colourful streets of Bo-Kaap, a historic area known for its brightly painted houses and rich Cape Malay culture.
Other holiday destinations recommendations for April
Tulum, Mexico: April is a stellar month to visit Tulum, a paradise for sun worshippers and history buffs alike. It's an enchanting time when the beaches are less crowded, and you can freely explore the ancient Mayan ruins. With water temperatures around 27°C (80°F), you'll enjoy long, soothing dips in the Caribbean Sea.
Maui, Hawaii: Maui is perfect in April, a tranquil moment between winter rains and summer's tourist surge. Warm days and cool nights blend seamlessly, inviting you to bask in the sun-soaked beaches, navigate the legendary Road to Hana, or immerse yourself in the vibrant Hawaiian culture.
Kyoto, Japan: April in Kyoto is synonymous with cherry blossom season, an event that transforms the city into a canvas of soft pink petals. Picture yourself strolling beneath blooming sakura trees in the Imperial Palace Gardens or along the Philosopher's Path. The mild weather also makes it ideal for exploring Kyoto's wealth of temples and shrines.
Algarve, Portugal: Europe's sunniest corner, Algarve, is a gem in April. It's a time when the almond trees bloom, painting the landscape white, and the Atlantic Ocean invites early swimmers. Plus, the region's whitewashed fishing villages and clifftop castles are less bustling, making your exploration more serene.
The Seychelles: This idyllic Indian Ocean archipelago hits a sweet spot in April. The trade winds calm down, making it an excellent time for snorkelling and wildlife viewing. From spotting hawksbill turtles on Anse Lazio beach to watching birds in the Vallée de Mai, Seychelles delivers nature's spectacle wrapped in tropical bliss.
Bhutan: The Land of the Thunder Dragon, Bhutan, is anything but usual. In April, the valleys come alive with spring's fresh blooms, setting the stage for hiking, bird watching, and attending colourful festivals. From exploring ancient monasteries in Thimphu and Paro to marvelling at the landscapes of Punakha Valley, Bhutan offers a spiritual and cultural journey unlike any other.
Bora Bora, French Polynesia: Imagine your April vacation in Bora Bora. The rainy season has just ended, and the island is at its greenest. Azure lagoons, lush mountains, and fewer tourists paint the perfect picture for a tranquil, beach-oriented holiday.