Cancun in May: the weather and best activities for your holiday
Cancun, an effervescent gem nestled in Mexico's Yucatan Peninsula, offers a sizzling cocktail of golden beaches, radiant sunshine, and vibrant culture, making it an attractive proposition for the discerning traveller. Steeped in rich Mayan history, this resort city boasts modern infrastructure seamlessly interwoven with its ancient heritage.
When you ask if it's an ideal time of year to visit Cancun in May, the answer is a resounding 'yes'. May marks the onset of the low season, offering relative tranquility and a relaxing atmosphere, making it a perfect time to explore its cultural offerings without the hustle and bustle. However, be forewarned, the weather can be quite hot, demanding a sturdy hat, a good quality sun cream, and a love for basking in the sun's glow.
Cancun' Climate
Bathed in tropical savannah climate, Cancun is defined by two prominent seasons - a wet and a dry season. The dry season, spanning November to April, offers blissful sunny days and cooler nights. On the other hand, the wet season from May to October brings warmer temperatures, higher humidity, and occasional tropical showers.
Cancun weather in May
As we tip-toe into May, Cancun starts to exhibit a tantalising taste of the wet season. Average daytime maximum temperatures usually hover around 33C (91F), while the nighttime minimum settles around a comfortable 23C (73F). This gives the month of May a warm, sometimes hot, tropical temperament. Hence, it's advisable to equip yourself with breathable clothing and stay hydrated during your excursions.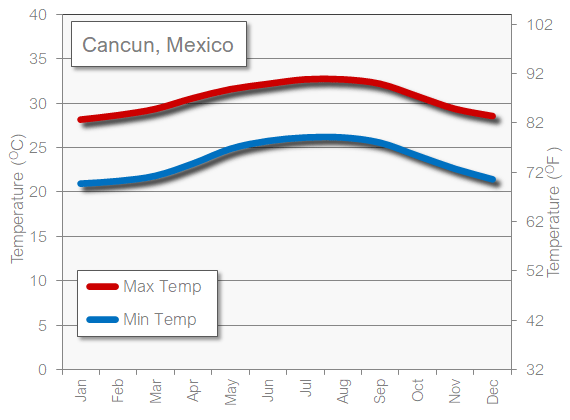 May is a generous month in Cancun in terms of daylight hours. Offering around 13 hours of daylight each day, you have ample time to bask on the beach, explore ancient ruins, or indulge in local cuisine. Sunshine is abundant with an average of 7 to 8 hours of glorious sunshine each day. While occasional clouds may provide brief respite from the sun's intensity, the majority of the days in May are blessed with clear, azure skies, perfect for those with a penchant for outdoor activities and sunbathing.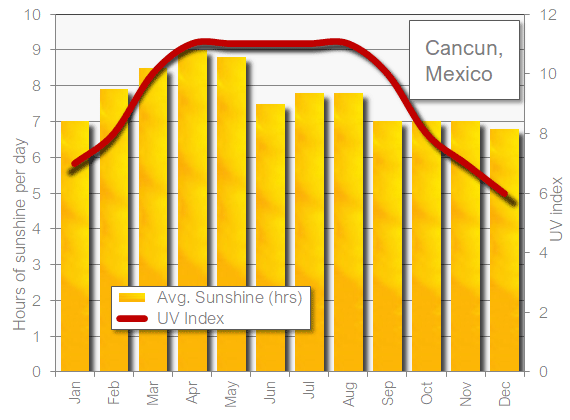 May typically sees an increase in rainfall compared to the preceding dry months. Cancun experiences an average of 98mm of rainfall across the month, distributed over an average of 7 to 8 days. While the city does receive these showers, they are often short-lived and sporadic, followed by the return of sunshine. The air does tend to feel more humid in May with relative humidity averaging around 75%. While some may find this uncomfortable, it lends a lush, tropical atmosphere to the landscape.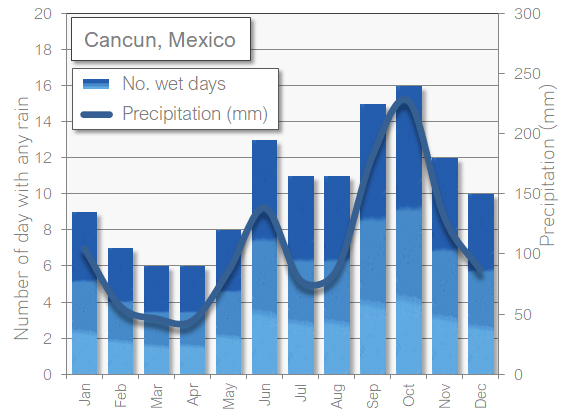 If you are a fan of water-based activities, Cancun's sea temperature in May provides an inviting proposition. The Caribbean Sea around Cancun averages a balmy 28C (82F), offering a perfect setting for a refreshing dip, a lively snorkelling session, or a leisurely sail. The water is warm enough for swimming and engaging in an array of water sports.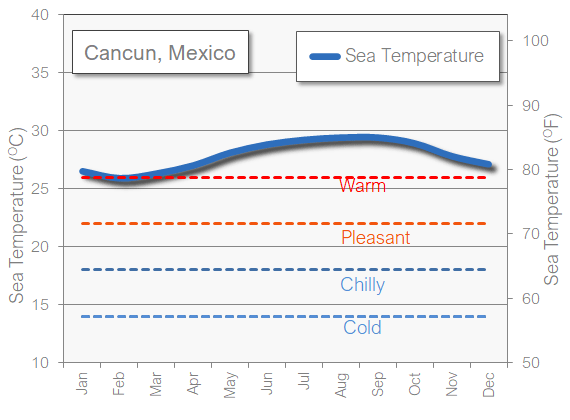 May in Cancun paints a picture of tranquillity, characterised by a relatively low influx of tourists. It's a respite from the high season of December to April when the city buzzes with travellers, primarily from the United States and Canada, escaping their cold winters. The lull in May results in the city taking a breath, making it an ideal time for visitors who prefer quieter surroundings and lesser crowds.
Contrary to popular belief, May is generally a cost-effective time to visit Cancun. With the drop in tourism demand, hotels and rental establishments are less likely to be sold out, and savvy travellers can find deals and discounts that can make their stay significantly less expensive than during the peak season.
Cancun in May is well-suited to families with young children. The weather is warm but manageable, and the relative tranquillity allows for leisurely exploration of the city and its attractions. Furthermore, the lower tourist density means more space on the beaches for your little ones to frolic freely.
As May sits on the cusp of the wet season, the city starts welcoming travellers from Europe and other parts of the world, attracted by the lower prices, warm weather, and lesser crowd densities. It's a melting pot of cultures, offering a unique blend of local and global experiences.
Clothes to pack for May in Cancun
When packing for Cancun in May, think tropical. Include lightweight clothing such as shorts, t-shirts, sundresses, and swimwear, preferably made of breathable fabrics like cotton or linen. As the sun blazes during the day, don't forget your wide-brimmed hat, sunglasses, and high-SPF sunblock.
Evenings can be comfortably warm but are occasionally cooler, especially after a brief spell of rain. Therefore, packing a light jacket or a long-sleeve shirt for the evenings would be wise. And of course, include a pair of sturdy sandals or flip-flops for those beach days and comfy shoes for your city or jungle excursions.
The best months to visit Cancun
The best time to visit Cancun hinges on what you seek. If you're aiming for comfortable weather, fewer crowds, and lower costs, the months of April and May are your best bet. These months strike a balance between pleasant weather and lesser tourist influx before the onset of the wet season. The temperature is warm, the sea inviting, and the city a little quieter, creating a relaxed atmosphere for exploration and relaxation.
The worst months to visit Cancun
On the other side of the calendar, the months to avoid would arguably be September and October. These months fall in the peak of the wet season when Cancun experiences the highest rainfall. Besides the increased chances of rain, these months also coincide with the Atlantic hurricane season. While modern forecasting provides ample warnings, the weather can disrupt travel plans and limit outdoor activities. For a sun-soaked Cancun experience, it's advisable to avoid these wetter months.
Fantastic activities for Cancun during May
1. Exploring the Mayan Ruins at Tulum
The ancient city of Tulum, just a two-hour drive from Cancun, is home to some of the most well-preserved Mayan ruins in the Western Hemisphere. Overlooking the turquoise waters of the Caribbean Sea, the ruins offer a fascinating glimpse into the Mayan civilisation. May provides warm weather and fewer tourists, ideal for leisurely exploration of this ancient wonder.
2. Snorkelling in the Great Maya Coral Reef
Warm sea temperatures in May make it a splendid time to don your snorkelling gear and dive into Cancun's underwater paradise. The Great Maya Coral Reef, the second-largest barrier reef system globally, offers a mesmerising spectacle of colourful coral gardens and a vibrant aquatic life. Get ready to swim alongside sea turtles, manta rays, and a myriad of exotic fishes.
3. Visiting Isla Mujeres
Take a ferry ride from Cancun to the charming Isla Mujeres. Known for its pristine beaches, clear waters, and laid-back vibe, this island is a perfect day trip. Rent a golf cart to explore the island, visit the sea turtle sanctuary, or simply bask in the sun on Playa Norte, often ranked among the world's best beaches.
4. Experiencing Xcaret Park
Immerse yourself in Mexican and Mayan culture at Xcaret Park, an eco-archaeological theme park. The park hosts a plethora of activities including snorkelling, underground river swimming, and exploring a butterfly pavilion. The evening show, a spectacle of lights, music, and dance, provides a riveting narrative of Mexico's rich cultural history.
5. Discovering the Cenotes
Your visit to Cancun would be incomplete without exploring the cenotes - natural sinkholes filled with fresh water. These geological wonders, considered sacred by the Mayans, offer unique swimming, snorkelling, and diving experiences. Cenote Dos Ojos, a mesmerising underwater cavern system, is particularly popular among visitors.
6. Sailing to Cozumel
A scenic ferry ride from Playa Del Carmen, close to Cancun, takes you to Cozumel, an island renowned for its world-class diving sites. Visit the Faro Celerain Eco Park, explore Mayan ruins, or simply enjoy a relaxing day on its stunning beaches. Cozumel offers a picturesque escape from the mainland.
7. Savouring Local Cuisine
Experience the gastronomic delights of Cancun by indulging in local Mexican cuisine. From gourmet restaurants serving exotic Yucatecan dishes to street food stalls offering delicious tacos and enchiladas, Cancun's food scene is sure to delight your taste buds. Don't miss out on the local seafood; it's fresh, plentiful, and a culinary highlight of your Cancun holiday.
Other holiday destinations recommendations for May
Maui, Hawaii: The island of Maui blossoms in May, with abundant sunshine and slightly fewer tourists before the summer rush. You can enjoy serene beachside moments at Kaanapali Beach or take the famed road to Hana for a tropical adventure.
Costa del Sol, Spain: May is when the Costa del Sol begins to live up to its name, the "Sun Coast". With warming temperatures and fewer crowds than the summer months, it's a great time for tranquil beach days or explorations into the Andalusian culture.
Bali, Indonesia: May marks the start of the dry season in Bali. You can expect clear blue skies, perfect for lazy beach days in Seminyak or surfing adventures in Uluwatu. The lush landscapes and the captivating Balinese culture only add to the allure.
Turks and Caicos: With the winter crowds gone and the hurricane season yet to come, May is a perfect month to enjoy the stunning beaches of Turks and Caicos. The weather is sunny and warm, ideal for snorkeling in the clear turquoise waters or simply lounging on the white sandy beaches.
Nice, France: Nice, with its fusion of French Riviera glamour and old-world charm, is wonderful in May. Temperatures are warm but not too hot, perfect for enjoying the pebbled beaches or strolling down the iconic Promenade des Anglais.
The Seychelles: Seychelles in May is a tropical dream come true. With mild weather, less humidity, and plenty of sunshine, you can make the most of the archipelago's powdery beaches and crystal-clear waters teeming with marine life.