Ayia Napa, Cyprus in September: the weather and best activities for your holiday
Ayia Napa, once a quiet fishing village, has transformed into a vibrant tourist hub known for its stunning beaches, energetic nightlife, and rich cultural heritage. With a plethora of activities ranging from water sports to historical exploration, it offers something for every traveller.
Is September a good time of the year to visit Ayia Napa? Yes, it's an excellent time, as the weather is still warm but more pleasant than the scorching summer months, and the crowds have begun to thin, allowing for a more relaxed experience.
Overview of Ayia Napa's Climate
Ayia Napa boasts a Mediterranean climate characterized by hot, dry summers and mild winters. The city bathes in sunlight most of the year, and its coastal location provides refreshing sea breezes that moderate the summer heat. The winters are mild and short-lived, often with occasional rainfall, particularly from November to March.
Ayia Napa weather in September
September in Ayia Napa is a delightful time to visit. The average daytime maximum temperature ranges around 30C (86F), while the nighttime minimum drops to a comfortable 20C (68F). The excessive heat of the peak summer months starts to fade, offering a more pleasant atmosphere. It's still warm enough to enjoy the beach, but the evenings are cooler, ideal for alfresco dining or leisurely strolls.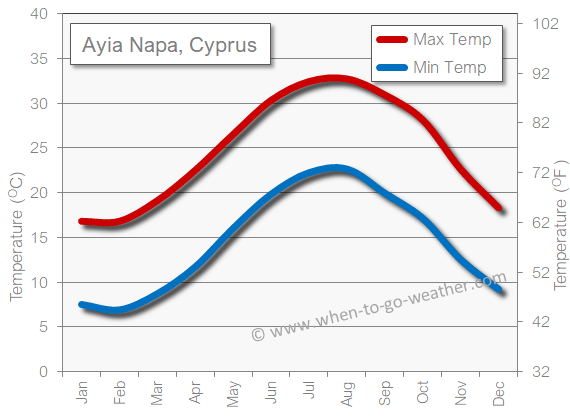 During September, Ayia Napa enjoys an average of 12 hours of daylight. The sun usually rises around 6:30 am and sets near 6:30 pm, giving ample time to enjoy outdoor activities. With an average of 9 hours of bright sunshine each day, the month is typically sunny with occasional clouds. This makes September an ideal time for sunbathing, swimming, and exploring the city's outdoor attractions.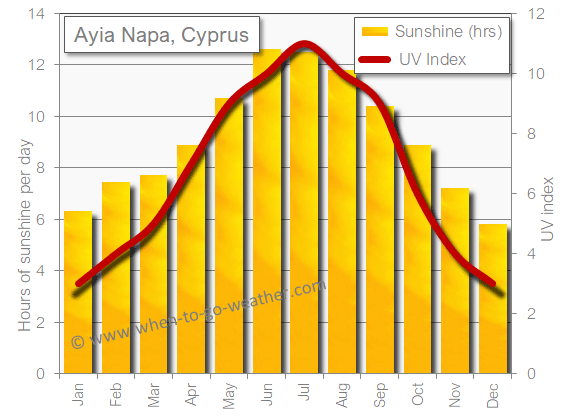 September is generally dry in Ayia Napa, with an average precipitation of just 6mm spread over one or two days. The likelihood of rainy days is low, and heavy showers are rare. Humidity levels start to decrease from the higher summer levels but can still feel somewhat sticky, especially during the afternoon. The weather, however, is predominantly clear and dry, making it a great time for outdoor pursuits.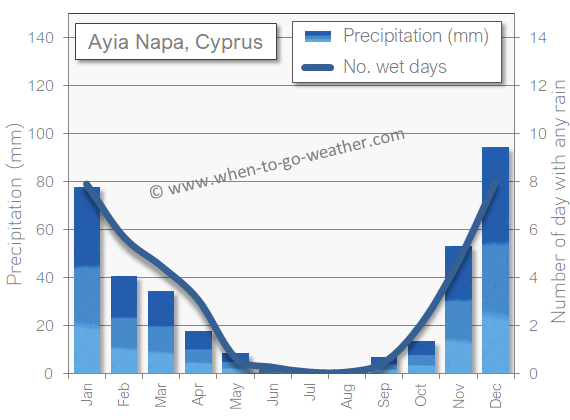 The sea temperatures in Ayia Napa during September are quite inviting, averaging around 26C (79F). This warmth allows for a refreshing swim without the shock of cold water, making it ideal for swimming, snorkelling, and other water-based activities. The sea's pleasant temperature, coupled with the warm weather and sunny days, makes September a preferred time for beach lovers.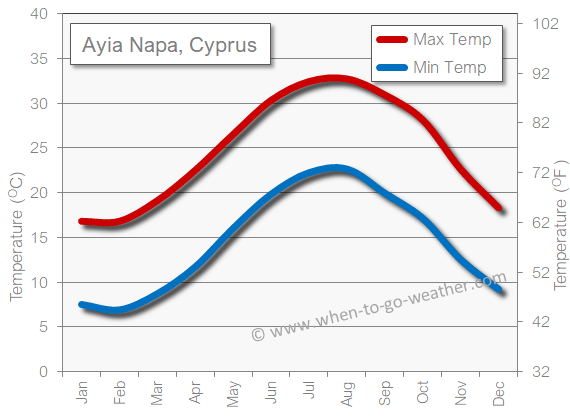 September in Ayia Napa, Cyprus marks the beginning of the shoulder season, a delightful time when the extreme heat of the high summer starts to subside, and the tourist crowds begin to thin. As the holidaymakers of the peak season head home, September emerges as a preferred month for many seeking a blend of warm weather and relative tranquillity. The beaches still gleam under the bright sun, but with a newfound sense of space, offering an attractive proposition for those wishing to escape the more crowded months.
As the city transitions from high to shoulder season, the intensity of activities and the number of tourists decreases, and a more relaxed atmosphere takes over. Yet, it would be a mistake to say that Ayia Napa goes to sleep. The city continues to hum with energy, especially in the central areas where bars, clubs, and restaurants keep the vibe lively. However, compared to the peak summer months, the streets are noticeably less congested, the beaches more accessible, and the overall pace more comfortable.
The drop in tourist numbers also affects prices, making September a more affordable time to visit. Although the cost of holidaying in Ayia Napa in September won't be as low as during the winter months, there's a noticeable difference compared to the high season of June, July, and August. Hotels and rental properties may offer discounts to entice the post-summer crowd, and savvy travellers can often find excellent deals on accommodation and dining. While it is still wise to book in advance, the pressure to secure a place is less intense, and there's more flexibility in choices and budget.
Nightlife in September continues to be vibrant, but with a slightly more refined and mature tone. While many clubs and entertainment venues remain open, the volume is turned down a notch. This isn't to say that those seeking a lively night out will be disappointed; the city's famous nightlife scene continues to buzz, albeit with a bit less frenzy. More laid-back venues come into their own, offering delightful settings for a relaxed dinner or cocktails by the sea, allowing visitors to enjoy the milder temperatures and beautiful sunsets.
September's softer approach to tourism extends to the accommodation scene. With the extreme demand of the peak summer months abating, availability increases, and hotels and rental rooms are less likely to be sold out. This gives visitors more choice and often better value. Whether seeking a luxury resort, a family-friendly hotel, or a quaint villa, the chances of finding something suitable are greatly improved.
For families with young children, September can be an ideal time to visit Ayia Napa. The weather is warm but not overpowering, making it comfortable for little ones to enjoy the beach and outdoor activities. Many family-oriented resorts and facilities continue to operate, and with fewer crowds, the experience becomes more pleasant and manageable. Schools in many countries resume in September, so the bulk of family tourists have departed, leaving behind a more adult-oriented atmosphere. However, for those able to travel with younger children, the conditions can be quite favourable.
The average age of tourists in September may be slightly higher compared to the high summer months. The party-seeking younger crowd starts to dissipate, and the city sees an increase in couples and older travellers who prefer the milder weather and more relaxed atmosphere. The city's historical and cultural attractions, often overshadowed by the beaches and clubs, become more appealing, and visitors are likely to encounter a more diverse and international crowd.
As for the geographical origin of the tourists, September continues to see a strong presence from Northern and Western European countries, particularly the United Kingdom and Germany. But the reduced intensity of the peak season often brings a more varied mix, with travellers from other parts of Europe and beyond taking advantage of the pleasant weather and lower prices.
Clothes to pack for September in Ayia Napa, Cyprus
When packing for your September holiday in Ayia Napa, consider the warm days and cooler evenings. A mix of light clothing such as T-shirts, shorts, and swimwear will suit daytime activities. However, it's wise to pack a light jacket or a shawl for the cooler nights, especially if you plan to dine outdoors. Sunscreen, sunglasses, and a hat are essential, and don't forget comfortable walking shoes if you plan to explore the city's many historical sites and natural landscapes.
In Ayia Napa during September, daytime attire would be casual summer clothes, but bring a light jacket for the evenings. T-shirts and shorts are perfect for the day, and a swimsuit is a must for the beach. Comfortable footwear for exploring and a more formal outfit for dining out will ensure you're prepared for any occasion.
The best months to visit Ayia Napa
The best months to visit Ayia Napa are May to October. During these months, the weather is warm, the sea is inviting, and the entire region comes alive with activities. June, July, and August are the hottest and busiest months, perfect for those who thrive in lively atmospheres. For those seeking a more relaxed pace without sacrificing sunshine, May, September, and October offer the ideal balance of pleasant weather and fewer crowds.
The worst months to visit Ayia Napa
While Ayia Napa welcomes visitors all year round, the months of November to April might not be suitable for everyone. During this period, the weather cools down significantly, and some of the tourist facilities, including beach clubs and outdoor attractions, may close for the season. The sea becomes less inviting for swimming, and the general vibe of the place shifts from bustling to subdued. If you're seeking the vibrant beach culture Ayia Napa is famous for, these months may not be the best choice.
Fantastic activities for Ayia Napa during September
1. Explore the Nissi Beach: September's milder temperatures make it an ideal time to visit the famous Nissi Beach. The crystal-clear waters are still warm enough for swimming, and the beach clubs are alive with music and entertainment. Whether you choose to relax on the sandy shores or take part in water sports like jet-skiing, Nissi Beach has something for every traveller.
2. Visit the Ayia Napa Sculpture Park: Art enthusiasts will find the Ayia Napa Sculpture Park a must-visit. Home to over 200 sculptures by artists from around the world, the park provides a tranquil setting to appreciate contemporary art. The sea views and creative displays make for a unique and delightful experience.
3. Discover the Sea Caves: If adventure calls, explore the natural sea caves of Ayia Napa. Guided tours will take you to these stunning formations, where you can snorkel, swim, or simply marvel at nature's beauty. It's a great way to connect with Cyprus's natural landscapes and escape the hustle and bustle of the city.
4. Take a Boat Tour: September's calm seas are perfect for boat tours. You can embark on a daytime cruise to see the coast's spectacular cliffs and hidden coves or enjoy a sunset cruise with dinner and dancing. It's a romantic and relaxing way to experience the island's coastal charm.
5. Stroll Through Cape Greco National Park: Nature lovers should make time for Cape Greco National Park. A network of trails winds through this protected area, showcasing native plants, birds, and stunning sea views. It's a peaceful way to spend an afternoon and offers photo opportunities at every turn.
6. Dive into the History at Ayia Napa Monastery: In the heart of Ayia Napa, the ancient monastery stands as a testament to the area's rich history. A blend of Byzantine and Gothic architecture, this serene spot offers a glimpse into Cyprus's past. Explore the gardens, light a candle in the chapel, or simply enjoy the peaceful ambiance.
7. Enjoy Local Cuisine at a Traditional Taverna: Your visit to Ayia Napa wouldn't be complete without indulging in local Cypriot cuisine. Traditional tavernas offer delicious meze, fresh seafood, and local wines. Dining alfresco in September's comfortable evening weather is a delightful way to immerse yourself in the local culture and savour the flavours of Cyprus.
8. Join a Wine Tasting Tour: For those interested in the finer flavours of Cyprus, a wine tasting tour offers an enriching experience. Visit local wineries, learn about the island's winemaking traditions, and, of course, sample the exquisite wines. September's grape harvest adds an extra layer of excitement to these tours.
Other holiday destinations recommendations for September
Looking for the perfect September holiday destination? Here are five that offer a blend of adventure, relaxation, and unique cultural experiences.
1. Sicily, Italy: In September, Sicily exudes a warm, mellow charm. The beaches are less crowded, and it's a great time for exploring historic sites like the Valley of the Temples. Experience Mount Etna's majestic presence, indulge in a wine tasting tour, or savour the deliciously diverse Sicilian cuisine.
2. Ibiza, Spain: Known as a party hub, Ibiza offers a different vibe in September. The clubs are still buzzing, but the island reveals its quieter side too. Wander through the cobbled streets of the Old Town, enjoy a sunset beach picnic, or take a boat trip to the serene island of Formentera.
3. Mauritius: Mauritius in September is a paradise of clear skies and cool breezes. The island is a vibrant tapestry of cultures, cuisines, and landscapes. You could spend your days lounging on a white sand beach, hiking through rainforests, or exploring vibrant markets in the capital city, Port Louis.
4. Dubai, United Arab Emirates: As summer heat subsides, September is an excellent time to explore Dubai's architectural marvels, world-class shopping centres, and unique cultural attractions. Take a leisurely walk along the Dubai Canal, explore the historic Al Fahidi district. And, don't forget to enjoy the Emirati culinary delights.
5. Santorini, Greece: September in Santorini offers visitors the opportunity to explore the island's unique beauty with fewer crowds. The sunsets are still as beautiful, the food is just as delicious, and the Aegean Sea remains welcoming for swimmers and sailors alike.