Larnaca, Cyprus in April: the weather and best activities for your holiday
Discover the allure of Larnaca, nestled on the sun-soaked coast of Cyprus, in the heart of the Mediterranean Sea. April is a time when this coastal gem takes on an allure unlike any other time of year. The blossoms of citrus trees waft their fragrant scent in the air, and the temperatures edge towards perfect, creating an inviting atmosphere for exploring and experiencing the culture and beauty of this historic island.
As the sun climbs higher in the spring sky, Larnaca bursts into life, embracing a warmer weather that nudges holidaymakers gently into the joys of spring. Whether you're a beach enthusiast, history aficionado, or food lover, April's climate will offer the perfect backdrop to your Cypriot adventure.
Larnaca weather in April
With daytime temperatures in April typically hovering around a pleasant 20°C (68°F), there is plenty of opportunity to enjoy the great outdoors. The night-time sees a slight dip, with the mercury settling at around 11°C (52°F), giving the evenings a cool, relaxing ambiance.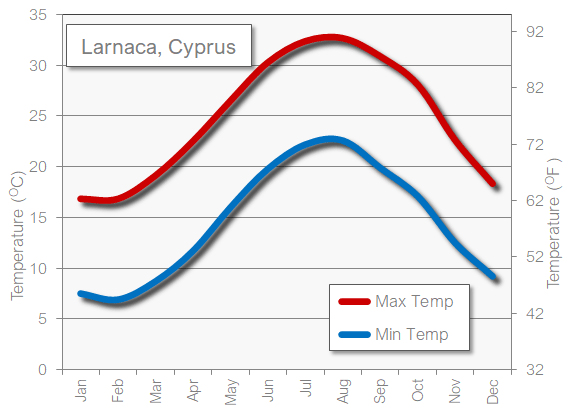 Be prepared for the mellow Mediterranean sun to light up the landscape for approximately 11 hours each day, with intensity that's comfortable for exploring without causing undue discomfort.
Sunrise and sunset in Larnaca in April are quite the spectacle. Sunrise begins to brighten the sky at approximately 6:15 AM and the sun sets around 7:40 PM. This offers plenty of daylight to experience all that Larnaca has to offer.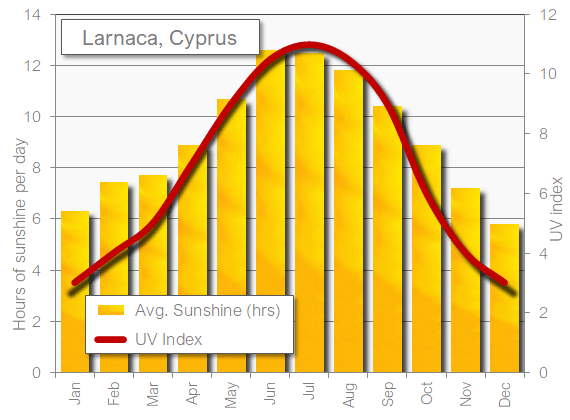 As for humidity, expect levels around 70%. It's enough to make the air feel substantial but without the sticky, oppressive sensation that can accompany higher humidity. It's a refreshing embrace that will leave you feeling invigorated rather than drained.
April isn't a particularly rainy month in Larnaca. On average, there may be 5 to 7 days of rainfall, with a total precipitation of around 20mm. This means occasional showers rather than persistent downpours, allowing the charm of the city to shine through under typically clear skies.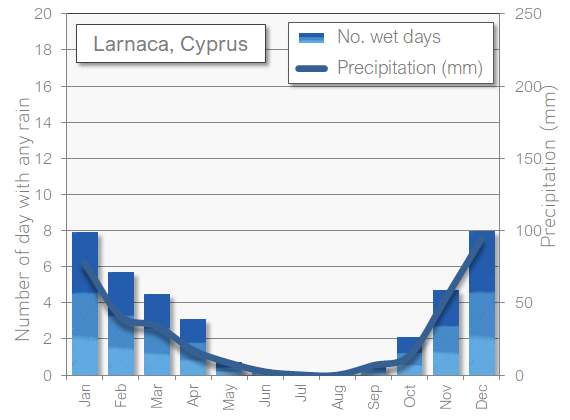 Sea temperature in April in Larnaca is on the cooler side, averaging about 18°C (64°F). This is a trifle bracing for most, but hardy souls or enthusiastic snorkelers might enjoy the crisp immersion, and the beaches still provide a wonderful location for sunbathing and picnics.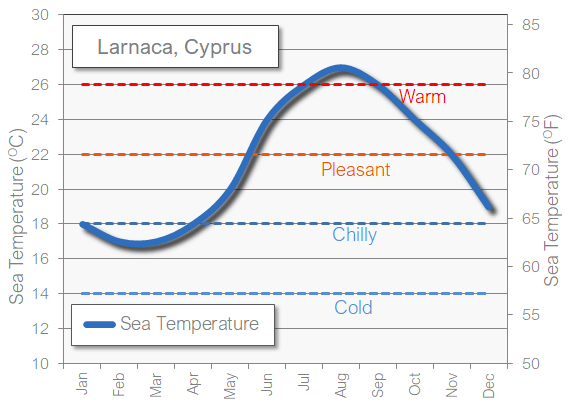 April sees an increase in visitors, yet Larnaca remains pleasantly uncrowded, far from the hustle and bustle of peak summer months. The tourists that you do encounter will likely hail from various parts of Europe, with a significant proportion from the United Kingdom and Germany seeking early season sunshine.
In terms of costs, April falls in the shoulder season, meaning that it's generally less expensive to visit than during the high summer season. You'll find attractive deals for accommodation and flights, making it an appealing time for a cost-effective getaway.
Families with young children will find April an ideal time to visit Larnaca. The milder climate, fewer crowds, and lower costs combine to make it a comfortable and enjoyable time for a family trip. The island's rich history and beautiful nature offer abundant opportunities for both fun and education. Children will love the safe and clean beaches, the chance to explore ancient ruins, and the delicious Cypriot cuisine, not too spicy and often honey-sweet.
Clothes to pack for April in Larnaca, Cyprus
As you pack for your April trip to Larnaca, be sure to include lightweight clothes suitable for daytime temperatures of around 20°C (68°F). You might prefer t-shirts, shorts, and perhaps a hat to shield you from the sun's rays. Evenings can cool down to about 11°C (52°F), so bring a light jacket or sweater to keep the chill at bay when the sun goes down.
The best months to visit Larnaca
April, May, and October are arguably the most delightful months to visit Larnaca. April heralds the arrival of spring, with comfortable temperatures and blossoming landscapes. May sees the sun gaining strength, with slightly higher temperatures that still fall short of summer's peak heat. October provides a soothing retreat, as the mild Mediterranean autumn offers perfect conditions for exploring historical sites and hiking trails without the bustling crowds of the summer months.
The worst months to visit Larnaca
The blistering heat of August can make it a challenging time to visit Larnaca. The scorching daytime temperatures often rise above 30°C (86°F), which can be overwhelming for those not accustomed to such heat. Additionally, the influx of tourists during this peak summer month can lead to crowded beaches and attractions, making it less ideal for visitors seeking a peaceful getaway.
Fantastic activities for Larnaca during April
Here are six standout activities that make Larnaca a dazzling destination in April:
Exploring the picturesque Larnaca Salt Lake is a must. With temperatures in a pleasant range in April, it's the ideal time to take leisurely walks around the lake, spotting flamingos and other migratory birds that use the lake as a stopover.
Spend an afternoon wandering through the historical heart of Larnaca. The Saint Lazarus Church, dating back to the 9th century, is a magnificent structure, rich in history and legend.
Embarking on a boat trip is a captivating way to experience the Mediterranean Sea. Whether it's a fishing trip or a relaxing cruise to admire the coastal views, the cool but sunny April weather creates the perfect seafaring conditions.
With the lower sea temperatures, water activities may lean more towards coastal exploration. Engaging in a beach cleanup day could be rewarding, allowing you to contribute to local environmental efforts while enjoying the stunning scenery.
Taking a day trip to the Cypriot capital, Nicosia, is a wonderful opportunity to immerse yourself in the rich culture and history of Cyprus. Visit the Cyprus Museum or stroll around the old town to see the Venetian walls.
Participate in a local cooking class. Cypriot cuisine is a delightful blend of Greek, Turkish, and Middle Eastern influences. What better way to appreciate it than to learn how to make traditional dishes yourself? It's an indoor activity that isn't impacted by the cooler April sea temperatures.
Other holiday destinations recommendations for April
In the month of April, Crete, Greece blooms with the colour and vitality of spring. Temperatures in the pleasant 20s °C (68°F) invite leisurely explorations of the island's ancient ruins, and dining on local delicacies at a cozy taverna along the pristine coastline. Crete in April is a fascinating journey through time, surrounded by the beauty of nature.
The Canary Islands in April present a heavenly escape, with spring transforming the volcanic landscapes and pleasant temperatures around 22°C (72°F) enhancing the allure of the islands' black and white beaches. Whether you're hiking through the pine forests or relaxing in a coastal village, the Canaries offer an idyllic retreat.
Cancun, Mexico, exudes a festive vibe in April. The Caribbean paradise, with high temperatures around 30°C (86°F), and low rainfall, offers an enticing mix of golden beaches, crystal-clear waters, and ancient Mayan sites. It's an excellent time to soak up the sun and immerse in the vibrant Mexican culture.
Cape Verde is a unique destination, offering a blend of African and Portuguese cultures under the gentle warmth of April. With temperatures averaging 25°C (77°F) and low humidity, it's an ideal setting for exploring the islands' landscapes, dancing to the rhythm of morna music, or simply lounging on the stunning beaches.
Lastly, Dubai, UAE in April offers a rich tapestry of experiences. With daytime temperatures around 29°C (84°F), it's a good time to marvel at the city's futuristic skyline, shop in the world's largest mall, or stroll through a traditional souk. Dubai's blend of luxury and culture presents an unforgettable April holiday.