Larnaca, Cyprus in October: the weather and best activities for your holiday
Larnaca, the picturesque coastal city of Cyprus, lays an inviting stage for travellers in October. The sizzling peak summer heat mellows down, opening a window to a pleasant Mediterranean autumn that's just right for a leisurely exploration. In this time of year, the city unfolds like an enchanting canvas, where soft sunlight bathes its sprawling sandy beaches, rich historical sites, and cozy café-lined promenades.
In October, Larnaca is less crowded than the buzzing summer months, but maintains an energetic pulse. You'll find a comforting blend of tranquility and vibrant life as you roam its enchanting streets, free from the hubbub of high-season tourism. With tourists mainly hailing from Europe, you will find a sense of shared adventure with like-minded travellers.
Larnaca weather in October
Onto the specifics of the weather in October, expect daytime temperatures averaging around 26C (79F), perfect for exploring the city or basking on its beaches. At night, the mercury drops to a comfortable 15C (59F) - great for a peaceful sleep or enjoying an evening stroll by the picturesque seafront.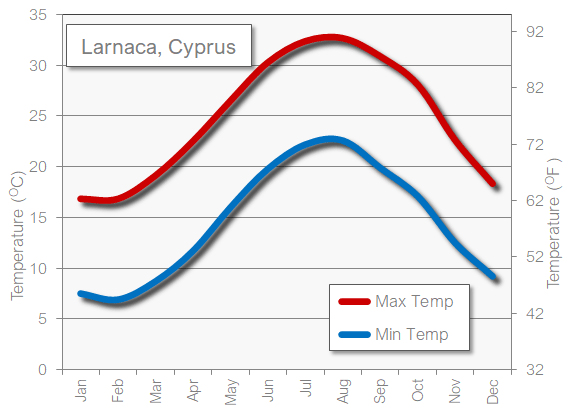 While the autumn sun isn't as intense as the scorching summer, you can still expect approximately 9 hours of sunlight per day. It's not overwhelmingly harsh but provides a warm, glowing backdrop to the city's charms.
Sunrise in October happens around 7:00 am, and the sun sets by about 6:15 pm. The gentle morning light and the spectacular sunsets over the sea offer unforgettable views.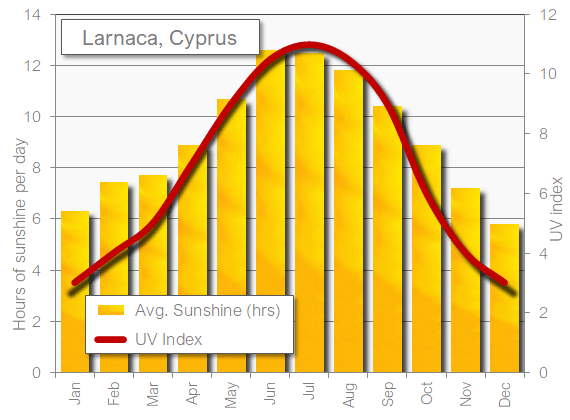 Humidity levels hover around 60-65%, lending a mild, balmy feel to the air. While it may seem high, the cool sea breezes make it pleasant and quite bearable. It's akin to a light, refreshing facial mist rather than a heavy, oppressive dampness.
The rainfall in October is relatively low, with typically only 3-4 rainy days in the month. The average rainfall amounts to about 13 mm, so the occasional shower merely adds a fresh and vibrant touch to the cityscape without spoiling your outdoor plans.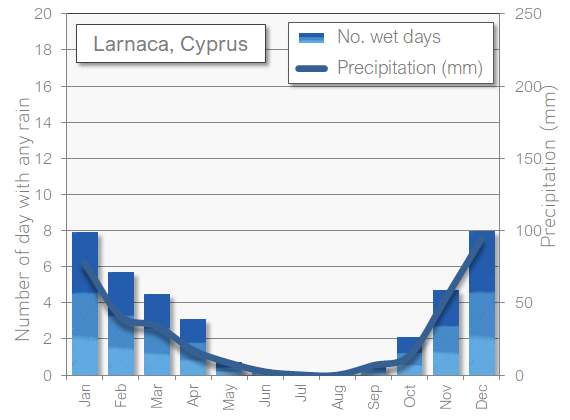 Sea temperatures in October are invitingly warm, averaging around 24C (75F). It's a delightful opportunity to indulge in a variety of water sports, or simply to enjoy a soothing swim in the Mediterranean waters.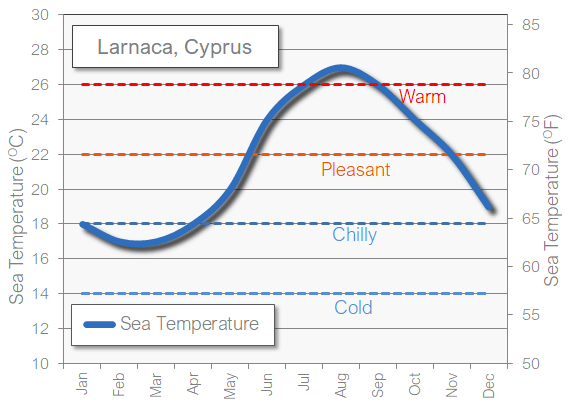 October, being the shoulder season, sees less tourist influx in Larnaca compared to summer, but there's still a steady stream of visitors, predominantly from countries like the UK, Russia, and Germany. This creates a multicultural atmosphere, yet retains a serene feel without the pressing crowds.
Budget-wise, October presents a sweet spot for travellers. The price tags on accommodations and local attractions are often reduced compared to the peak season, allowing you to enjoy the best of Larnaca without straining your wallet.
Finally, families with young children will find October a suitable time to visit Larnaca. The weather is moderate, the city is less busy, and there's ample opportunity for children to engage in fun activities like beach games, historical tours, and boat trips. The less crowded sites also mean you can maintain a comfortable pace and adjust your itinerary to suit the little ones' needs.
Clothes to pack for October in Larnaca, Cyprus
For an October visit to Larnaca, packing smart and versatile clothing is advisable. During the day, comfortable t-shirts and shorts should suffice, given the pleasant warmth. As temperatures drop in the evening, carrying a light jacket or a sweater would be a wise choice to keep you cozy.
The best months to visit Larnaca
The most attractive months to visit Larnaca are May, October, and November. May marks the start of the warm season, with temperature and humidity at comfortable levels, and the island bursting into a vibrant spring bloom. October and November, on the other hand, are the cusp of autumn, offering mild weather, lesser crowds, and an ethereal charm as the city transitions into the winter. The sea remains warm enough for a delightful swim, making these months perfect for a balanced blend of sightseeing and relaxation.
The worst months to visit Larnaca
August can be a challenging month for a visit to Larnaca. With temperatures often soaring above 30C (86F), the intense heat can be overwhelming for some, especially during midday. Moreover, this is also the peak tourist season, so expect crowded streets and beaches, and possibly higher prices on accommodations and services.
Fantastic activities for Larnaca during October
Here are some delightful activities to enjoy in Larnaca during October:
• Beach Hopping: Larnaca's beaches are less crowded in October, offering serene spots to soak up the sun. Mackenzie Beach and Finikoudes Beach are excellent choices for a relaxed day by the sea, where you can also indulge in local cuisine at nearby cafes.
• Historical Tours: Visit the Saint Lazarus Church, a magnificent 9th-century Orthodox church, or the medieval Larnaca Castle. These sites carry profound historical significance and provide insight into Cyprus's rich cultural heritage.
• Wine Tasting: With autumn's arrival, vineyards around Larnaca are ripe for visits. Enjoy a day trip to local wineries, where you can learn about winemaking traditions and sample some exquisite Cypriot wines.
• Boat Trips: Explore the serene Mediterranean waters on a leisurely boat trip. You can soak in the sun, enjoy the coastal views, and if you're lucky, spot some fascinating marine life.
• Birdwatching at Salt Lake: October is an ideal time to observe migratory birds at the Larnaca Salt Lake. A tranquil stroll here could reward you with sights of flamingos and other species.
• Walking the Promenade: A leisurely walk down the bustling Finikoudes Promenade in the cool evening is a great way to soak in the local life. The lined-up palm trees, charming cafes, and view of the marina make it a memorable experience.
• Diving Excursions: With the sea still warm, October is excellent for diving excursions. Explore the Zenobia wreck, one of the world's best diving sites, or the vibrant coral reefs around the coast.
• Shopping at Local Markets: Larnaca's local markets are bustling with activity in October. It's a great time to shop for traditional souvenirs, local produce, and handcrafted items.
• Visit Kamares Aqueduct: This historical landmark, a fine example of Roman architecture, is particularly stunning at sunset. A picnic here would be an excellent way to appreciate Larnaca's historical charm.
• Bike Tour: Rent a bike and explore the city's captivating sights. The pleasant October weather makes this an enjoyable activity for all fitness levels.
Other holiday destinations recommendations for October