Larnaca, Cyprus in July: the weather and best activities for your holiday
Visiting Larnaca, Cyprus, in July is an experience filled with the joys of the Mediterranean summer. The sun shines brightly, transforming the city into a sunbather's paradise. July is indeed a good time to visit, as the weather is at its summer peak, providing excellent conditions for outdoor activities and leisure by the sea.
Larnaca's charm is augmented in the heat of July, with the warm climate offering an authentic Mediterranean experience. The city radiates with vibrancy, as locals and tourists alike take to the beaches, historical sites, and outdoor cafes. The lure of the city's historical charm and natural beauty is further magnified by the clear, sunny weather.
Larnaca weather in July
Daytime temperatures in July can reach up to 33C (91F), making it one of the hottest months in Larnaca. Nights, while still warm, provide a soothing respite with temperatures dropping to around 21C (70F). It's a fantastic climate for those who revel in the heat and find joy in the long, sun-filled days.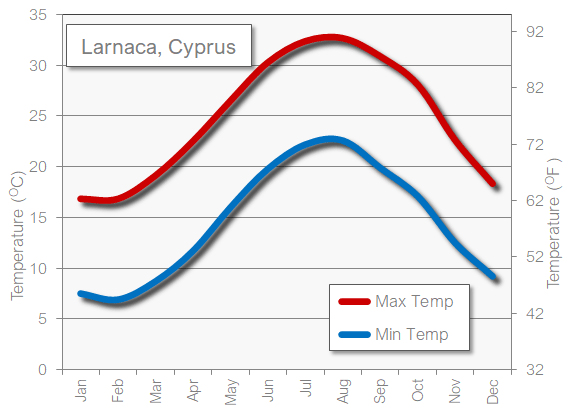 With over 14 hours of sunlight per day, the days in July are long and bright. The sun rises early, at about 5:40 am, welcoming you to start your day with a picturesque dawn. Sunset, which happens close to 8:20 pm, paints the evening sky with warm hues, giving way to a pleasant night.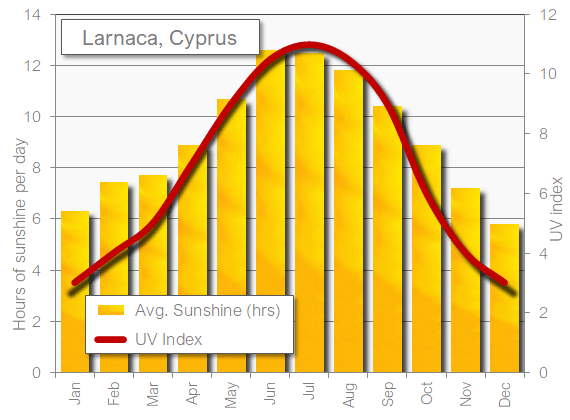 The humidity in Larnaca during July is relatively high, often reaching up to 70%. The warmth can feel quite intense due to the high humidity, but the Mediterranean Sea offers a cooling breeze that mitigates the heat, making the climate feel comfortable.
Rain is almost a stranger to Larnaca in July. The city experiences barely a day of rain during this month, with the average rainfall amount being almost negligible. It's a fantastic time for those who prefer clear skies and dry weather.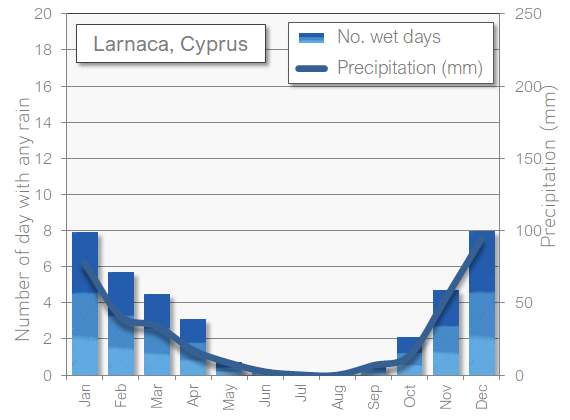 The Mediterranean Sea is pleasantly warm in July with a temperature averaging around 26C (79F). It's an ideal condition for anyone keen on engaging in water activities such as swimming, snorkeling, or boating.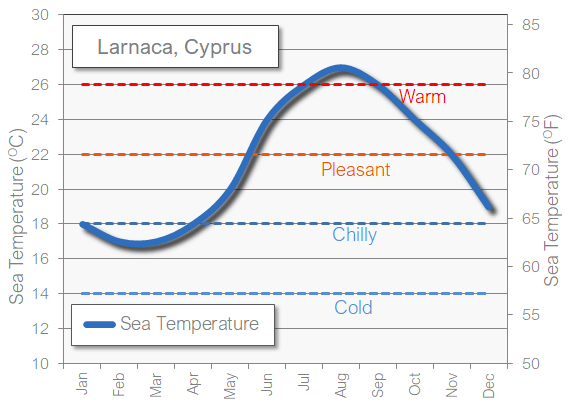 As for the hustle and bustle, July is one of the busiest months in Larnaca. Tourists, primarily from Europe, flock to enjoy the city's summer vibe. While it does mean that popular spots are crowded, the lively atmosphere adds to the city's charm.
In terms of costs, July falls within the peak tourist season, so prices for accommodations and some activities can be slightly higher. However, the guarantee of superb weather, along with a multitude of outdoor activities and events, makes it worth the visit.
Finally, July's summer heat might be intense for families with young children. Nevertheless, Larnaca offers various family-friendly attractions that are enjoyable in July. From mornings on the beach building sandcastles to afternoons spent exploring historical sites or in air-conditioned museums, there's something for everyone. It's all about timing your activities to avoid the peak heat of the day.
Clothes to pack for July in Larnaca, Cyprus
In Larnaca during July, your wardrobe should cater to the summer heat. Lightweight, breathable clothing such as t-shirts, shorts, and sundresses will keep you comfortable during the day. While nights are warmer, a light cover-up could be handy for late beach outings or breezy seaside dinners.
The best months to visit Larnaca
The prime time to visit Larnaca would arguably be April, May, and October. In April, the weather begins to warm up, offering perfect conditions for sightseeing and outdoor activities. May furthers this pleasant weather, and with the sea temperature increasing, it's an ideal time for water activities. October, being post-peak season, offers warm weather with fewer crowds, and the sea still remains pleasant for swimming.
The worst months to visit Larnaca
Despite its allure, the height of summer, specifically August, might be the most challenging time to visit Larnaca. The temperature can reach extreme highs, which may hinder daytime explorations. Additionally, as it's peak tourist season, the city could be crowded, and prices tend to rise.
Fantastic activities for Larnaca during July
For activities in July, Larnaca offers an array of delightful options:
• Diving at the Zenobia wreck is a must-do. This sunken ferry is now a marine paradise and is ranked among the top diving sites in the world.
• A visit to Larnaca Salt Lake promises an unusual landscape and possible flamingo sightings. Nearby, the Hala Sultan Tekke mosque offers a spiritual retreat with its serene beauty.
• A stroll down the Larnaca Promenade (Foinikoudes) offers pleasant views, plenty of eateries, and opportunities to interact with friendly locals.
• For a taste of culture, a visit to the Byzantine Church of Saint Lazarus, with its exquisite iconography, is a worthwhile experience.
• A day trip to Choirokoitia, a UNESCO World Heritage site, provides an insight into one of the earliest known human settlements on the island.
• To feel the local vibes, visit the Larnaca Market. This bustling marketplace is an excellent place to pick up local crafts and taste Cypriot delicacies.
• The Larnaca Marina is a hub of activity and an ideal spot to enjoy a variety of water sports or a relaxing boat trip.
• The Kamares Aqueduct, with its distinctive arches, is a picturesque spot, especially when lit up in the evening.
• A trip to the Voroklini Lake offers a chance to witness diverse bird species, including various migrating birds.
• Taking a wine tasting tour in the nearby villages will not only introduce you to the rich Cypriot winemaking tradition but also the delightful rural charm of Cyprus.
Other holiday destinations recommendations for July