Ayia Napa, Cyprus in May: the weather and best activities for your holiday
Nestled on the sun-kissed southeastern coast of Cyprus, Ayia Napa boasts a mesmerising blend of golden beaches, lively nightlife, and a rich cultural tapestry. From ancient monasteries to modern dance clubs, it offers a harmonious blend of history and hedonism.
For your May holiday, is this the right time to visit Ayia Napa? Absolutely yes, with temperatures beginning to climb, the town springs to life but avoids the sweltering heat of peak summer, providing a delightful setting for both relaxation and exploration.
Overview of Ayia Napa's Climate
Ayia Napa enjoys a typical Mediterranean climate, characterised by hot, dry summers and mild, wet winters. Spring and autumn are often considered the ideal seasons to visit, offering pleasant temperatures without the intense heat of July and August. Winter months are milder, providing a nice getaway for those seeking respite from the cold Northern European winters.
Ayia Napa weather in May
During the lovely month of May, Ayia Napa witnesses a comfortable range of temperatures. Daytime maximums hover around 24C (75F), while nighttime minimums may dip to 15C (59F). This creates an agreeable climate that is neither too hot nor too cold, making it ideal for outdoor activities or simply basking by the poolside.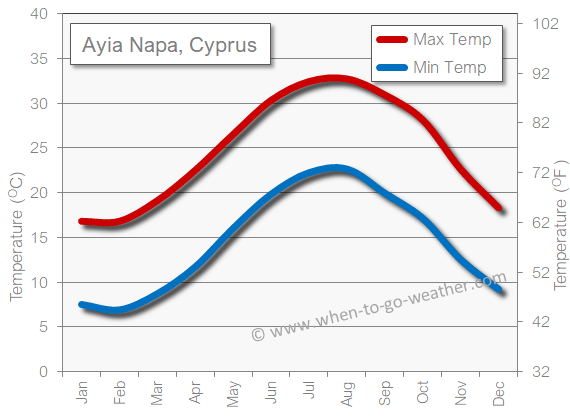 May in Ayia Napa graces visitors with extended daylight hours, averaging around 14 hours of daylight per day. This not only allows more time to explore but is complemented by abundant sunshine. Expect up to 10 hours of glorious sunshine per day, as May is predominantly clear with very few clouds. These sunny days lend a sparkling charm to the sea and landscapes alike.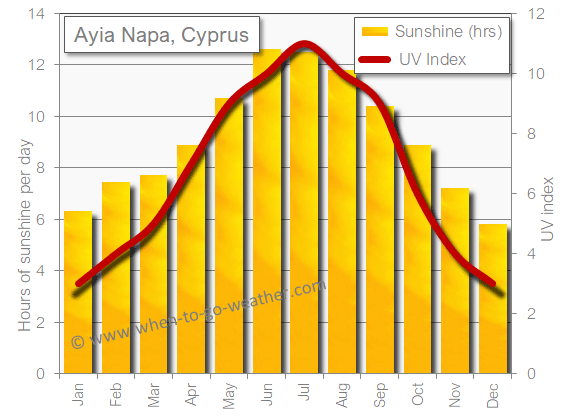 May signifies the onset of drier months in Ayia Napa, with an average precipitation of around 10mm spread over a handful of days. Rainfall patterns are mild, and heavy showers are rare during this time of the year. Humidity levels are moderate, hovering around 60-70%, thus maintaining a pleasant feel to the air.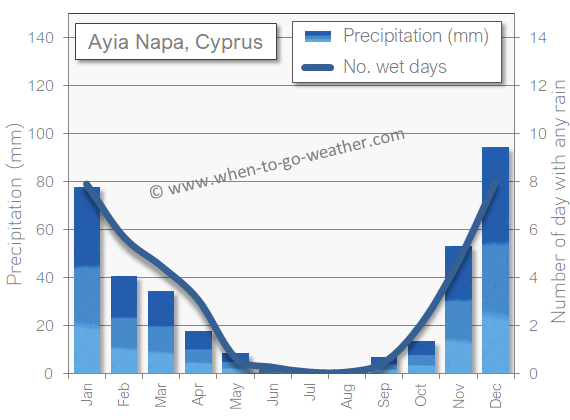 The sea's embrace in May is inviting, with average sea temperatures around 20C (68F), slowly warming up as the month progresses. While some may find it a tad fresh at the beginning of the month, many will still find it adequate for swimming, snorkelling, or other water sports. As the waters edge towards warmer temperatures, May provides a perfect beginning to the beach season in Ayia Napa.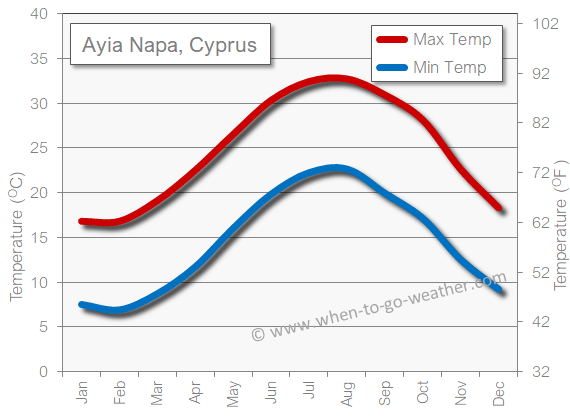 May is a delightful time to visit Ayia Napa, Cyprus, as it marks the cusp of the high tourism season. During this month, the resort town begins to come alive with a mixture of tourists, creating an atmosphere that is both energetic and enjoyable without being overwhelming.
Typically classified as part of the shoulder season, May sees a steady increase in tourists compared to the quieter winter months, but it's not yet at the peak of the high summer season. This balance means you have the opportunity to enjoy many of Ayia Napa's renowned attractions without contending with the crowds that descend later in the year. Whether it's a leisurely walk along the stunning Nissi Beach or a visit to the captivating Ayia Napa Monastery, you will find space and time to soak in the sights at your own pace.
The relative tranquillity of May in Ayia Napa also translates into a more budget-friendly travel experience. While prices begin to rise as the high season approaches, they are still more reasonable than the peak summer months. This affordability extends to various aspects of your holiday, including accommodation, dining, and excursions. Hotels and rental rooms are less likely to be sold out, and savvy travellers may still snatch up attractive deals, especially for those booking in advance.
While May is more economical than the peak season, it doesn't mean a compromise on quality or enjoyment. The nightlife in Ayia Napa, renowned for its vibrant clubs and lively bars, begins to pick up the pace. Though not as hectic as the midsummer months, many venues will be open, offering entertainment that ranges from relaxed beachside cocktails to energetic dance floors. Whether you're a night owl looking to party or someone who prefers a more laid-back evening, Ayia Napa in May offers a nightlife scene that can cater to varied tastes.
Families, too, will find May a suitable and pleasant time to visit. The weather is warm but not excessively hot, making outdoor activities and beach time comfortable for young children. Many family-oriented resorts and facilities start to open their doors, offering activities and amenities that cater to the younger crowd. Parents can enjoy the fact that the town is less crowded, yet lively enough to provide an engaging holiday experience for the whole family.
The average age of tourists during May tends to be diverse. While Ayia Napa's reputation as a party destination attracts a younger crowd during the summer, May sees a more varied demographic. Young couples, families, and even older travellers looking to enjoy the pre-summer tranquillity find May an attractive time to visit.
Where do most tourists in Ayia Napa come from in May? The onset of warm weather sees a continued influx of visitors from Northern Europe, especially the UK, Germany, and Scandinavia. The pleasant climate draws sun-seekers eager to leave behind the chill of their home countries. In addition, you'll find tourists from Russia and other Eastern European nations, along with a growing number of travellers from the Middle East and Asia.
Clothes to pack for May in Ayia Napa, Cyprus
When packing for Ayia Napa in May, it's wise to consider both the pleasant daytime temperatures and cooler evenings. Beachwear, light summer clothing, and sun protection are essential for enjoying the sunny days. A light jacket or wrap might be handy for evenings, especially if you plan on coastal dining or late-night walks.
When it comes to clothing for Ayia Napa in May, think of casual, comfortable attire for strolling through the town or along the beach. T-shirts, shorts, and sundresses are perfect for daytime. As the sun sets, you might find the temperature dropping slightly, so packing a light jacket or a warm scarf would be advisable. Evenings still retain a touch of spring's crispness, so a little extra warmth can make the difference.
The best months to visit Ayia Napa
The best months to visit Ayia Napa vary depending on what you seek. April to June and September to October offer milder temperatures, fewer crowds, and often more reasonable prices. These months strike a balance between pleasant weather and a lively atmosphere without the intensity of the peak season. They provide an opportunity to explore, relax, and enjoy the destination without feeling rushed or crowded.
The worst months to visit Ayia Napa
The least favourable time to visit Ayia Napa might be the winter months of December and January. Though still mild compared to much of Europe, these months can be unpredictable, with occasional rain and cooler temperatures. Many attractions and facilities might be closed or operate on limited hours, and the vibrant energy the town is known for may feel somewhat subdued. It's not a time for beach lovers, but those interested in a quieter experience might still find it appealing.
Fantastic activities for Ayia Napa during May
1. Exploring Ayia Napa Monastery: Located at the heart of Ayia Napa Square, the historical monastery is a serene oasis amidst the bustling town. Dating back to the 16th century, this beautiful site, with its intricate stonework and lush gardens, offers a glimpse into the region's rich heritage. It's an ideal spot for reflection, photography, and understanding the town's spiritual roots.
2. Beach Hopping: May's gentle weather is perfect for exploring the town's numerous picturesque beaches. From the famous Nissi Beach to the more secluded Konnos Bay, each shoreline offers its unique charm. Whether you're looking for lively beach bars, water sports, or a peaceful spot to sunbathe, Ayia Napa's coastline has it all. Don't forget to catch a sunset over the shimmering Mediterranean Sea!
3. Take a Boat Trip to Cape Greco: This national forest park, located just a short boat ride away, is a must-visit for nature enthusiasts. Discover hidden sea caves, snorkel in crystal clear waters, or hike the trails for breathtaking views. The iconic Love Bridge and the legendary Ayia Napa sea monster's dwelling are just a few of Cape Greco's fascinating features.
4. Enjoy Traditional Cypriot Cuisine: Ayia Napa offers an array of local restaurants where you can indulge in authentic Cypriot fare. From mezze platters to fresh seafood and traditional sweets like baklava, the town's culinary scene is a gastronomic delight. Don't miss the opportunity to enjoy a meal al fresco, accompanied by local wine or ouzo.
5. Visit WaterWorld Themed Waterpark: If travelling with family, WaterWorld provides a day filled with fun and excitement. Inspired by ancient Greek mythology, this award-winning water park features a variety of slides, pools, and attractions suitable for all ages. May's pleasant temperatures make it a delightful time to splash around without the summer crowds.
6. Explore the Local Markets: Immerse yourself in the local culture by visiting Ayia Napa's markets. Browse traditional crafts, fresh produce, and unique souvenirs. Whether at the bustling Ayia Napa Market or the charming neighbouring villages' markets, you'll find an array of items that capture the island's essence. It's a lovely way to spend a morning, engaging with local artisans and discovering hidden treasures.
7. Dive into the Underwater Sculpture Park: For those interested in diving, Ayia Napa offers a unique underwater experience. Visit the first underwater sculpture park in Europe, where you can explore sculptures placed among the reefs. It's not just an artistic endeavour but an ecological one, aimed at promoting coral growth. Diving in May's clear waters provides excellent visibility, making it a surreal and memorable adventure.