Ayia Napa, Cyprus in July: the weather and best activities for your holiday
Ayia Napa, the crown jewel of Cyprus's southeastern coast, invites visitors to a land steeped in myth, blessed by the sun, and caressed by the blue Mediterranean. Known for its vibrant nightlife, golden sandy beaches, and picturesque landscapes, Ayia Napa has earned a spot on the must-visit list for those seeking a blend of relaxation and excitement.
Is it a good time of the year to visit Ayia Napa in July? Certainly, if you love the heat and thrive in a lively atmosphere, but it may be too hot for some, with temperatures often exceeding 30C (86F).
Overview of Ayia Napa's Climate
Ayia Napa enjoys a Mediterranean climate characterized by hot and dry summers, and mild and wet winters. Winters (November to March) are pleasant with temperatures ranging from 15C (59F) to 20C (68F), while summers (June to September) are blazing hot. Spring and autumn offer a perfect balance with mild temperatures and fewer crowds.
Ayia Napa weather in July
July is one of the hottest months in Ayia Napa, with daytime temperatures often soaring to 33C (91F) or even higher. Nights provide a welcome relief, but temperatures still linger around a warm 21C (70F) minimum. The heat is palpable and relentless, particularly at midday. For some, it's a delight for sunbathing and outdoor activities; for others, it might be uncomfortably hot.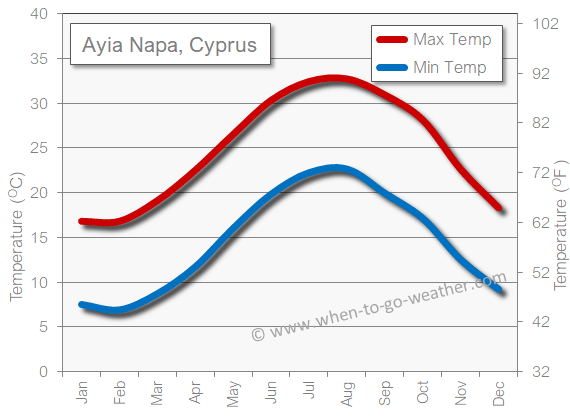 In July, Ayia Napa is graced with long and sun-drenched days. Expect up to 14 hours of daylight, with the sun rising around 5:30 am and setting close to 8:00 pm. This generous amount of sunshine allows ample time to explore and enjoy all that Ayia Napa has to offer. The skies are predominantly clear, with very few clouds to interrupt the vast expanse of blue, providing mostly sunny days.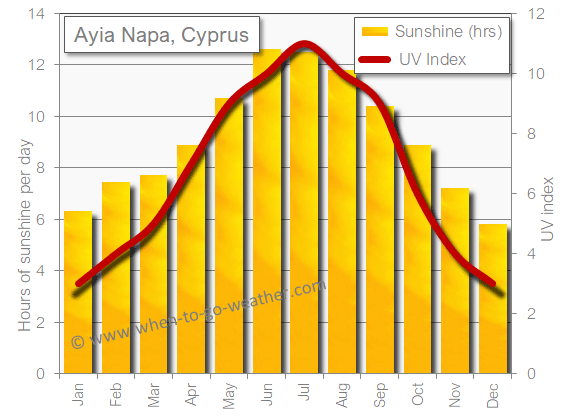 Rain is a rare occurrence in Ayia Napa during July. The region receives an average of just 1 mm of precipitation for the entire month. The likelihood of experiencing a rainy day is minimal, and heavy showers are virtually unheard of in this period. Humidity levels do rise, especially closer to the sea, but the hot and dry conditions generally prevail.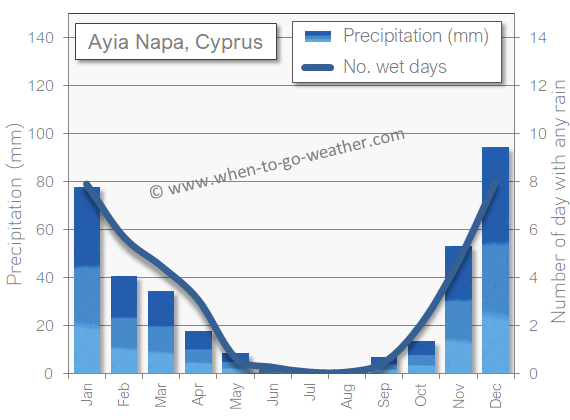 July is a prime month for beach enthusiasts, as the sea temperatures climb to an inviting 27C (81F). The waters of the Mediterranean are warm enough for swimming, snorkeling, or indulging in a variety of water sports. Whether you're a passionate swimmer or prefer to merely dip your toes, the sea's embrace in July is welcoming and refreshing.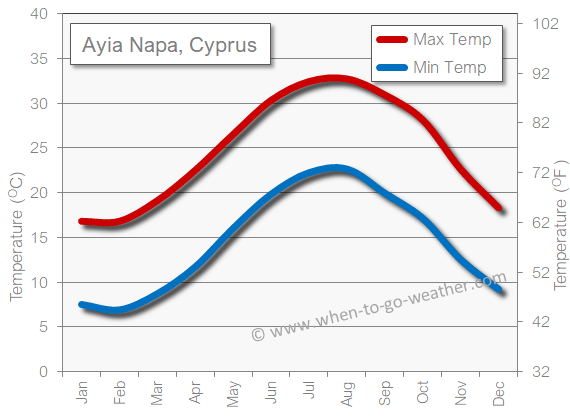 With July arriving, the shimmering coast of Ayia Napa, Cyprus, transforms into a mecca for tourists from around the world. It is in the heart of the high tourism season that the town bursts into life, and the golden sands of its famed beaches are graced by sunbathers, families, and party-goers alike. As the summer heat swells, so too does the population of this coastal paradise.
July is considered part of the high season, and as such, it can be one of the more expensive times of the year to visit. From flights to accommodations, prices are often at their peak. Hotels, particularly those in prime beach locations, are likely to be booked well in advance, with prices reflecting the demand. While last-minute deals might be found, they are more the exception than the rule in July. The increase in price doesn't merely affect accommodation; restaurants and activities may also see a rise in cost. Planning ahead and booking in advance can alleviate some of the financial strain and ensure that your preferred choices are available for your stay.
When the sun sets, Ayia Napa's renowned nightlife awakens. In July, the nightlife is anything but subdued. The town's famous clubs and bars throw open their doors to the summer crowds, hosting international DJs and live acts. Streets that were already vibrant by day turn electric by night. From cocktail bars to nightclubs, there is something to suit every taste. Whether you seek a relaxed evening with a sea view or a night of dancing, July offers it all in abundance.
The hotels and rental rooms in July are often in high demand. Many are sold out, particularly those close to the popular beaches or in the heart of the town. While there might still be options further afield or in less-known areas, the choice becomes more limited the closer you get to your travel date. However, for those willing to look, self-catering apartments or private rentals might provide an alternative to the traditional hotel scene, potentially offering more space and privacy.
July's allure for families with young children can be a double-edged sword. On one hand, the weather is fantastic, and the beaches are alive with activity. On the other, the heat can be intense, and the crowds substantial. Many families do choose July for their visit, and facilities are geared up to cater to them, from family-friendly hotels to activities aimed at younger visitors. Yet, the very popularity of Ayia Napa in July means that beaches are busier, and queues for attractions longer. Careful planning and consideration of children's needs and tolerances for heat and crowds are crucial for a successful family holiday in July.
The average age of tourists in July is quite diverse, as Ayia Napa attracts a broad spectrum of visitors. You'll find younger crowds drawn to the vibrant nightlife, couples of all ages enjoying romantic getaways, and families seeking sun and sea. The mix is part of Ayia Napa's charm, as it allows for a holiday experience tailored to your preferences, whether that be peaceful relaxation or energetic exploration.
As for the origins of the visitors, July sees tourists primarily from Western and Northern European countries. The United Kingdom, Germany, Scandinavia, and Russia are often well-represented. Many are drawn by the guaranteed sunshine and the wealth of activities on offer, from the historical sites to the natural beauty of the Cape Greco National Forest Park.
Clothes to pack for July in Ayia Napa, Cyprus
When packing for Ayia Napa in July, think light and breathable. The daytime temperatures are sweltering, and the nights are warm. Pack plenty of T-shirts, shorts, sandals, and swimwear. Sunscreen, sunglasses, and a wide-brimmed hat are essential to protect against the strong sun. For the evenings, casual and comfortable clothes will suffice; however, some upscale dining places might require smarter attire.
The best months to visit Ayia Napa
The best months to visit Ayia Napa depend on what you're seeking from your holiday. April to June and September to October offer a perfect blend of pleasant weather, fewer crowds, and reasonable prices. The temperatures are warm but not scorching, and the city is lively without being overwhelming. These shoulder seasons present a wonderful opportunity to explore Ayia Napa's offerings without the peak-season hustle.
The worst months to visit Ayia Napa
The winter months, particularly November to February, can be considered the worst time to visit Ayia Napa if you're looking for a typical sun-and-sea holiday. Although winters are mild compared to much of Europe, the temperatures are cooler, some attractions may be closed, and the atmosphere lacks the lively vibrancy found in the warmer months. It's a quiet time in Ayia Napa, suitable perhaps for those seeking solitude, but lacking in the quintessential Mediterranean charm that draws most visitors.
Fantastic activities for Ayia Napa during July
1. Beach Hopping: Ayia Napa is famed for its pristine beaches, and July's weather is perfect for soaking up the sun. From the lively Nissi Beach to the more tranquil Makronissos Beach, you have a plethora to choose from. Each offers its unique charm, whether it's water sports, beach bars, or simply relaxation. Don't miss the iconic Love Bridge, a natural rock formation by the sea, perfect for romantic photos.
2. Visit the Ayia Napa Monastery: Tucked away amidst the bustling city is the serene Ayia Napa Monastery. With parts dating back to the 14th century, it's a stunning piece of architecture and a spiritual haven. The beautiful garden and fountain offer a peaceful respite from the summer heat. Its intriguing history adds to the appeal, making it a must-visit cultural spot.
3. Experience the Nightlife: Ayia Napa is renowned for its nightlife, and July is the prime time to experience it. The streets come alive with music, dance, and celebration. From world-class DJs at famous clubs to intimate beach bars, there's something for every taste. If clubbing is your thing, don't miss a visit to Club Ice or the Castle Club for an unforgettable night out.
4. Take a Boat Tour: Explore the mesmerizing coastline with a boat tour. Many tours offer snorkeling, fishing, and opportunities to swim in secluded coves. The crystal-clear waters and stunning sea caves are a sight to behold. For a truly unique experience, consider a sunset cruise that lets you witness the breathtaking Mediterranean sunset while enjoying local cuisine on board.
5. Explore Cape Greco National Park: For nature enthusiasts, a visit to Cape Greco National Park is an unmissable experience. Its rugged landscapes, hidden caves, and nature trails offer something for every level of hiker. You can explore on foot, bike, or even on horseback. The views from the cliffs are awe-inspiring, and it's a perfect spot for photography.
6. Enjoy Water Park Fun: Perfect for families or those who are young at heart, WaterWorld Themed Waterpark is a place of pure fun. With a myriad of slides, pools, and themed areas, it's a great way to cool off from the July heat. From adrenaline-pumping rides to relaxing lazy rivers, the park offers a full day of entertainment.
7. Savor the Culinary Scene: Ayia Napa's culinary scene is a blend of traditional Cypriot flavors and international cuisine. The fresh seafood is not to be missed, and neither are local delicacies like halloumi cheese and souvlaki. Dining by the sea at one of the town's famous fish taverns is a delightful experience that combines delectable food with stunning views.
8. Indulge in Shopping: Whether you're looking for high-end brands or local crafts, Ayia Napa's shopping scene won't disappoint. Stroll through the streets, explore boutique stores, and pick up unique souvenirs. From handmade lace to local wines, you'll find plenty of items to remind you of your July holiday in this vibrant city.