Santorini, Greece in May: the weather and best activities for your holiday
May is like a hushed whisper, a secret shared, when it comes to visiting Santorini, Greece. It's a time when the island is just rousing from its winter slumber, uncurling like a cat in the sun, ready to welcome visitors yet not overrun with them. The canvas of white houses against the Aegean blue is vibrant and captivating, making it a picture-perfect time to explore this volcanic wonderland.
The weather in May? It's a melody, a harmonious blend of just-right temperatures and promising sun-filled days that make Santorini a gem in the Mediterranean's crown. Now, let's delve into the nitty-gritty and see what makes May a stellar month for your Greek getaway.
Santorini weather in May
Daytime in May generally stays around a balmy 23C (73F), dipping to about 16C (61F) as night descends. Comfortable? Yes! And made even better by the gentle kiss of the sun, that's neither too harsh nor too weak.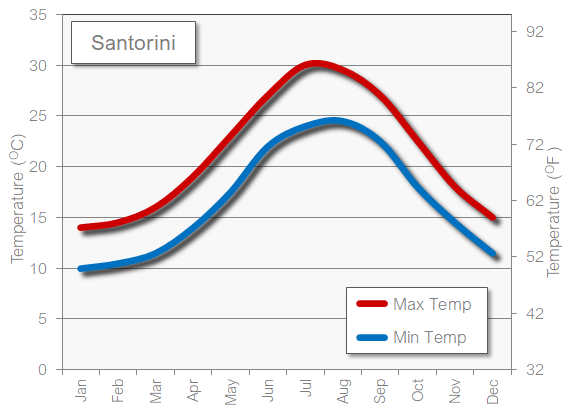 Sunrise and sunset times in May add another charm to the island. With the sun rising around 6:15 AM and setting close to 8:30 PM, the days stretch ahead, giving you plenty of time to soak in the island's beauty. And trust me, nothing can beat the magic of Santorini's sunset!
With about 11 hours of sunshine each day, you'll have ample time to explore the island's beautiful beaches and striking cliff-top towns.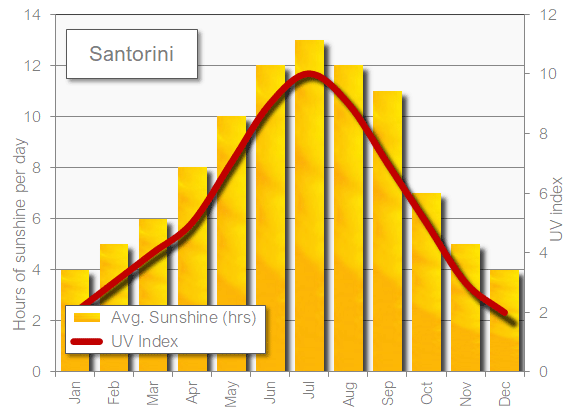 Humidity levels in Santori hover around 70% in May. So what does this feel like? Well, it's a pleasant breeze that feels like a soft silk scarf, enhancing the comfort level rather than making it feel like a tropical steam bath. It's perfect for those lazy beach afternoons or for exploring the winding alleyways of Oia and Fira.
A striking fact about Santorini in May is the scarcity of rain. With only about three rainy days and a mere 15mm of rainfall throughout the month, the odds are in your favor. But remember, Mother Nature can throw a curveball anytime, so it won't hurt to carry a light rain jacket, just in case.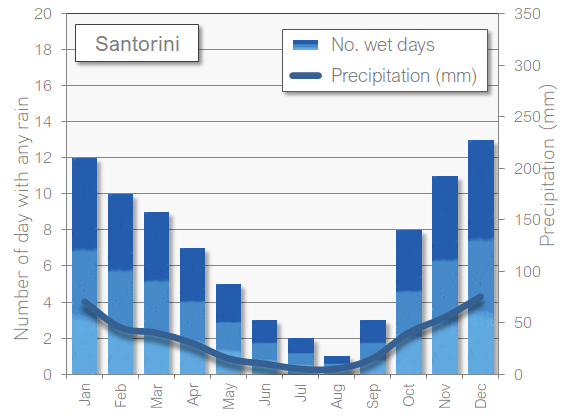 The Aegean Sea, with its captivating blue hues, maintains a temperature of around 19C (66F) in May. While it may be a tad cool for a swim, it's a fantastic opportunity for a refreshing dip or a leisurely boat ride to admire the rugged caldera.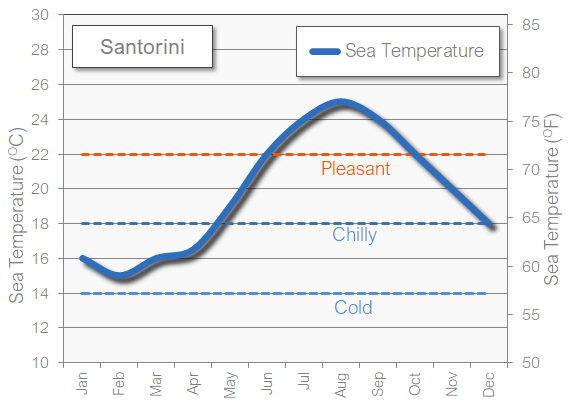 When it comes to the crowd, May sees a gentle influx of tourists. The majority of these early birds are from Western Europe, especially the UK and Germany. Yet, the island never feels overwhelmed, making it a lovely time to interact with locals and experience the Greek hospitality without the hustle and bustle of peak season.
Talking about money matters, May is a relatively inexpensive time to visit Santorini. With the high season of summer still a month away, you'll find competitive rates for accommodation and other services. It's a fantastic time to enjoy a luxury vacation without burning a hole in your pocket.
And finally, is May suitable for families with young children? Absolutely! With mild weather, fewer crowds, and plenty of daylight, it's an ideal time for family adventures. The children will love the island's friendly donkeys, delicious gelatos, and the intriguing mythology.
So there you have it, the details you need to plan your May escape to Santorini. This island is all set to treat you to its alluring charm and delightful weather. Do keep in mind though, every year can be slightly different. But that's the beauty of it, isn't it? A dash of unexpected can sometimes make the journey even more memorable.
Clothes to pack for May in Santorini
As you pack your suitcase for Santorini in May, think layers. Include light, airy clothing like T-shirts and shorts for day explorations under the warm sun. Yet, remember to stow away a light jacket or wrap for those cooler evenings, perfect for watching the sunset over the caldera.
The best months to visit Greece and Santorini
Santorini is like a musical instrument, each month playing a unique tune. Yet, June, September, and October seem to hit the right notes for most travelers. June serenades you with sunny days and the onset of vibrant summer festivities. September, meanwhile, carries the warmth of summer but sprinkles it with a touch of autumn calmness, as the tourist crowds start thinning. October plays a mellower melody, with still-comfortable temperatures, fewer crowds, and more wallet-friendly rates, making it ideal for travelers seeking tranquility and value.
The worst months to visit Santorini.
Santorini in winter, particularly January and February, could be considered the less ideal time to visit. These months see more rain and grey skies than the rest of the year, casting a somber mood over the island's usually vibrant landscapes. Moreover, many restaurants, hotels, and shops shut down for the season, limiting your options for exploration and dining.
Fantastic activities for Santorini during May
Santorini is not short on fantastic activities in May, here's a list to get you started:
Santorini in May is a playground of possibilities. First off, a boat trip to the volcanic islands of Nea Kameni and Palea Kameni is a must. Here, you'll walk on actual volcanic craters and enjoy a dip in the therapeutic hot springs.
Delving into Santorini's history at the archaeological site of Akrotiri is another fascinating journey. Marvel at the well-preserved remnants of this prehistoric Bronze Age city, giving you a peek into the island's ancient past.
As a beach aficionado, you'll love the unique volcanic beaches, such as the Red Beach and Perissa's Black Beach. Their colourful sands and clear blue waters are simply enchanting.
For a taste of Santorini's urban charm, meander through the alleys of Oia and Fira. Each corner reveals quaint boutiques, charming cafes, and magnificent views of the caldera.
And of course, no visit to Santorini is complete without savoring its local cuisine. Enjoy a gastronomic adventure by taking a cooking class or visiting a local winery for a taste of the famous Santorini wines.
Last but not least, a hike from Fira to Oia along the caldera rim is an unforgettable experience. The path provides spectacular vistas of the Aegean Sea and the island's unique landscapes. You may even spot some local wildlife along the way.
Other holiday destinations recommendations for May
Algarve, Portugal: The Algarve begins to dazzle in May, with balmy temperatures perfect for lazing on the stunning beaches that dot the coastline. The region is home to some of Europe's most beautiful golf courses and is renowned for its hospitality and delightful cuisine. It's an ideal spot for a relaxed beach holiday.
Koh Samui, Thailand: May is an excellent time to explore Koh Samui. With the dry season just ending, the island's lush greenery is at its peak. Relish the sun on the beautiful beaches, explore the vibrant local markets, and immerse yourself in the island's rich cultural heritage.
Amsterdam, The Netherlands: Amsterdam in May is a sight to behold. The city's canals are shimmering under the sun, and the tulips are in full bloom, creating a picturesque setting. Bike along the city's paths, explore world-class museums, or simply sit in a café by the canal, soaking up the city's vibrant atmosphere.
Maui, Hawaii: As spring transitions into summer, Maui offers an enticing mix of splendid weather and a wealth of outdoor activities. Discover the island's diverse beaches, from the golden sands of Kaanapali to the black sands of Wai'anapanapa. It's the ultimate beach haven in May.
Banff, Canada: May is a beautiful time to visit Banff. The snow has melted, revealing dazzling turquoise lakes and lush greenery. Embark on scenic hikes, witness diverse wildlife, and be captivated by the majestic Rocky Mountains. It's nature at its finest.
Seychelles: Seychelles in May is a tropical wonderland. With warm, dry days, you'll love exploring this stunning archipelago's unique biodiversity and lounging on its picture-perfect beaches. It's the epitome of a tropical escape.