Tallinn, Estonia in July - The weather and is it a good time of year to visit?
Nestled by the Baltic Sea, Tallinn, the capital of Estonia, is a captivating city imbued with history and rich culture. Its old town, marked as a UNESCO World Heritage site, boasts of medieval cobblestone streets, ancient churches, and towers with red-roofed houses, painting a picture of a bygone era that coexists beautifully with the modern side of the city. The aim of this article is to provide an in-depth look into the climatic conditions of Tallinn in July and evaluate whether it is a good time for a visit.
Indeed, July can be considered a splendid time to explore Tallinn, as the city bathes in the warmth of the summer sun, experiencing long daylight hours, moderate rainfall, and a buzzing cultural scene.
Tallinn weather in July
Tallinn, like the rest of Estonia, experiences a humid continental climate, characterized by significant variations between seasons. The winters can be cold and snowy, while the summers are generally warm and comfortable, with cool breezes wafting off the Baltic Sea. Spring and autumn feature a mix of mild to chilly temperatures with varied precipitation levels.
The month of July, in particular, ushers in the peak of summer, with temperatures typically ranging between a pleasant 15°C (59°F) and a warm 24°C (75°F). This is the perfect weather to amble along the cobblestone streets, take a leisure stroll in Kadriorg Park, or enjoy a beach day at Pirita.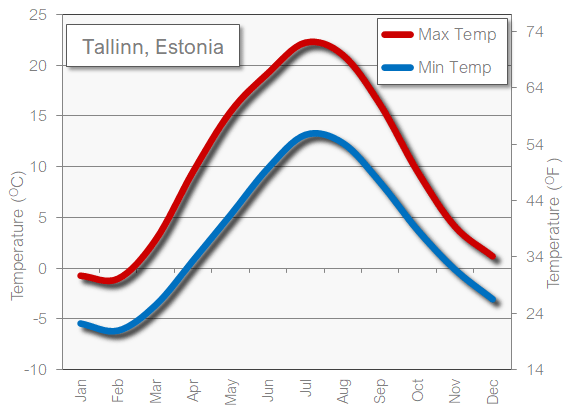 July is the zenith of the "White Nights" phenomenon, a time when the city never truly descends into darkness. The city enjoys around 18 hours of daylight, providing ample time for sightseeing.
The sun usually rises at around 4 am and sets close to 10 pm, immersing the city in a soft twilight during the remaining hours. With approximately 10 hours of actual sunshine, the days are long and the nights short, perfect for both early birds and night owls.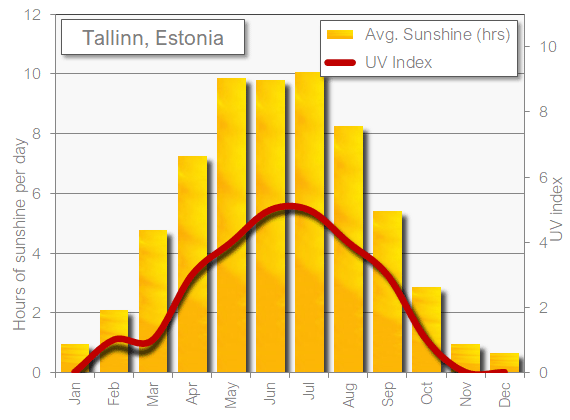 In terms of precipitation, Tallinn experiences an average rainfall of approximately 64mm in July. This accounts for around 11-13 days of the month, typically manifesting as brief, light showers rather than prolonged periods of heavy downpour. However, visitors should still consider packing an umbrella or raincoat for those unpredictable summer showers.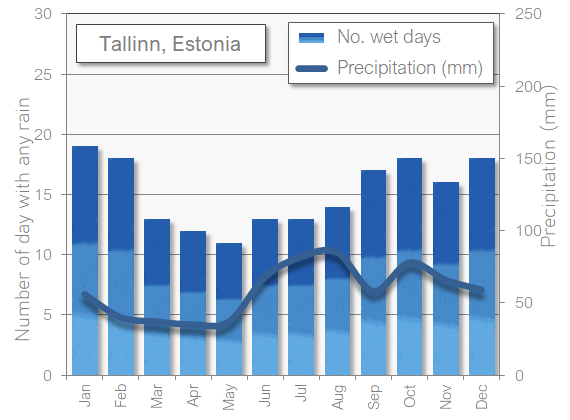 The sea temperature around Tallinn in July averages about 17-19°C (63-66°F). While it may not be as warm as some might prefer for a swim, the refreshing Baltic Sea water can certainly be enjoyed by the more adventurous, or by those who simply wish to dip their toes in and enjoy the beautiful seaside vistas.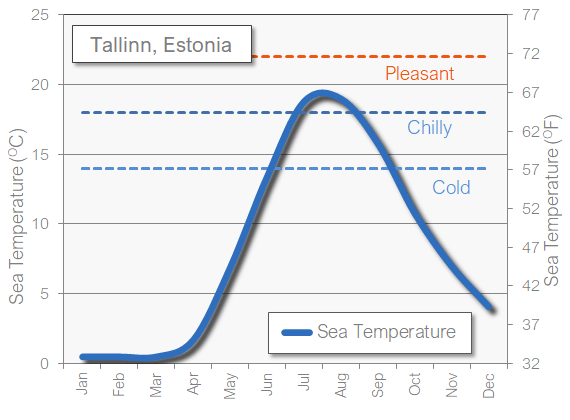 July is indeed one of the most popular times for tourists to visit Tallinn, given the glorious weather and numerous summer events. The city comes alive, brimming with tourists from across the globe. While this means that you can enjoy a lively atmosphere, it also translates into slightly higher prices for accommodation and services. Therefore, early booking is recommended to get the best deals.
Clothes to pack for July in Tallinn
Packing for Tallinn in July requires a mix of light, breathable clothing for daytime explorations, and a light jacket or sweater for the cooler evenings. Comfortable walking shoes are a must to navigate the cobblestone streets. Don't forget to pack a compact umbrella or lightweight raincoat for those unexpected summer showers.
The best months to visit Tallinn
The ideal time to visit Tallinn would be during the summer months of June, July, and August. During this time, the city enjoys mild to warm temperatures, long daylight hours, and a vibrant atmosphere filled with cultural events and open-air festivals. The "White Nights" phenomenon during these months allows tourists to make the most of their days, exploring the city's many wonders well into the evening.
The worst months to visit Tallinn
The winter months of January and February could be considered the least appealing for visitors. During these months, Tallinn experiences freezing temperatures that can drop below -10°C (14°F), along with heavy snowfall. Daylight hours are significantly reduced, limiting sightseeing opportunities. Though the snow-cloaked city has its own charm, the harsh weather conditions might not suit everyone.
Fantastic activities for Tallinn during July
1. Visit Tallinn Old Town: Explore the city's medieval heart with its cobblestone lanes, historic buildings, and charming cafes. The Town Hall Square is a must-see, and the view from Toompea Hill is simply breathtaking.
2. Kadriorg Palace: Discover this beautiful baroque palace, home to the Art Museum of Estonia. The surrounding Kadriorg Park is a perfect place for a leisurely stroll amidst tranquil gardens and art installations.
3. Pirita Beach: On a warm July day, head to Pirita Beach to relax by the sea, engage in water sports, or enjoy a leisurely picnic while soaking up the Baltic sun.
4. Day Trip to Lahemaa National Park: Take a day trip to Estonia's largest national park, renowned for its stunning natural beauty. From dense forests and bogs to rustic manors and fishing villages, there's much to explore here.
5. Seaplane Harbour (Lennusadam): This maritime museum housed in an old seaplane hangar is an engaging experience for all ages. It showcases various exhibits including a British-built submarine from 1936, and a full-scale replica of a WWI seaplane.
6. Patarei Sea Fortress Prison: Gain a unique perspective on Estonia's history by visiting this 19th-century sea fortress turned prison. Guided tours reveal stories of the people once confined here.
7. Rooftop Cinema: Experience Tallinn's vibrant cultural scene at the Katusekino rooftop cinema. It hosts open-air film screenings during the summer, often accompanied by stunning sunset views.
8. Tallinn TV Tower: Visit Estonia's tallest structure for a panoramic view of Tallinn and the surrounding countryside. On a clear day, you might even catch a glimpse of Finland across the sea.
9. Nõmme Market: Immerse yourself in local life by visiting Nõmme Market, where you can buy fresh produce, locally sourced meats, and traditional Estonian foods.