Tallinn, Estonia in August - The weather and is it a good time of year to visit?
Encapsulated by centuries-old walls, Tallinn, the capital of Estonia, is an exquisite blend of historical grandeur and modern vibrancy. Its heart, the UNESCO-listed old town, is a treasure trove of medieval architecture, atmospheric cobblestone streets, and charming squares. The purpose of this piece is to examine the prospects of visiting Tallinn in August and to provide a comprehensive account of what to expect during this time.
The good news for prospective visitors is that August is an excellent time to visit Tallinn. During this month, the city is bathed in pleasant summer warmth, bustling with engaging cultural events, and showcasing its rich history under extended daylight hours.
Tallinn weather in August
The climate in Tallinn falls under the category of humid continental, implying a significant variation in seasonal temperatures. While winter months are typically cold, often laden with snow, the summer months are generally warm and comfortable. Spring and autumn tend to be transitional periods with a mix of cool to mild temperatures, accompanied by occasional rainfall.
August in Tallinn is characterized by temperatures that range from a gentle 14°C (57°F) to a warm 20°C (68°F). These are typically pleasant conditions for exploring the city's historic sites, enjoying a vibrant café culture, or taking a leisurely stroll along the Baltic shoreline.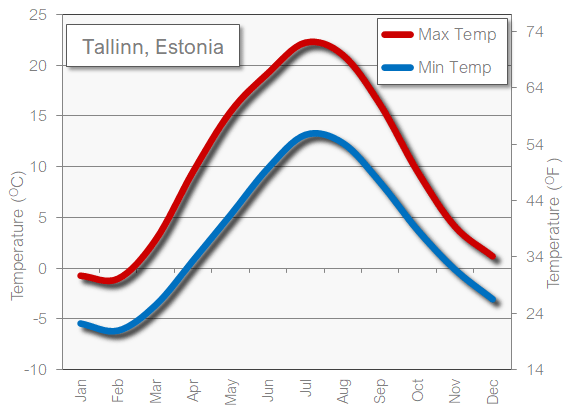 August provides ample daylight for exploring Tallinn, with around 15 to 16 hours of daylight each day. The sun usually rises just after 5 am and sets around 9 pm. Although the "White Nights" phenomenon of July fades, the extended twilight hours continue to illuminate the cityscape, offering a unique charm to evening strolls and late-night ventures.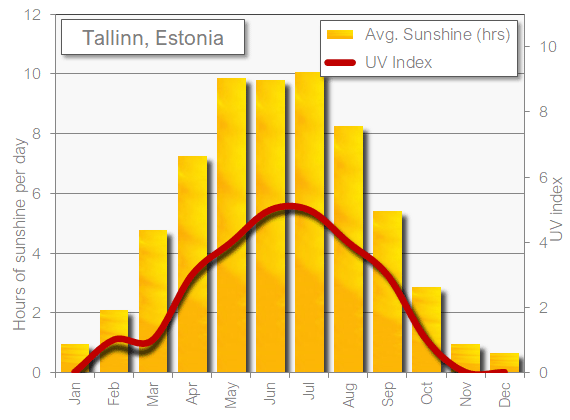 August sees a moderate amount of rainfall, with averages around 66mm spread over 14-16 days. These are typically brief, light showers, although heavier rain can occasionally occur. An umbrella or a light raincoat would be a handy accessory to carry during this time.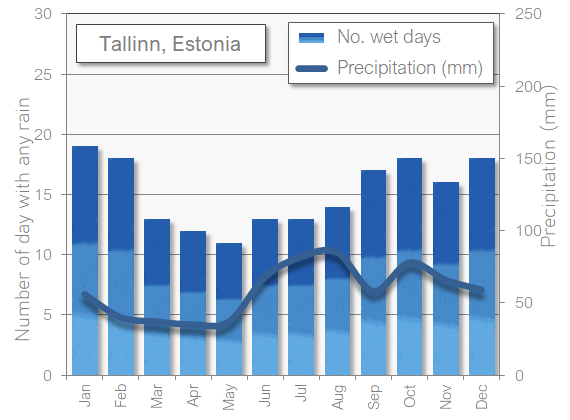 As for the sea, August is one of the warmer months for the Baltic Sea around Tallinn. The average sea temperature is usually around 17-20°C (63-68°F). While not tropical, the sea can be refreshing and enjoyable for the more daring swimmers or those looking for a relaxed seaside experience.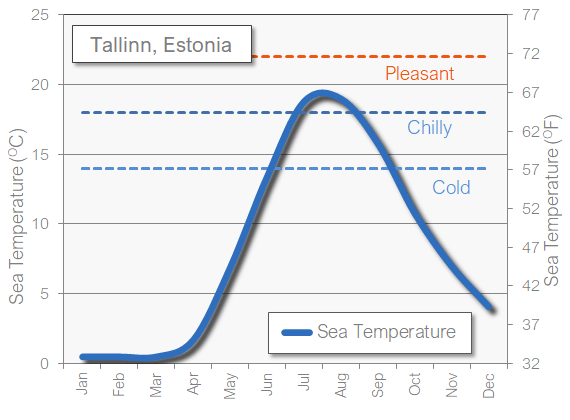 August is a favored month for travelers visiting Tallinn. The city buzzes with international visitors soaking up the summer sunshine and exploring the historic sites. However, the influx of tourists can lead to a slight increase in prices for accommodations and some services. Pre-booking accommodations and flights can often help secure better deals and avoid any last-minute price surge.
Clothes to pack for August in Tallinn
When packing for Tallinn in August, consider the city's varied offerings and weather conditions. Light clothing like t-shirts and shorts are suitable for day-time sightseeing. As the evening can be a bit cooler, a lightweight jacket or sweater is recommended. For occasional showers, include a small umbrella or a raincoat in your travel gear.
Best Months to Visit Tallinn
June, July, and August are prime months for visiting Tallinn. These summer months offer the warmest weather, longest daylight hours, and host a series of cultural festivals. The famed 'White Nights' phenomenon in June and July, where twilight lasts all night, makes these months particularly special. August brings pleasant warmth and the much-anticipated Tallinn Maritime Days, an event that adds to the charm of your visit.
Least Preferred Months to Visit Tallinn
November, December, and January can be challenging months to visit Tallinn. Winter sets in with freezing temperatures, substantial snowfall, and considerably reduced daylight hours. While the city under a blanket of snow offers a unique charm, the harsh weather may deter those not accustomed to severe cold conditions.
Fantastic activities for Tallinn during August
1. Tallinn Maritime Days: This is the largest maritime festival in Estonia. It features an array of events like ship tours, concerts, and water-based activities, making it a unique cultural treat.
2. Birgitta Festival: This international music and performing arts festival is held in the ruins of the historical St. Bridget's Convent—an atmospheric setting for a summer evening.
3. Visit Kadriorg Palace and Park: Stroll around the gorgeous gardens and marvel at the Italian Baroque style palace, housing a remarkable collection of foreign art.
4. Explore Kalamaja: Known for its wooden houses and Bohemian charm, Kalamaja is Tallinn's trendiest neighborhood, with an array of restaurants and boutique stores.
5. Kumu Art Museum: For art enthusiasts, a visit to Kumu, the primary building of the Art Museum of Estonia, is a must. It offers an excellent display of Estonian art from the 18th century onwards.
6. Visit the Estonian Open Air Museum: This unique museum offers a glimpse into Estonia's rural lifestyle across the centuries. The museum's forested site features nearly 100 historical buildings from different regions of the country.
7. Tallinn Zoo: Home to the best collection of wild goats and sheep in the world, the Tallinn Zoo is a delightful destination for families or those interested in wildlife.
8. Botanic Garden: This green oasis boasts a wide array of plant species, both in open fields and greenhouses, and is perfect for a peaceful walk or picnic.
9. Lennusadam Seaplane Harbour: One of Europe's most exciting maritime museums, it houses a collection of historic ships and submarines.
10. Take a Ferry to Helsinki: For those looking for an additional adventure, a short two-hour ferry ride can take you to Finland's charming capital, Helsinki, for a quick day trip.