Tallinn, Estonia in March - The weather and is it a good time of year to visit?
Tallinn, the charismatic capital of Estonia, is a treasure trove of culture and history. Nestled on the Baltic Sea, it's a place where medieval charm meets modern dynamism, creating a unique blend that's enticing to explorers at heart. This guide takes a closer look at Tallinn in March, dissecting the weather and assessing whether it's a fitting time to plan your visit.
Indeed, March in Tallinn is not the most popular time for tourists, mainly due to the colder temperatures. However, it offers a unique perspective of the city's raw beauty under the dwindling winter, coupled with fewer tourists and serene quietness. This might appeal to those who prefer a tranquil ambiance and the charm of crisp, cold air.
Tallinn weather in March
Tallinn possesses a temperate maritime climate. Throughout the year, weather patterns sway between cool summers and chilly, sometimes frosty, winters. The mercury rarely spikes too high or dips too low, maintaining an overall cool composure. Snow often blankets the city in winter, bestowing a delightful winter-wonderland allure, whilst summer brings forth long, mild days perfect for wandering and discovering.
In March, Tallinn is just starting to shake off winter's hold. Temperatures typically range from a chill -3C (26.6F) at night to a marginally warmer 3C (37.4F) during the day. Yet, it's the kind of cold that stirs rather than stings, providing the perfect excuse for warming up with a cup of local spiced tea or hearty Estonian soup.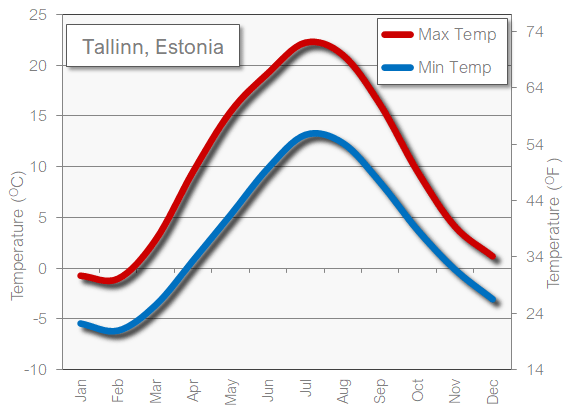 As spring creeps closer, daylight begins to stretch its arms in Tallinn. The city starts to bask in around 11 to 12 hours of daylight per day in March, a pleasant contrast to the shorter winter days of December and January.
However, sunshine hours are still limited, with an average of 3 hours of actual sun per day. It's a time when the city still slumbers under a blanket of cloud cover, casting a mystical aura that adds to Tallinn's alluring personality.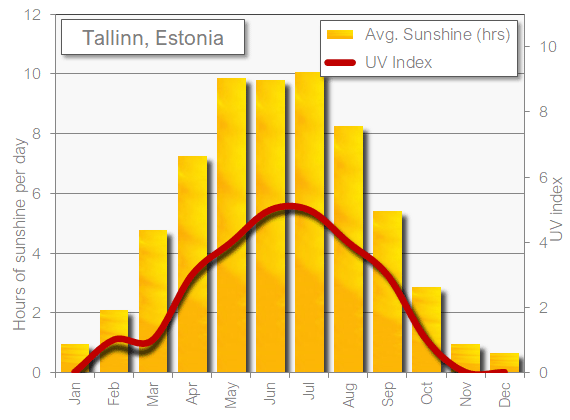 March still carries remnants of winter, hence snowfall is a common visitor, although less frequent compared to the peak winter months. Average precipitation is around 36mm, spread across 13 days of the month, interspersed with lighter snow or rainfall.
Heavy showers are relatively rare in March. Instead, light drizzles or flurries are more commonplace, painting the cobbled streets and medieval buildings with a shimmering layer of freshness.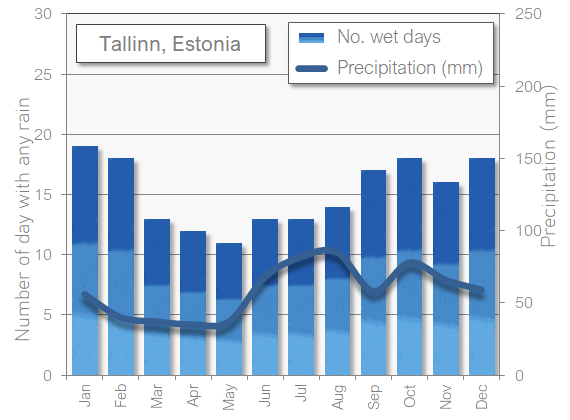 As for the Baltic Sea temperature, it hovers around 0C (32F) to -1.5C (29.3F), far too cold for a swim but lending a breathtaking spectacle of icy-blue waves lapping against the frost-kissed shoreline.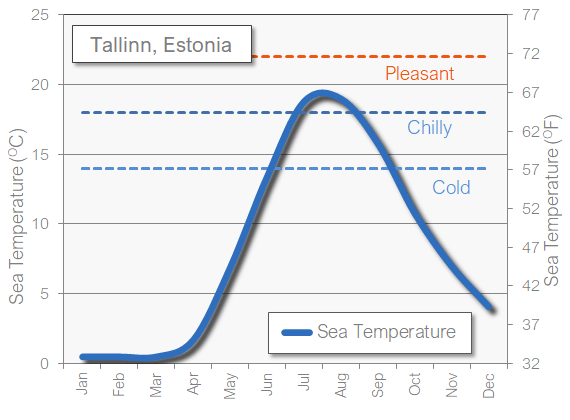 March may not boast the most favourable weather for everyone, but it certainly provides a different yet equally enchanting side of Tallinn. It's an invitation to those who don't mind bundling up and immersing in the peaceful rhythm of a city transitioning from winter to spring.
March is considered an off-peak season in Tallinn. The city is quieter with fewer tourists, providing an intimate, unhurried experience. Due to lower demand, you'll often find hotel rates and airfares more attractive compared to the bustling summer months. If value for money is a consideration, March could be an excellent choice.
Clothes to pack for March in Tallinn
When packing for Tallinn in March, think warmth and comfort. Daytime may call for layers such as thermal underclothes, a mid-layer sweater or fleece, and a warm, water-resistant outer jacket. For night-time, a heavier coat is recommended to fend off the chilly air. Hats, gloves, and scarves are essential, and waterproof boots will keep your feet dry and warm.
The best months to visit Tallinn
June, July, and August constitute the best months to visit Tallinn. During these summer months, Tallinn brims with life under the mild warmth of long sunny days. Temperatures average a pleasant 15-20C (59-68F), offering great conditions to explore outdoor attractions and enjoy the city's many summer festivals. Cafes and restaurants spill onto the streets, and the city's parks and beaches become popular hangouts.
The worst months to visit Tallinn
The challenging months to visit Tallinn would be January and February. The biting cold, shorter daylight hours, and the probability of heavy snowfall make outdoor exploration less comfortable. While the snow-draped city has its unique charm, the restricted outdoor activity and limited sunlight might not appeal to all.
Fantastic activities for Tallinn during March
• Tallinn Old Town: The UNESCO World Heritage site of Tallinn's Old Town retains its charm even in the colder months. The snow-capped rooftops and cobblestone streets wrapped in winter's whisper make it a fairy-tale experience.
• Kadriorg Palace and Park: Though the gardens may still be tucked under winter's blanket, Kadriorg Palace is a sight to behold. A perfect location for a brisk walk, followed by a visit to the Art Museum housed within the palace.
• Kumu Art Museum: As one of the largest art museums in Northern Europe, Kumu offers a warm indoor retreat from the cold. It showcases both classical and contemporary art, providing a glimpse into Estonia's rich artistic landscape.
• Seaplane Harbour (Lennusadam): This maritime museum, housed in an old seaplane hangar, is an interesting visit for history and naval enthusiasts. It hosts an impressive collection of boats and other maritime artifacts.
• Tallinn TV Tower: Providing panoramic views of the city, the Tallinn TV Tower is a great indoor activity. Their interactive displays and exhibits offer an educational experience for visitors of all ages.
• Day Trip to Lahemaa National Park: Just an hour's drive from Tallinn, this park offers beautiful landscapes. In March, you might still catch a glimpse of its winter beauty.
• Visit St. Olaf's Church: Climb the tower of St. Olaf's Church for a breathtaking view of the city under the cold March sky.
• Alexander Nevsky Cathedral: This magnificent orthodox cathedral is a must-visit, and in the quietness of March, you can truly appreciate its beauty and spiritual calm.
• Estonian Open Air Museum: Showcasing Estonia's rural architecture and way of life, this museum offers a step back in time. March may offer the unique experience of seeing the traditional buildings dusted with snow.