Tallinn, Estonia in May - The weather and is it a good time of year to visit?
Welcome to Tallinn, Estonia, a city brimming with cultural and historical significance. From its well-preserved medieval Old Town to its vibrant modern arts scene, Tallinn offers a captivating blend of past and present. In this article, we will assess the suitability of visiting Tallinn in May, taking a closer look at the city's climate and what it has to offer during this time of year.
May in Tallinn is a time of transition, where spring fully blooms and the city awakens from its winter slumber. With milder temperatures and longer days, May holds promise for a delightful visit. However, it's important to consider the unique aspects of Tallinn's climate to make an informed decision.
Tallinn weather in May
Tallinn experiences a temperate climate characterized by distinct seasons throughout the year. Summers bring warmth and long, pleasant days, while winters can be chilly with occasional snowfall. Spring and autumn, including the month of May, showcase the city in the midst of changing seasons.
May in Tallinn sees a significant rise in temperatures compared to the preceding months. The average temperature ranges from 7°C (45°F) to 16°C (61°F), providing a comfortable atmosphere for exploring the city and its surroundings. However, it's worth noting the variations in temperature between the beginning and end of the month.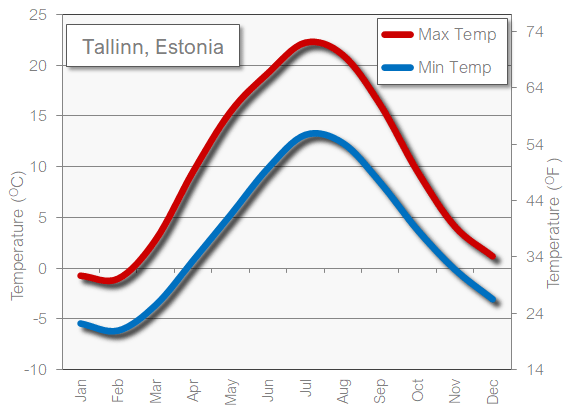 At the start of May, remnants of spring's early days can still be felt, with temperatures hovering around 7°C (45°F) to 11°C (52°F). As the month progresses, the city embraces the warmth of late spring, and temperatures can reach a pleasant range of 12°C (54°F) to 16°C (61°F). It is advisable to pack layers to accommodate the fluctuating temperatures during your visit.
May showers Tallinn with extended daylight hours, providing ample time to explore the city's charming streets and soak in its picturesque surroundings. At the beginning of the month, the sun rises around 5 a.m. and sets around 9 p.m., offering approximately 16 hours of daylight.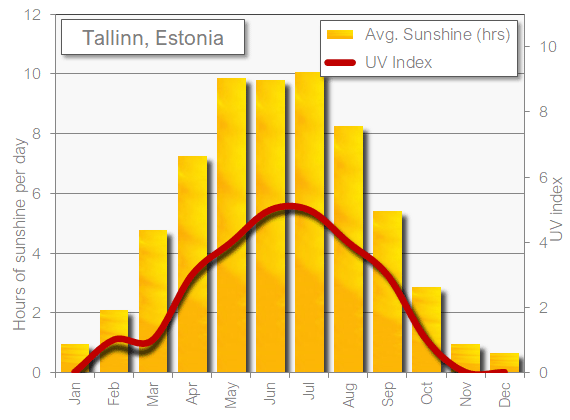 As May unfolds, daylight hours continue to increase, with the sun rising earlier and setting later. By the end of the month, the days stretch to around 18 hours of daylight, ensuring an abundance of time to discover the city's cultural landmarks, indulge in outdoor activities, or simply bask in the beauty of Tallinn's natural and architectural wonders.
In May, Tallinn experiences a moderate amount of precipitation, with an average rainfall of around 40-50 millimeters. It's important to be prepared for the possibility of rain during your visit, so packing a light raincoat or umbrella is advisable.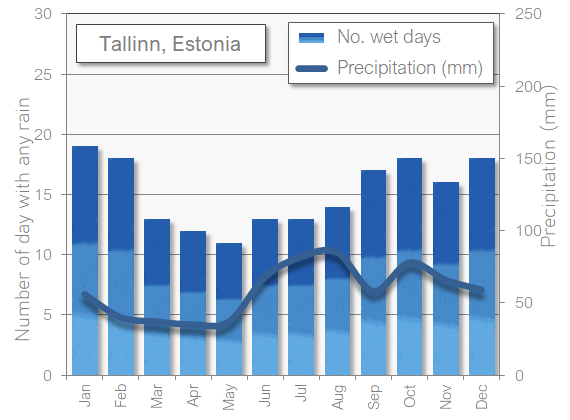 While showers are not uncommon, they are typically of a lighter nature. Rainy days can be expected on approximately 10-12 days throughout May. Heavy showers are infrequent but can occur sporadically. Thunderstorms and hail are rare during this time, allowing visitors to explore the city without significant weather disruptions.
Sea temperature: The waters surrounding Tallinn in May begin to warm up after the colder months, reaching an average temperature of 9-11°C (48-52°F). While still brisk, the sea temperature may be suitable for brave swimmers or those looking to engage in water activities.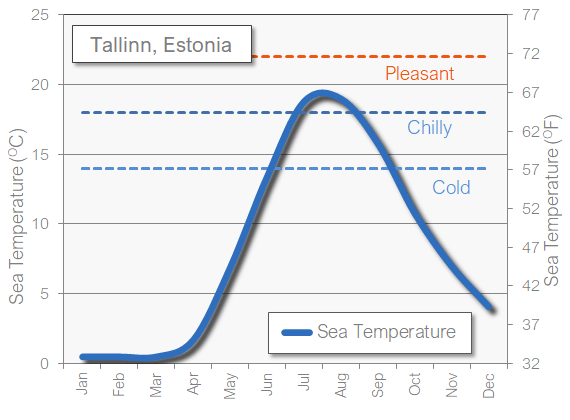 May marks the beginning of the peak tourist season in Tallinn, and the city starts to buzz with visitors from around the world. While it is not as crowded as the summer months, you can expect a moderate influx of tourists exploring the city's historical and cultural treasures. It's advisable to plan your itinerary accordingly and book accommodations and attractions in advance to ensure a smooth and enjoyable experience.
In terms of value, May can be considered a good time to visit Tallinn. The prices for accommodations and attractions are generally more affordable compared to the peak summer season, offering visitors a chance to enjoy the city's offerings without breaking the bank. However, it's always wise to research and compare prices to find the best deals and packages that suit your preferences and budget.
Clothes to pack for May in Tallinn
When packing for your trip to Tallinn in May, it's essential to be prepared for the changing weather conditions. It's recommended to bring a mix of clothing suitable for both cooler and warmer temperatures. Pack a light jacket or sweater for the cooler evenings, and layering options such as long-sleeved shirts or blouses, along with comfortable t-shirts for the daytime.
As May can bring occasional rain showers, it's wise to include a lightweight, waterproof jacket or a travel umbrella in your bag. Don't forget to bring comfortable walking shoes for exploring the city's cobblestone streets and any planned day trips. Lastly, consider packing a hat and sunglasses to shield yourself from the increasing sunshine as the month progresses.
The best months to visit Tallinn
The best three months to visit Tallinn are May, June, and September. In May, the city experiences milder temperatures and fewer crowds compared to the peak summer months. June offers longer days, pleasant weather, and a vibrant atmosphere as summer fully takes hold. September brings the beauty of early autumn, with comfortable temperatures and the added bonus of colourful foliage.
These months provide an ideal balance between pleasant weather, manageable tourist numbers, and an array of cultural events and festivals that showcase the city's charm. Whether you're interested in historical landmarks, exploring nature, or immersing yourself in the local culture, visiting Tallinn during these months offers a delightful experience.
The worst months to visit Tallinn
The winter months, particularly January and February, can be considered the least favorable times to visit Tallinn. The city experiences cold temperatures, frequent snowfall, and shorter daylight hours, making it less conducive for outdoor exploration. While the magical winter atmosphere can appeal to some, it's important to note that many tourist attractions and outdoor activities may be limited during this time.
Fantastic activities for Tallinn during May
Best Activities in Tallinn during May:
• Explore the charming Tallinn Old Town, a UNESCO World Heritage site, with its cobblestone streets, medieval architecture, and picturesque squares.
• Visit Toompea Hill, home to the imposing Alexander Nevsky Cathedral and the impressive Toompea Castle, offering panoramic views of the city.
• Take a stroll along the vibrant seaside promenade of Kadriorg Park, known for its stunning gardens, elegant Kadriorg Palace, and art museums.
• Discover the KUMU Art Museum, showcasing a rich collection of Estonian art, from classical to contemporary masterpieces.
• Embark on a day trip to Lahemaa National Park, where untouched nature, picturesque coastal cliffs, and historical manor houses await.
• Indulge in Estonian cuisine at local restaurants, savoring traditional dishes like smoked fish, black bread, and hearty meat stews.
• Visit the Seaplane Harbour Museum, housed in a historic seaplane hangar, to learn about Estonia's maritime heritage and explore interactive exhibits.