Tallinn, Estonia in November - The weather and is it a good time of year to visit?
Tallinn, the vibrant capital of Estonia, is a treasure trove of medieval charm and contemporary dynamism. Rooted deeply in history and culture, the city showcases its legacy through ancient cobblestone streets, age-old towers, and centuries-old buildings, simultaneously embracing the digital age with open arms. This article aims to scrutinize the suitability of visiting Tallinn in November, a month that paints the cityscape with a unique palette.
November in Tallinn is a time of transition. As autumn leaves give way to winter's chill, the city's scenery shifts into a colder, quieter phase. It's not the most popular time for tourists, but for those who aren't afraid of a bit of chill and shorter days, November offers a more tranquil, less crowded experience that allows the city's historical beauty to shine.
Tallinn weather in November
The climate of Tallinn is considered a humid continental climate, which entails a significant variation between summer and winter temperatures. Summer temperatures can peak around 20°C (68°F), making it a lovely time to explore the city's open spaces. On the other hand, the winter months, from November through March, can see temperatures plunging to as low as -6°C (21°F).
November ushers in the cold season in Tallinn. The average daytime temperatures hover around 4-5°C (39-41°F) early in the month, often dipping below freezing as the month progresses. The nights tend to be colder, with temperatures frequently dropping to around -1 to -3°C (30-27°F). The frosty weather adds a unique charm to the city's cobbled streets and medieval architecture.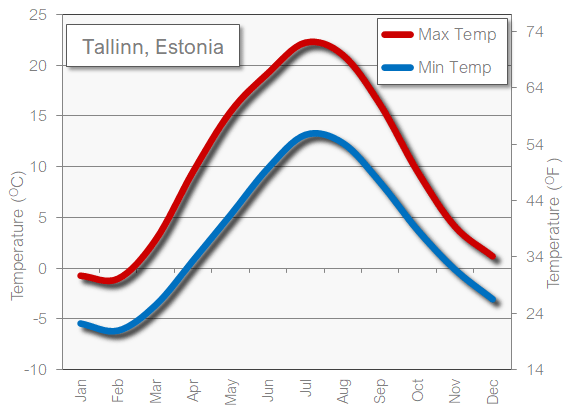 Daylight in November decreases substantially, with roughly 8 hours of daylight at the beginning of the month, dwindling down to just about 6 hours by the end of the month. The early onset of darkness complements the city's winter ambience, casting a romantic glow on its ancient streets.
Sunshine is rather limited during this time, with the city experiencing an average of 1 to 2 hours of bright sunshine per day. However, the moments when the sun manages to pierce the cloud cover, it bathes the city in a gentle, soft light that contrasts beautifully with the chilly surroundings.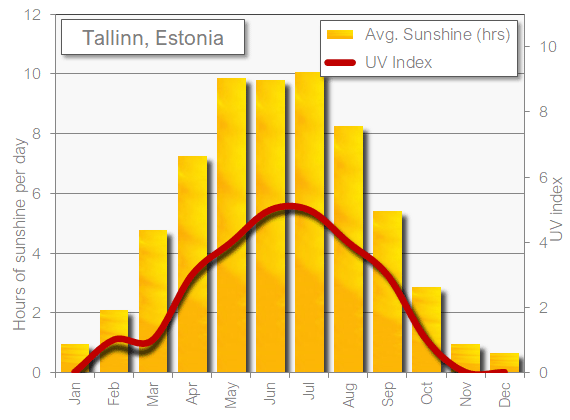 Tallinn in November is quite wet, with an average rainfall of about 60mm spread over 15 days. Rain is frequent but showers are typically light or moderate, although they can often be interspersed with snowfall as temperatures drop further into the month.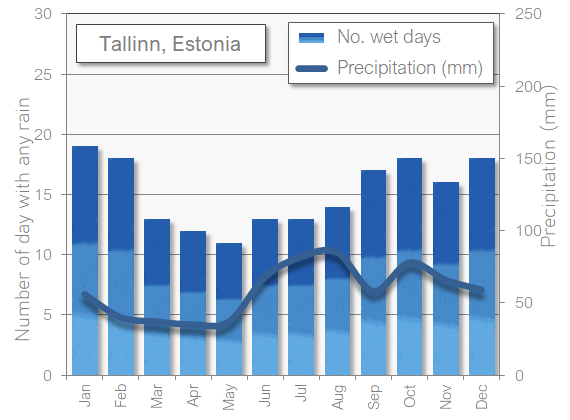 Sea temperatures around Tallinn drop substantially during November, falling to around 5-6°C (41-43°F), making sea-based activities less viable. However, the sight of the Baltic Sea under a wintry sky can certainly add to the city's scenic charm.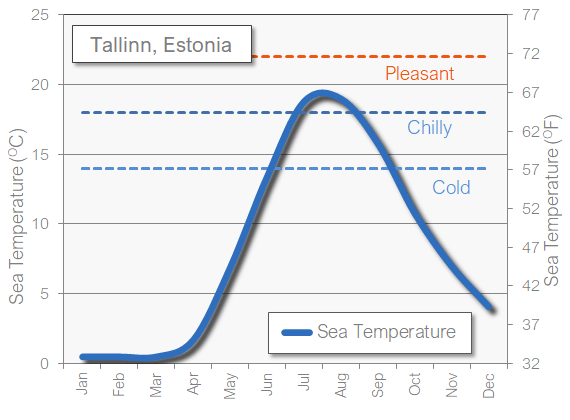 Despite the cooler conditions, visiting Tallinn in November can be an enriching experience. The quiet, serene streets, the transition into winter, and the warmth of cosy cafes and restaurants provide a unique charm and offer a truly Estonian experience.
Tourist activity in Tallinn slows down in November, making it a peaceful time to visit if you prefer quieter surroundings. The city is less crowded, providing a more personal experience as you navigate the historical streets and notable landmarks. This off-peak season also means potentially lower prices for accommodations and airfare, making November an economically attractive time to visit Tallinn.
Clothes to pack for November in Tallinn
November in Tallinn calls for warm and comfortable clothing. With the chilly weather, it's essential to pack thermal clothing, including sweaters, long-sleeved shirts, and warm trousers. A good-quality, waterproof winter jacket is a must, as are waterproof shoes for navigating wet streets.
In Tallinn's November climate, expect to layer your clothing to adjust to the cold. Starting with thermal underlayers, add a warm sweater or fleece for daytime exploration. At night, a thick winter coat is necessary to combat the chill. Don't forget waterproof boots, hats, gloves, and scarves to keep warm and dry.
The best months to visit Tallinn
The best time to visit Tallinn is generally considered to be from June to August. The weather during these summer months is warm, the city is lively, and the long daylight hours allow for ample exploration time. In addition, Tallinn hosts a variety of outdoor events and festivals during this time, adding to the city's vibrant atmosphere.
The worst months to visit Tallinn
While beauty can be found in every season, January is often considered a less favorable month to visit Tallinn due to its harsh winter conditions. The temperature can drop well below freezing, the days are short, and outdoor activities are limited. Though the city takes on a serene, snowy splendor, the cold may deter some visitors.
Fantastic activities for Tallinn during November
1. Museum Exploration: Take advantage of the indoor warmth offered by Tallinn's numerous museums. Places like the Kumu Art Museum, the Estonian History Museum, and the Seaplane Harbour offer intriguing insights into the nation's history and culture.
2. Tallinn Christmas Market: Towards the end of November, the Christmas market opens in Tallinn's town square. Here, you can enjoy festive foods, purchase handmade gifts, and immerse yourself in the magical holiday atmosphere.
3. St. Alexander Nevsky Cathedral: Visit this magnificent, domed cathedral that dominates Tallinn's skyline. Its warm interior provides a retreat from the cold, and its historical and architectural significance is worth exploring.
4. Kadriorg Palace: The grandeur of this baroque palace is a sight to behold. Housing the Art Museum of Estonia's foreign collection, it's a must-visit for art enthusiasts.
5. Tallinn Botanic Garden: Though outside might be chilly, the garden's greenhouses are warm, housing a diverse collection of plants. It's a perfect destination for those interested in botany or those simply seeking a warm, tranquil space.
6. Estonian National Opera: Take in a performance at the Estonian National Opera. This venue offers a rich program of opera, ballet, and other performances, providing a lovely cultural experience indoors.
7. Food Tour: Enjoy a culinary journey through Tallinn's food scene. With winter setting in, savor the comfort of traditional Estonian cuisine, hot drinks, and hearty stews in the cozy ambiance of local restaurants.
8. Shopping in Viru Street: November weather offers a great excuse for some indoor shopping. Viru Street is Tallinn's shopping hub, boasting a range of stores from high-end boutiques to unique local crafts.
9. Photography Walk: Despite the cold, Tallinn's November beauty is worth capturing. The medieval architecture dusted with snow.