Riga, Latvia in November - The weather and is it a good time of year to visit?
Nestled in the heart of Europe's enchanting Baltic region, Riga, the capital city of Latvia, is a stunning tapestry of culture and history. Known for its architectural marvels and vibrant arts scene, Riga serves as an arresting crossroads of old-world charm and modern vitality.
This article aims to assess the distinct character of Riga in the month of November - a time of year that remains relatively overlooked by most travellers. As the autumn leaves fall and winter quietly approaches, it is indeed a unique season to explore the city, but is it truly a good time to visit?
In short, while November might not offer the sunny cheer of the summer months, it indeed provides a distinctly different, tranquil, and authentic Latvian experience.
The weather of Riga through the year
Riga's climate can be described as temperate, meaning it experiences four distinct seasons throughout the year. Summers are relatively warm with temperatures hovering around 20C (68F), while winters can be quite cold, dropping as low as -5C (23F). Autumn and spring serve as transitional periods, presenting a palette of colours and temperatures that make each day unique. The Baltic Sea's influence keeps the city's climate relatively moderate compared to other locations at the same latitude, but it's wise to pack with variety in mind when visiting Riga.
Riga's weather in November
As November falls in the transition from autumn to winter, you can expect a range of temperatures. The average high is about 5C (41F), but as the month progresses, temperatures can drop close to freezing, with an average low around 0C (32F). While this might sound cold, the city's charm in its quiet season can offer a unique experience to those bundled up for the weather. Be prepared with warm clothing to fully appreciate Riga's quieter, more introspective side during this season.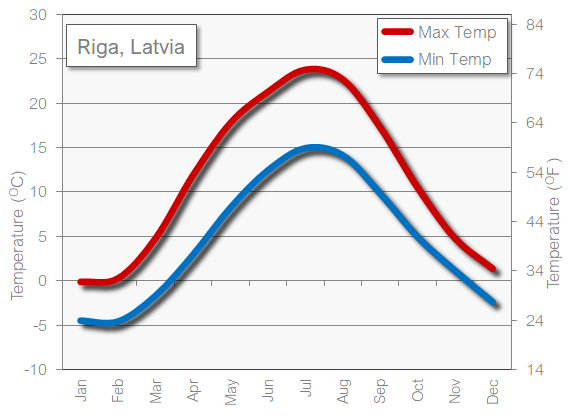 In November, daylight hours in Riga become noticeably shorter as winter approaches. The city sees about seven hours of daylight per day, with the sun typically rising around 8 a.m. and setting near 4 p.m. During this time, sunshine can be a bit elusive. Riga in November is often cloaked under a grey sky, with an average of two hours of sunshine daily. However, when the sun does peek through the clouds, it casts an ethereal light over the city, creating a unique atmosphere that sets November apart from other months.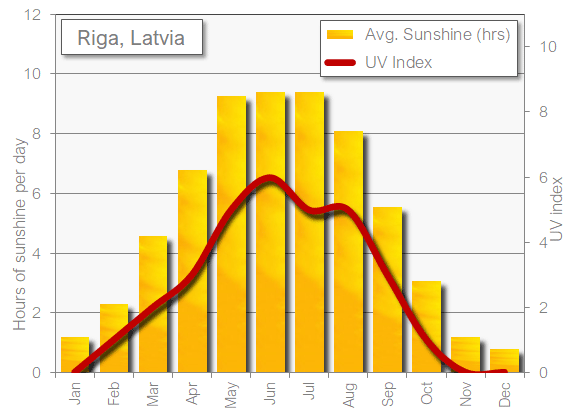 November marks the beginning of Riga's wet season, and visitors should expect frequent rainfall. The city sees an average of 70 mm of precipitation throughout the month, spread over approximately 20 rainy days. Showers can be heavy, but snowfall is generally less frequent, more common towards the end of the month.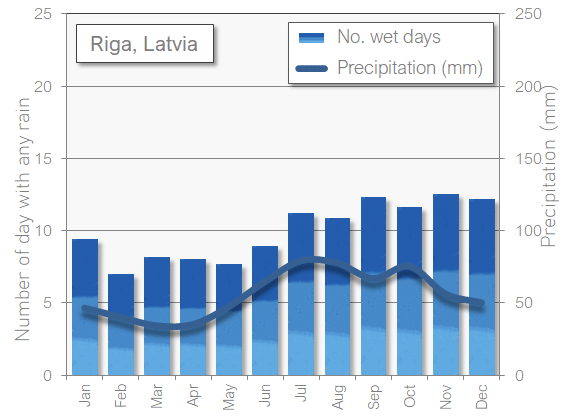 As for the sea temperature, the Baltic Sea is not particularly warm even in the summer months. In November, the sea temperature falls to an average of about 7C (45F), so any plans involving the sea should be focused on atmospheric beach walks rather than swimming.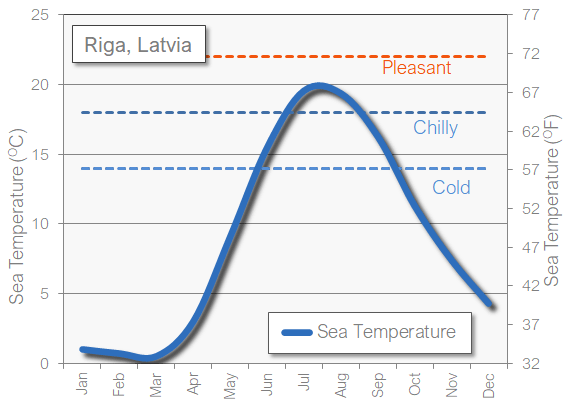 In essence, Riga in November presents a different side to the city that is missed by summer tourists. Despite the drop in temperatures, fewer daylight hours, and increase in rainfall, this period offers a unique tranquillity and authenticity to those willing to experience Riga in its off-season glory.
November is not the peak tourist season in Riga, so it's an ideal time for those preferring fewer crowds. While the city retains its evergreen charm, you'll find museums, galleries, and restaurants less bustling, granting you an unhurried, authentic experience.
Additionally, as demand for accommodation dips during this month, you may find better hotel rates and travel deals, making it a potentially more cost-effective time to visit compared to the busy summer months.
Clothes to pack for November in Riga
When visiting Riga in November, packing warm clothing is key to enjoy the city comfortably. Layered clothing is recommended, with thermal inner layers, a warm middle layer such as a sweater or a fleece, and a good-quality, waterproof outer layer to shield you from the rain or potential snowfall. As evenings can get particularly cold, ensure to pack a heavy jacket or coat for night-time strolls. For daytime explorations, long-sleeved shirts and trousers are essential to keep you warm. Don't forget to pack a good pair of waterproof boots, gloves, a hat, and a scarf to stay cozy while venturing outdoors.
The best months to visit Riga
June, July, and August stand as the finest months to visit Riga. During this time, the city basks in the warmth of the summer sun, with temperatures hovering around 20C (68F), and enjoys long daylight hours, ideal for exploring the city and its surroundings. The city's outdoor cafes and parks are alive with activities, and the famous Riga Summer Festival fills the air with music, art, and vibrancy. Moreover, it's the perfect time for exploring Latvia's beautiful beaches and forests on day trips.
The worst months to visit Riga
If there's a month that could be considered less ideal for a Riga visit, it might be February. The city endures its coldest temperatures during this time, often dropping below -5C (23F). Additionally, daylight hours are limited, constraining the amount of sightseeing time. The heavy snowfall, while picturesque, can make navigation a challenge, especially for those unaccustomed to icy conditions.
Fantastic activities for Riga during November
1. Latvian National Opera: With fewer tourists, securing tickets to the revered Latvian National Opera becomes easier. Enjoy a spectacular evening of ballet or opera in this architecturally magnificent building. The grandeur of the performances matches the elegance of the venue, ensuring an unforgettable cultural experience.
2. Art Nouveau District: Riga's Art Nouveau district is an open-air museum of this architectural style. The grey November sky accentuates the district's character, creating a backdrop that appears straight out of a noir film. Don't miss the Art Nouveau Museum at Alberta Street 12 to delve deeper into this aesthetic period.
3. Riga Central Market: A visit to Riga Central Market offers an authentic taste of Latvian life. Housed in massive former Zeppelin hangars, it's a feast of sights, sounds, and smells. Indulge in local delicacies like smoked fish, cheese, and the famous Latvian rye bread.
4. Latvian National Museum of Art: The Latvian National Museum of Art holds the country's most extensive collection of national art. Explore the diverse exhibits showcasing Baltic and Latvian art dating from the mid-18th century to the present day. November's quietude provides a more tranquil museum experience.
5. Rundāle Palace: A day trip to Rundāle Palace, situated an hour's drive from Riga, offers an escape into the opulence of 18th-century Baroque architecture.