Riga, Latvia in May - The weather and is it a good time of year to visit?
Riga, the jewel of Latvia, is a charming city nestled on the banks of the Baltic Sea. Renowned for its rich tapestry of history, architectural elegance, and vibrant culture, Riga captivates visitors from around the globe. This guide focuses on the month of May, aiming to evaluate whether this particular month is an ideal time to experience the magic of Riga.
Is May a good time to visit Riga? Without hesitation, the answer is yes. As spring is in full swing and the city's beauty reaches its zenith, Riga in May offers a compelling balance of favourable weather and cultural activities, all in the absence of the summer crowds.
Riga weather in May
Riga boasts a humid continental climate. The year unfolds with the contrast of chilly winters and pleasant summers, interspersed with mild transitional seasons. The city's weather can be quite diverse, with winters frequently plunging below freezing, and summers reaching a comfortable 25C (77F). Spring and autumn, while cooler, provide milder conditions that gradually transition between the extremes of summer and winter.
In May, Riga welcomes warmer days, with average temperatures ranging from 8C (46F) to 18C (64F). It's a season of blossoming and growth, as the city discards its winter chill and embraces the renewing warmth of spring. However, it's sensible to prepare for cooler temperatures, particularly in the early mornings and late evenings.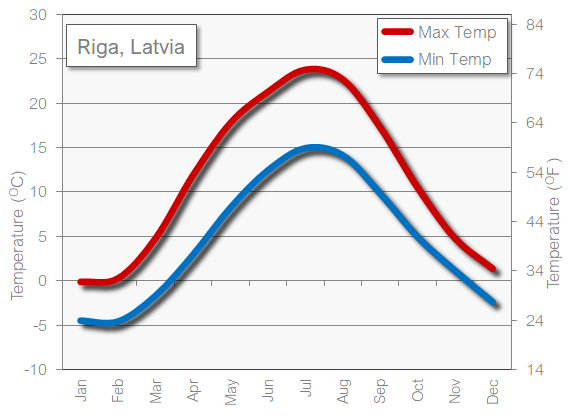 As spring matures into early summer, May benefits from extended daylight hours. The city bathes in the light from approximately 5 am until 9 pm, offering around 16 hours of daylight each day. This generous allotment of daylight, combined with the frequent clear and sunny days, encourages explorers to make the most of their time in Riga.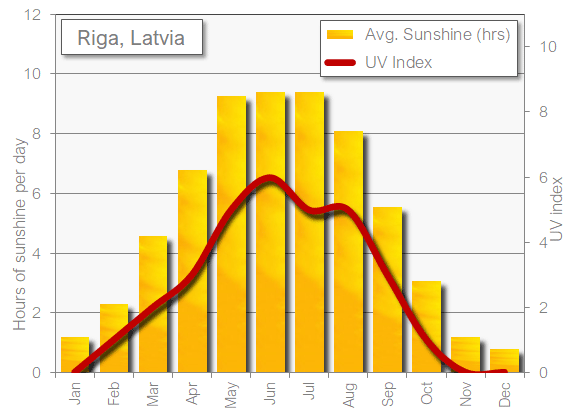 May is a relatively dry month in Riga, with an average rainfall of 37 mm dispersed over 12 days. The city usually experiences light showers, but heavy downpours are less frequent. The likelihood of encountering snow in May is practically nonexistent, as the season of snowflakes is firmly in the rear-view mirror by this time of year.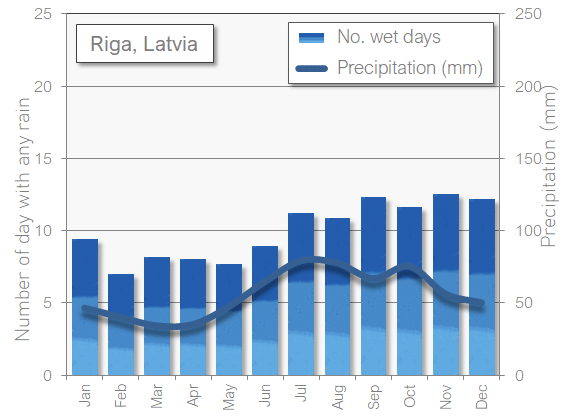 As for the Baltic Sea, the temperature begins to rise from its winter lows, averaging around 8C (46F) in May. While this might not invite a refreshing dip, the seaside still provides picturesque views for leisurely walks along the coastline.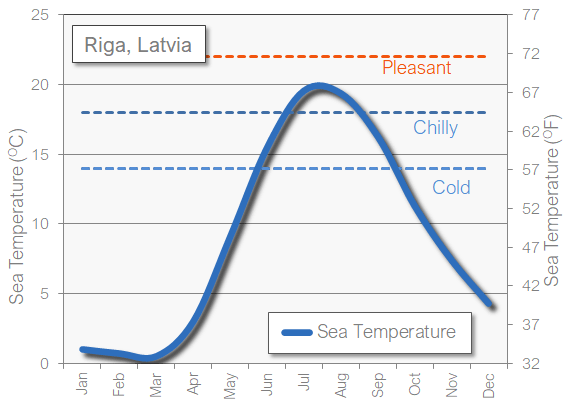 May serves as a prelude to the peak tourist season in Riga, offering a relative calm before the influx of summer visitors. As such, the city remains comfortably accessible without overwhelming crowds. While accommodation and flight prices may begin to rise, they're typically not at their highest, making May a relatively good value time to explore Riga.
Clothes to pack for May in Riga
When packing for Riga in May, flexibility should be your guiding principle. Daytime temperatures often allow for lighter clothing such as t-shirts and jeans, but it's wise to include a jacket for the cooler mornings and evenings. Also, an umbrella or a waterproof jacket would come in handy, given the chance of occasional showers.
The best months to visit Riga
For many, the ideal time to visit Riga is during the summer months of June, July, and August. These months see comfortable temperatures, long daylight hours, and an abundance of events and festivals. Riga truly comes alive during summer, with outdoor concerts, bustling terraces, and vibrant nightlife taking center stage.
The worst months to visit Riga
January is typically considered the most challenging month to visit Riga. The city grapples with freezing temperatures, and the short daylight hours can limit your sightseeing time. While snow can indeed transform the city into a winter wonderland, it can also hinder travel arrangements and outdoor activities.
Fantastic activities for Riga during May
a) Visit the Riga Art Nouveau Centre: Riga is famed for its art nouveau architecture. Visit the Riga Art Nouveau Centre to admire its detailed interior and learn about this architectural style.
b) Wander Around Central Market: Immerse yourself in local culture at Central Market. With spring produce now available, it's a perfect time to sample Latvian delicacies and soak up the vibrant atmosphere.
c) Explore Jurmala: Take a day trip to Jurmala, famous for its beautiful beaches and wooden houses. Though the water may still be cold, it offers scenic walks.
d) Riga Motor Museum: A paradise for car enthusiasts, this museum boasts an impressive collection of vintage cars, including a Rolls-Royce that belonged to Joseph Stalin.
e) Visit the Ethnographic Open-Air Museum: Enjoy a trip back in time at this fascinating museum, showcasing traditional Latvian rural life. In May, the museum's expansive grounds are a joy to explore.
f) Boat Tour: May's milder weather makes it a great time for a boat tour. Cruise along the Daugava River for unique views of Riga's skyline.
g) Opera and Ballet: Enjoy a night at the Latvian National Opera and Ballet. With a packed schedule, you're likely to find a performance that piques your interest.
h) Rundale Palace Day Trip: This baroque palace, a short drive from Riga, is often called the Versailles of Latvia. Its well-kept gardens are especially beautiful in May.
i) Mezaparks: Take a leisurely stroll in Mezaparks, one of the largest and most beautiful city parks in Riga. This spot is perfect for picnics, walking, or simply soaking up the spring sunshine.
j) Museum of the Occupation of Latvia: Gain insight into Latvia's history by visiting this informative museum. It provides a profound look at the country's past during the Soviet and Nazi occupations.