Riga, Latvia in August - The weather and is it a good time of year to visit?
Nestled against the Baltic Sea, Riga, the capital of Latvia, serves as an enchanting gateway to the Baltic region. Known for its rich history, stunning Art Nouveau architecture, and a vibrant culture that effortlessly blends the traditional with the contemporary, Riga invites visitors into a world of captivating discoveries.
As we approach the month of August, questions rise about the charm and the conditions that this European gem may offer. Is it an ideal time to visit Riga? The answer is a resounding 'yes'! With its pleasantly warm temperatures and extended daylight hours, August unfolds Riga's beauty and vitality in a truly special way.
The weather of Riga through the year
The climate in Riga is characterized by a temperate seasonal climate. This means that it experiences four distinct seasons: winter, spring, summer, and autumn. Winters can be cold, with temperatures often dipping below freezing. Spring and autumn are transitional seasons, offering a blend of mild and crisp weather. The summer months, particularly July and August, are generally warm, with temperatures frequently reaching the mid-20s Celsius (mid-70s Fahrenheit).
Riga's weather in August
August in Riga is part of the summer season, during which the city experiences its warmest temperatures. The average temperature in Riga during August is around 17C (63F), with daytime highs often reaching up to 22C (72F). Evenings can be cooler, but rarely drop below 12C (54F). This makes August one of the most comfortable times to explore Riga, whether strolling through its historic Old Town, enjoying a meal in an open-air café, or basking in the natural beauty of its parks and gardens.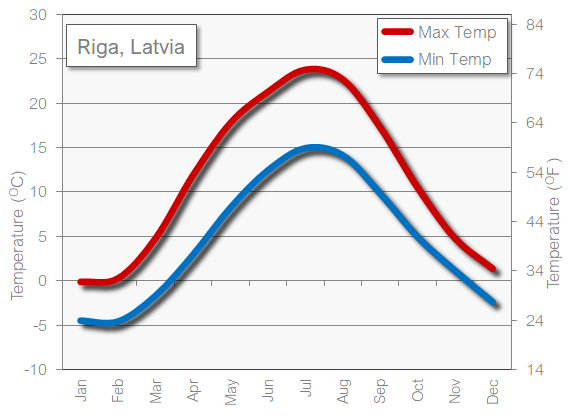 One of the unique attributes of Riga in August is its generous daylight hours. The city enjoys up to 16 hours of daylight, providing ample opportunity to explore and enjoy the city's attractions. The sun typically rises around 6 AM and sets around 10 PM. Sunshine is also abundant during this month, with an average of 7-8 hours of bright sunshine each day. This gives the city a cheerful glow and makes outdoor activities particularly enjoyable.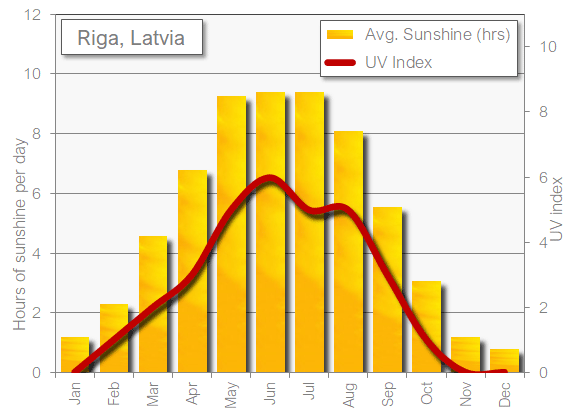 August in Riga sees moderate rainfall, with an average precipitation of approximately 90 mm spread over 15 days. The rain tends to fall in brief showers, often clearing up quickly. While it's advisable to carry an umbrella or light rain jacket, these rainy intermissions should not significantly disrupt your plans. Snowfall in August is unheard of, as snow typically starts appearing in late November.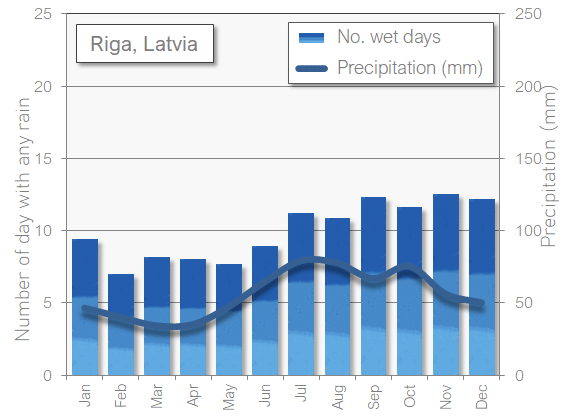 As for the Baltic Sea that graces Riga's coast, it offers a refreshing temperature of about 17-18C (63-64F), making it perfect for an invigorating swim or a beachside stroll.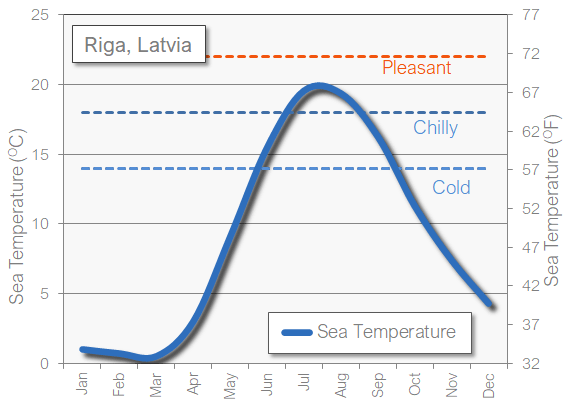 Riga in August showcases a pleasant climate and extended daylight hours that promise a fulfilling travel experience. Its warm and sunny days paired with cool and comfortable evenings make it a prime time to explore the city's cultural treasures, gastronomic delights, and natural splendors. This is indeed an exceptional time to immerse yourself in the allure of this Baltic jewel.
August is indeed a popular time for tourists to visit Riga, owing to the pleasant climate and extended daylight hours. As a result, the city buzzes with a lively energy, offering various cultural events and festivals.
While it's a busy period, it doesn't feel overly crowded, preserving the charm and comfort of your visit. However, it's worth noting that prices for accommodation and flights may be higher due to the summer demand. Nonetheless, the unique experiences that Riga offers in August often justify the additional cost.
Clothes to pack for August in Riga
When packing for Riga in August, consider bringing a variety of clothing to accommodate the warm days and cooler nights. During the daytime, you'll be most comfortable in light clothing such as t-shirts, shorts, or summer dresses. However, as evenings can be cooler, it's advisable to pack a light jacket or a sweater. Don't forget comfortable walking shoes for exploring the city, a swimsuit for the beach, and an umbrella or a raincoat for the occasional showers.
The best months to visit Riga
The best three months to visit Riga are June, July, and August. These summer months offer the most enjoyable weather, with warm temperatures, long daylight hours, and plenty of sunshine. They also host a variety of cultural events and festivals that showcase the city's vibrant arts scene. Outdoor activities are plentiful, from exploring the historic Old Town to lounging by the Baltic Sea.
The worst months to visit Riga
The most challenging month to visit Riga tends to be January. The winter month can be particularly cold, with temperatures often dropping well below freezing. Snowfall is common and can sometimes be heavy, potentially disrupting travel plans. While the snow-dusted cityscapes can be enchanting, the cold weather might limit outdoor exploration and activities.
Fantastic activities for Riga during August
1. Explore the Old Town: Riga's Old Town, a UNESCO World Heritage Site, is a delightful maze of cobbled streets, historical buildings, and charming squares. August's warmth and sunshine provide an excellent backdrop for leisurely strolls.
2. Visit Jurmala Beach: Just a short drive from Riga, Jurmala Beach offers pristine sands and the refreshing Baltic Sea. In August, it's a perfect spot for a sun-soaked day trip.
3. Attend the Riga City Festival: This annual event usually takes place in August, featuring concerts, parades, and fireworks. It's a fantastic way to experience local culture and festivities.
4. Riga Central Market: Housed in giant zeppelin hangars, this bustling market is a haven for food lovers. With the abundant summer harvest, August is a great time to sample local produce and delicacies.
5. Boat Tour on the Daugava River: Enjoy Riga from a different perspective on a boat tour. The calm weather in August makes for a tranquil and scenic ride.
6. Art Nouveau Walk: Riga is renowned for its Art Nouveau architecture. An August walk amidst these intricately designed buildings, under the clear blue sky, is a visual treat.
7. Latvian Ethnographic Open-Air Museum: This museum showcases traditional Latvian rural life. In August, you can explore the outdoor exhibits comfortably.
8. Rundale Palace: A day trip to Rundale Palace, an 18th-century baroque palace, is worth the journey. The palace's beautiful gardens are in full bloom in August.
9. Riga Motor Museum: For car enthusiasts, this museum houses a unique collection of vintage cars, including the famous Rolls Royce of Stalin.
10. Latvian National Opera: Catch a performance at the Latvian National Opera for a memorable cultural experience.