Riga, Latvia in March - The weather and is it a good time of year to visit?
Perched on the shores of the Baltic Sea, Riga, the capital of Latvia, is a gem rich in culture and history. Grand Art Nouveau buildings stand as testaments to its prosperous past, while the Old Town whispers tales from the bygone Middle Ages. A significant cultural centre of the Baltics, Riga leaves its visitors captivated.
This piece aims to explore a rather specific question - how does Riga fare as a destination in the chilly month of March? Should you pack your bags and head towards this Baltic wonderland during this transitional season? The answer, surprisingly, leans towards a reserved "yes," but it comes with nuances to understand.
The weather of Riga through the year
Riga's climate dances on the strings of two distinct seasons: a chilly, often snowy winter and a mild, relatively sunny summer. As it weaves between these two extremes, the city experiences an overall humid continental climate. Summers (June-August) are pleasantly warm, with temperatures typically peaking around 20C (68F). On the other hand, winters (December-February) can plunge well below freezing, with mercury often resting at around -5C (23F). March stands on the cusp of these contrasting seasons, embodying a blend of late winter chill and early spring thaw.
Riga's weather in March
The month of March in Riga sees a slow, steady rise in temperature. The month usually starts off with an average daily temperature around -1C (30F), gradually warming up to around 4C (39F) towards the end of the month. It's a time when winter's icy grip loosens and spring starts to peek around the corner. While you'll need your warm coats and gloves, especially during the night when it's colder, the days grow increasingly comfortable as the month advances.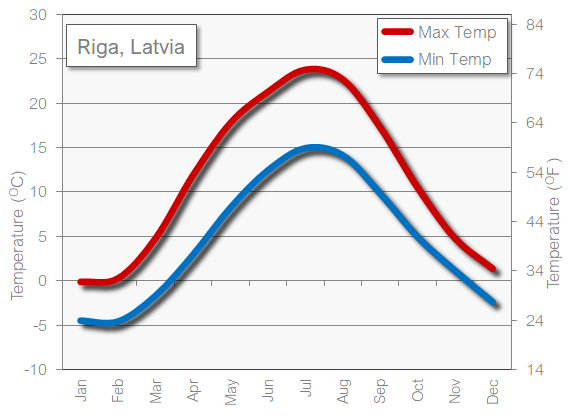 March is a month of transition not just in temperature, but also in daylight. As the month progresses, the days in Riga grow longer. From approximately 11 hours of daylight at the start of the month, you can expect about 13 hours by the end. As for sunshine, while not as bountiful as the summer months, it begins to make a more regular appearance. Expect about 4 hours of sunshine per day on average, a notable improvement from the darker winter months.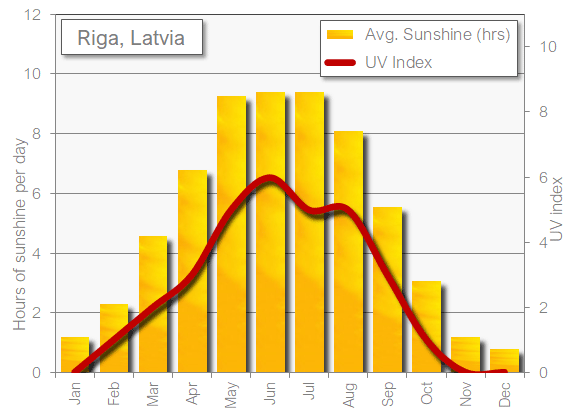 Rain and snow are both likely visitors in March, given the transitional weather conditions. The average precipitation in Riga during this month stands around 30 mm, spread over about 12 days. This implies that while rain or snow is a possibility, they are usually light and not incessant. It is more common to experience drizzles and light snow showers than heavy downpours or snowstorms. That being said, it is always wise to have an umbrella at hand.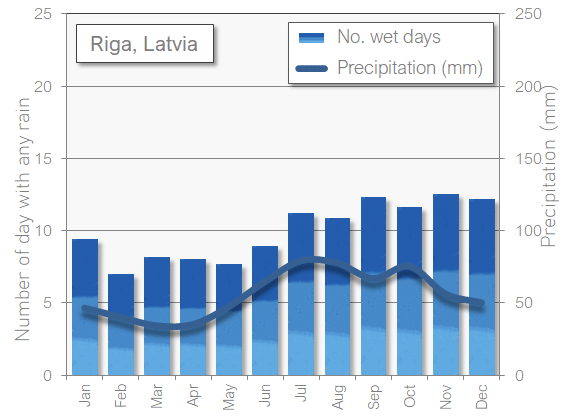 As for the sea temperature, March isn't the ideal time for a Baltic Sea dip. The water remains very cold, averaging around 1C (34F). It's certainly a sight to behold from the shore, but those thinking of a beach vacation might want to wait for the warmer months.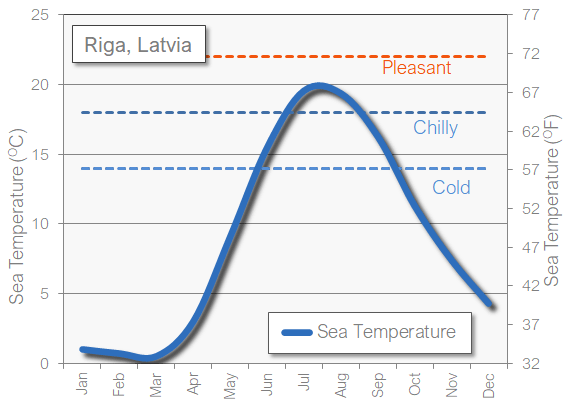 March in Riga is for those who embrace the crisp chill and the slow advent of spring. It's a time when the city shakes off its winter sleep, offering a unique and quieter charm to its visitors. It may not be the conventional choice, but it certainly holds its own unique appeal for the adventurous traveler.
The month of March stands as the shoulder season in Riga's tourism calendar. This means the city is not brimming with tourists as it does in peak summer months. Rather, it provides an experience free from the buzz of large crowds. Additionally, it can be a more economical time to visit, with reduced hotel rates and flight fares as compared to the peak seasons. It is a time when Riga offers great value for those who value tranquility and affordability over bustling tourism.
Clothes to pack for March in Riga
The weather in March is a blend of winter chill and the initial whispers of spring, so your packing must reflect that. Start with thermal undergarments that will keep you warm. Layer these with warm sweaters or hoodies for the day and a warm, waterproof coat for evenings when temperatures drop. Don't forget your scarf, gloves, and a beanie hat to fend off the cold wind. It's also wise to pack waterproof shoes as light snow or rain is common in March.
The best months to visit Riga
The best time to visit Riga varies depending upon individual preferences. However, the months of June, July, and August typically offer the most pleasant weather. These summer months see warm temperatures averaging around 20C (68F), and long days with up to 18 hours of daylight. This provides ample opportunity to explore the city and its surroundings. Moreover, Riga comes alive with outdoor festivals and concerts during these months, adding a unique cultural appeal to your visit.
The worst months to visit Riga
While there's a charm in every season, January is typically considered the most challenging month to visit Riga. The temperatures often plummet below freezing, averaging around -5C (23F), and daylight is scarce with only about 7 hours a day. Snow is frequent and sometimes heavy, which, while picturesque, can limit outdoor activities and disrupt travel plans.
Fantastic activities for Riga during March
Art Nouveau Walking Tour: Riga is a treasure trove of Art Nouveau architecture, boasting over 800 buildings in this style. March is a good time to wander and admire these intricate facades, with fewer tourists and milder weather.
Riga Central Market: This bustling market is a sensory delight, offering a wide range of local produce and traditional Latvian foods. It's a great place to experience local culture, regardless of the weather.
Latvian National Opera: Why not take advantage of the quieter tourist season and enjoy a performance at the Latvian National Opera? It offers a rich repertoire that caters to all music lovers.
Rundāle Palace: Just a short drive from Riga, this Baroque palace is a jewel of Latvian heritage. It's worth exploring in any season, but the lack of crowds in March makes the experience even more special.
Freedom Monument: This iconic symbol of Latvian independence is a must-visit. It's particularly poignant to visit in March, as Latvia celebrates its Independence Restoration Day on the 4th of the month.
Kemeri National Park: Nature lovers can explore this beautiful park, located about an hour from Riga. In March, the park's forests are serene and quiet, and you might even get a chance to see the park's wildlife.
Latvian National Museum of Art: An ideal place to spend a chilly day, this museum houses a vast collection of Latvian and Baltic art. March offers a peaceful ambiance to appreciate these masterpieces.
Take a Sauna: To fully embrace the Latvian way of life, a visit to a sauna is a must. It's a great way to warm up after a day of sightseeing in the cold.