Split, Croatia in May - The weather and is it a good time of year to visit?
Split, Croatia's second-largest city, is a delightful fusion of ancient culture and modern energy. This vibrant seaside hub nestled along the Adriatic coast is famous for its UNESCO World Heritage site, Diocletian's Palace, buzzing piazzas, and glorious waterfront promenades.
But what about its seasonal appeal? Is May a good time to visit Split? The answer is a resounding yes. May offers a sweet spot of warm weather, fewer crowds, and the promise of delightful Mediterranean spring.
Overview of Split's Climate
Split enjoys a Mediterranean climate, characterized by long, warm summers and mild, wet winters. Its seasons are distinctly marked - summers are typically hot and dry, with temperatures soaring, while winters, although never extreme, see more precipitation. The shoulder seasons of spring and autumn offer a pleasant transition, with moderate temperatures and a picturesque changing landscape.
Split's weather in May
May, in essence, is the doorway to Split's summer. The average temperature hovers around a pleasant 18C (64F), with the daytime highs occasionally hitting the delightful warmth of 24C (75F). At night, the temperature tends to drop to a mild 12C (54F), making it a perfect time for evening strolls along the palm-fringed Riva promenade. The weather is generally warm and pleasant, neither hot nor cold, creating an inviting atmosphere for exploring the city's cobbled streets and historic sites.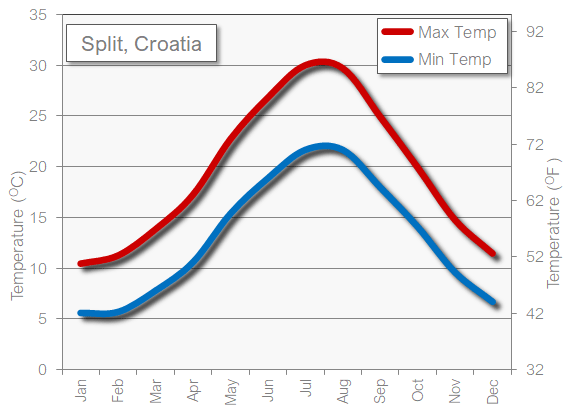 May ushers in extended daylight hours in Split, giving visitors plenty of time to soak in the city's charm. You can expect around 15 hours of daylight per day, with the sun typically rising around 5:30 am and setting around 8:30 pm. This ample sunshine ensures the days are predominantly sunny, with an average of 9 hours of direct sunlight per day. While occasional cloud cover might make an appearance, it seldom hampers the delightful brightness of a typical May day in Split.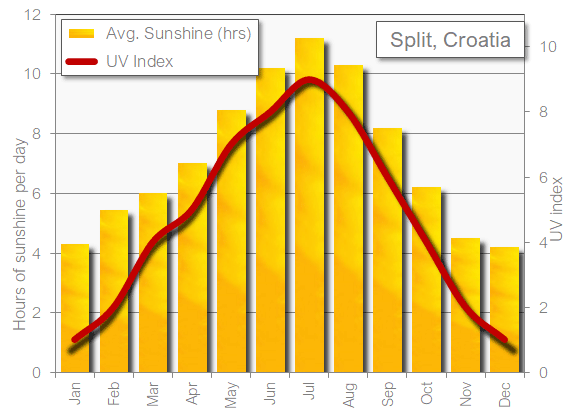 May, while being a spring month, signifies the onset of the drier part of the year in Split. The average precipitation level during this month is around 50mm, spread across roughly seven days in the month. The chance of encountering a rainy day is relatively low, and when it does rain, it's often a quick, light shower that gives way to clear skies. Heavy showers are infrequent, and as for snowfall, it's virtually unheard of in Split at this time of the year.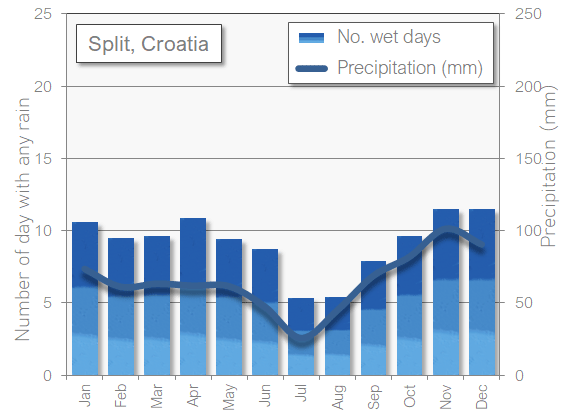 As for the allure of the azure Adriatic sea, the average sea temperature in May gradually warms up to around 18C (64F). While some hardy souls might find this inviting, it may still be a tad cool for others. By the end of May, however, the water temperature usually inches towards a more comfortable 20C (68F), making it a more viable option for those who wish to dip their toes or indulge in a refreshing swim.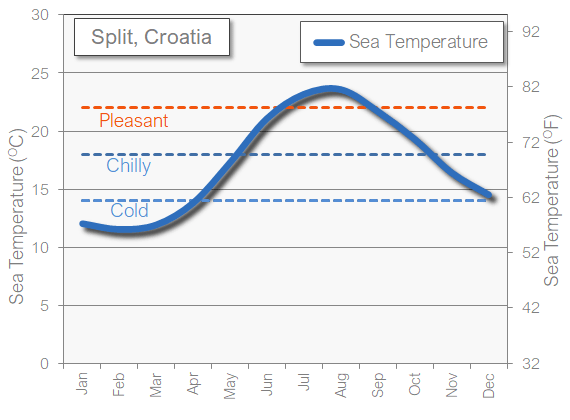 May is an excellent time to explore Split. The weather is agreeably warm, the daylight hours are extended, rainfall is low, and the Adriatic sea starts inviting the first swimmers of the season. It's a time when Split is blooming in its spring glory while gearing up for the vibrant summer, making it a perfect blend for those seeking to enjoy the city at a relaxed, leisurely pace.
May is considered the start of the tourist season in Split, but it is not as crowded as the peak summer months of July and August. As a result, visitors can expect a more relaxed pace of life and less congestion at popular sites. In terms of value, May presents a more budget-friendly option than the peak summer months, with accommodation and flights often available at lower rates. It's an excellent time for those seeking a balance of good weather, manageable crowds, and good value for money.
Clothes to pack for May in Split
When visiting Split in May, it's wise to pack for warm daytime temperatures and cooler evenings. Light, breathable clothing such as t-shirts and shorts are perfect for the daytime. However, you might also want to pack a light jacket or sweater for the evenings when temperatures drop. Additionally, a swimsuit is a must if you plan to brave the still warming Adriatic sea.
The best months to visit Split
The best three months to visit Split are May, June, and September. May kicks off the tourist season with its agreeable weather and lower crowds, allowing visitors to explore the city at a leisurely pace. June sees the city truly come alive in the warmth of early summer, with perfect beach weather and a vibrant nightlife. September, on the other hand, offers a respite from the peak summer crowds while retaining the warm temperatures and the joy of open-air activities.
The worst months to visit Split
Conversely, the least appealing month to visit Split could be November. As autumn edges towards winter, the weather becomes considerably cooler and wetter. The lively outdoor cafe culture and beach activities that make Split so appealing give way to a quieter vibe, and the shorter days may limit sightseeing opportunities.
Fantastic activities for Split during May
Diocletian's Palace: This UNESCO-listed ancient Roman palace is a must-visit. In May, the pleasant weather makes wandering its labyrinthine streets and hidden courtyards a joy. Make sure to climb the bell tower of Saint Domnius Cathedral for stunning views over the city.
Marjan Hill: A hike up to Marjan Hill rewards visitors with panoramic views of Split and the surrounding islands. In May, the hillside is covered in lush greenery and offers a cool refuge from the city hustle.
Beach Hop: The city boasts several beautiful beaches. Though the sea might be a little cool in early May, by the end of the month, a dip can be quite refreshing. Popular beaches include Bacvice and Kasjuni.
Split's Green Market (Pazar): Visiting Split's main public market, located just east of Diocletian's Palace, offers a colorful experience. Here, you can buy fresh local produce, interact with the locals, and get a real taste of Split's vibrant daily life.
Riva Promenade: Take a leisurely walk along the Riva Promenade, a bustling waterfront boulevard lined with palm trees, cafes, and shops. In May, it's an ideal place to enjoy a seaside coffee or meal without the sweltering summer heat.
Day trip to Krka National Park: May is a fantastic time to visit Krka National Park, located just a short distance from Split. The park, famous for its cascading waterfalls and lush greenery, is less crowded in May than in the peak summer months.
Island Hopping: Split's port offers numerous ferry and catamaran services to the nearby islands like Hvar, Brac, and Vis. May is a perfect time for island hopping as the weather is pleasant, and the tourist influx is yet to reach its peak.
Explore the Game of Thrones Sites: For fans of the TV show, a guided tour to explore filming locations in and around Split,