Split, Croatia in July - The weather and is it a good time of year to visit?
Emerging from the emerald waters of the Adriatic Sea is Split, Croatia's second-largest city and a treasure trove of cultural and historical marvels. A living museum, Split showcases a blend of ancient Roman architecture, punctuated with medieval wonders, Renaissance palaces, and modern-day attractions, all framed against the backdrop of an idyllic coastal town. This piece aims to examine the unique characteristics of Split's climate in July, and to determine whether it is an apt time for visitors to bask in the city's rich tapestry of experiences.
In a nutshell, July can indeed be a great time to visit Split. The balmy summer weather sets an inviting stage for both sightseeing and relaxing beach visits, and the city's vibrant events calendar is in full swing. But, like any season, it comes with its unique characteristics that should be considered.
Overview of Split's Climate
Split's climate is typically Mediterranean, graced with warm, dry summers and mild, wet winters. Over the year, temperatures range from a chilly 5C (41F) in the coldest month of January to a sizzling 30C (86F) at the height of summer. The city enjoys around 2,800 hours of sunshine annually, making it one of the sunniest spots on the continent, while its rainfall patterns mainly concentrate in the cooler months, leaving the summer mostly dry.
Split's weather in July
In July, Split truly basks in the full swing of summer. Daytime temperatures regularly reach 30C (86F), while the night brings a more comfortable coolness, with temperatures dropping to around 20C (68F). It's an excellent time for those who enjoy warmth, and the heat, although occasionally intense, is often tempered by a refreshing sea breeze. For the less heat-tolerant, the climate may be slightly overwhelming, but retreating to the many shaded squares and parks in the city or to the refreshing sea offers a pleasant reprieve.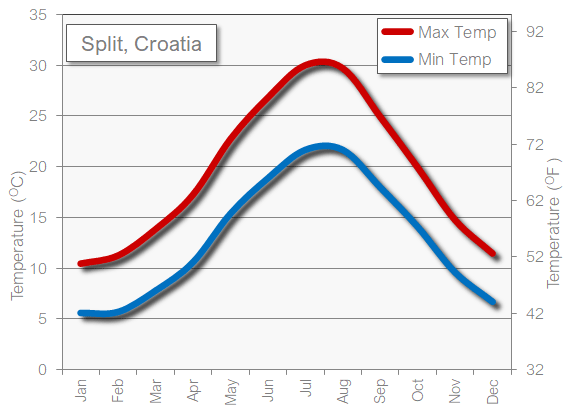 July stands as one of the longest days of the year, with up to 15 hours of daylight per day, giving plenty of time to explore Split's many attractions. The city experiences approximately 12 hours of sunshine daily in July, with clear, blue skies being more the norm than the exception. While a few cloudy days might occur, they typically don't impede the vibrancy of the Split summer experience.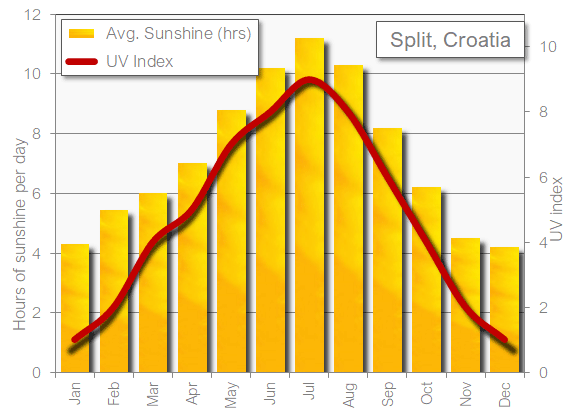 Despite the general perception of summer being dry, July sees a sprinkling of rainy days in Split. The city records an average rainfall of around 26 mm spread across just four days of the month. The showers, when they occur, are usually brief and intense, rarely disrupting plans for any significant period. Snowfall, in contrast, is a winter event and does not occur in July.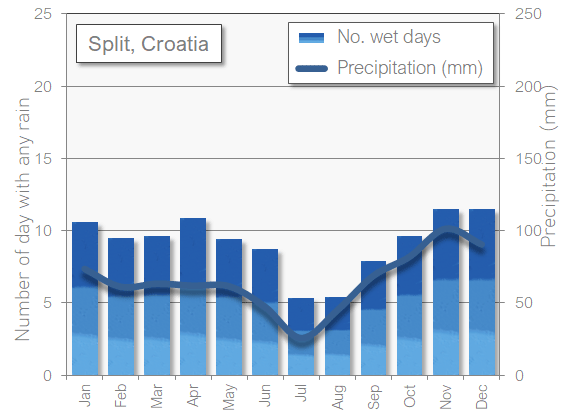 One of the joys of a summer visit to Split is the opportunity to indulge in the crystal-clear waters of the Adriatic Sea. In July, sea temperatures are just perfect for swimming, averaging a pleasant 24C (75F), making the sea an irresistible retreat for cooling off from the summer heat. Whether you're a fan of leisurely wading in the shallows or diving into the deeper blues, the sea in July is warm, welcoming, and wonderfully refreshing.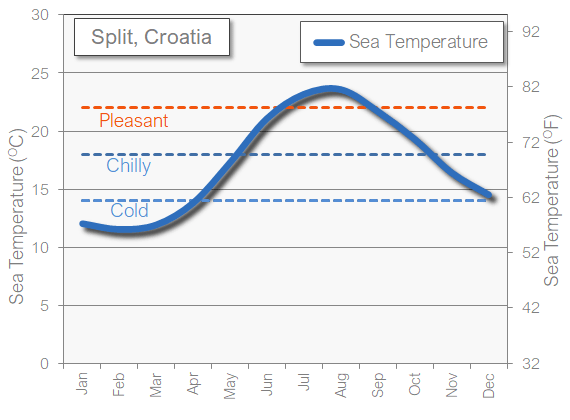 July presents a vibrant and dynamic experience for visitors to Split. Its long, sunny days and warm temperatures provide a perfect backdrop for exploring the city's wealth of history and culture, as well as enjoying its beautiful beaches and crystal-clear waters. While occasional rain showers might occur, they rarely dampen the spirit of this lively city in its prime summer month.
July falls within the peak season for tourism in Split, attracting travelers with its warm weather and clear skies. The city buzzes with a cosmopolitan vibrancy, as visitors from around the world stroll along its historic streets and beaches. However, with increased demand, hotel prices and overall costs do hike up, making July one of the more expensive times to visit. But, the joyous summer atmosphere and wide range of events make it worth the investment for many.
Clothes to pack for July in Split
Visiting Split in July calls for a summer-ready wardrobe. During the day, lightweight clothing, such as breathable shirts, shorts, and dresses, are ideal. Don't forget your swimsuit for those inviting dips in the Adriatic. Evenings can still be warm, but it's worth packing a light jacket or cardigan for when the sun sets and a cooler breeze rolls in from the sea. Comfortable shoes are also a must, especially if you plan on exploring Split's charming Old Town with its cobblestone streets.
The best months to visit Split
The best months to visit Split are arguably May, June, and September. May ushers in the summer with comfortable temperatures and fewer crowds, making it an excellent time for sightseeing and outdoor activities. June brings warmer weather and the start of many summer festivals, striking a balance between activity and relaxation. September, meanwhile, offers warm sea temperatures and slightly cooler land temperatures, providing a relaxing retreat after the peak summer rush, with lower prices and fewer tourists.
The worst months to visit Split
November and December are potentially the least favorable months to visit Split. The Mediterranean climate gives way to colder, wetter weather, and while it's far from harsh winter, it's not ideal for beach-going or many outdoor activities. Additionally, many tourist amenities may be closed or operating on limited hours. However, if you enjoy quieter streets and a slower pace of life, these months can offer a different perspective on the city.
Fantastic activities for Split during July
Diocletian's Palace: No trip to Split is complete without visiting this UNESCO World Heritage Site. This Roman emperor's palace is a living monument, blending seamlessly with modern-day houses, shops, and cafes. The intricate network of alleys, squares, and magnificent architecture is a captivating step back into history.
Marjan Hill: For breathtaking views over Split and the Adriatic Sea, head to Marjan Hill. A walk or cycle up this forested park offers a respite from the city heat. The sunset views from the top are nothing short of spectacular.
Beach Hopping: With the Adriatic Sea at its doorstep, Split offers a plethora of beautiful beaches. Bacvice beach is a popular sandy spot, perfect for a relaxing swim and engaging in the local game of "picigin," a sort of aquatic keepy-uppy.
Island Excursions: Split is a gateway to the idyllic islands of Hvar, Brac, and Vis. Day trips are easily organized, offering opportunities for more beach time, wine tasting tours, or exploring quaint island towns.
Green Market (Pazar): Experience local life at Split's bustling green market, where vendors sell everything from fresh produce to homemade cheeses. It's an excellent spot to pick up local delicacies for a picnic.
Riva Promenade: The vibrant Riva Promenade is the heart of Split's social life. Lined with cafes, bars, and shops, it's a perfect place for people-watching, sipping a coffee, and enjoying the atmosphere.
Rafting on the Cetina River: For the adventurous, white-water rafting on the Cetina river