Split, Croatia in June - The weather and is it a good time of year to visit?
Nestled along the sparkling Adriatic Sea, Split is the second-largest city in Croatia, a Mediterranean haven abundant with cultural treasures and natural beauty. This city is a live museum, its old town brimming with the legacy of the Roman Empire, symbolized by the remarkable Diocletian's Palace. However, beyond history, Split offers a vibrant café culture, enticing gastronomy, and stunning coastal vistas, making it an unforgettable destination for any discerning traveler.
This guide will examine the climate in June, providing a comprehensive look at Split's weather during this period. Is June a good time to visit Split? The short answer is yes. As we shall see, June combines the best of moderate temperatures, extended daylight hours, and manageable tourist numbers, making it an opportune time to experience all Split has to offer.
Overview of Split's Climate
Split basks in a Mediterranean climate, characterized by hot, dry summers and mild, wet winters. The city experiences substantial seasonal differences, yet the climate remains comfortably temperate throughout the year. Split is marked by extended sunny periods, particularly during the summer months, while rainfall is primarily confined to the autumn and winter seasons.
Split's weather in June
June in Split welcomes the summer with a delightful blend of warmth and sunshine. The average daytime maximum temperature lingers around 27C (81F), while the night time minimum gently dips to a pleasant 16C (61F). The air is neither stiflingly hot nor chillingly cold, but rather comfortably warm - just the right conditions for exploring the city's ancient alleyways or enjoying a leisurely café au lait in a bustling piazza.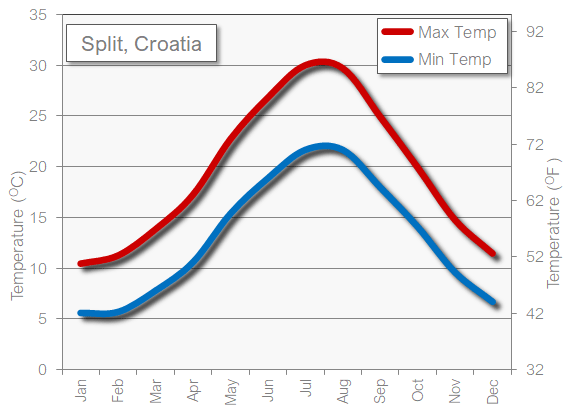 June in Split is a time of extended daylight, offering ample time to explore and soak in the city's vibrant energy. With the sunrise around 5 AM and sunset well after 8 PM, you can expect about 15 hours of daylight. Split's sunshine is generous in June, with an average of 10 sunshine hours per day. Cloud cover is infrequent, ensuring the city bathes in plentiful sunlight, perfect for picturesque beach outings or vibrant city explorations.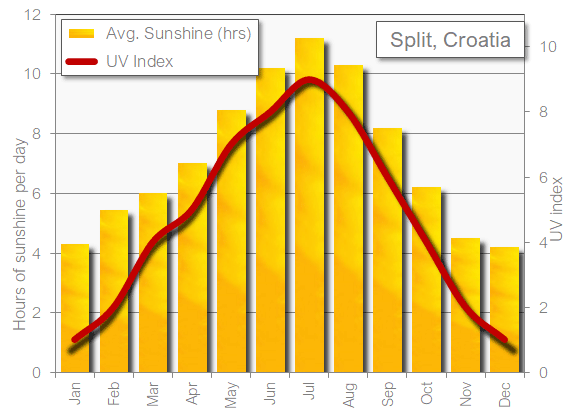 June is relatively dry in Split, a welcome break from the more rain-prone months of late autumn and winter. The city experiences minimal rainfall in June, with an average precipitation of about 34mm spread across 7 days of the month. Heavy showers are a rarity, and the likelihood of encountering a rainy day is relatively low. There's no snow to speak of in June, with winter being the only time when Split sees a dusting of white.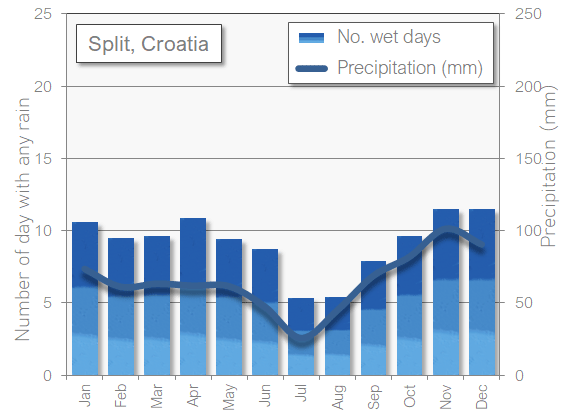 The sea in June around Split presents a delightful invitation to swimmers. With average sea temperatures around 22C (72F), it's sufficiently warm for most to enjoy a leisurely swim or partake in water sports. The Adriatic Sea's crystalline waters provide a refreshing respite from the warmth of the city, making June a fantastic time to partake in Split's vibrant beach culture.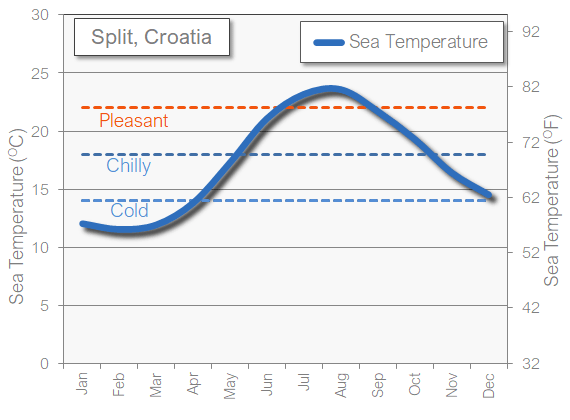 Exploring Split in June offers an ideal blend of pleasant weather, extended daylight hours, and the warm, inviting sea. With its rich cultural heritage, lively ambiance, and stunning natural beauty, Split in June is a destination waiting to be discovered.
June is the onset of Split's high season, when the city begins to fill up with international tourists. While it's busier than off-peak periods, the city is not as packed as it is in the peak summer months of July and August. The prices are slightly elevated due to the season, but it's still a good value time to visit as it precedes the peak of the summer rush, when prices skyrocket.
Clothes to pack for June in Split
When packing for Split in June, think light and airy. The daytime is generally warm, so light cotton clothes like t-shirts, shorts, and summer dresses are ideal. Comfortable footwear is a must for those cobblestone streets. Don't forget a hat and sunglasses for protection against the Mediterranean sun.
Evenings can cool down slightly, but it's rarely chilly. A light jacket or sweater would be enough for those evening strolls by the Riva promenade. Lastly, bring your swimwear - the beach is a big part of the Split experience!
The best months to visit Split
The best months to visit Split are May, June, and September. May ushers in the spring warmth and fewer crowds, making it an ideal time for exploring the city at your own pace. June brings with it perfect sea temperatures and long sunny days, while September combines pleasant weather with lower tourist numbers post-summer peak. These months offer the best balance of good weather, manageable crowds, and reasonable prices.
The worst months to visit Split
The less desirable time to visit Split is November. This month is one of the wettest, experiencing the highest rainfall levels. Combined with shorter daylight hours and cooler temperatures, it makes outdoor sightseeing less enjoyable.
Fantastic activities for Split during June
Visit Diocletian's Palace: Embark on a journey through time at this UNESCO World Heritage Site, once the residence of the Roman Emperor Diocletian. Wander through its ancient cellars and peruse its vibrant markets.
Experience Marjan Forest Park: This verdant oasis offers panoramic views of Split and the Adriatic. It's perfect for hiking, biking, or picnicking amidst nature.
Take a Dip at Bacvice Beach: This sandy beach is Split's most famous, known for "picigin," a traditional Croatian ball game. It's the perfect spot to relax and cool off from the summer warmth.
Explore the Old Town: Meander through narrow, winding streets filled with charming shops, cafes, and the enchanting scent of local cuisine. The Old Town is a living testament to Split's rich history and vibrant present.
Visit Split Cathedral: Climb the bell tower of this ancient cathedral for an unbeatable view of the city. The architecture is stunning, and the history palpable.
Sail to the Blue Cave: Take a boat tour to the mystical Blue Cave on Bisevo Island. The cave's natural iridescent blue light is a spectacle not to be missed.
Discover the Island of Hvar: A day trip to this sun-drenched island promises beautiful beaches, lavender fields, and the vibrant Hvar Town - a gem of Dalmatian architecture.
Take a Wine Tour: Split's surrounding countryside is adorned with vineyards. Embark on a wine tasting tour to sample Croatia's rich viticulture heritage.
Stroll the Riva Promenade: This bustling waterfront promenade is the city's heart, brimming with cafes, restaurants, and the energy of Split's vibrant street life.
Visit the Split City Museum: Housed in a Gothic-Renaissance palace, the museum tells the story of Split through a collection of intriguing artifacts and exhibits.