Vilnius, Lithuania in October - The weather and is it a good time of year to visit?
Where history meets the modern, where architectural wonders kiss the sky, you find Vilnius, the Lithuanian capital. Straddling the Neris River, this city offers an impressive array of landmarks, including a UNESCO World Heritage-listed Old Town. Unique neighbourhoods, awe-inspiring landscapes, and a vibrant culinary scene make Vilnius an enchanting getaway destination.
October in Vilnius is a celebration of colours. The city gets painted with autumn hues, offering visually stunning landscapes, especially in its numerous parks. With less tourist bustle than summer months and mild weather conditions, it's an ideal time for immersive explorations.
The weather of Vilnius through the year
Vilnius experiences a distinct four-season climate. The winter months can be quite cold with frequent snowfalls, while spring brings blossoming landscapes. The summers are warm and usually dry. Autumns, particularly the early part, are mild and beautifully colourful.
Vilnius's weather in October
October in Vilnius offers a range of temperatures. Daytime sees a comfortable average around 11°C (52°F), while nights cool down to a chilly 4°C (39°F). The crisp autumn air and the warm sun create a pleasant atmosphere for exploration.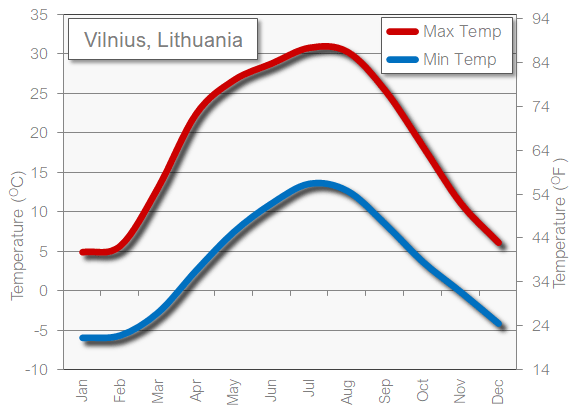 As the city transitions into autumn, daylight hours in October gradually decrease, ranging from approximately 11 hours at the start of the month to around 9 hours by month's end. The sun shines with a softer glow, with partially cloudy skies adding to the autumnal charm.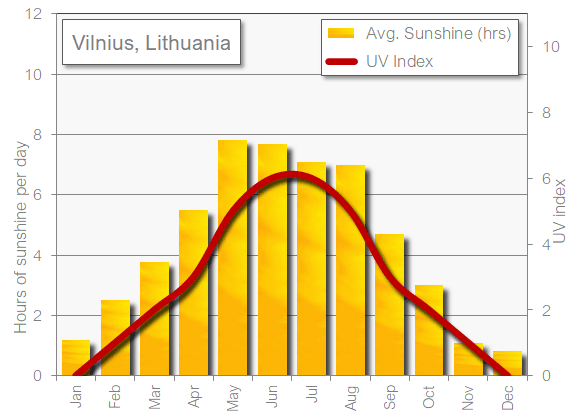 October brings moderate rainfall in Vilnius, with an average precipitation of approximately 60mm over about 15 days. Showers are usually brief and interspersed, maintaining the overall pleasant weather. Snow is a rare occurrence in October.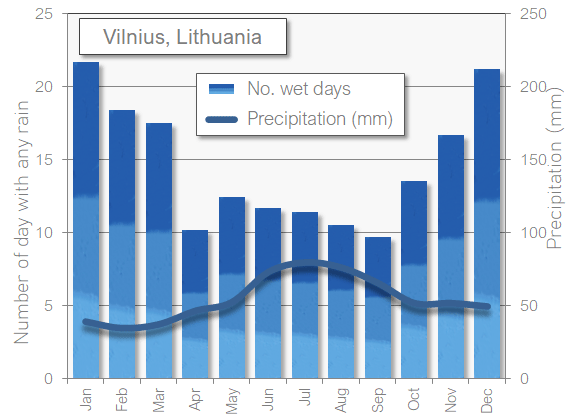 Vilnius in October offers a calmer tourism atmosphere. With the summer rush concluded, attractions are less crowded, allowing for more relaxed explorations.
October presents a balance in terms of expenses. It's not peak season, hence accommodation and flight rates are often more economical than in summer months. Hotel rooms and rentals are easier to secure, with occasional deals available.
With mild temperatures and vibrant fall colours, October is quite suitable for families with young children. The city's parks are particularly attractive this time of year.
October sees a fair share of tourists from across Europe, drawn to the city's autumnal charm and peaceful ambiance.
Clothes to pack for October in Vilnius
For a trip to Vilnius in October, a mix of warm and light clothing would be ideal. During the day, light sweaters or long-sleeved tops would suffice, while evenings may require a warmer jacket. Comfortable walking shoes are a must for exploring the city's sights.
The best months to visit Vilnius
June, July, and September stand out as the best months to visit Vilnius. During this time, the city enjoys warm weather, extended daylight hours, and an array of events and festivals.
The worst months to visit Vilnius
Winter months, particularly January and February, could be challenging for visitors unaccustomed to the cold. Temperatures often dip below freezing, and heavy snowfall can limit outdoor activities.
Fantastic activities for Vilnius during October
Old Town Exploration: Stroll through Vilnius' Old Town, soaking in the autumn colours. The mild October weather is ideal for exploring this UNESCO-listed site, adorned with architectural gems from various eras.
Vilnius Cathedral: This majestic cathedral, a symbol of the city, is a must-visit. Explore its grand interiors and impressive art collections. The cathedral square, in the embrace of autumn, offers a delightful sight.
Gediminas' Tower: Climb the historic Gediminas' Tower for panoramic views of the city cloaked in fall colours. The on-site museum offers fascinating insights into the city's past.
Autumn Foliage in Vingis Park: Enjoy the riot of autumn hues at Vingis Park. The sprawling green space turns into a canvas of red, orange, and yellow, perfect for leisurely walks and picnics.
Trakai Island Castle: Take a day trip to the stunning Trakai Island Castle. Set amidst vibrant fall colours, the castle's reflection on the lake is a spectacular sight in October.
Užupis Exploration: Experience the bohemian spirit of Užupis, a self-proclaimed republic within Vilnius. The neighbourhood's unique charm is particularly appealing amidst the rustic shades of autumn. Art Galleries: Vilnius' thriving art scene can be best explored through its numerous galleries. The Contemporary Art Centre and the National Gallery of Art are just a couple of places to start.
Food Tour: Autumn brings a unique flavour palette to Lithuanian cuisine. Join a food tour to savour traditional dishes, accompanied by local beverages. Hot Air Balloon Ride: A hot air balloon ride over Vilnius in October offers stunning views of the city's autumnal landscape. This unique experience is sure to make your trip unforgettable.
Visit a Traditional Market: Immerse in local culture by visiting a traditional market. Hales Market, the city's oldest, offers a variety of regional produce and goods.