Vilnius, Lithuania in May - The weather and is it a good time of year to visit?
Welcome to Vilnius, the capital and cultural heart of Lithuania. A jewel of the Baltic region, this city offers a blend of intriguing history, enchanting architecture, and a lively arts scene. Yet, as we traverse through the time wheel, we aim to explore the city in the vibrant month of May. Is this the perfect season to delve into the charm of Vilnius? The answer is a resounding yes. The mild weather and plentiful daylight in May allows one to fully explore and appreciate the beauty of Vilnius without any extreme weather hindrances.
The weather of Vilnius through the year
Throughout the year, Vilnius experiences a humid continental climate with distinct seasons. Summers are usually warm and pleasant, while winters can be quite cold and snowy. The transitional periods - spring and autumn - are relatively mild, yet unpredictable. These varying patterns of weather render Vilnius an all-year-round destination, each season bestowing its own charm to the city.
Vilnius's weather in May
May marks the arrival of spring in Vilnius, welcoming visitors with an ambient and refreshing climate. Daytime maximums typically reach a delightful 18C (64F), perfect for outdoor exploration without the discomfort of intense heat. Nighttime lows usually hover around a slightly chilly 8C (46F), a perfect time to enjoy the lit-up cityscapes or a cosy indoor dining experience. Rest assured, the warmth of the day and the crispness of the night strike an agreeable balance, making May an ideal time for a visit.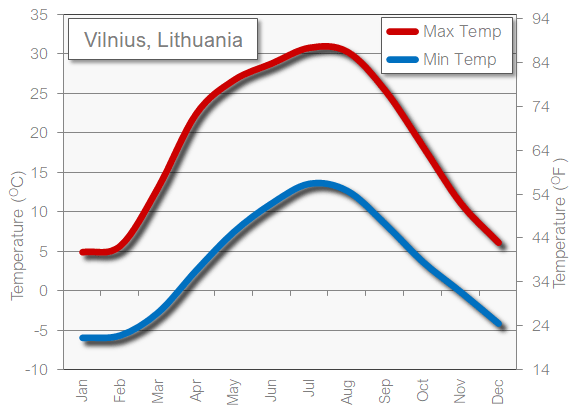 The month of May ushers in long, glorious days in Vilnius, with the sun often rising as early as 5 a.m. and setting close to 10 p.m. This extended daylight time offers visitors plenty of opportunity to roam the cobblestone streets or indulge in a leisurely visit to the city's landmarks. Generally, the city basks under the sun for approximately 10 to 12 hours each day. While cloud cover is a possibility, it often enhances the picturesque aura of the city rather than hindering sightseeing activities.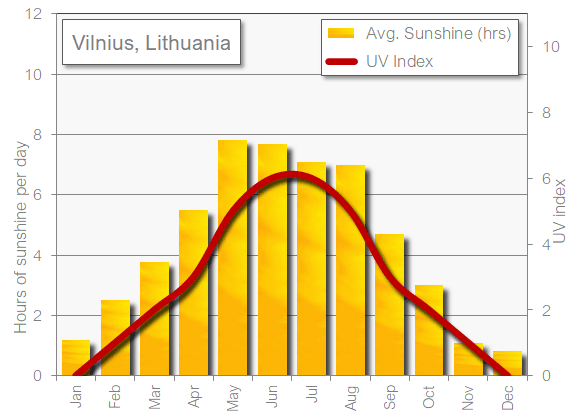 Vilnius in May does see its fair share of rain, contributing to the freshness of spring. On average, the city records about 52 mm of rainfall spread across half the month, which means there could be sporadic showers or drizzle on some days. The rains, however, are typically not torrential and tend not to disrupt plans drastically. Snow is uncommon in May, leaving behind the last vestiges of winter and paving the way for the verdant rebirth of spring.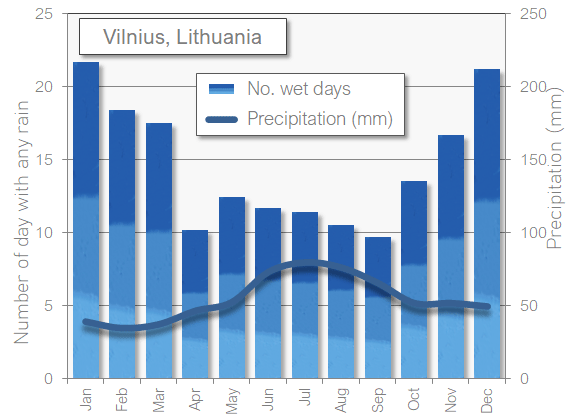 While it's always prudent to carry an umbrella or raincoat for those sudden showers, the rain often adds to the magic of Vilnius, making its Baroque architecture and lush parks even more photogenic. The mild temperatures, extended daylight, and generally dry weather make May an inviting time to experience the many wonders of Vilnius. After all, as they say, there's no such thing as bad weather, only different kinds of good weather.
May is an appealing month for tourism in Vilnius, though it is not yet at its peak, offering a balance between liveliness and tranquillity. Prices during this time are generally moderate, neither hitting the highs of summer nor the lows of the off-peak winter season. As it's a shoulder season, hotels and rental rooms are not usually fully booked, presenting a good chance for deal seekers. It's worth noting, though, that it's always wise to book accommodations in advance for the best options.
For families with young children, May provides a pleasant and inviting climate, avoiding both the chills of winter and the intense heat of mid-summer. The majority of tourists during this time tend to hail from other European countries, particularly Germany, Poland, and the UK, as well as an increasing number of visitors from the United States.
Clothes to pack for May in Vilnius
When preparing for your trip to Vilnius in May, layering is key. Pack light jackets or sweaters for the cooler evenings, and breathable, comfortable clothing like t-shirts or light tops for the daytime. A pair of good walking shoes will also serve you well as you explore the city.
Given the possibility of showers, it's sensible to include a lightweight raincoat or compact umbrella in your luggage. For those sunny day trips, don't forget your sunglasses and a hat for extra protection. Remember, it's always better to be over-prepared than under.
The best months to visit Vilnius
The best three months to visit Vilnius are May, June, and September. May, as discussed, presents the awakening of spring with moderate weather, vibrant landscapes, and fewer tourists. June welcomes summer with longer, sunnier days and a host of cultural festivals. September sees the fall foliage enhancing the city's charm while the weather remains pleasantly warm. These months provide a great balance of good weather, manageable tourist crowds, and cultural events.
The worst months to visit Vilnius
The coldest months of the year, particularly January and February, could be considered the least favourable time to visit Vilnius. Temperatures can drop below -5C (23F), and snow is a common occurrence. Although the snow-dusted cityscape is beautiful, the harsh cold could potentially limit outdoor activities and exploration. Additionally, daylight hours are significantly reduced during these winter months. However, for those who enjoy winter sports or the beauty of snow-laden landscapes, this might just be an invitation rather than a deterrent.
Fantastic activities for Vilnius during May
Stroll Around Vilnius Old Town: The UNESCO World Heritage site brims with history, housing an array of architectural styles from Gothic to Baroque. May's pleasant weather makes it perfect for exploring the cobblestone streets, local boutiques, and charming cafés that make up the heart of Vilnius.
Visit Gediminas Castle: A trip to the remnants of the Upper Castle, perched atop Gediminas Hill, offers a window into Lithuania's past. The climb is rewarded with sweeping views of the city - a picturesque sight especially when the spring bloom is in full effect.
Explore Vilnius Cathedral Square: The bustling square houses Vilnius Cathedral, a significant symbol of Lithuanian identity. The mild May weather is ideal for an outdoor walking tour, highlighting the many historic monuments around the square.
Enjoy the Parks: Vilnius' parks, like Bernardinai Garden and Vingis Park, are a sight to behold in May. Bursting with spring blooms, these green oases offer serene spots for picnics, leisurely walks, or even bike rides, making the most of the mild weather.
Experience Trakai Island Castle: Just a short drive from Vilnius, this stunning castle on an island in the middle of Lake Galvė offers a fairy-tale day trip. The calmer winds and comfortable temperatures in May provide ideal conditions for the small boat trip needed to reach the castle.
Uncover the Secrets of the Republic of Užupis: This bohemian neighbourhood declared itself an independent republic in 1997. Walking around Užupis in May, you can discover its quirky constitution, unique art pieces, and atmospheric cafés, all while enjoying the mild spring climate.
Savour Lithuanian Cuisine: May is a fantastic time to explore the city's culinary delights, from cozy eateries to sophisticated restaurants. Make sure to try Cepelinai (potato dumplings) or Šaltibarščiai (cold beet soup), both traditional Lithuanian dishes.
Take a Hot Air Balloon Ride: Vilnius is one of the few cities where you can take a hot air balloon ride over the city center. In May, the city is often bathed in sunshine, making it a beautiful time for this unforgettable adventure.
Visit the Museum of Genocide Victims: Housed in a former KGB headquarters, this museum offers deep insights into Lithuania's Soviet past. May's longer daylight hours allow for plenty of time to reflect on the country's history.
Join the Street Music Day: Held in May, this city-wide festival transforms Vilnius into a giant concert venue. Musicians of all levels take to the streets, filling the air with tunes ranging from classical to rock, creating a festive atmosphere.