Vilnius, Lithuania in June - The weather and is it a good time of year to visit?
Vilnius, the alluring capital of Lithuania, artfully fuses an array of cultural treasures with vibrant modernity. From its remarkable UNESCO World Heritage-listed Old Town to the compelling Museum of Genocide Victims, Vilnius beckons the traveler, the historian, and the aesthete in everyone.
As for visiting in June? It's a resounding yes. A dazzling palette of experiences coupled with the city's most pleasant weather creates an ideal backdrop for exploration.
The weather of Vilnius through the year
Situated in the southeast of Lithuania, Vilnius endures a diverse climate. A blend of maritime and continental, the city's weather oscillates from freezing winter chills to balmy summer warmth. Winters in Vilnius are long, and the mercury often dips below -5C (23F). In contrast, summers are generally mild and delightful, with an occasional heatwave sending the temperature beyond the 30C (86F) mark. The weather in Vilnius is somewhat whimsical, and it is this climate that bestows upon it a certain mystique, making it a city of all seasons.
Vilnius's weather in June
Come June, Vilnius opens its arms to the warm embrace of summer. Days are agreeably mild with average high temperatures of around 21C (70F), while nights retain a cooler edge, dropping to an average of 12C (54F). While a light jacket might be a good companion for nighttime strolls, the overall temperature makes June an inviting month for those who enjoy being outdoors without enduring extreme heat or cold.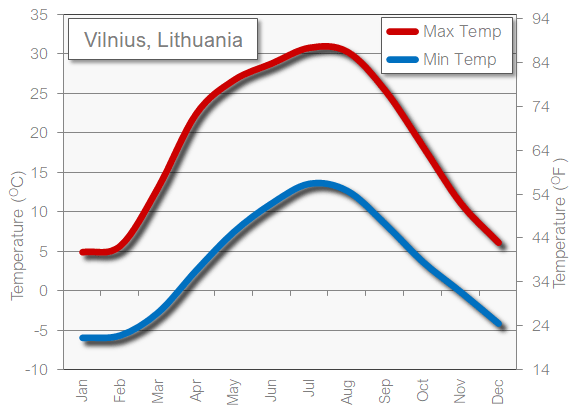 June also gifts Vilnius with the most extended daylight hours of the year. On the summer solstice, which usually falls on June 21st, Vilnius boasts an incredible 17 hours of daylight.
The Lithuanian capital is also treated to abundant sunshine during June. This month typically witnesses about 260 hours of bright sunshine, so don't forget your sunblock! Although some cloud cover can be expected intermittently, it rarely obscures the sun for long, ensuring the days remain predominantly sunny.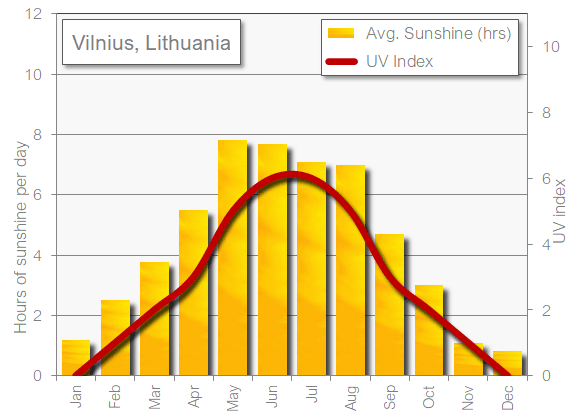 Despite the plentiful sunshine, June in Vilnius is not completely devoid of rain. With the city receiving an average of 70mm of precipitation spread over 15 days, it's one of the wetter months. But fear not, the rainfall is typically light to moderate, more often manifesting as quick showers rather than relentless downpours. You might want to pack a compact umbrella or a light raincoat, but don't let this dissuade you. The rain showers often serve to refresh the city's air, heightening the natural beauty of Vilnius.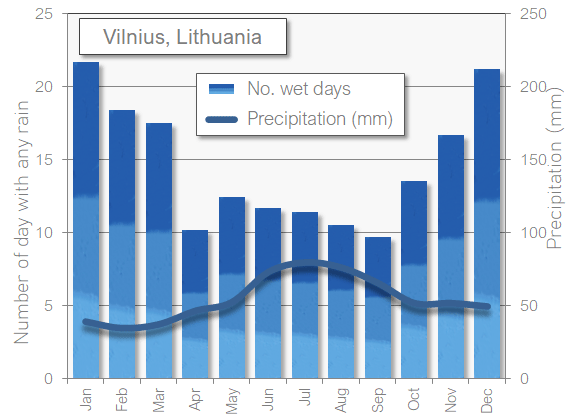 June is the gateway to the high season in Vilnius, welcoming a steady stream of global visitors keen to enjoy the city's mild weather. It's a vibrant period, yet it doesn't quite reach the bustling levels of July and August. The tourist surge brings a subtle uptick in prices, but Vilnius remains a gem for budget-conscious travelers, holding its own as one of Europe's more affordable capitals.
Accommodations during this month are not typically sold out, although popular hotels and rentals may fill up quickly, so it's wise to book in advance. Deals are still to be found for those willing to hunt them out, especially in smaller establishments or just outside the city center.
June in Vilnius is a treat for families with young children. Long sunny days mean more time for outdoor activities, and the city's array of parks, museums, and kid-friendly attractions are sure to entertain the little ones. The diverse mix of tourists this time of year hail mainly from neighboring European countries, with an increasing number of visitors from the US and Asia adding to the cosmopolitan vibe.
Clothes to pack for June in Vilnius
When packing for Vilnius in June, think layers and practicality. Daytime calls for comfortable clothing like T-shirts and shorts or light dresses. Sunglasses and a hat are essential for the sunny days, and don't forget the sunscreen. Evenings can cool down, so a light sweater or jacket would serve you well for night-time outings.
A compact umbrella or rain jacket is recommended, as quick showers are not uncommon in June. Comfortable walking shoes are a must, given Vilnius' cobbled streets and wealth of walking tours. If visiting religious sites like the majestic Vilnius Cathedral, remember to pack attire that respects local customs, such as a scarf for women and long pants for men.
The best months to visit Vilnius
Arguably, the most enjoyable months to visit Vilnius are June, July, and August. The weather during these months is invitingly mild and perfect for outdoor exploration. These are the months when Vilnius truly comes alive, with its streets hosting numerous music, film, and cultural festivals, promising an immersive Lithuanian experience.
The worst months to visit Vilnius
On the flip side, January and February can be challenging months to visit Vilnius. The beauty of the city is often veiled by a dense curtain of cold, with temperatures frequently dipping below freezing. Additionally, daylight hours are significantly shorter, limiting the time for outdoor activities. These factors can make sightseeing less enjoyable for those not accustomed to harsh winters.
Fantastic activities for Vilnius during June
Gediminas Tower: Perched on Castle Hill, the Gediminas Tower stands as a symbol of Vilnius. Climb up to soak in panoramic views of the city. Its history, intertwined with the origins of Vilnius, adds an extra dimension to the experience. At sunset, the illuminated cityscape is a sight to behold.
Old Town Exploration: Vilnius Old Town is a treasure trove of architectural gems. Meander through its cobblestone streets, marveling at the blend of Gothic, Renaissance, Baroque, and Neoclassical styles. Be sure to pause at St. Anne's Church, a remarkable feat of Gothic architecture.
Trakai Day Trip: Just 28 kilometers from Vilnius, the town of Trakai makes for an enchanting day trip. Visit the splendid Trakai Island Castle located on Lake Galvė, and explore the unique culture of the Karaim people, one of Lithuania's ethnic minorities.
Užupis District: June is the perfect time to immerse yourself in the bohemian spirit of the Užupis District, Vilnius's own "Republic". Its quirky constitution, artistically vibrant streets, and eclectic boutiques offer an experience unlike any other.
Open Air Cinema: Summer nights in Vilnius bring the joy of open-air cinema. Screenings usually take place at different picturesque locations, offering a delightful way to end a day of exploration.
Botanical Gardens: Visit Vilnius University's Botanical Gardens to bask in the beauty of its summer blooms. Sprawled over 199 hectares, it's a lush retreat filled with themed gardens, greenhouses, and even a small palace.
Vilnius Cathedral and its Square: Explore the Vilnius Cathedral, an architectural wonder, and its surrounding square. The cathedral holds many fascinating tales, and the square is the site of important national events and concerts.
Museum of Genocide Victims: For a deeper understanding of Lithuania's past, visit the Museum of Genocide Victims. Housed in a former KGB headquarters, the museum is a poignant reminder of the nation's history.
Vingis Park: Vilnius's largest park, Vingis, is a hub of activity in June. Enjoy a leisurely bike ride, take a paddle boat out on the river, or join locals for a concert or festival held in its open-air theatre.
Bernardine Gardens: Close to the Old Town, the renovated Bernardine Gardens are an oasis of calm. With its beautiful flower beds, a musical fountain, and a mini zoo, it's a haven for nature lovers and families alike.
Vilnius Hot Air Balloon Ride: For an unforgettable perspective, take a hot air balloon ride over Vilnius. The city is one of the few capitals in the world where this is possible, and June's reliable weather makes it an ideal time for this thrilling experience.