Vilnius, Lithuania in August - The weather and is it a good time of year to visit?
Encapsulating centuries of history and blooming with the vigour of the present, Vilnius, the capital of Lithuania, beckons visitors. The city's landscape is adorned with Gothic, Renaissance, and Baroque architecture, and enlivened by a burgeoning culinary scene, and a wealth of cultural experiences.
Yes, August is a fantastic time to visit Vilnius! The weather is generally warm and sunny, making it an ideal period for both indoor and outdoor explorations. The city buzzes with an array of cultural events and festivals, making it an even more enticing destination.
The weather of Vilnius through the year
The climate of Vilnius is divided into four clear seasons. Winters can be rather cold with snowfall, while spring sees the awakening of nature with blossoms adding colour to the cityscape. Summers are generally warm and dry, while autumns offer a beautiful blend of mild weather and colourful foliage.
Vilnius's weather in August
In August, Vilnius is bathed in warm summer sun. Daytime temperatures average around 22°C (72°F), creating an inviting atmosphere for outdoor activities. Night temperatures, averaging at a comfortable 13°C (55°F), are ideal for enjoying the city's vibrant nightlife.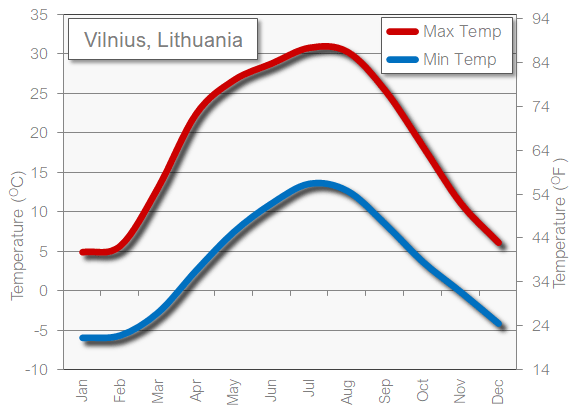 During August, Vilnius enjoys extended daylight, with the sun setting late in the evening. Days are primarily sunny, with an average of 10 hours of sunshine per day, offering ample time for sightseeing and other activities.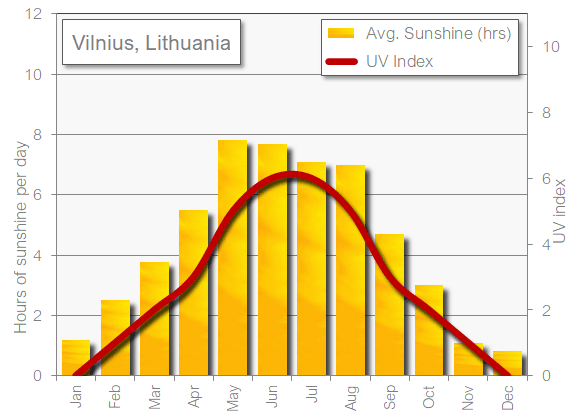 August sees moderate rainfall in Vilnius, with an average monthly precipitation of around 75mm, spread across 11 days. Rain showers, although not uncommon, are typically brief, often followed by clear skies.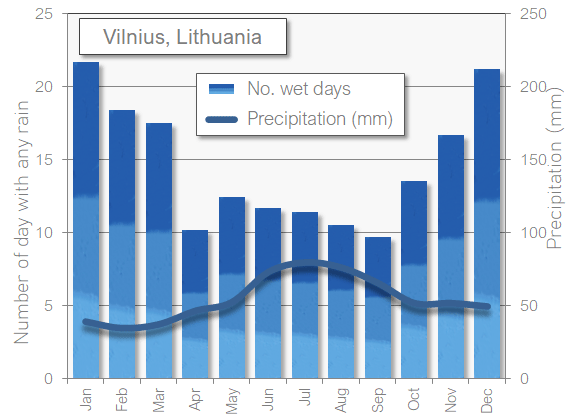 August is a lively time in Vilnius, with the city brimming with tourists eager to soak up the summer sun and cultural offerings. Vilnius pulsates with energy, with plenty of events and outdoor activities.
As one of the peak tourism months, August could be slightly more expensive than off-peak seasons. While some popular hotels might be booked out, early planning can fetch good deals.
August is family-friendly in Vilnius, with numerous activities catering to both children and adults. The pleasant weather and extended daylight hours allow families to maximize their city exploration.
Tourists during this time mainly come from across Europe, drawn by the pleasant weather and the vibrant cultural scene.
Clothes to pack for August in Vilnius
When visiting Vilnius in August, pack for summer. Bring along light clothing, such as t-shirts and shorts for the day. However, do include a light jacket or a sweater for cooler evenings. Comfortable footwear is essential for city explorations.
The best months to visit Vilnius
June, July, and August are prime months to visit Vilnius, with warm weather, extended daylight, and a host of cultural activities. The city teems with life, offering a multitude of experiences.
The worst months to visit Vilnius
The winter months, especially January and February, can be challenging for visitors unaccustomed to cold, snowy conditions. Outdoor activities might be limited due to the freezing temperatures and early sundown.
Fantastic activities for Vilnius during August
Old Town Walkabout: Stroll through Vilnius' historic Old Town, a UNESCO World Heritage site. The winding streets, vibrant cafes, and historic landmarks promise an immersive experience in the summer sun.
Visit the Gediminas' Tower: Climb this iconic tower for panoramic views of the sun-kissed city. The museum housed within provides intriguing insights into Lithuanian history.
Vilnius Cathedral and its Square: This architectural masterpiece is a must-visit. The square, buzzing with activity in August, is a perfect spot for people-watching and basking in the summer sun.
Vingis Park Leisure Time: Relax or enjoy a picnic in Vingis Park, the city's largest park. The lush greenery offers a refreshing respite from the summer heat. Užupis Exploration: Discover Užupis, an intriguing neighbourhood known for its bohemian flair. Its quirky charm is particularly appealing in the warm summer weather.
Hot Air Balloon Ride: Enjoy a bird's eye view of the sunlit city on a hot air balloon ride. This unique experience will make your visit unforgettable. National Museum of Lithuania: Dive into Lithuanian history and culture at the National Museum. Its diverse exhibits offer a fascinating journey through the country's past and present.
Culinary Delights: Savour local Lithuanian dishes at one of the city's many restaurants or cafes. The summer season introduces a unique palette of flavours to the local cuisine.
Nightlife Adventure: Experience Vilnius' vibrant nightlife, made even more exciting by the warm summer nights. With everything from clubs to cosy bars, there's something for everyone.
Festivals Galore: August hosts numerous festivals, including the Street Musician's Day and Vilnius City Fiesta. These events bring an added buzz to the city, offering unique cultural experiences.