Sharm el Sheikh in October: the weather and best activities for your holiday
Let's journey to the shimmering jewel of the Red Sea, Sharm el Sheikh. This Egyptian city, ensconced between the Sinai Desert and the sapphire waters of the Red Sea, is a veritable mecca for travellers seeking both relaxation and adventure. October is a particularly enticing time to visit, let's delve into the reasons why.
With summer's searing heat having gracefully retreated, October ushers in an ambience of comfort and tranquillity in Sharm el Sheikh. This pleasant weather offers the perfect stage for a host of activities, without the discomfort of the sweltering summer sun. Now let's break it down by the numbers.
Sharm el Sheikh weather in October
October in Sharm el Sheikh sees daytime temperatures averaging around 30C (86F), providing warm and comfortable conditions for exploring the city or relaxing on the beach. Evenings are pleasantly cooler, dropping to around 22C (72F), perfect for al fresco dining or a tranquil walk along the beach.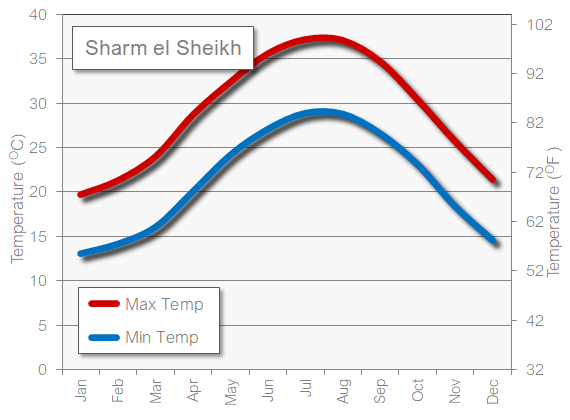 The sun is a constant companion in October, boasting approximately 10 hours of glorious sunlight per day. Its intensity is moderate compared to the searing summer months, striking a pleasant balance that warms without scorching, making it ideal for outdoor activities and sightseeing.
When it comes to the sunrise and sunset, expect to greet the sun around 5:30 am and bid it farewell close to 5:30 pm, providing ample daylight to enjoy the city's many offerings.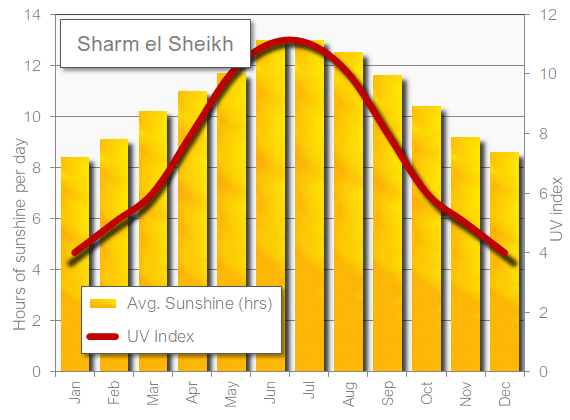 As for humidity, it stands at about 40% in October. This is relatively low and comfortable, providing a dry warmth rather than the sticky, muggy feel one might experience in more humid climates.
Rain? It's a rarity in Sharm el Sheikh, especially in October, with the city experiencing barely a day of rainfall on average for the month.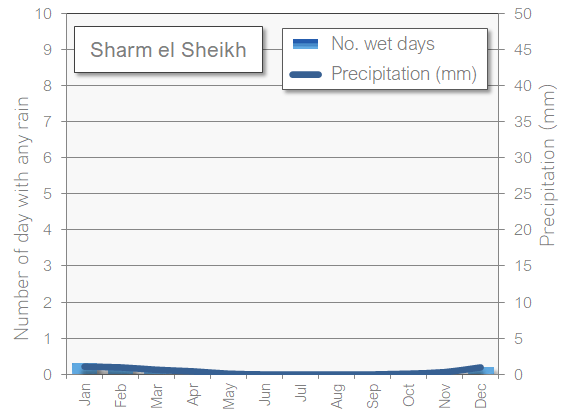 One of the city's crowning attractions, the Red Sea, holds its allure well into October. The sea temperature sits around a balmy 27C (81F), offering wonderfully warm waters for swimming, snorkelling, and diving, a delight for both novices and seasoned enthusiasts.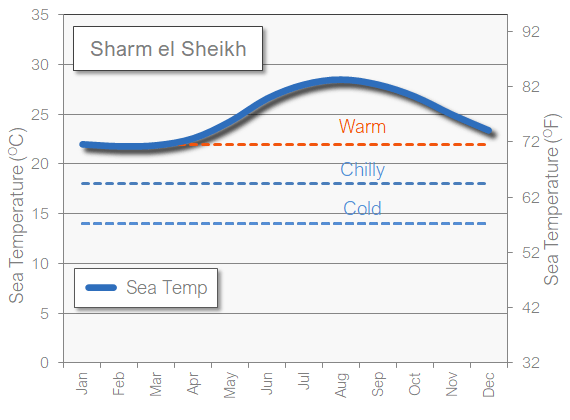 October sees a steady flow of tourists to Sharm el Sheikh. However, it's not overwhelmingly busy as the peak summer months have passed. Visitors during this time hail from various parts of Europe, particularly the UK and Germany, drawn by the agreeable climate and the range of activities available.
The costs associated with visiting Sharm el Sheikh in October sit in the mid-range bracket. It's not the cheapest time to visit, but it's certainly not the most expensive either. That being said, it's always advisable to book in advance to secure the best deals.
Lastly, October is indeed a suitable time for families with young children. The comfortable weather, coupled with a host of family-friendly activities, from exploring the underwater wonders of the Red Sea to learning about the rich history and culture of Egypt, makes it a fitting choice for a family holiday. Just remember to keep children hydrated and protected from the sun, even in October.
And there you have it - a snapshot of what you can expect from Sharm el Sheikh in October. Whether it's the favourable weather, the tantalising sea temperature, or the perfect balance of visitor numbers, there's plenty to recommend this period. So pack your bags and get ready to fall in love with this Red Sea gem.
Clothes to Pack for Sharm el Sheikh in October
When packing for Sharm el Sheikh in October, think light and breathable. Loose, cotton clothing is perfect for daytime exploration under the sun. As the evening temperatures slightly dip, having a light jacket or shawl might be beneficial, especially for seaside dining or late-night walks.
The best months to visit Sharm el Sheikh
November through January are considered some of the best months to visit Sharm el Sheikh. These months provide comfortable weather, with daytime temperatures averaging around 23C to 27C (73F to 81F), making it perfect for outdoor activities. These cooler months also make for prime scuba diving conditions, with clear waters and diverse marine life. Furthermore, these months avoid both the summer crowds and the intense heat, providing a more relaxed and comfortable vacation.
The worst months to visit Sharm el Sheikh
July and August might prove challenging for visitors to Sharm el Sheikh. The scorching heat, with temperatures soaring up to 38C (100F), can be daunting for many, particularly those unaccustomed to such high temperatures. Plus, these are also the busiest months, meaning crowded attractions and higher prices, which could diminish the overall experience.
Fantastic activities for Sharm el Sheikh during April
The must-do activities in Sharm el Sheikh in October include:
a) Scuba Diving: Warm waters and clear visibility make October ideal for diving in the Red Sea. You'll encounter a dazzling array of marine life, including brightly coloured coral, curious dolphins, and playful turtles.
b) Visit the Old Market: Immerse yourself in the vibrant colours, tantalising smells, and bustling energy of Sharm el Sheikh's Old Market. Here, you can find everything from handcrafted jewellery to aromatic spices, making it a treasure trove for shoppers.
c) Take a Camel Ride: Embark on a unique adventure by taking a camel ride through the desert. Enjoy the view as the sun sets, casting its warm glow on the sand dunes.
d) Desert Safari: Experience the thrill of a 4x4 safari through the Sinai Desert. It's an excellent opportunity to explore the rugged beauty of the landscape, dotted with canyons and mountains.
e) Visit Ras Mohammed National Park: Known for its pristine beaches and vibrant coral reefs, this national park is a must-visit. Besides enjoying the beach, you can also go snorkelling or hiking.
f) Stargazing in the Desert: Away from the city lights, the Sinai desert is a great place for stargazing. Local guides often share fascinating stories of the stars and constellations, making it a truly memorable experience.
g) Explore St. Catherine's Monastery: Take a trip to the historic St. Catherine's Monastery at the foot of Mount Sinai. As one of the oldest Christian monasteries in the world, it offers a fascinating glimpse into early Christianity and houses an impressive collection of ancient manuscripts and icons.
Other holiday destinations recommendations in October
Let's journey into the treasures of October's holiday havens, starting with the sunny charm of Tenerife. Here, an autumn escape offers endless sunshine and pleasant temperatures around 25C (77F), ideal for beach bums and hiking enthusiasts alike. Teide National Park, a UNESCO World Heritage Site, offers otherworldly landscapes for explorers, while the coastal resorts buzz with a laid-back vibe.
Set sail next to Cyprus, a medley of historic wonders and sun-kissed beaches. October is when the sizzling summer calms, bringing delightful averages of 22C (72F). It's the perfect time to visit the ancient ruins in Paphos or wander around the old town of Nicosia without the summer crowd. Plus, the vineyards are in their harvesting period, offering a ripe opportunity for wine lovers.
Venture further east to Mauritius, an emerald jewel in the Indian Ocean. October is the start of their summer, with daily temperatures around 25C (77F), and a lively atmosphere without the hustle and bustle of peak season. Embark on a marine adventure, diving into turquoise waters teeming with colourful fish, or visit the iconic Chamarel Seven Coloured Earths, a geological formation resembling a painter's palette.
Heading across the globe, let's land in Cancun, Mexico. October offers warm tropical temperatures, making it a paradise for beach dwellers and nature enthusiasts. It's the perfect time to explore the breathtaking Mayan ruins of Tulum and Chichen Itza, or to snorkel in the vibrant coral reefs off the coast. Do remember, it's hurricane season, so some days might be rainy - a chance to discover Cancun's enticing indoor attractions.
Our final destination is Dubai, a city of superlatives where the October heat is more bearable, averaging around 29C (84F). It's an ideal time to marvel at the towering Burj Khalifa, explore the bustling souks or venture on a thrilling desert safari. The city's biggest shopping event, the 'GITEX Shopper', also happens to take place in October, making it an exciting time for those with a penchant for shopping.
Each destination offers a unique allure, making October a vibrant canvas of travel possibilities. Whether you're drawn to sandy beaches, historical sites, culinary delights or outdoor adventures, these destinations offer incredible experiences, each with their own special October charm.