Sharm el Sheikh in January: the weather and best activities for your holiday
As a lustrous pearl delicately resting on the Red Sea's southern tip, Sharm el Sheikh, Egypt, unfurls its diverse beauty to discerning travellers. This city is a fascinating blend of modern beach resorts and old-world charm, where ancient cultures meld seamlessly with contemporary conveniences.
So, is it a good time to visit Sharm el Sheikh in January? The unequivocal answer is yes. Although the heart of winter, January's mild climate is nothing short of inviting and offers a refreshing escape from the harsh winter of many European countries.
Overview of Sharm el Sheikh's Climate
When picturing the climate of Egypt, it's common to conjure up images of sizzling heat and sprawling desert landscapes. Yet, Sharm el Sheikh, perched on the Sinai Peninsula, surprises visitors with its subtropical desert climate, marked by hot, long summers and mild, short winters. This city, flanked by the rugged Sinai mountains and the azure Red Sea, uniquely balances the desert heat with cooling sea breezes, making it a destination suitable for all seasons.
Sharm el Sheikh weather in January
January in Sharm el Sheikh is a tale of pleasant contrasts. The average temperature during the day hovers around 21C (70F), providing a warm embrace for those escaping colder climates. As evening descends, the mercury dips to around 13C (55F), offering a cooler respite that adds to the allure of starry desert nights. The pleasantly warm days and cooler nights make it a perfect time to explore the city's vibrant culture or simply bask in the winter sun.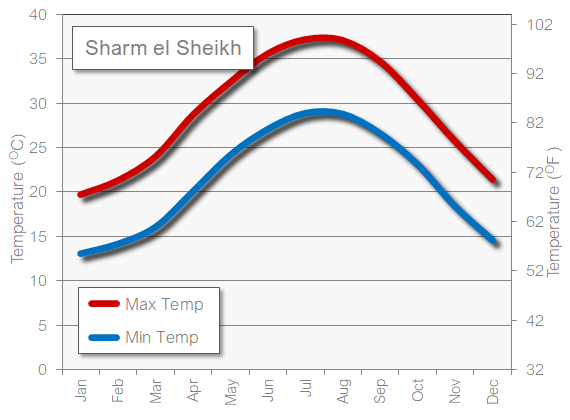 The first month of the year offers ample daylight hours to indulge in various activities, with sunrise around 6:30 am and sunset near 5:00 pm. The Egyptian winter sun, far from its notorious summer intensity, paints the city with around eight hours of gentle, golden sunshine each day. Despite the winter season, clouds are a rare spectacle in the cerulean sky, ensuring most days are luminously sunny and splendidly clear.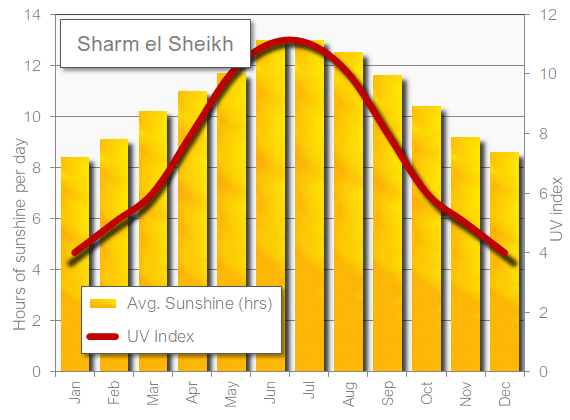 When it comes to rainfall, Sharm el Sheikh is an anomaly within Egypt, and indeed, most of the Middle East. The desert city witnesses little precipitation throughout the year, and January is no exception. The average rainfall in January is just about 1mm, with rain being an infrequent and short-lived occurrence. These occasional rain showers may provide a dash of freshness but never hinder outdoor plans. The relative humidity fluctuates around 40-60%, ensuring the air retains a dry, comfortable feel.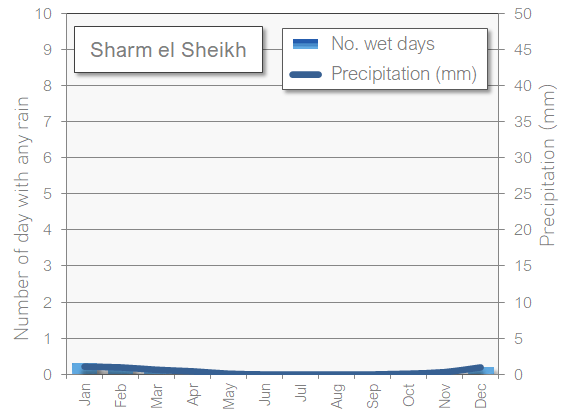 For the aquatically inclined, January in Sharm el Sheikh offers a unique charm. Despite the winter season, the Red Sea's temperature maintains a steady warmth, averaging around 22C (72F). This inviting temperature makes it ideal for taking a refreshing dip, partaking in a bit of snorkelling, or delving deeper with some scuba diving. The sea, during this time, emerges as a realm of enchanting underwater wonders, offering an unforgettable winter maritime experience.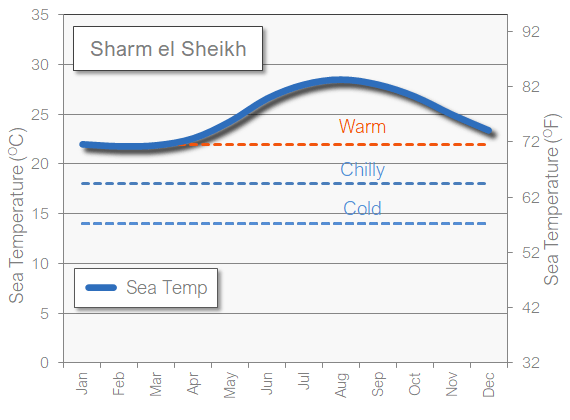 Contrary to the peak summer months, Sharm el Sheikh in January has a more relaxed tourist influx. The crowd thins out and the hustle-bustle of the city takes on a more tranquil rhythm. In this soothing calm, January emerges as a preferred time for those who cherish peace, comfort, and a hint of solitude.
Economically, January can be classified as a shoulder season, meaning it strikes a delightful balance between the high prices of the peak season and the lack of facilities during the off-peak months. Hotels and rental rooms, which are otherwise booked to the brim during the summer, often offer enticing deals and discounts. Hence, January offers a golden opportunity to experience luxury at a fraction of the usual cost.
The family-friendly nature of Sharm el Sheikh is well complemented by the mild weather in January, making it suitable for families with young children. The less crowded attractions and comfortable climate add to the ease of manoeuvring prams and managing young explorers.
Most tourists visiting Sharm el Sheikh in January are from Europe, specifically countries like the UK, Germany, and Russia. The prospect of exchanging the harsh European winter for the gentle warmth of the Egyptian sun proves irresistibly enticing.
Clothes to Pack for Sharm el Sheikh in January
When it comes to packing for Sharm el Sheikh in January, layering is the key. Considering the pleasantly warm days and cooler nights, pack a combination of light clothing for the daytime and a few warm layers for the evening. T-shirts, shorts, and light trousers serve well for daytime explorations, while a light jacket or a warm sweater comes in handy for cooler evenings.
In addition to clothing, pack sunscreen, hats, and sunglasses to protect against the bright winter sun. While the city and resort areas are well-equipped, having these essentials on hand can add to your comfort. Do remember to pack your swimwear; the Red Sea's inviting temperature in January should not be missed.
The best months to visit Sharm el Sheikh
Determining the best time to visit Sharm el Sheikh often hinges on personal preferences. However, the months from March to May and September to November are often touted as the most desirable. During these periods, the weather is wonderfully temperate - warm enough for beach enjoyment and cool enough for comfortable exploration. These months also see a balance in tourist crowd, allowing you to immerse in the city's charm without being overwhelmed.
The worst months to visit Sharm el Sheikh
The height of summer, specifically July and August, can be the least favourable time to visit Sharm el Sheikh. The temperature often soars beyond 40C (104F), and the intense heat can make outdoor exploration challenging. Moreover, these months draw in a considerable tourist influx, leading to crowded attractions and higher prices. Thus, unless one enjoys sweltering heat and bustling crowds, these months might be best avoided.
Fantastic activities for Sharm el Sheikh during January
Have you ever dreamt of swimming with rainbow-coloured fish? If yes, the first stop on your January adventure in Sharm el Sheikh should be the Ras Mohammed National Park. This underwater wonderland is perfect for snorkelling, showcasing a mesmerizing array of coral reefs and tropical sea creatures.
The second must-do activity is exploring the breathtaking landscape of the Sinai Desert. Hop on a quad bike or mount a camel, and journey through golden dunes under a cloudless sky, a spectacle that is all the more magical in January's pleasant weather.
Thirdly, don't miss the opportunity to sail on the calm waters of the Red Sea. A peaceful boat trip at this time of the year provides an exciting chance to spot playful dolphins and the possibility of witnessing spectacular sunsets.
Fourth on the list is the charming Soho Square, buzzing with a plethora of delightful attractions. This place is a paradise for shopaholics, food lovers, and those seeking fun-filled entertainment such as dancing fountains.
Finally, you must immerse yourself in Bedouin culture, a deeply rooted part of Sharm el Sheikh's identity. Venture to a traditional Bedouin camp, where you can sip on Bedouin tea under a sky dotted with twinkling stars, a truly magical experience that's especially wonderful in the cool of a January evening.
Other holiday destinations recommendations in January
1. Tenerife, Canary Islands, Spain: This island in Spain is a fantastic European beach destination in January. With its pleasantly warm weather, Tenerife promises a break from winter blues. Its beautiful beaches, ranging from golden to black sand, are particularly inviting during this month when the island isn't as crowded.
2. Phuket, Thailand: Imagine walking on powder-soft sand, with warm turquoise waters lapping at your feet. That's January in Phuket. The monsoon rains have retreated, leaving behind sunny days perfect for exploring its stunning beaches and vibrant coral reefs.
3. Barbados, Caribbean: Barbados in January is like a dream, where tropical warmth meets Caribbean charm. The island boasts splendid sunshine, azure waters, and sugar-soft beaches. Not to mention, the bustling Holetown Festival kicks off in late January, adding a dash of local culture to your beach holiday.
4. Gold Coast, Australia: Since January is summertime in Australia, the Gold Coast guarantees plenty of sun-soaked days. Famous for its expansive sandy beaches and excellent surf conditions, it's a paradise for beachgoers and surfers. Plus, the Gold Coast's theme parks and wildlife sanctuaries offer fun diversions when you want a break from the beach.
5. Cape Town, South Africa: Although it's not strictly a beach destination, Cape Town's beauty in January is something to behold. Nestled between mountain and sea, this city offers warm summer weather perfect for exploring its rich cultural heritage, lush vineyards, and stunning Table Mountain. If you're craving some beach time, though, the city's Camps Bay and Clifton Beach are just a stone's throw away!
6. Dubai, United Arab Emirates: This bustling city is a playground of excitement and luxury in January. With pleasant daytime temperatures, it's a great time to marvel at its awe-inspiring skyscrapers, explore the ancient souks, or venture on a thrilling desert safari. If you miss the beach, Dubai's man-made islands and pristine beaches along the Persian Gulf are ready to welcome you.