Marmaris, Turkey in October: the weather and best activities for your holiday
Set amidst the rugged beauty of Turkey's southwest coast, Marmaris is a jewel in the Aegean crown. With its storied past and vibrant present, it stands as a unique blend of history and leisure, offering a compelling cultural tableau. This article will explore the suitability of October as a travel month for Marmaris. Given the relative tranquillity, milder temperatures, and scenic autumnal beauty, it can be said without hesitation that October is indeed a commendable time to visit Marmaris.
Overview of Marmaris's Climate
Marmaris boasts a Mediterranean climate with hot, dry summers and mild, somewhat wet winters. Summers from June to September are typically sunny and hot, with average temperatures reaching up to 34C (93F). However, the winter months from December to February see temperatures dropping to around 10C (50F), accompanied by occasional rain. Autumn (October to November) and spring (April to May) are considered shoulder seasons, with agreeable weather and fewer crowds.
Marmaris weather in October
October in Marmaris brings a significant relief from the summer heat, with the mercury lingering between an enjoyable 15C (59F) during the nights to a pleasant 25C (77F) in the daytime. These moderate temperatures provide the perfect conditions for sightseeing, outdoor activities, or simply lounging on the beach without the intense summer heat. It's a time when the sun's rays are less harsh, the sky a soft palette of warm hues, and the sea breeze has a cool, soothing touch.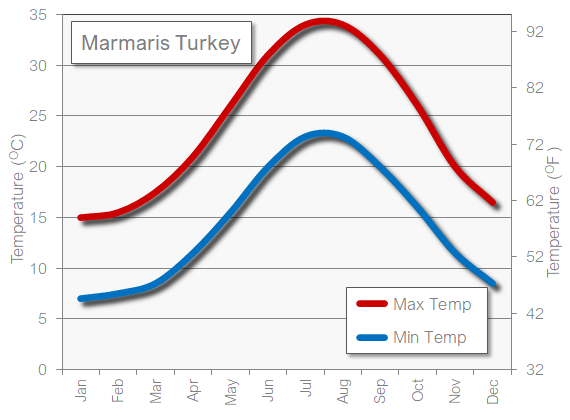 October still bestows Marmaris with generous daylight hours. The sun typically rises around 7 am and sets near 7 pm, giving approximately 12 hours of daylight. It's ample time to explore the city, its famed harbour, or take a leisurely boat trip along the coast. Sunshine is abundant, though not as intensely scorching as in the summer months. Generally, you can expect 7 to 8 hours of sunshine daily, with some cloud coverage gradually increasing as the month progresses.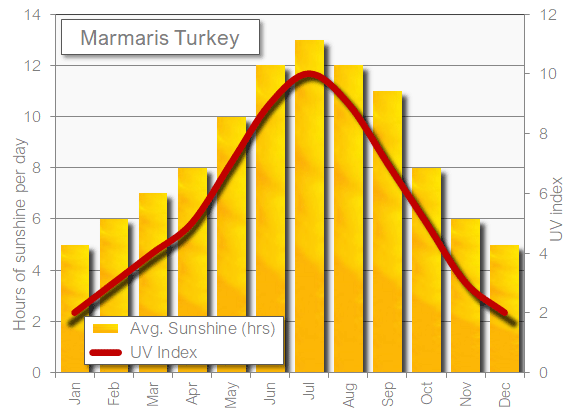 October marks the beginning of Marmaris's mild rainy season. The city sees an average rainfall of about 70mm spread across seven days of the month. The chances of encountering rain slightly increase as the month advances, but it's typically a light to moderate shower that adds to the charm of the season rather than posing any significant inconvenience. The occurrence of heavy showers is infrequent.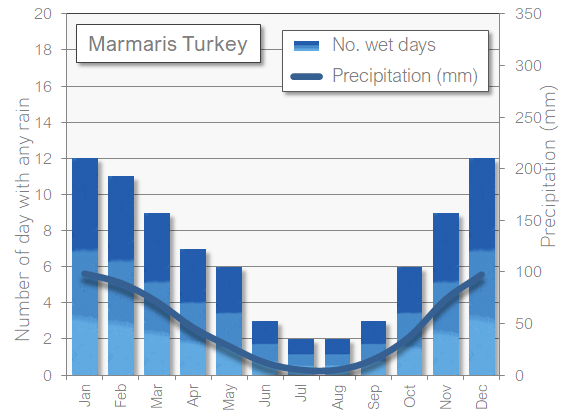 The sea in October around Marmaris remains invitingly warm, averaging at 23C (73F), making it perfectly suitable for water activities. Whether it's a relaxing swim, snorkelling or simply a stroll along the beach, the sea remains your constant companion in Marmaris, even in October. However, as always, individual comfort with water temperature can vary, so it's recommended to check the daily sea temperature during your stay.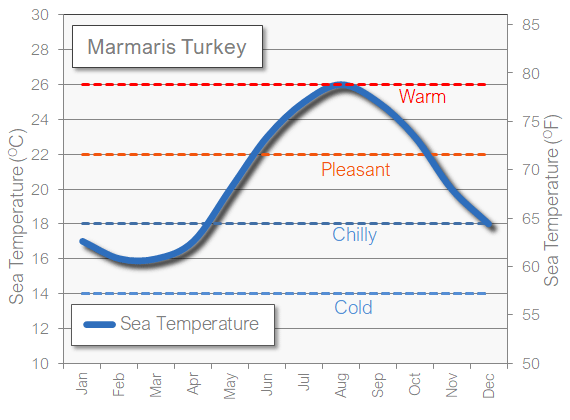 The bustling summer rush in Marmaris gradually slows down by October, giving the city a more serene ambience. This quieter season means hotels and rental rooms are often readily available at competitive prices.
Indeed, October can be a cost-effective time to visit, with accommodations offering enticing deals, creating an opportune time for budget-conscious travellers. For families with young children, the mild weather, less crowded tourist sites and readily available amenities make it a suitable month.
As for the origin of tourists, October sees a shift from the summer influx of European travellers to a more diverse mix, including domestic tourists and those from Asia, eager to savour the fall season's charm in Marmaris.
As you plan your trip to Marmaris in October, be prepared for a medley of pleasant weather, fewer crowds, and the scenic beauty of the changing seasons. It's a time when nature adorns itself in a new guise, and Marmaris invites you to partake in its transformation, offering a more relaxed and intimate experience of this Aegean gem.
Clothes to pack for October in Marmaris, Turkey
When visiting Marmaris in October, packing should reflect the blend of moderate days and cooler evenings. It's advisable to pack lightweight clothes like t-shirts, shorts, and comfortable walking shoes for daytime exploration. A light jacket or sweater would serve you well for the evenings or a windy day by the coast. A hat, sunglasses, and sunscreen are essential to shield you from the still potent daytime sun.
In more detail, your daytime attire can be quite relaxed - t-shirts and shorts or light trousers would be ideal. For the evenings, it's best to carry a light jacket or a pashmina to drape around when the temperature dips. Don't forget a swimsuit, as the sea remains inviting for a dip.
The best months to visit Marmaris
The best months to visit Marmaris are May, June, and October. May presents the delight of spring, with nature at its vibrant best and the city not yet crowded with peak season tourists. June ushers in the warmth of summer but without the full intensity of heat and crowds that July and August bring. October combines the best of pleasant weather, less crowded sites, and lower prices, offering a more relaxed and intimate experience of this Aegean gem.
The worst months to visit Marmaris
The most challenging month to visit Marmaris is perhaps December. Winter sets in with its colder temperatures, shorter days, and frequent rain showers. Many tourist facilities and services scale back during this time. While Marmaris never loses its charm, the weather and limited services in December may not offer the full, vibrant experience that you can expect in other months.
Fantastic activities for Marmaris during October
Visit the Marmaris Castle and Museum: Steeped in history, Marmaris Castle offers stunning views of the city and the harbour. In October's pleasant weather, wander through the castle's halls housing a museum that whispers tales of the city's rich past. The exhibits showcase archaeological artefacts, adding layers of intrigue to your visit.
Explore the Grand Bazaar: A labyrinth of colours, scents, and sounds, the Grand Bazaar invites you to delve into a shopping adventure. With a host of local handicrafts, spices, and textiles, the October off-peak season offers a more leisurely shopping experience, away from the summer's hustle and bustle.
Dalyan River Cruise: A cruise along the meandering Dalyan River offers a peek into nature's bounty. Witness the famous Lycian rock tombs etched into the cliffs, enjoy the thermal mud baths, and visit the Iztuzu beach, famous for its loggerhead sea turtles. In October's milder weather, this becomes an even more enjoyable excursion.
Hiking in the Bozburun Peninsula: This untouched piece of paradise offers several hiking trails. Amidst pine forests and views of the serene sea, the cooler October temperatures make hiking a refreshing experience. The quaint villages dotted along the way add a dash of local culture to the journey.
Dining by the Marina: October evenings are perfect for dining alfresco at the marina. Sample a variety of delicious Turkish dishes while you watch the gently bobbing yachts against the night sky. It's a tranquil experience that encapsulates the charm of Marmaris.
Sailing Trip to the Greek Island of Rhodes: A short sailing trip can take you to the nearby Greek Island of Rhodes. Spend a day exploring its ancient sites, meandering through the medieval old town, and enjoying Greek cuisine. October's calm seas make the journey a smooth sail.
Turkish Bath Experience: Immerse yourself in a traditional Turkish Bath or 'hamam'. A unique blend of a deep cleanse and massage, this is a rejuvenating experience. In October, when tourist numbers dwindle, you can enjoy a more relaxed and personal experience.
Atlantis Waterpark: Even though it's October, the waterpark remains a fun destination, thanks to Marmaris's warm weather. Slides, wave pools, mini golf, and a variety of restaurants make this a fun-filled day out for both kids and adults.
Explore Marmaris National Park: October's pleasant weather is ideal for exploring the sprawling Marmaris National Park. Its pine-covered hills and crystal-clear waters offer numerous hiking, cycling, and picnic spots. It's a nature lover's paradise, displaying the fall colours in all their glory.
Visit Nimara Cave: Take a short boat trip to the Heaven Island to visit the historical Nimara Cave. Believed to have been a place of worship dating back 12,000 years, it's an interesting place to explore, made even more accessible in the quiet month of October.