Marmaris, Turkey in June: the weather and best activities for your holiday
Perched on the turquoise coast of Turkey, the delightful town of Marmaris unfurls a tapestry of historic charm and nature's grandeur. This region, renowned for its vibrant culture and tourism, draws countless travelers worldwide. This article seeks to answer a simple question – is June a good time to visit Marmaris? In short, absolutely! June ushers in a warm, sunny climate, and the vibrant bustle of the tourist season, promising an ideal environment for both relaxation and exploration.
Overview of Marmaris's Climate
Marmaris boasts a Mediterranean climate, featuring warm, dry summers and mild, rainy winters. Over the course of the year, the temperature typically varies between 7C (44.6F) and 34C (93.2F), occasionally dropping below 4C (39.2F) or soaring above 37C (98.6F) during extreme weather conditions. The balmy season lasts from June to September, making summer an attractive time for travelers seeking to bask in the sunshine and dip in the inviting sea.
Marmaris weather in June
As summer starts to settle in, June in Marmaris becomes comfortably warm, with an average daytime maximum temperature around 31C (87.8F). The evening offers a gentle reprieve from the heat, with night temperatures dipping to a cool 18C (64.4F). The climate tends to be delightful, with heat that isn't overbearing, making it the perfect time for outdoor activities or leisurely strolls along the bustling marina.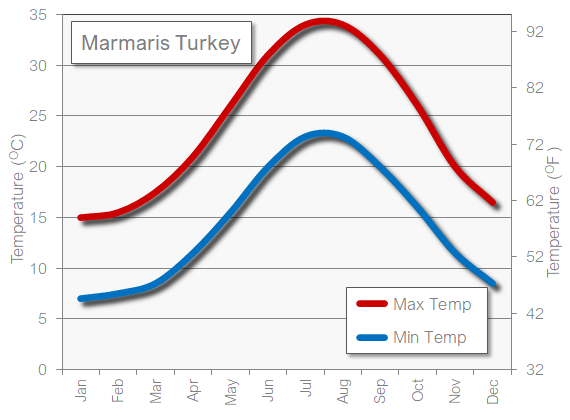 In June, the days in Marmaris grow longer, providing ample opportunity to soak in the breathtaking surroundings. The town basks in about 14 hours of daylight, with the sun rising around 5:30 AM and setting close to 8:30 PM. The generous sunlight coupled with clear, mostly cloudless skies mean visitors can expect a plethora of sunshine – typically around 12 hours a day. This generous daylight allows for extended exploration of the region's rich historical sites and scenic landscapes.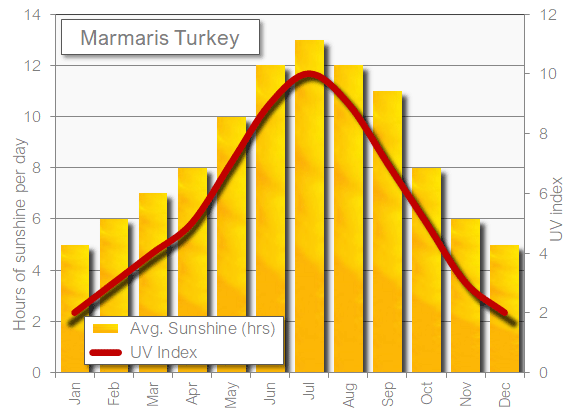 June marks the beginning of the dry season in Marmaris, with the likelihood of precipitation significantly lower compared to other months. The average rainfall in June is a mere 13mm spread across an average of two days. The showers, when they do occur, are typically light and brief, causing minimal disruption to outdoor activities. Snowfall is an alien concept during this time of year, owing to the warm weather conditions.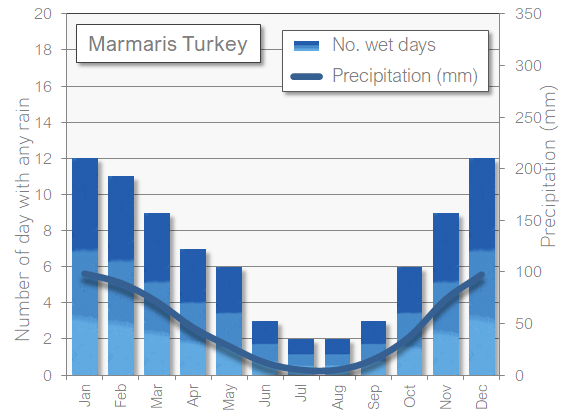 June in Marmaris sets the stage for a delightful swimming experience. The sea's temperature during this period is usually around a refreshing 22C (71.6F), providing a welcome respite from the warm summer sun. The water is comfortably warm for swimming, adding to the charm of Marmaris's beautiful beaches. Whether it's taking a leisurely swim or engaging in thrilling water sports, the sea conditions in June make it a perfect time for ocean enthusiasts.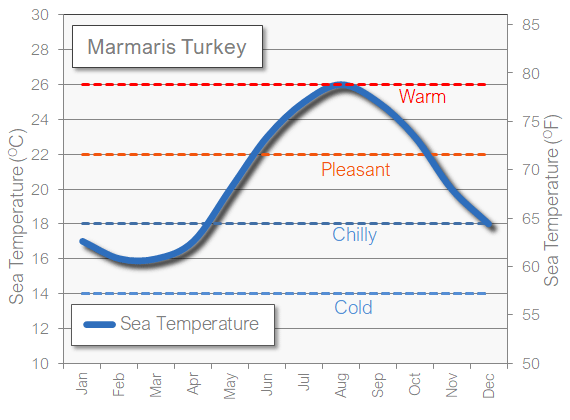 June is a delightful yet bustling time in Marmaris as it sees an influx of tourists seeking the perfect blend of culture and summer relaxation. While it may not be the peak season yet, it's still lively, with a noticeable increase in visitor numbers. Prices during June tend to be moderately high, though not as expensive as July or August. Hotels and rentals are not entirely sold out, but it's advisable to book in advance for the best options and deals.
June can be an exciting time for families with young children, as the weather is warm but not too hot, making it suitable for outdoor activities. The majority of tourists during this time are primarily from European countries like the UK, Germany, and the Netherlands, looking to soak in the Mediterranean sun and explore the rich Turkish heritage.
In a nutshell, June serves as an excellent time for travelers to visit Marmaris. The pleasant weather, generous daylight, and inviting sea create a perfect blend for a memorable vacation, offering tourists an opportunity to immerse themselves in the town's many attractions while basking in the warmth of the summer sun.
Clothes to pack for June in Marmaris, Turkey
Packing for Marmaris in June is all about balancing comfort and style. Given the warm weather, lightweight clothing such as shorts, t-shirts, and breathable fabrics are a must. Don't forget your swimwear for those refreshing dips in the sea.
For the evenings, it may be worth packing a light jacket or shawl as the temperature can drop slightly. Comfortable footwear is essential, especially if you plan to explore the region's hilly areas or ancient sites. Lastly, don't forget your sunglasses, sun hat, and a high-factor sunscreen to protect from the generous sunshine.
The best months to visit Marmaris
The three best months to visit Marmaris are June, September, and October. June offers a warm but bearable temperature, making it an ideal time for beach activities and sightseeing. September, although falling in autumn, still retains much of the summer's warmth, while the crowds start thinning out. October continues the trend of pleasant weather with even fewer tourists, offering a peaceful atmosphere, and is also a great month for those wanting to avoid the high season's hustle.
The worst months to visit Marmaris
The least favorable time to visit Marmaris would be from December to February. These are the coldest months, with temperatures dipping as low as 7C (44.6F) and regular rain. Outdoor activities might be disrupted by weather, and the shorter daylight hours provide less time to explore. The sea becomes too cold for swimming, and some tourist facilities may close during these quieter months. This period lacks the vibrant energy and balmy weather that characterizes Marmaris at its best.
Fantastic activities for Marmaris during June
Explore Marmaris Castle and Museum: This historic castle dates back to 3000 BC. It's a trip back in time, where you can view ancient artifacts and enjoy stunning views of the town and the harbour from the top. The evenings, in particular, are breathtaking.
Stroll through Marmaris National Park: A paradise for nature lovers, the park is home to diverse flora and fauna. The inviting trails make for beautiful hikes in the cool, early morning or late afternoon hours, offering respite from the midday heat.
Visit Dalyan: A day trip to Dalyan allows you to explore ancient rock tombs, relax in natural mud baths, and witness the enchanting Iztuzu Beach, a famous nesting site for endangered loggerhead turtles.
Boat Tours: Embark on a boat tour to discover Marmaris's scenic coastline and secluded bays. You can swim, sunbathe, and enjoy a barbecue lunch onboard.
Shopping at the Grand Bazaar: A haven for shoppers, where you can buy unique souvenirs, traditional Turkish goods, and delicious local produce. It's an eclectic blend of colors, scents, and sounds that offer a unique shopping experience.
Turkish Baths: Experience a traditional Turkish bath or 'hamam.' It's an age-old wellness routine involving a steam bath, exfoliation, and a relaxing massage that will leave you refreshed and rejuvenated.
Jeep Safari: Adventure enthusiasts will love the Jeep Safari tours, providing a thrilling ride through the rugged terrain of Marmaris. You'll get to witness picturesque scenes of the countryside and visit charming local villages.
Scuba Diving: Explore the underwater world of the Mediterranean Sea. Several dive centers offer courses for all levels, where you can encounter a variety of marine life in clear, warm waters.
Visit Atlantis Waterpark: Fun for the entire family, Atlantis Waterpark offers a variety of thrilling slides, a wave pool, mini golf, and a bowling alley. It's a perfect place to cool off on a hot June day.
Turkish Night: Enjoy a night filled with traditional Turkish music, dance performances, and delicious food. It's a great way to immerse yourself in local culture and traditions.