Genoa, Italy in March - The weather and is it a good time of year to visit?
Standing proudly in the northwest of Italy, Genoa stretches its ancient arms into the Ligurian Sea. A city of contrasts, where the echo of its maritime glory days merges seamlessly with a thriving, modern metropolis. Genoa's narrow alleys whisper tales of the past, its palaces and museums beckon history buffs, and the city's gastronomy tempts food lovers at every corner.
This article aims to explore the feasibility of visiting Genoa in March. If the question is, "Is March a good time to visit Genoa?" The answer is a firm yes. Genoa's mild climate and fewer crowds make it an appealing destination in the early spring.
Overview of Genoa's Climate
Genoa's climate could be described as Mediterranean, characterized by hot, dry summers and mild, wet winters. The year is usually divided into a warm period from May to September, and a cooler period from October to April. However, due to its coastal location and surrounding mountains, the city enjoys a more temperate climate than its Italian counterparts further inland.
Genoa's weather in March
By March, the sharp chill of winter has started to loosen its grip on the city, replaced by the tender warmth of spring. During the day, the temperature typically reaches a comfortable 15°C (59°F), perfect for strolling along the city's ancient streets. As night falls, the mercury drops to around 8°C (46°F), so a light jacket might be needed for those romantic evening walks along the old port. While it's not exactly hot, the overall weather is generally pleasant, making March an agreeable time for exploration and sightseeing.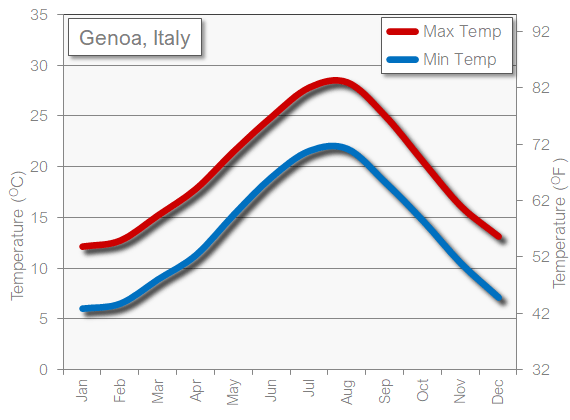 As winter recedes, the days in Genoa start to stretch out. In March, daylight hours increase to about 12 hours per day, offering ample time to immerse in the city's cultural delights. Although March doesn't boast the longest days of the year, the sun is not a rare sight. The city usually enjoys around 5-6 hours of daily sunshine, with partially cloudy skies more common. These longer, sunnier days, combined with fewer crowds, provide a superb opportunity to delve into Genoa's treasures at a leisurely pace.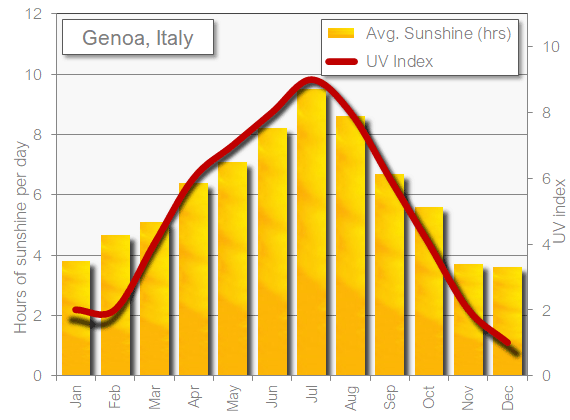 Despite the onset of spring, Genoa in March can be somewhat capricious, with rainfall being part of its charm. The city receives an average of 80mm of rainfall distributed over 10 days in March. It's not an excessively rainy period, but visitors should expect intermittent showers, sometimes heavy. Snowfall is unusual and unlikely to feature in a March weather forecast. A light raincoat or umbrella should suffice to navigate any unexpected spring showers while maintaining the adventure's spirit.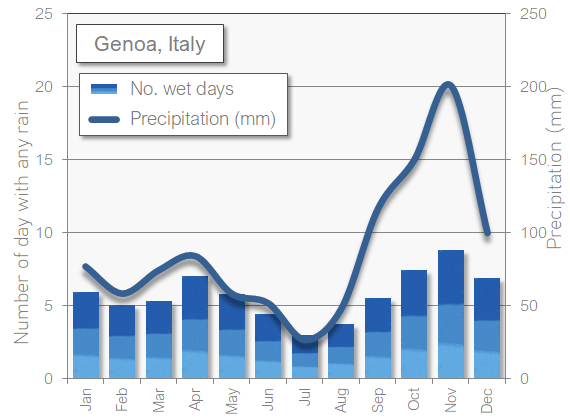 For those interested in dipping their toes in the Mediterranean during their visit, March might be a bit brisk. Sea temperatures hover around 13°C (55°F) - not exactly conducive to leisurely swimming. The waters start to warm up towards the end of April, so March visitors will have to content themselves with invigorating walks along the beach and the comforting sounds of the Ligurian sea.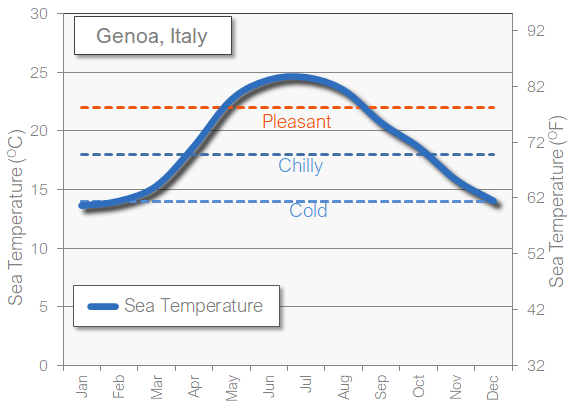 March is not the peak tourism season in Genoa, meaning fewer crowds and a more relaxed atmosphere. You'll be sharing this enchanting city with a significantly reduced number of tourists, which can be a blessing for those who prefer exploring without the usual summer rush.
From a cost perspective, it's a more economical time to visit, with prices for accommodations and some attractions typically lower than in the high season. The mild climate and fewer crowds also make March an ideal time for families, where children can explore Genoa's magic without overwhelming heat or congestion.
As spring paints Genoa with strokes of gentle sunshine and bouts of refreshing rain, March reveals itself as a compelling time to visit this charming Italian city. While it might not be the warmest or driest time of the year, the mild climate, coupled with fewer crowds, offers a unique opportunity to discover Genoa's fascinating blend of history, culture, and cuisine.
Clothes to pack for March in Genoa
When packing for Genoa in March, think layers. Daytimes may warrant a light sweater or a long-sleeve shirt, while the chillier evenings often require a medium-weight jacket. Always carry a compact umbrella or raincoat as showers can surprise you. Comfortable walking shoes are a must for wandering Genoa's beautiful cobbled streets.
The best months to visit Genoa
The months of May, June, and September are considered the best times to visit Genoa. These months provide a perfect balance between pleasant weather and moderate tourist crowds. May and June are the doorstep to summer, with balmy days, cool nights, and flowers in full bloom. September, on the other hand, carries the gentle warmth of summer with the added advantage of less crowd as the peak season winds down.
The worst months to visit Genoa
The month of August is often considered the least favorable time to visit Genoa. The city experiences its peak temperatures, often soaring above 30°C (86°F), making sightseeing quite challenging. Additionally, many locals take their annual vacations in August, which results in numerous establishments being closed.
Fantastic activities for Genoa during March
Explore the Old Port: March's pleasant temperatures are perfect for a leisurely walk around Genoa's ancient port. Enjoy the maritime ambiance, historical landmarks, and don't miss the modern marvel of Renzo Piano's Bigo.
Visit the Aquarium of Genoa: One of Europe's largest aquariums, it's an ideal choice for families. Marvel at over 15,000 animals across 400 species and learn about marine conservation efforts.
Stroll through Via Garibaldi: A UNESCO World Heritage site, this street is lined with opulent palaces housing impressive art collections. With fewer tourists in March, you can savor the beauty without feeling rushed.
Day trip to Cinque Terre: Utilize the less crowded trains in March for a day trip to the picturesque fishing villages of Cinque Terre. Just a short train ride away, it promises a visual feast.
Savor Local Cuisine: March is a fabulous time to delve into Genoa's gastronomy. Look for local specialties like pesto Genovese and focaccia in the city's many trattorias. Discover the Cathedral of San Lorenzo: With its black and white striped façade, this Cathedral is hard to miss. Its peaceful interiors offer a perfect refuge from any sudden March showers.
Explore Palazzi dei Rolli: This cluster of palaces is a testament to Genoa's rich history. In March, you can avoid large tour groups and immerse yourself in the city's past. Hiking in Parco di Portofino: A short trip from Genoa, this park offers tranquil hiking routes with spectacular sea views. March's mild weather makes it an ideal time for outdoor activities.
Genoa's Lighthouse (La Lanterna): Visit one of the world's oldest functioning lighthouses. The climb is rewarded with panoramic views of the city, even more breathtaking in March's soft sunlight.