Genoa, Italy in June - The weather and is it a good time of year to visit?
Nestled on the Italian Riviera, the port city of Genoa, with its rich tapestry of art, culture, and culinary delights, has always held an irresistible allure for discerning travelers. Renowned for its maritime heritage, Genoa captivates its visitors with a splendid array of historical landmarks, picturesque alleyways, and a vibrant food scene that's nothing short of a gastronomic treasure trove.
This article's primary objective is to assess the charm of Genoa in the month of June and consider whether it's an ideal time for a visit. The answer, without reservation, is yes. June presents the city in a comfortable climate, long sunny days, and a lively atmosphere, making it a delightful time to explore the city.
Overview of Genoa's Climate
Genoa, with its Mediterranean climate, sees pleasant weather throughout the year. Winters (December to February) are generally mild, while the summer months (June to August) are warm and sunny, without the intense heat that characterizes some other Italian destinations. Spring and autumn are characterized by moderate temperatures and occasional showers, lending the city a fresh, vibrant look.
Genoa's weather in June
In June, Genoa transitions into its lovely summer season, and the weather can be best described as balmy and pleasant. Average daytime temperatures typically reach 26C (78.8F), perfect for city explorations and coastal excursions. The nights are cooler, offering respite from the daytime warmth, with minimum temperatures dipping to an average of 18C (64.4F). These pleasant temperatures ensure that your visit is comfortable, whether you're wandering through Genoa's narrow lanes, sampling local cuisine, or simply soaking in the city's scenic splendor.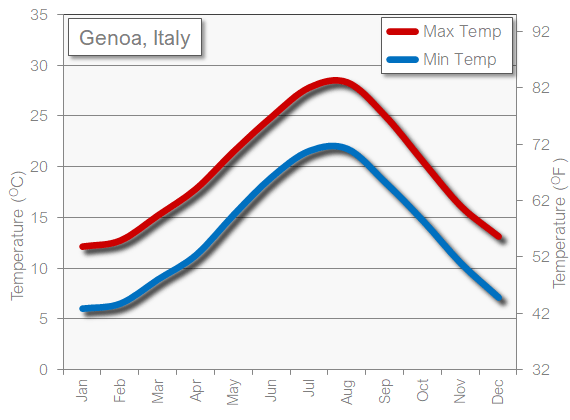 June in Genoa is a month of long, sun-filled days. Daylight stretches to approximately 15 hours, giving you ample time to immerse in the city's multifaceted attractions. The city basks in an average of 9 hours of sunshine per day, ensuring a bright and cheerful ambiance. Despite some cloud cover that might occasionally appear, June generally presents a sky that's more clear than cloudy, amplifying the city's scenic beauty.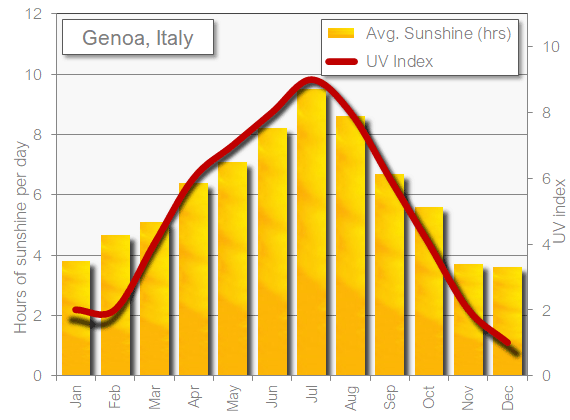 June marks the beginning of Genoa's dry season. The average precipitation levels in this month are relatively low, with around 40mm of rainfall spread over an average of 8 days. The likelihood of encountering rainy days is minimal, and heavy showers are even less frequent. So, you can plan your outdoor activities without much worry about sudden weather changes. Snowfall is not a factor in Genoa's June climate, adding to the convenience of travel during this time.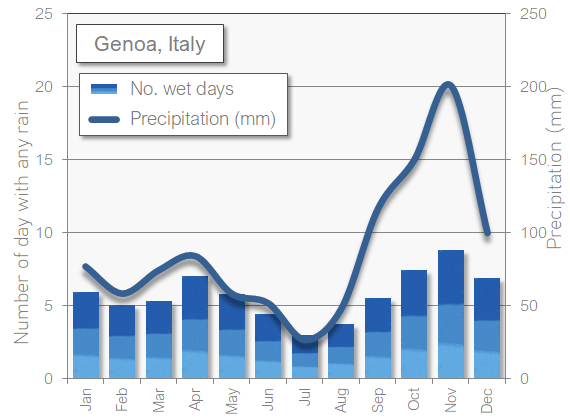 The waters surrounding Genoa warm up nicely by June, reaching an inviting average temperature of 22C (71.6F). This comfortable temperature makes it a delightful time for beach visits and water-related activities. Whether you prefer to sunbathe on the sandy shores or enjoy a refreshing dip in the Mediterranean Sea, June's sea temperatures cater to a broad range of seaside pleasures.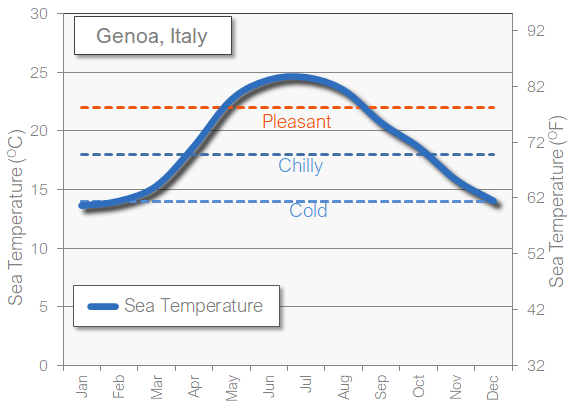 June is the beginning of Genoa's high season. The city starts to bustle with international and local tourists, drawn in by the pleasant weather and vibrant cultural events. While you may encounter a bit more crowd in popular spots, it's far from the throngs you might see in Italy's more tourist-heavy cities. June's popularity might lead to slightly elevated prices, but it's still more affordable compared to peak months like July and August. For families, June is an excellent time - the weather is comfortable for children, and numerous family-friendly activities and events kick off the summer season.
While Genoa shines in all seasons with its timeless appeal, the city takes on a special charm in June. The comfortable temperatures, extended daylight, low rainfall, and warm sea combine to create a near-perfect setting for exploration and relaxation. From its historic landmarks and gastronomic delights to its azure sea and sun-kissed beaches, every aspect of Genoa seems to welcome visitors in the month of June. In the subsequent sections, we'll delve further into what you can experience and enjoy during this delightful period in Genoa.
Clothes to pack for June in Genoa
When packing for Genoa in June, prioritize comfort and flexibility. During the day, lightweight clothing such as t-shirts, shorts, and sundresses are perfect for exploring the city and lounging by the beach. However, as the night temperature cools off, a light jacket or wrap can come in handy for evening outings. Don't forget your swimwear for beach days and water activities, and consider a hat, sunglasses, and ample sunscreen to protect against the sun's rays.
The best months to visit Genoa
The best time to visit Genoa is arguably during the months of May, June, and September. May ushers in the pleasant spring-summer transition, making city exploration delightful. June brings warm yet comfortable temperatures, long sunny days, and a vibrant atmosphere. September marks the end of summer, offering lovely weather, lesser crowd, and an excellent opportunity to partake in local festivals and events.
The worst months to visit Genoa
The months of January and February can be considered less desirable for visiting Genoa. These winter months, although mild compared to other regions, see shorter days and unpredictable weather patterns. Furthermore, the reduced daylight hours and the occasional rain may limit outdoor activities, and the sea temperatures are less inviting for water activities.
Fantastic activities for Genoa during June
Visit the Genoa Aquarium: One of the largest in Europe, the aquarium is a crowd-pleaser, with an impressive display of marine life, including dolphins, seals, and tropical fish. It's a great destination for families, and even more delightful in June's pleasant weather.
Explore Old Town: Wander through the winding lanes of Genoa's historical center, home to magnificent palazzos, quaint shops, and charming cafes. The comfortable June temperature makes these explorations thoroughly enjoyable.
Beach Excursions: The warm June sea is perfect for a beach day. Whether it's sunbathing, swimming, or enjoying a coastal picnic, Genoa's beaches are a must-visit.
Genoa's Lighthouse, La Lanterna: Offering panoramic city views, visiting the ancient lighthouse is a popular activity. June's clear skies make the vista even more spectacular.
Day Trip to Portofino: Just a short boat ride away, the picturesque town of Portofino is perfect for a day trip. Explore its colorful harbor, boutique shops, and enjoy local seafood.
Gastronomic Experiences: Sample Genoa's culinary delights. From fresh seafood to the local favorite, Focaccia Genovese, June's outdoor dining is a treat.
Stroll in the Parks: Genoa's public parks, such as Parco di Nervi, are lush and beautiful in June. Perfect for leisurely strolls or picnics.
Visit the Royal Palace Museum: Dive into history with a visit to the Royal Palace, home to splendid artworks and lavish interiors. The museum is a great retreat for the occasional hot June afternoon.
Boat Tours: Explore Genoa's gorgeous coastline on a boat tour. The warm June weather is ideal for a leisurely cruise.